Nanobag 4.0
Reusable Shopping Bag
key advantages
Lightweight and compact (.05mm)
Designed to carry up to 30kgs of weight
Available in multiple sizes and designs
estimated
delivery
December 2020
The iPhone of Kickstarter is back!
After launching 6 successful campaigns that were essentially the same product… they're back with an upgrade that's "Harder, Better, Faster, Stronger…"
Even smaller than your Omega, the Nanobag is the perfect addition to your keychain, coin pocket, or anywhere you wouldn't expect to see a 25-liter bag!
Yup, you heard that right — this tiny cherry tomato-sized reusable shopping bag expands into a 25-liter bag capable of carrying up to 66 lbs!
Forget about asking for a plastic bag at the store — with a myriad of sizes, styles, and cool designs, yes… including unicorns… this bag is perfect for any person looking to cut down on waste, while looking cooler than everyone in town.
Refuse. Reuse. Nanobag!
The Product
Innovation
Is this a truly new product that you can't find on the market? Or this a product that defines an entirely new product category. In some cases, the combination of several features into one or the introduction of a new feature to an old product are also considered to be an innovation.
You might have a bunch of small shopping bags in your drawers, I know! So do I. But we keep on getting new ones, as we see them losing their color, steadiness and comfortability after having used them for some time. And most of the time, we keep placing them randomly and losing them unconsciously. This is where Nanobag 4.0 – the reusable shopping bag can be helpful!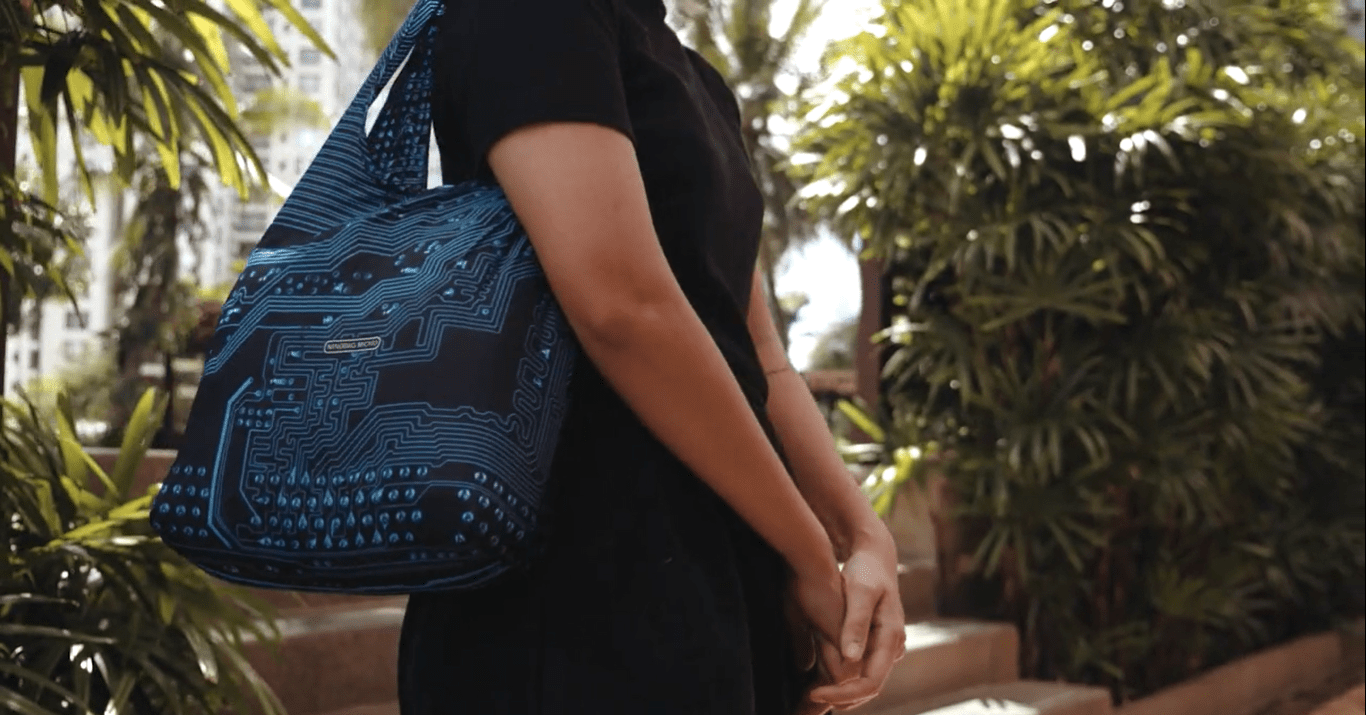 Tiny to fasten it to your keychain or carry it in your pocket. Yet solid and capable of carrying more than 30kgs of weight unlike many other compact shopping bags. Advanced, modern and newly manufactured designs available in various sizes and shapes (Standard, Mini, XL, Sling, Pack). 
Not discovering America for sure, but maybe looking at it from a new, different perspective, no?
Competitiveness
How much better is it than the competition? Is it faster? Bigger? Cooler? More affordable? There needs to be a solid reason why you should back this project over any other.
| | Nanobag 4.0 | BeeGreen Set | Nanobag 3.0 | Cloth Tote Bag |
| --- | --- | --- | --- | --- |
| Price | $10 | $17.56 | $11 | $12.78 |
| Material | Premium diamond ripstop fabric | Ripstop nylon cloth | Premium diamond ripstop fabric | Organic Cotton Canvas |
| Size | 0.002 inches (folded to hang on keychain) | 15W x 15H inches | 0.002 inches (folded to hang on keychain) | 13W x 14.5H inches |
| Capacity | 30kg | 22kg | 30kg | 22kg |
| Waterproof | ✅ | ✅ | ✅ | X |
Sharing many common features with Nanobag 3.0, Nanobag 4.0, however, comes with a slightly lower price, which matters a lot for products like small shopping bags. The availability in packs might be something the Nanobag team should consider for its future versions, I would say! Eventually, Nanobag 4.0 still manages to stand out in the competition with its small sizes and big capacity!
Team Competitiveness Score
The Team
Expertise
How capable is the team? Will they be able to pull off their design? Experienced engineers, designers, market analysts, operations and other specialists have a huge impact on a project's success.
TipTop Things, Nanobag's producer team, is well-known to Kickstarter and Indiegogo communities with its 7 campaigns, 6 of which have had significant success in both platforms. Willing to give a new breath and a better quality to everyday items, the team has not only manufactured 4 versions of Nanobag – reusable shopping bag, but has also run 3 campaigns on water-proof travel-optimized playing cards, Air Deck. The team consists of friends who are putting their ideas and skills together aiming to create useful and planet-friendly products! Let's dig deeper to get a better idea of the team's and their products' background.
Experience
Have they developed something like this before? Do they have crowdfunding experience? Manufacturing experience? A lot of campaigns fail to deliver their product because they don't know what they're doing. Or they might spend all the raised funds on getting a fully functional product, but fail to mass-produce it.
As mentioned, Nanobag 4.0 is the 7th campaign of TipTop Things on Kickstarter. Prior to this version, the Nanobag, Nanobag 2.0 and Nanobag 3.0 reusable shopping bags were presented, which raised $64.349, $88.603, $343.612 with the support of 2412, 3402, 10125 backers, respectively. The increasing number of backers for each campaign proves the high demand of the product and the reliability of the team. The new-born reusable shopping bag is doing a great job too, by already having raised $185.174 with the support of 4514 backers with still more than 40 days to go. 
3 of the rest 4 campaigns were the different versions of playing cards, which, too, seem to have enjoyed the love and sympathy of the backers by raising significant amounts of funds thanks to backers' continuous support. 
TipTop Things' 2nd campaign on Kickstarter, TabPilot, was cancelled by the team in January, 2018, a month after its launch. The 2-in-1 tablet bag and harness managed to raise only $478 of its $6451 pledged goal getting support from only 5 backers. 
While many of us might get discouraged and give up, the team kept on inventing and persuading its creativity, as a result of which the several advanced versions of 2 different products, Nanobag and Air Deck, were born and introduced. 
Besides, to mention it again, TipTop Things has been running their 6 campaigns on Indiegogo, where, too, a big number of backers have demonstrated their interest through actively supporting the campaigners. 
Transparency
How transparent are the campaigners? Do they give their backers valuable updates on their progress? Having credible and reliable campaigners is one of the deciding factors in building the trust that backers look for.
Having 34 updates on their previous Nanobag 3.0 campaign seems pretty promising. However, the team has restricted the access of the majority of their updates to their backers only, not allowing the potential backers or other members of the Kickstarter community to read and review the updates regarding their campaign.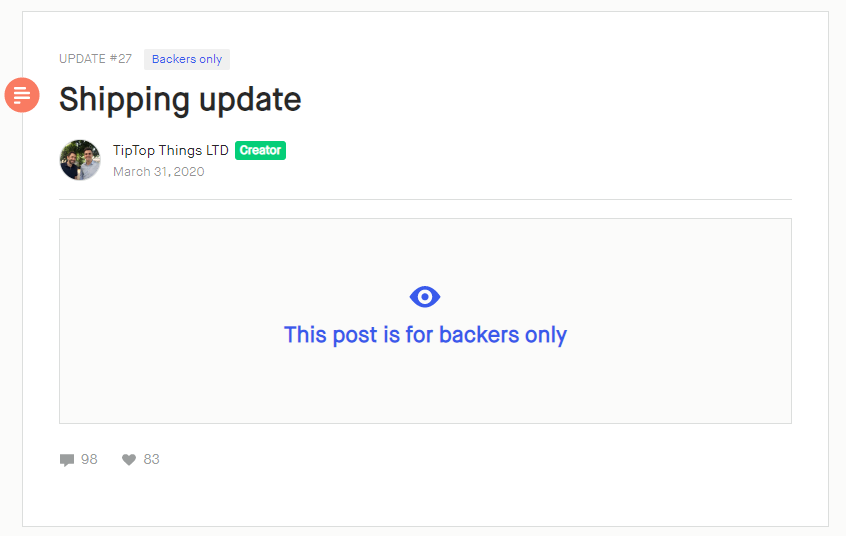 On one hand this can be noted as a very special attitude towards their backers community as a demonstration of their willingness to keep in private, consistent touch with their supporters. On the other hand, however, this can cause many potential backers to be hesitant about backing the campaign because of the lack of desired information.
Anyways, according to what can be observed from the several available updates, the team has started the delivery of Nanobag 3.0 on time, in December, 2019, which tells about some high level of punctuality I believe!
With the ongoing situation worldwide, where many processes had to be postponed or cancelled, the team kept posting its private updates for their backers, which supposedly seem to be containing information regarding the shipment details.  
Overall, it is fair to think that having shared all the updates more transparently would make it easier for the non-backers, too, to understand the issues behind the many shipping delays and other concerns regarding the reusable bags that the backers have noted in the comments.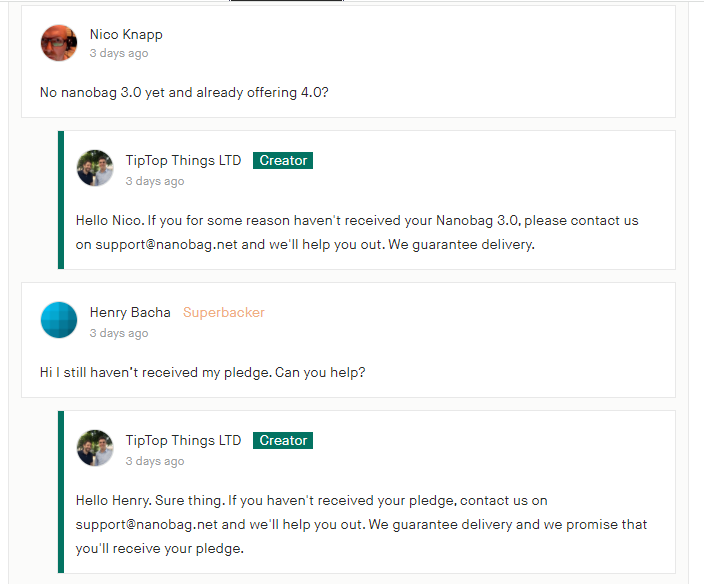 Responsiveness
How responsive are the campaigners? Do they engage with their backers? Crowdfunding is all about community, sharing information and building a meaningful relationship with the people who fund your project.
We should confess that catching up with over 2600 comments requires some attention, punctuality and time, of course. And the implementation of these 3, I believe, was quite successful by the TipTop Things team. Foldable shopping bag producers have been replying to most of the questions and concerns within a day or even several hours. And in most of the cases, they were able to resolve the problems identified and raised by the backers.
Not only responsive, but also helpful and supportive, no?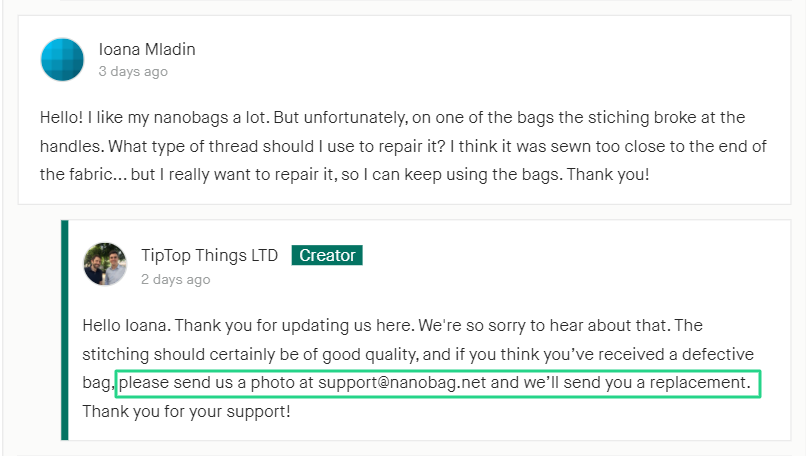 Some concerns remained unaddressed, though…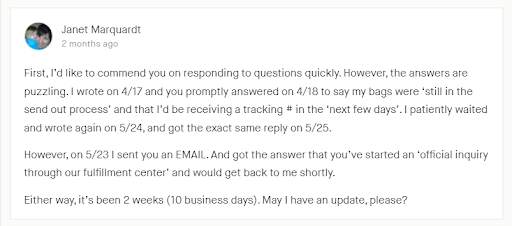 Team Responsiveness Score
TIW Total Score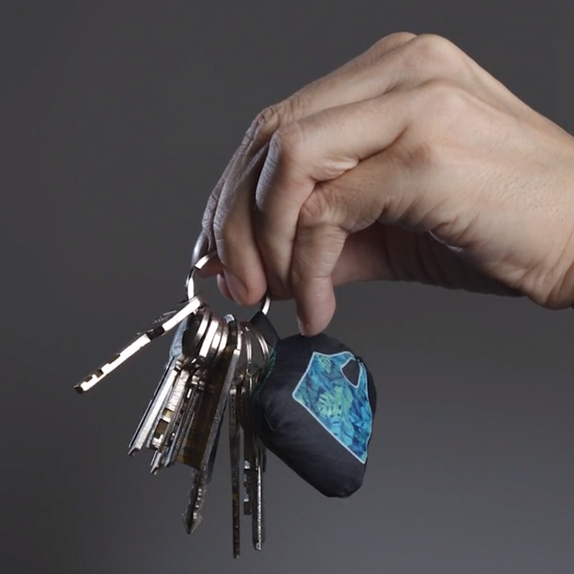 Nanobag 4.0
Nanobag 4.0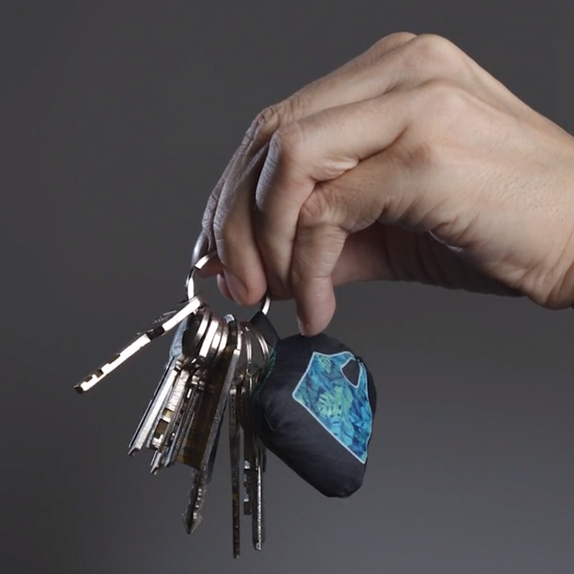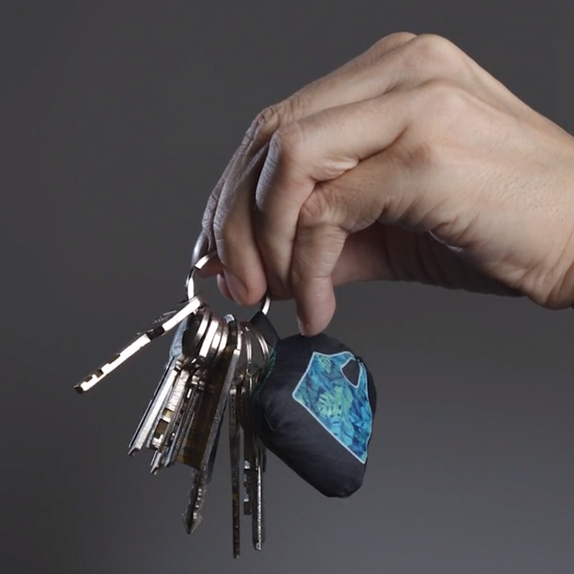 Limited time offer
d
·
: :