Movo
Webcam with Microphone and LED Light
key advantages
Integrated LED light
Portable Stand
Built-in headphone
estimated
delivery
June 2021
Microphones, those things that keep us connected by sound, even when you're on the moon. Houston, we have a problem? Yeah, communicated through a microphone…
This pivotal creation in our time, can also be the most frustrating thing to deal with when they either suck, or flat out don't work. Can you hear me? Hello? Yeah… we've all been there.
So when this company "Movo Photo" introduced a studio-quality microphone, that also has an HD quality video recorder incorporated into it, it was all eyes and ears from there. The fact that it was fully funded in only 2 hours makes it safe to say that it also caught the attention of many others in the market. Let's dive deeper and see if this webcam with a microphone and LED Light is worth the hype, and can survive our hardcore review.
The Product
Innovation
Is this a truly new product that you can't find on the market? Or this a product that defines an entirely new product category. In some cases, the combination of several features into one or the introduction of a new feature to an old product are also considered to be an innovation.
For years I've had the Blue Snowball mic (that everyone knows and loves) but have had a shitty over-exposed computer camera. It honestly was enough to keep me from getting professional-grade equipment, since the webcams with microphones in the market were either low-grade, offered great footage but terrible audio, or were within capital city records studio budget. 
So the fact that Movo put both a GREAT cardioid condenser microphone, an HD camera, AND a ring light within the same device is what did it for me. 
The fact that you get a studio-quality microphone that incorporates accurate directional pickup patterns (for quality sound transmission), gain control, WITH a built-in 1080p or even 4K camera that records 30 frames per second, is just insane… and it looks good. Like c'mon. 
Throw in an LED ring light and you have every content creator's dream… wait, it has that. So yeah, it's pretty much every content creator's dream. 
Thing is, they really haven't reinvented the wheel. But they did find a great marriage of different products. The camera as a general concept has no major change. The lights variant is its 3 brightness levels. And the microphone is that of the one you can find in ASMR videos. Innovative? Not the craziest, but definitely an amazing all-in-one solution product for a great price.
Probably the best 2-in-1 webcam microphone you'll find, and definitely the best 3-in-1.
Competitiveness
How much better is it than the competition? Is it faster? Bigger? Cooler? More affordable? There needs to be a solid reason why you should back this project over any other.
| | Movo webmic | NexiGo | JIGA HD | Jelly Comb |
| --- | --- | --- | --- | --- |
| Price | $109 | $55 | $50 | $50 |
| Auto Focus | ✅ | ✅ | ✅ | ✅ |
| Resolution | 1080p/4k | HD 1080p | HD 1080p | HD 1080p |
| Frame Rate | 30fps | 30fps | 30fps | 60fps |
| Amazing Sound Quality | ✅ | ❌ | ❌ | ❌ |
| Headphone monitor port | ✅ | ❌ | ❌ | ❌ |
| Ring Light | ✅ | ❌ | ✅ | ✅ |
| Color temperature change | ❌ | ❌ | ✅ | ✅ |
| Stand | ✅ | ❌ | ✅ | ❌ |
With 5 different pledge variables available at your disposal, the sheer customizability and freedom it gives you are to get the product that's right for you is great. Do you want this webcam microphone with an LED light? Great! You don't? Great! Don't care about the camera? Just get the mic! You have your needs, Movo has the options.
Yes, there are many similar solutions out on the market. BUT what really makes the Movo stand out is the focus on the microphone. 
Every amazon webcam with mic and LED has put no attention on the microphone whereas the Movo literally is a studio-quality cardioid-condenser microphone with an added HD/4K camera. 
The only thing I wish is that they had taken the extra step and added color temperature options to their LED lights. 
My last question is the weight? Will it weigh down my computer screen? It looks damn heavy.
Product Competitiveness Score
The Team
Reliability
How capable is the team? Have they developed something like this before? Do they have crowdfunding experience? Manufacturing experience? A lot of campaigns fail to deliver their product because they don't know what they're doing.
They call themselves "experts in audio and video equipment for content creators" and are Amazon's Choice on Amazon. They have great reviews on Amazon and 552 5-star reviews on Facebook with their previous products. 
I actually can't count how many products they have available on Amazon – I don't have time to go through all the pages (yeah, that many). So you can trust that you know what they're doing on this webcam microphone.
So if they are so successful and established, why are they crowdfunding? 
Given, yes, setting a product up for crowdfunding is also a way of testing if the market is interested in the product and seeing how many are willing to buy. I mean, Philips even does crowdfunding projects.
Their 2 previous Kickstarter campaigns "shipped" however, one of the campaigns has many complaints that the product didn't ship. On one backer comment, they responded 10 months late — which is very unprofessional.
On LinkedIn their Business Development Executive is called "Alex Sporano" but after running a Google Reverse Image Search, I found out it's a fake profile. The reverse image search revealed that "his" picture is a stock image from motionarray.com. 
The other Linkedin profiles linked to Movo are legit. Maybe the "Alex Sporano" might've been their work. Maybe not. If it wasn't, I recommend they should remove him from the organization on LinkedIn very fast, as it's not a good look. 
They also proudly say they are US-based but the co-founder is based in Hong-Kong. It's nothing to worry about on such a small scale but they should get their PR straight.
Attitude
How transparent are the campaigners? Do they give their backers valuable updates on their progress? Do they engage with their backers? Crowdfunding is all about community, sharing information, and building a meaningful relationship with the people who fund your project.
On Kickstarter, their response time to comments is up to 3 days! Very bad. There are critical questions asked by the backers, and if they are not responded to, it might scare off other potential backers. 
Furthermore, the commenters are giving GOLDEN advice to Movo but they respond slowly. They should really upgrade their community-building skills. 
When they do respond, their responses are polite and well written. It might not be the most personal, but it's ok. 

Maybe they just need more experience on Kickstarter. Who knows.
Conclusion & Public Opinion
Movo's iteration of the perfect or ideal solution for the modern-day content creator is both interesting, and also very practical.

In today's age, the sound is one of those things that either keeps you listening, or causes you to change to another youtube video. And "God forbid" the highest picture quality is 360p. 
Seeming they deliver a solid product with all of their experience as an established equipment provider for content creators, we won't see a future with terrible content quality if other product makers follow suit on premium quality webcams with microphones and LED lights.

As a whole, the design is great, the concept is useful, and the product is as user-friendly as it gets. Haven't tried their other products, but this is one I'll certainly get behind.
TIW Total Score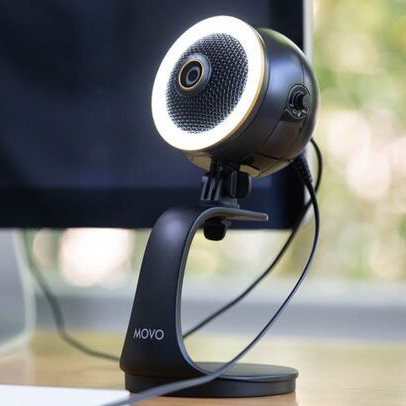 Movo
Movo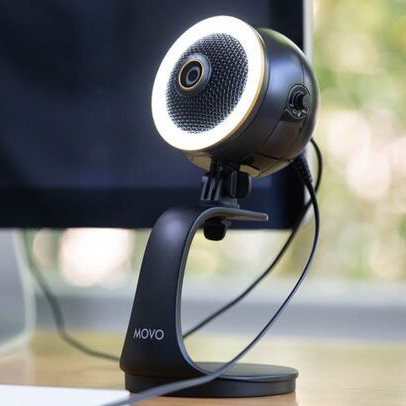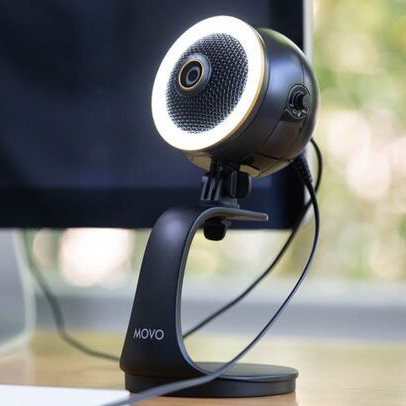 Limited time offer
d
·
: :