Introducing the ultimate Meepo V3 review by Tech I Want. Let's see if the Meepo V3 electric skateboard is the board for you.
Meepo V3 Overview

If you're tired of wondering what riding an electric skateboard feels like, boy, do we have the solution for you.
The Chinese Meepo V3 manufacturing team has developed and polished an amazing budget board that can take you as far as 11 miles in one go.
This electric skateboard called the Meepo V3 is loved by its users all over the world. This is a budget board with amazing specs, including its speed, range, etc. The board is said to be ideal for adult teens, but it works for all other age groups as well.
As your trusted source for reviews on the tech you want, Tech I Want has gathered all the credible review information out there, so you won't have to look further. As a result, we've generated this ultimate Meepo V3 review to answer all your burning questions about this budget electric skateboard.
We've scouted out all there is to know about this board that'll help you make a final decision. Ultimately, we will help you understand whether the Meepo V3 is the perfect board for you.
Meepo V3 Specs

The specs of an electric skateboard should be your priority amongst other reviews. After all, you want to find the board with the best features and the lowest price.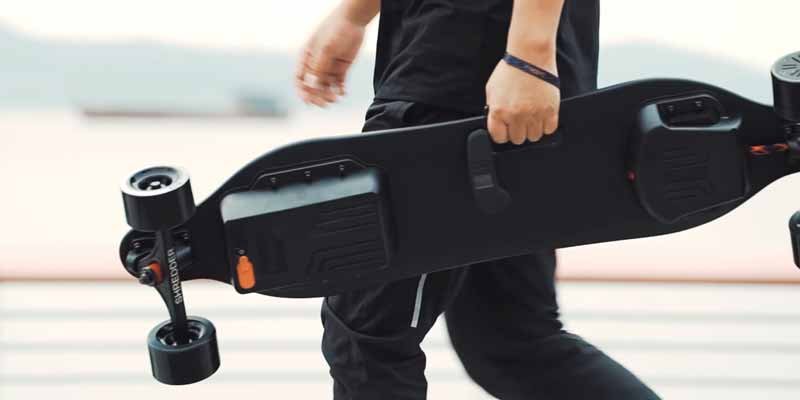 Let's take a look at what the manufacturer of the Meepo V3 claims regarding the specs of this budget electric skateboard.
| | |
| --- | --- |
| Dimensions | 965 × 229 mm/ 38 x 9 inches(LW) |
| Weight | 7.85kg / 17.2lbs |
| Top Speed | 45 km/h / 28 mph |
| Range | 8km/11miles |
| Hill Climbing | Up to 30%  |
| Battery | 4-8Ah 144-288W / Charging time – 2h |
| Max Load | 136kg / 300 lbs |
| Warranty | 6 (six) months |

Special Features: 8-ply Canadian Maple board, 0-19mph acceleration in 4.5 seconds. 2x540W Brushless Hub Motors, PU polyester urethane wheels.
Get The Product Here!

Who should buy this (pulling strengths and weaknesses of the product) 

Since the Meepo V3 is a budget board under $500, it's a perfect contender for an electric longboard first-timer. It has great acceleration and braking options, so it can grow along with your riding skills. 
The Meepo V3 electric skateboard also has a very smooth learning curve, so don't be scared if you've never tried anything like it before.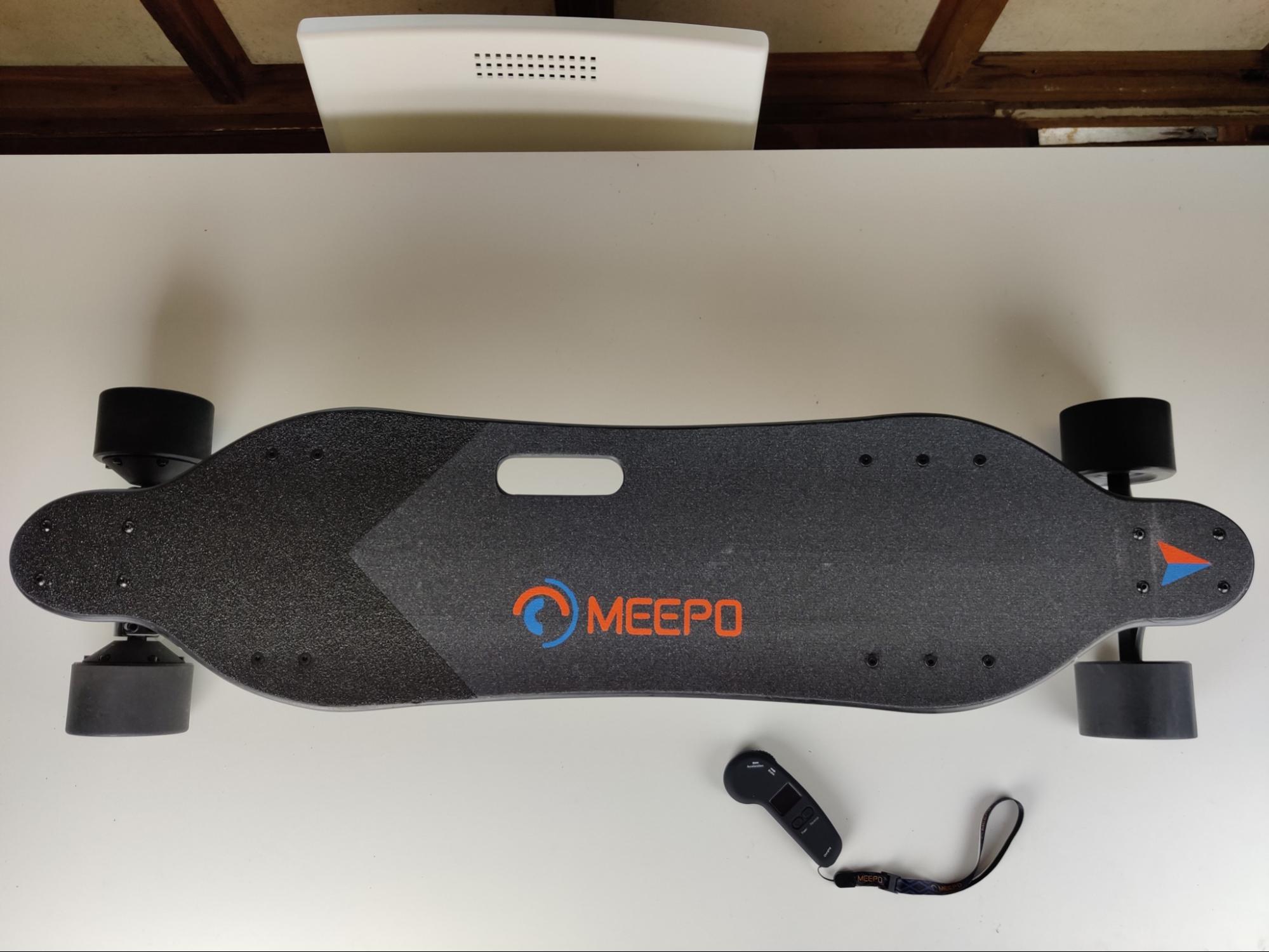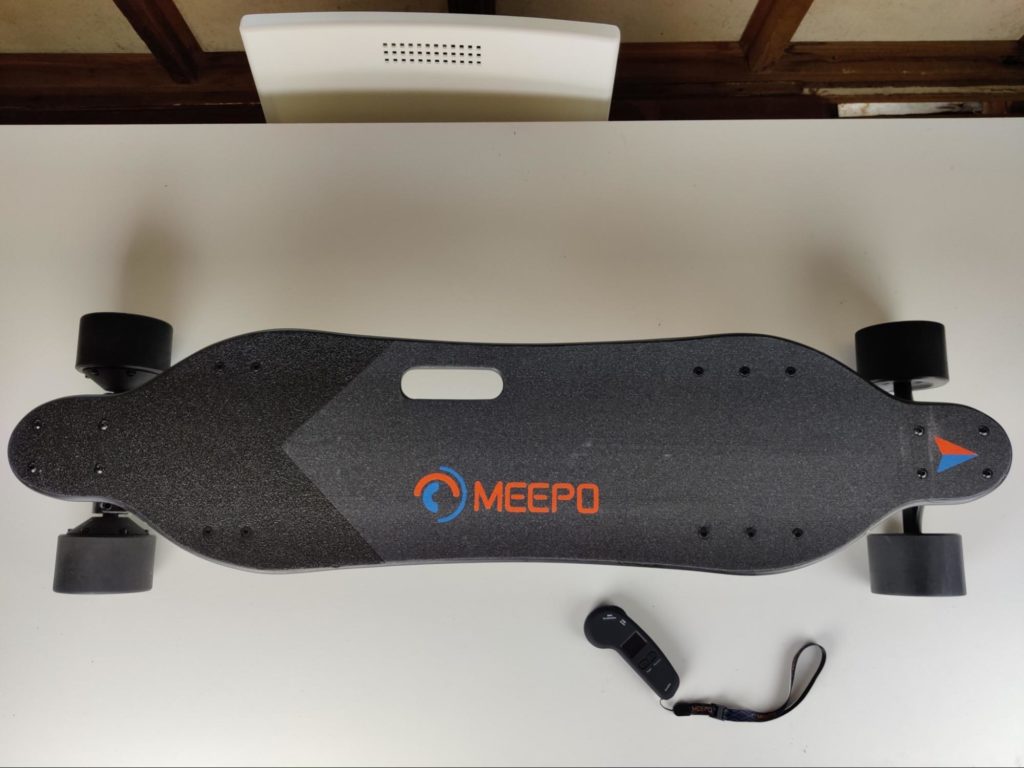 In this Meepo V3 review, we've made it our responsibility to help you decide if the Meepo V3 is for you.
So, if you're a young adult looking for your first electric skateboard that won't put a hole in your wallet and will give you great capabilities, you should definitely keep the Meepo V3 in mind.
If you're more of a penny board fan, we recommend trying the Meepo Mini 2.

What are the experts saying?

Having gathered all the credible reviews from experts in this ultimate Meepo V3 review, we are ready to share our general opinion about this electric skateboard.
Overall, the Meepo V3 lives up to the expectations of a budget board. Many users enjoy the speed, range, and driving modes, but there are also some downfalls regarding its shipping, wheels, and water resistance.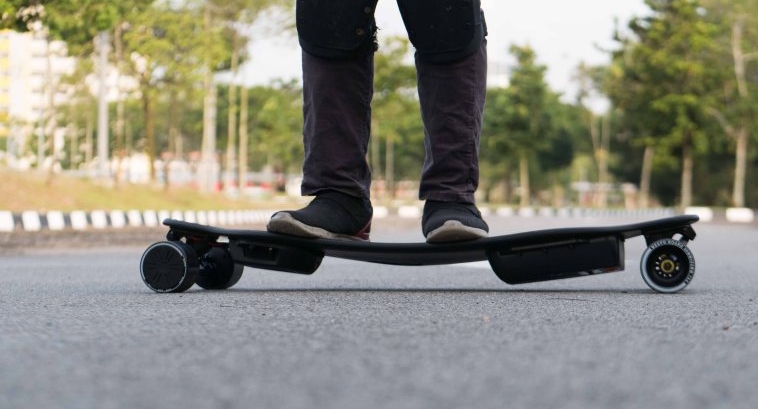 The Meepo V3's latest version is called the ESC V6.5, where some water resistance features are said to be added with complete electronics glue sealing.
Let's dive deeper into each category and uncover all there is to know about this beautiful budget board.
Meepo V3 Battery
The standard Meepo V3 battery is said to last up to 11 miles in one go.
If you want to increase that limit to around 20 miles, Meepo offers a $200-$300 upgrade. Luckily, the battery is removable with some regular tools. It is recommended to watch a quick tutorial to make it easier for you. [TechBets]
The Meepo V3 Standard battery features 36V with 144WH power. It comes to a full charge in about an hour, which is pretty good.
Meepo V3 Range and Speed
Two of the main specs in any electric skateboard are range and speed. We've gathered info from multiple sources in this Meepo V3 review, so let's see what this budget board has to offer.
Although the company advertises the range of this board to be around 11 miles, some reviewers claim it doesn't reach that far.
John Paul measured the range to be 9.8 miles at 13.6mph average speed with no significant hill climbs, rider weighing 172lbs. [JohnPaulYT].
Other testers claim that the 11 miles range can only be achieved with a very light rider going only at the medium speed mode. If you decide to go for high speeds, you can probably get 6-7 miles in one go [e-skateboarder.com].
Hill climbing isn't bad, with the general opinion being that the Meepo V3 has mid-to-high-end torque. [immortalboards.com]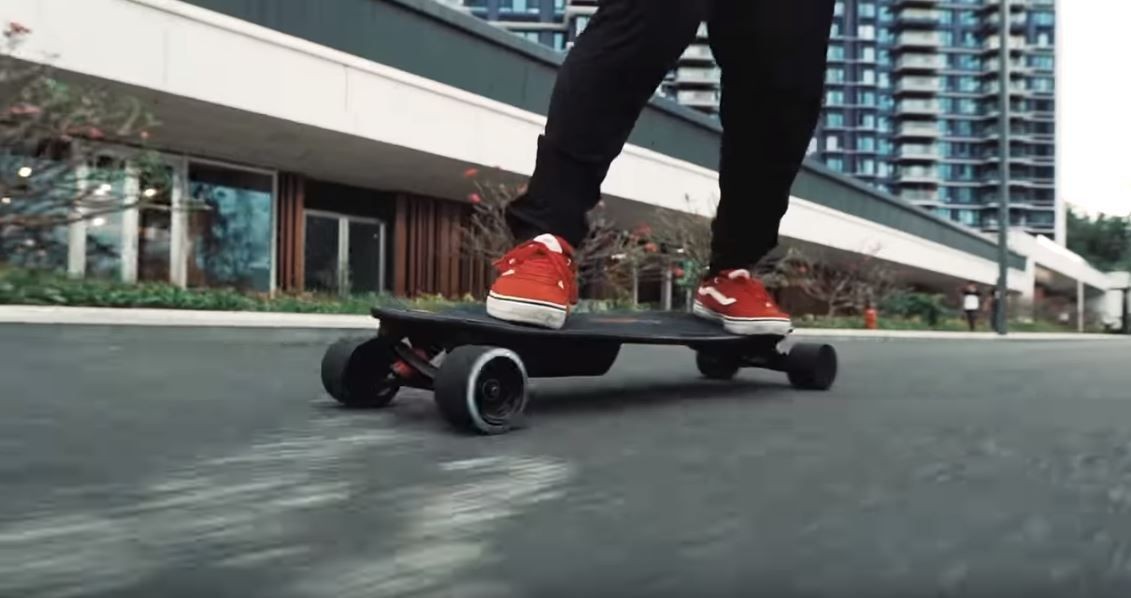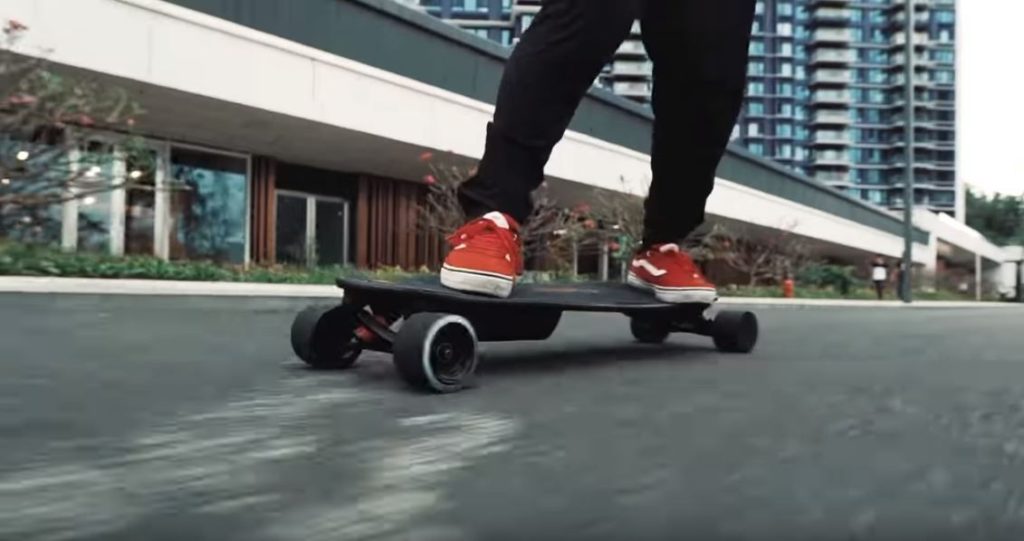 As for speed metrics on the Meepo V3, the company claims it is 28 mph. Other reviewers seem to agree.
One credible reviewer reported the Meevo V3 top speed to be 28mph, (45kph) with the board reaching 0-100m in 12.2 seconds and 0-200m in 20.3 seconds [JohnPaulYT]. 
Another credible reviewer managed to get a top speed of 29mph (46kph) [Testify].
Overall, the speed seems to live up to the expectations, while you might need a battery upgrade to hit the advertised drinking range and get the most use out of your electric skateboard.

Meepo V3 All-Terrain Wheels

The Meepo V3 features 90mm Polyurethane wheels that look great, but do they meet performance expectations? The answer is sadly negative, but not completely.
This board will definitely take you where you need to go, but being a budget board, the feeling you get when riding on imperfect roads is not satisfactory. The wheels don't handle cobblestone or dirt very well, leaving you feeling a lot of vibration during your ride. [Testify]
If you're looking for a more comfortable riding experience, you have 2 options. First, you can stick to riding only on high-quality streets. Second, you could purchase the Meepo V3 off-road wheels (100mm) for a more smooth ride. [immortalboards.com]

Meepo V3 Weight

The Meepo V3 sellers on Amazon claim that the board weighs 17.2lbs, (7.85kg) but other reviewers mention that it weighs only 16lbs. This is an adequate weight for an electric skateboard. 
If we also consider the board's maximum weight capacity, which is 300lbs (136kg), the weight-to-capacity ratio seems pretty impressive.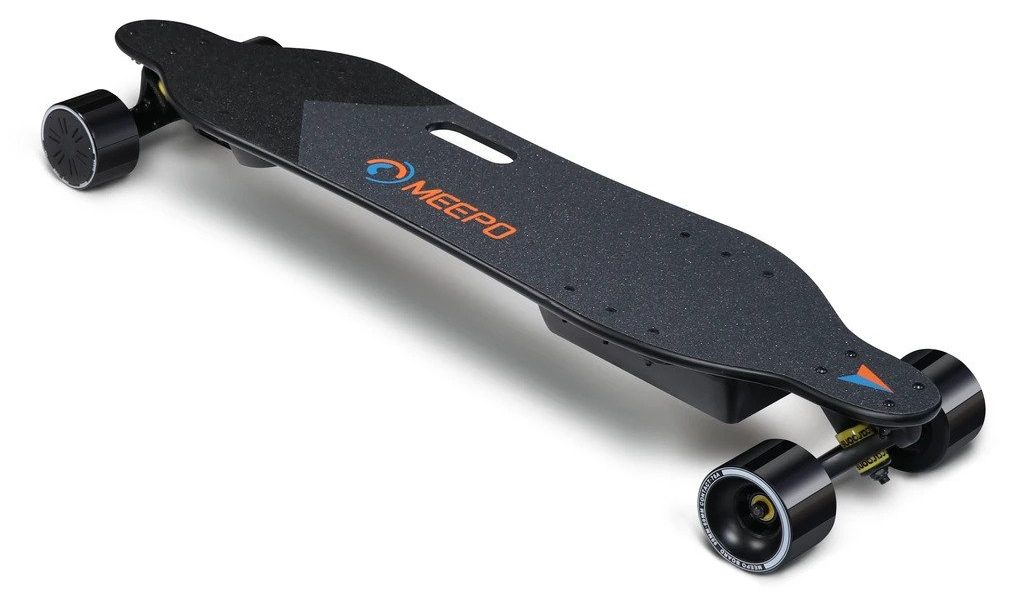 Meepo V3 Special Features

Last but not least, let's see what the experts have to say about some Meepo V3 special features.
The Meepo V3 features a handle on the deck, so you can hold it like a briefcase. The experts find this feature to be extremely useful [Testify].
This electric skateboard features 4 breaking modes and 4 riding modes, which can be smoothly switched over during your ride through the smart remote control [immortalboards.com].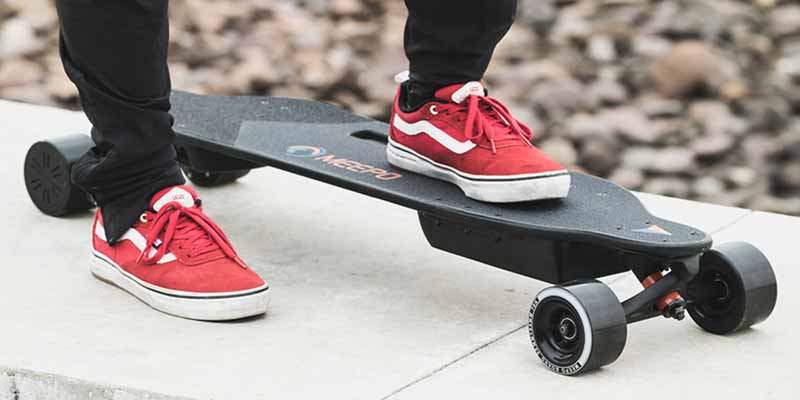 Regarding the Meepo V3's deck, it is made of 8-layer Candian maple wood, giving it lots of flexibility. It might not be the most flexible deck, but it definitely gives tons of control. [Testify]
Thanks to an amazing development team behind the Meepo V3, you get an innovative remote, which has a larger screen and a solid feel to it. One reviewer even gave this remote an A+. [immortalboards.com]
The Meepo V3 is great for longer journeys with steady roads, especially with its cruise control feature. [electric.travel]
Finally, you can even ride the board in reverse with power coming from the front wheels. [Testify]
Get The Product Here!

What are the customers saying? 

For some unknown reason, the Meepo V3 electric skateboard isn't available for sale on Meepo's website. Luckily, this electric skateboard is available on Amazon, where we can see over 400 customer reviews and ratings.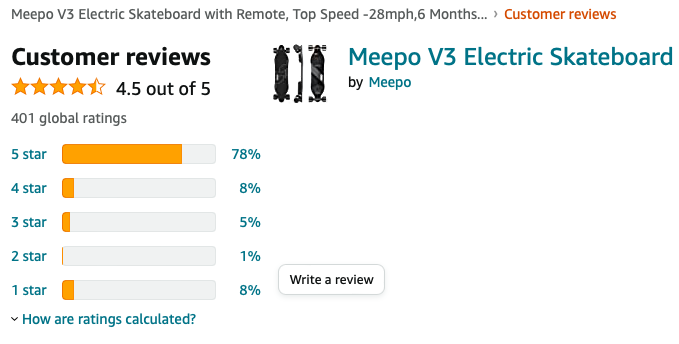 The Meepo V3 isn't a 5-star electric skateboard, but it has managed to please 78% of its users completely. With 4.5/5 stars on Amazon, the product has a pretty good reputation. 
Since a considerable proportion of the reviews (8%) are extremely negative, let's analyze 2 reviews – 1 good and 1 bad.
Nathaniel Whitbey from the US gave the Meepo V3 a 5-star rating. They loved the board and considered it a great bargain. They did, however, mention 2 issues they found.
Nathaniel stated that the battery life isn't the best on this board. He had an incident when going up a steep hill in pro mode with 70% battery left. The board started showing that it was close to dying.
He is not the biggest fan of the hub motors since replacing them is a hassle. Furthermore, Meepo only offers the 100mm or the cloud wheel donut 120h wheels as replacements, which are out of stock.
Nathaniel also pointed out some things he loved about the board. He manages to reach 29mph comfortably on steady roads and enjoys the steady ride.
Overall, he claims that the Meepo V3 is a VERY good skateboard for its price. Comparing it with other boards in the same price range, the Meepo V3 features better acceleration, higher top speed, and better battery life. He also praises the wheels for being able to conquer rough terrain.
As for the negative reviews, they generally complained about the remote not working or the board breaking after a short while. Overall, these negative reviewers claim that the board isn't good for long-term use. They also mention that customer service is inadequate.

Shipping options

Since Meepo is a Chinese brand, the Meepo V3 electric skateboard's shipping options won't impress you. Seeing as how this is one of the few downfalls of the board, this Meepo V3 review simply had to cover the topic.
This Meepo V3 review doesn't wish to disappoint you, but it is our responsibility to tell you that it might take even 3 months for your board to ship to you. Although the company apologized for the delay and added extra 100mm wheels to the package, a reviewer in London still had to wait for 3 months until they got to play with their new toy.  [e-skateboarder.com]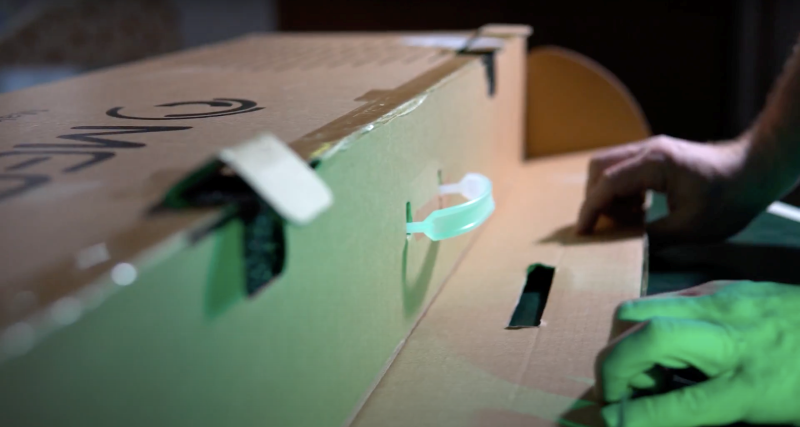 Aside from this special case, the Meepo V3 electric skateboards don't usually take as long to be shipped. As stated on their website, they have 2 shipping options for you to choose from.
Standard US Shipping, which can take anywhere from 25-35 days to arrive,
Extended US Shipping, which will ship within 8-16 days.
Nevertheless, their shipping options are sometimes different. One reviewer claims that there was only one option for shipping when they ordered the board, which was 3-10 business days. They concluded that Meepo clearly has issues regarding its logistics. [immortalboards.com]
In general, you can expect to wait for 3-4 weeks if you live in the US. As for European customers, it can take even up to 3 months.
If you are willing to wait, then you should consider the Meepo V3 as a great budget electric skateboard option.

Conclusion

Let's sum up this Meepo V3 review and see the general impressions we've gathered here.
The Meepo V3 is a great budget board with standard metrics across the board.
The best features of this board are its top speed, riding modes, overall power, and some special features we've discussed (cruise control, board handle, and flexible deck).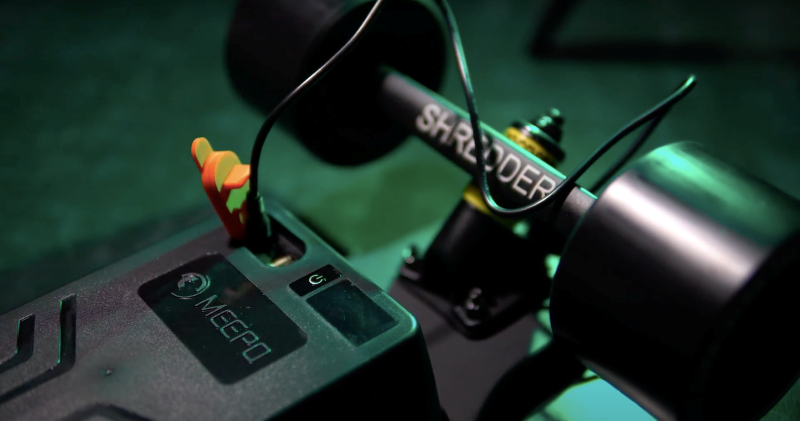 As for the downfalls, you can expect to get a late delivery from China. You might also dislike the driving experience on rough terrain or cobblestone due to the wheels. However, for a budget board, this is something you might want to look past.
Is this the board for you? Well, if you are a young adult who wishes to invest in their first electric skateboard without breaking the buck, the Meepo V3 is a definite contender.
Many of its users adore the board, but a rare few encounter issues. The board comes with a 6-month warranty, so you can feel a little safer about your purchase.
Get The Product Here!