Litelok Core
Lightest Bike Lock
key advantages
Quick Click-To-Lock Security Pad
Incredibly Lightweight
Modern & Stylish
estimated
delivery
May 2021
Living in a city? Great! Got a bike? Great? Had a bike… that sucks. Trust me, I know.
I lived in Los Angeles for 4 years. And in the span of 2 years, I had 2 bikes stolen. The second one hurt. That nice Trek mountain bike, red and silver with plush suspension. Parked right outside the Patagonia store. 4 hours later, getting out of work, come around the corner, and I don't see the bike.
I paused, was dumbfounded for a sec. "Was my bike stolen?" I look around, almost as if I lost all sense of direction. You look at the place you parked it. Look at the scene. Moments later, it actually sets. "Damn… My bike was stolen!"
This has probably been the case for many around the world. The feeling sucks. For weeks, you might see people riding bikes, and you always give them a solid look, seeing if that bike happens to be the one parked outside of that Patagonia store… until it's time to let go.
Do you want some stats? 2 million bikes stolen in the US every year. 2 million. So will this device which claims to be one of the lightest bike locks coming from LiteLok, make a difference?
Before we get in, I want to mention that we are specifically talking about bicycle locks in this review. And you'll soon understand why we needed to add some clarification. Let's dive in.
The Product
Innovation
Is this a truly new product that you can't find on the market? Or this a product that defines an entirely new product category. In some cases, the combination of several features into one or the introduction of a new feature to an old product are also considered to be an innovation
Alright, let's get right to it. Is it an innovative bike lock? Is this something new you won't find anywhere in the market? Does it define a new product category?
The answer? Kind of. It is a strong take at something different that you would see within the traditional bike lock market. When it comes to dealing with products that well, are not stationary. Products that require transportation, like outdoor goods, or mini-whatever it may be, their selling point is transportability. But if you're transporting a traditional U-Lock… well, it might be transportable, but lugging that thing around for the sake of security isn't always fun.  
So LiteLok? It's in the name… It's lite. Excuse me, light. You can rock it around your waist as a makeshift belt, strap it to your bike without extra fuss, and when needed, lock it down to your bike. Would I rock it as a belt? Well after those two bikes I'll never get back, I'm considering it.
Not only did the creators make bicycle locks, but they also made locks for motorcycles (the clarification… boom). Why? Because the founder had 2 motorcycles stolen. So they're pulling all the stops. 
Being both lightweight and flexible, the bike lock has gotten a diamond safety accreditation while the motorcycle lock received gold. That makes these two versions, some of the most lightweight, flexible, and secure locks on the market. 
Supposedly the material jams-up wirecutters, getting them stuck and causing thieves to give-up midway through the process. So is it the most secure?

No. Those U-locks are still probably your best bet. But this is a healthy choice if you are looking for something that won't weigh you down while keeping your bikes relevantly secure. Being that it is their third go at it, with many rigorous tests done to their previous versions to try to improve on its design, seems to be an ideal lock for those on the go. 
Competitiveness
How much better is it than the competition? Is it faster? Bigger? Cooler? More affordable? There needs to be a solid reason why you should back this project over any other.
| | Litelok Core | Sportneer | Hiplok Spin |
| --- | --- | --- | --- |
| Price | KS $138 | $18 | $50 |
| Many different versions | ✅ | ❌ | ✅ |
| Lock Material | Stainless Steel | Plastic | Plastic |
| Chain Material | Grain Steel | Manganese steel | Hardened Steel |
| Braided outer sleeve | ✅ | ✅ | ✅ |
| Pick resistant disc container | ✅ | ❌ | ❌ |
| Weight | 1.6kg | 0.67kg | 0.88kg |
| Locking lenght | 75cm | 1m | 75cm |
| Diamond Security | ✅ | ❌ | ❌ |
How does it compete with the market? In short, decently. But that being said, this is in the bike lock category as a whole.
U-locks are stronger and cheaper than the Litelok, however, the Litelok can be worn comfortably and is easy to use and transport. But is LiteLok the lightest in the market? No. There are lighter locks out there, but when it comes to being both the lightest flexible or lightest wearable lock, they state they are the lightest one. 
If we're getting specific here. Sure I'll give it to them. But if flexibility and wearability aren't a factor to you, then there are lighter locks out there. But are those lighter locks more secure? I'd probably doubt it.
If we are getting to specifics here and checking all of the competition, the top-rated lock Kryptonite New York STD is more difficult to break and more difficult to lockpick than the previous LiteLok gold. Not only that but it is also lighter. However, it is not flexible.
So if you need to lock your bike up in a not-so-standard location, it might not be the right… fit. 
But it is important to mention, from all the research and tests, no lock in the world is safe from being picked or destroyed. It's just a matter of time, equipment, and expertise. I mean have you seen The Italian Job?
So if you have a bike that you care for and cherish, sometimes "good enough" is really not enough, and buying outside of your price range is necessary. That being said, if you already own a U-lock and LiteLok, if you want to better "full proof" your bike, the best advice is to use both. 
But you know what would be cool to explore? If bike locks came with explosive ink or glue, maybe an electrical shock when being cut… Now that would be pretty innovative. 
Product Competitiveness Score
The Team
Reliability
How capable is the team? Have they developed something like this before? Do they have crowdfunding experience? Manufacturing experience? A lot of campaigns fail to deliver their product because they don't know what they're doing.
How is the team looking? They seem to be very reliable. They have a few comments on their previous campaigns about products that have not been received, but this is the case for many products out there (not only in crowdfunding). 
When it comes to reviews, they have an amazing rating and reviews on Trustpilot, honest positive reviews on youtube, and aside from that, solid customer satisfaction with regards to their previous products. 
Like I said before, this is their 3rd version of LiteLok. And what makes this one the best? The amount of time spent testing their previous versions, asking questions, and listening to the feedback their backers and customers had for them… they compiled all of that data and information and started making changes from all of the feedback. 
They actually cared what people had to say, because, at the end of the day, the creator was a victim of motorcycle theft twice! It hits home for them. And they are doubling down to make sure LiteLok hits home for you. 
They promise in their Kickstarter video that they'll deliver the LiteLoks in the spring, and from their responsiveness and expertise coming from their previous campaigns, I trust they'll deliver on this. 
Anyways, we hope for the best and good luck to them.
Attitude
How transparent are the campaigners? Do they give their backers valuable updates on their progress? Do they engage with their backers? Crowdfunding is all about community, sharing information, and building a meaningful relationship with the people who fund your project.
How is their community interaction? Great! They are very attentive to their backers. They respond usually within 1 or 2 days, and the answers that they give are very professional and personal. If something that can't be answered in the comments needs to be resolved, the creator asks the backers if they can send them an email to get to the bottom of the situation. That is ownership, and that's what is what should be expected from good campaigners. I can definitely see they understand the value of good customer service in crowdfunding. 
That being said, though the lock is a little high on the price list, they did put the time in, did the research, and are adhering to customer concerns. That in itself is enough for me to give them a serious look and consideration.
Conclusion
Is it the most secure? No… Is it the lightest? One of the most… But will it stop bike theft? Nothing is theft-free. Everything can and sometimes, will be broken into and stolen. 
So can this lock make a difference? From the research and insight. It can. And I think that's what's important here. This lock makes life in general easier because it is bringing a new system into play. Something that your ordinary thief doesn't see every day. 
Will it full-proof the safety of your bike? No. But let's say you were to have this and a U-lock to secure your bike, most likely… bike thefts will not even bother and move on to the next easy grab. 
With solid caring campaigners/founders and a thought-out product, I can definitely say LiteLok is one of those light bike locks to have high on your list if you're in the market.
TIW Total Score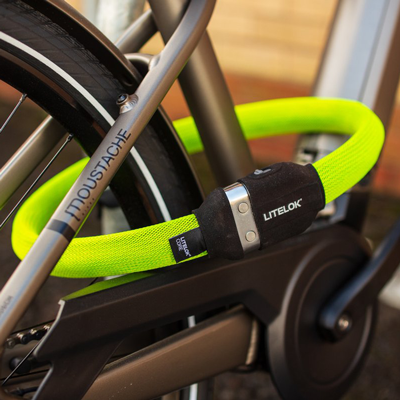 Litelok Core
Litelok Core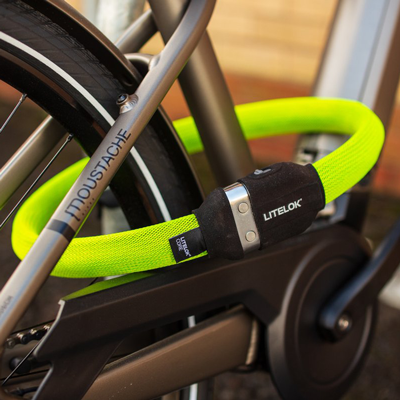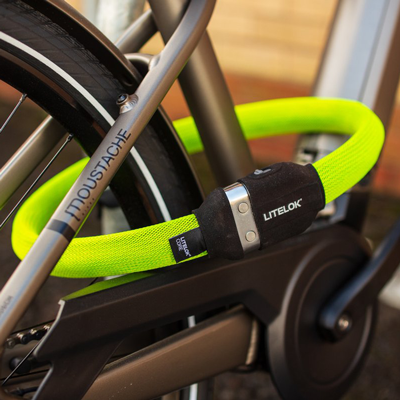 Limited time offer
d
·
: :