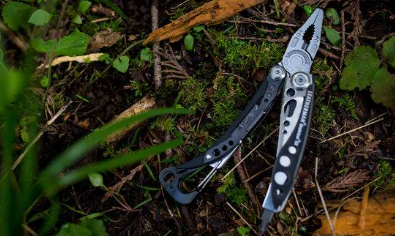 PRODUCT OVERVIEW
Leatherman Skeletool CX Multi-Tool gives you very cool basics.
It has the essential features a tool should have.
Skeletool CX has 154 CM stainless steel pliers, a pocket clip, a blade, a bottle opener, and a bit driver.
A multipurpose tool that is easy to use and carry anywhere.
This tool is a perfect size, lightweight, and low volume, making it more convenient for people.
The handle conveniently stores tools for easy access for jobs or safekeeping.
The Leatherman Skeletool CX Multi-Tool is very effective and can also be called an EDC tool due to its prominent carabiner-style pocket clip.
This product is also lighter than any other tool, with portability and ergonomics that is very elegant and clean.
We provide other feedback below.
Specifications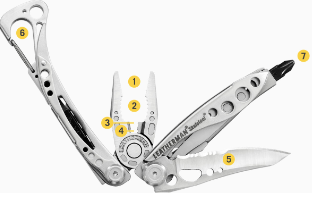 | | |
| --- | --- |
| Weight | 5 oz. | 142 g. |
| Closed Length | 4 in. | 10 cm. |
| Open Length | 6.0 in. | 15.24 cm. |
| Blade Length | 2.6 in. | 6.60 cm. |
| Width | 1.24 in. |3.15 cm. |
| Overall Thickness | .52 in. | 1.32 cm. |
| Materials | 154 Stainless Steel, DLC Coating |
| Included Bits | Phillips #1 & #2, Screwdriver ¼" & 3/16″ |
| Best Use | Camping |
| Knife Blade Type | Straight Edge |
| Locking Blade | Yes |
| Number of Blades | 1 Blade |
| Max Blade Length (in.) | 2.6 inches |
| Handle Material | Tungsten-coated steel/carbon fiber |
| Blade Construction | Stainless steel |
| Phillips Screwdriver(s) | 2 |
| Standard Screwdriver(s) | 2 |
| Bottle Opener | Yes |
| Lanyard Ring | Yes |
| Pliers | Yes |
| Wire Cutter | Yes |
| Hard-wire Cutters | Yes |
Get The Product Here!
---
Who Should Buy This Product?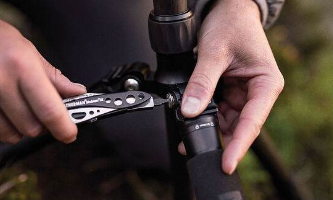 Skeletool CX is a necessary material for everyone, especially for people who love going to campsites. It is a multipurpose tool that anyone will need while on a campsite. It has different features, such as screwdrivers, blades, bottle openers, wire cutters, pliers, and lanyard rings. Skeletool CX is the most essential and convenient tool for campers.
Leatherman produces high-quality, corrosion-resistant stainless steel tools. Their tools are excellent and easy to use. Leatherman assures the quality and features of the products they offer. Their multipurpose products make it easier for customers to carry necessary tools anywhere they go.
Suppose you are looking for a tool ideal for walking, mountaineering, or even a camping repair tool; Leatherman Skeletool CX Multi-Tool is probably the best option for you. It is simply a pair of pliers with wire cutters, a locking knife, and a bit driver with both Phillips and flat head screwdriver included all in one. This tool is a very useful and multi-functioning item with different purposes.
The Leatherman Skeletool CX Multi-Tool is the 3rd generation designed by the Leatherman company. It has seven kinds of tools and an upgraded blade feature. It is a must-have tool for campers. Skeletool CX will make everything easy for customers. It is not just an ordinary tool you can see anywhere; it is a multi-tool made from stainless steel.
For people who love collecting things like knives, multi-tool is more like a requirement, and Leatherman Skeletool bested all the options possible. This product was made with EDC-worthy stainless steel, making collectors put it on their lists. If you love useful things with multi-purpose, you should not think twice about this product.
By statistics, the Leatherman Skeletool CX Multi-Tool is by far the most expensive tool that anyone could own, but for safekeeping and protection, this is a good choice. Not only for safety, this tool can also be used when you go camping with your friends and family. This multi-purpose product could be helpful for different events and occasions, so it is recommended to buy this product. The Leatherman Skeletool CX Multi-Tool makes it an excellent day for everyone to carry.
---
What are the experts saying?
We reviewed all the reliable feedback from the different brands and companies about the Leatherman Skeletool CX to provide you with the most credible, honest, valid, and feasible view. Most of them are good and positive feedback about the product.
OVERALL
57 out of 98 people who purchased Skeletool CX gave the rate of 5 stars. And 82 % of the reviewers recommend this product. The majority of them liked and were satisfied with the Skeletool CX. Leatherman products are mainly necessary tools anyone should have. They only offer high-quality tools. And the majority of their customers leave with good feedback online. Their products only aim to provide convenience to people who love camping.
Leatherman always has a fantastic reputation for making strong, reliable, practical, and portable use that everyone can bring anywhere. Many models and tools are cumbersome, so we usually leave them at home, especially during mountain climbing or camping. We always want to carry those lighter things for a less hassle activity but with Leatherman Skeletool CX Multi-Tool, it fits everywhere. It is a pared-down version of their classic pliers that keeps the weight down to 5 ounces which is very easy to carry.
The Leatherman Skeletool CX Multi-Tool is a lightweight, high-quality, and functional multi-tool that combines striking industrial design with excellent functionality and performance. Most of the respectable brands who review this product give positive feedback. Given that this product is multi-tools says a lot. The Leatherman company is known for making reliable tools that make their Skeletool CX Multi-tool already famous in the market. But what makes people buy this product is its reliability. It is already tried and tested that this product is very useful and reliable in different activities. This item is a crowd's favorite because it is very handy and because of its multi-tool function. This hassle-free EDC tool is useful for outdoor activities like walking, camping, and mountain climbing.
OBJECT DETECTION
The Leatherman Skeletool CX Multi-tool has seven tools included all in one. It has needle nose pliers that are perfect for holding small objects or for using the pliers in tight or narrow spaces. It can also be used to cut off some wires when you need to. It also has regular pliers which conveniently hold and manipulate different items. Another tool included is a hard-wire and wire cutter, which easily cuts through the electrical and hard wire in different areas and cuts regular-gauge electrical wire with a very durable and edge-retaining tool.
The item also has a 154CM knife with high-end, super-strong steel blades that stay sharp longer and resist rust. A carabiner or bottle opener is also included in the item, which features a one-way gate and allows easy clipping to a belt loop or strap. It can also pop the top of your favorite beverage. And last but not least, a large bit driver is also included in the function of the Leatherman Skeletool CX Multi-tool, which switches out full-size bits to customize your multi-tool easily.
ADVANCED SKELETOOL CX CAPABILITIES
The Skeletool CX's different features make it more convenient for customers to use and carry it. This tool can be used as a screwdriver, pliers, bottle opener, etc. Skeletool CX has a removable clip that lets customers carry it in their pockets. It is not just a tool, but it is a multi-tool.
Aside from the item's different functions, it is capable of cutting foods and wood, which is very convenient to bring during outings, mountain climbing, and camping with your friends and family. Producing this all-in-one knife is a very smart thing to do. You can do so many things as long as you carry a Leatherman Skeletool CX Multi-tool with you whenever you go.
CONVENIENCE AND COMFORTABLE
Leatherman Skeletool CX can help customers in different situations. It is an all-in-one tool that can fix and lessen your burden while on a camping trip or on an outing. It can be carried in your pocket or put in the pocket of your bag. It saves space and weight on what you carry. And can be used as protection when unexpected situations occur.
Having the Leatherman Skeletool CX Multi-tool with you will make you feel at ease because it has every feature you need in a tool. It is very comfortable to bring during camping because it is very useful. You don't need to worry anymore whether you want to cut your food ingredients or fix something with your tent. The Leatherman Skeletool CX Multi-tool will help you. This product will give you the convenience you need while still giving you the basic cool.
LOOKS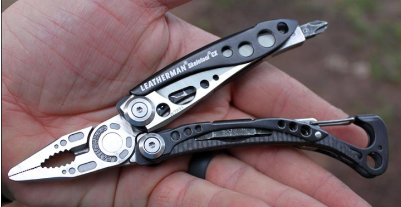 Leatherman Skeletool CX Multi-Tool weighs 5 oz and can be carried in the pocket with its removable clip. It has a closed length of 4 in and an open length of 6.0 in. It is primarily a knife and a plier tool. Pliers for wire cutters, screwdrivers, and carabiners are just additional functions for the product. The Leatherman made sure to use high-quality materials in producing this product to assure their loyal and upcoming customers of their reliability and durability.
The company is always faithful to serving its customers, so they listen to their feedback, and the Leatherman Skeletool CX Multi-tool is the result of their voices. They value the comments and feedback of customers to gain additional knowledge on what they need to improve with their products. The unique part about their product is they offer customization on every purchase of their customers.
Get The Product Here!
---
What are the customers saying?
Since the Leatherman is very popular with their products, the Skeletool CX Multi-tool became trendy when it came out to the market, and most of the customer reviews were positive. Out of 2,215 ratings on Amazon, 85% of them give five stars to show their satisfaction with the product, which is very high. 10% of the customers give four stars, while 3% give three stars. The remaining 2% comes from the two stars and 1 star, respectively.
Most of the Leatherman reviews said:
They didn't regret buying the Leatherman Skeletool CX Multi-tool, aside from the Leatherman being a trusted company regarding their products. They keep coming back to buy their products because it is already tried and tested. Most of the customer's reviews said that the Leatherman Skeletool CX Multi-tool is the best multi-tool in the market. It is the most perfect for everyday use activities. It can also be used in farming and other outdoor activities.
According to the reviews, Leatherman company is still the undisputed and unmatched King of multi-tool. Their reputation is mainly the reason why their customers are loyal to them.
Here is an example review of one of their customers and how satisfied they are with their purchase of the Leatherman Skeletool CX Multi-tool: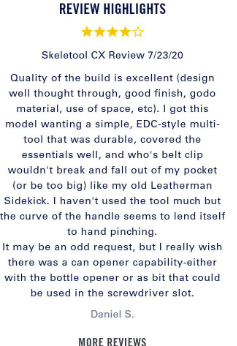 The Leatherman Skeletool CX Multi-tool is not that expensive but very useful, and the customers tend to recommend it to their friends because of the price, functionality, and practicality.
WARRANTIES WITHOUT WORRY
The Leatherman company always assures customers that their tools are built to last longer than expected. All Leatherman products are covered with a twenty-five years limited warranty for customers to have the assurance they need when purchasing a product from Leatherman. The process regarding their warranties is very easy. You only need to submit the online form and send the tool to their address to approve the warranty.
PURCHASING PROCESS
The current price of the Leatherman Skeletool CX Multi-tool on the official website of Leatherman is $74.95 with a shipping cost of $5.95 with a subtotal of $80.90 per purchase. The product's shipping may take up to 3 to 12 business days.
When you want to order on Amazon at the price of $89.95, which is much more expensive than the price of the official website, they offer free shipping on this product.
You can still find better and much cheaper deals on Amazon if you search better.
CONCLUSION
Overall, the Leatherman Skeletool CX Multi-tool is a very useful product that is worth it to buy. It is proven and tested that among its competitors, this one is the product that the customers keep returning to because of the company's performance. The Leatherman Skeletool CX Multi-tool is living up to its expectation and continues to satisfy the customers.
Regarding the durability and longevity of the product, the Leatherman company will not disappoint you. If you are looking for a multi-tool that can last long, the Leatherman Skeletool CX Multi-tool is the one for you. The company always produces quality products with high-quality materials that assure their customers of the performance they expect with the product. What makes this product stand out among the rest of the multi-tool in the market is its design and the company's reputation.
Buying the Leatherman Skeletool CX Multi-tool will surely not disappoint you. It will give very cool basics with multi-purpose all in one.
Get The Product Here!