key advantages
Built-In Heating System
Thermoregulating Material
Durable, Hypoallergenic, UV-Proof, Wind/Waterproof
estimated
delivery
July 2021
Finding the right jacket that will last you throughout your years is a special find. But where exactly do you look? Do you just hash out your funds and grab up on an expensive designer jacket? Or seek out something within the trusted and reliable outdoor brands that are also, well quite expensive.

But even then, are those jackets worth the money you throw at them? Is it that special jacket that you can wear literally in every season, without having to alter the layers you wear above or beneath?
This is something that apparel companies have taken into consideration and have worked on through the years. Taking the time to create that perfect "everyday jacket". But how deep have they gone into this? Possibly not too deep, or else you wouldn't buy more products from them.
But this campaign doesn't seem to worry about that since they're out here developing what seems to be the every day, every weather, every season jacket. With fabric infused with Graphene, the Gamma Jacket is making its case for the last jacket you'll need.
Solid claim? Let's run them through our review and see if they're truly the all-season jacket.
The Product
Innovation
Is this a truly new product that you can't find on the market? Or this a product that defines an entirely new product category. In some cases, the combination of several features into one or the introduction of a new feature to an old product are also considered to be an innovation.
Alright, let's talk about Graphene. This material was first extracted from the element Graphite back in 2004. Ever since then, Graphene has been used and tested for many things. For example, the Olympics. If we want to get into relevance here, Olympic athletes prefer using Graphene infused materials in their uniforms/suits.

Why? Maybe it's its natural antimicrobial properties. The fact that it's good at thermoregulation. It's waterproof. Oh yeah, and it's stronger than Diamond…

So when you have an ordinary jacket and mix it with Graphine's properties, you already have a pretty solid jacket.

So if you innovate on top of that, you are just adding to the layers. So what does the Gamma jacket aside from having Graphine infused into its fabric? Well, they just happened to throw in 3 heaters into the jacket. Yup, 3 heaters. 
So like many jackets out there that claim to be all-season jackets, are they really? Since Gamma already is breathable and thermoregulating with its Graphene-infused properties, adding a heating system for when it gets icy means that you'll stay cool and dry when hitting the rainforest, and stay warm and agile when hitting the frozen tundra (at least someone toasty).

Aside from these cool features (oh yeah and it has 10 pockets, and only weighs 500g), is it innovative? Herewith the team, we've concluded that although its functions are cool and most likely useful, the Gamma Jacket did not innovate Graphene itself. They're just using the material and leveraging its properties into a solid product.

The heaters are cool, but it's still a jacket that is using the latest technology to create an awesome product. But it's still cool.
Competitiveness
How much better is it than the competition? Is it faster? Bigger? Cooler? More affordable? There needs to be a solid reason why you should back this project over any other.
| | GAMAA | Vollebak |
| --- | --- | --- |
| Price | KS $295 | $695 |
| Material | Graphene-infused | Graphene-infused |
| Built-in heater | ✅ | ❌ |
| Waterproof | ✅ | ✅ |
| Athletic sleeves | ✅ | ❌ |
| High-neck cover | ✅ | ✅ |
Now as we dive into the competition, Gamma comes out pulling real weight. The clothing market is incredibly saturated, so it's hard to set yourself apart from what others offer in their products. Are you in the outdoor market? What about the Uban side of fashion. Posh-designer? All of the above? 
The thing is, regardless of where you fall in the fashion sphere, not many companies have thrown Graphene into their lines. So automatically, that sets the gamma jacket apart from most of the brands out there. 
But how does it compare to other Graphene jackets? Like an incredibly underpriced Ferrari. Not only are you getting all of the benefits from the properties Graphene brings, but you get it at less than half the price. Half the price… and with more benefits than the competition. 
One of Gamma's clear advantages is that it has a built-in heater. There are 3 transmission pads that distribute the heat at 3 different temperatures: 20C, 40C, and 60C. And if you happen to leave the heat on for extended periods, there is no possibility of overheating because of graphene's thermoregulating properties.
There's only one problem that comes along with Graphene. As amazing as the material is, there are concerns that come with the production process. It's been reported that producing the material may cause health problems to the workers who are exposed to it such as breathing problems, inflammation, or even cancer. Whether that's the case in Gamma's production is unknown.
But aside from that fact, this jacket seems to be the best all-season jacket you fill find around, especially if you are looking for Graphene clothing. At 500 grams, 10 pockets with water-resistant zippers, and a sleek look, it's definitely looking like one of the better all-around jackets on the market.
Product Competitiveness Score
The Team
Reliability
How capable is the team? Have they developed something like this before? Do they have crowdfunding experience? Manufacturing experience? A lot of campaigns fail to deliver their product because they don't know what they're doing.
No trace of their website or Linkedin account, but there was an article that talked about their background. They're all scientists who have been working with the material since 2004 and have created the company in 2015. THing is. The people on Kickstarter look too young to be scientists who have been studying the product since 2004. 
We'll check since Partnership is in contact with them……

Wear Graphene has operations in Seattle and in Hong Kong where it has a lab and manufacturers that work exclusively with graphene and textiles. The company was founded in 2015 by scientists who have been studying graphene since its discovery in 2004. Our team has experience serving the Eastern European, Asian, and Australian markets for years, providing custom graphene-infused clothing and textiles to a small market of buyers. Now, the brand is seeking to expand into commercial clothing internationally by introducing its newest jacket, Gamma, on Kickstarter.
Gamma is the first-ever all-season, all-climate jacket. Infused with graphene and equipped with built-in heaters, Gamma is a lightweight jacket that provides full climate protection from below-freezing to warm temperatures. It functions as a winter coat, a jacket, a windbreaker, a raincoat, and a leisure jacket.
Wear Graphene is confident that Gamma is the most versatile jacket on the market. It is exciting to introduce the world to graphene-infused fashion.
Attitude
How transparent are the campaigners? Do they give their backers valuable updates on their progress? Do they engage with their backers? Crowdfunding is all about community, sharing information, and building a meaningful relationship with the people who fund your project.
They may keep your torso warm with their technology, but will they warm you up with their comments? In short, not really. To be fair, and as we explain in other reviews, first-time campaigners can be a hit or a miss when it comes to their responses and communication to their backers. 
And in the Gamma Jacket's case, well, you can kind of tell that they are first-timers. Their response rate averages around 6 to 7 hours, which is not bad. The only thing is, you might get relatively quick responses but is the quality there? 
Not so much. They're very responsive when it comes to answering the basic questions from the backers, but the answers are simple and honestly not very detailed. So when someone had a sizing concern, they addressed the question positively, but still kind of left you with more questions. 
One of the concerns I have is that one backer asked a few direct valid questions about concerns they have about the product and its fulfillment. This would be a perfect opportunity to show your professionalism and address all of these concerns in a clear and direct manner. The only problem is, the comment was never responded to, which is a shame. 
Aside from that, they are pretty responsive and positive when communicating with their backers but honestly could use some improvement on being more detailed about their answers.
Conclusion & Public Opinion
So is this the all-season jacket you are looking for? It might be. Main points to consider. The Gamma jacket's biggest selling point is that it's infused with Graphene. 
Graphene:
Stronger than diamond. Thermoregulating. Waterproof. Anti-odor. Antimicrobial. Hypoallergenic. UV Proof. Ultra-light and thin.

Those properties by themselves are amazing but throw them all together into a jacket, and you have yourself a solid jacket. Mix that with some heaters and now you're ready for those cold, wet, and windy adventures. 

So overall is this jacket worth around $300? If you're comparing it to other jackets on the market with Graphene infused into its fabric, then yes. Because you'll get all the benefits at half the price.

The thing that really sucks is the health concerns. You have nothing to worry about if you wear the jacket, but the production process may be harmful to those involved. Does the Gamma jacket's production process cause health risks? Unknown, they might just buy the material from factories that could cause those risks. But nonetheless, the risks are there.

Outside of that, the Gamma Jacket really owns up to being a great jacket. All things aside, if I was in the market for a jacket that would last me until the end of my days, and would be there for me consistently, I'd give the Gamma a hard look
TIW Total Score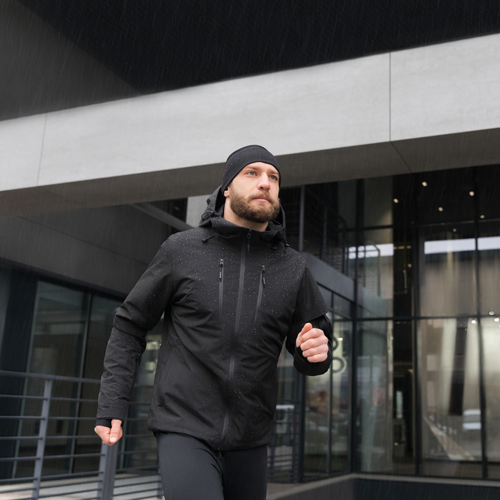 GAMMA
GAMMA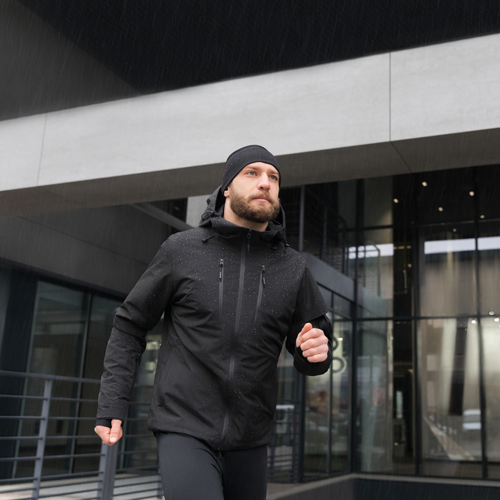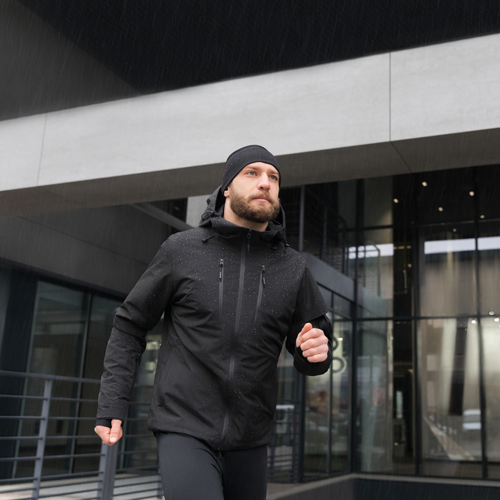 Limited time offer
d
·
: :