key advantages
Pulls out in 2 seconds and holds up to 600 lbs.
Multiple color options in high-end materials
Adjusts to Multiple Angles
estimated
delivery
October 2021
When trying to live a healthy lifestyle, sometimes getting a gym membership is a nice, or sometimes necessary thing to have. But as 2020 showed, having full access to these resources isn't always an option.
For those at-home go-getters, finding the right system, the right equipment, the right space (if any), can be a headache that no one likes to deal with. It honestly could really suck trying to make that home office, your garage, or your living room into a home gym. Where's space?

Well, the makers of the FLiPBENCH incline bench have taken this into consideration and have innovated an at-home system to maximize your living and workout space. For those "bros" out there who are looking to max out, now there is no need to hit the gym or backyard, just flip this adjustable workout bench out wherever you set it up, and get going.
But is this bench actually worth the time? Or is it just another workout equipment gimmick that you won't find useful after one month of owning it? Let's find out.
The Product
Innovation
Is this a truly new product that you can't find on the market? Or this a product that defines an entirely new product category. In some cases, the combination of several features into one or the introduction of a new feature to an old product are also considered to be an innovation.
So is this product a game-changer? Does it do something that no one has seen in the workout equipment world? Simply, no. If you want pure and honest insights, this product isn't the most innovative, using the same concepts that you would find in workout equipment that already exists.

That being said, it doesn't mean that this product isn't legit in any way. The creators of the FLiPBENCH really saw an opportunity and a need and capitalized on it. The problem with at-home workout equipment is that it's bulky and takes up a lot of room. Brazyn Life – the company behind this product took it to the drawing board and tried figuring out how to make legitimate equipment fit into a common living/working space without being intrusive and also compromising on quality.
And they did just that.

This bench screws right into the wall, which supplies stability and support, and flips right out into working mode in just 2 seconds. So there is no need to lean the bench on anything for support, no need to move it to the side of the room when finished. It's not there when it's not needed, and there when you do.

The last cool capabilities of this bench are that you can adjust the bench's angles into 4 different positions for the specific workout you will do, and also attach resistance bands with it to get more out of your workouts. And if you're skeptical about having workout equipment as a piece within your living room, you can choose a specific color of the bench that best matches your interior.

So innovative? Not so much. But does it make life easier and solve a huge problem with at-home workout equipment? Definitely.
Competitiveness
How much better is it than the competition? Is it faster? Bigger? Cooler? More affordable? There needs to be a solid reason why you should back this project over any other.
| | Flipbench | PRx Incline Bench | MO&SU |
| --- | --- | --- | --- |
| Price | KS $299 | $379 | $292.78 |
| Dimensions | 17x17.2x59 | 11 x 53 x 18 | 29.9x10.2x1.6 |
| Material | Steel and wood | - | Foam and steel |
| Weight Capacity(kg) | 272 | 226 | 272 |
| Adjustable bench angles | ✅ | ✅ | ✅ |
FLiPBENCH vs. The Bench World… Does it hold up? Yes, it holds up very well. Why is that? Simple. It solves one of the biggest issues that you encounter with workout equipment, especially at-home equipment, which is space. The fact that you're getting a high-quality incline bench without having to sacrifice quality, durability, stability, and for personal at-home reasons… space, the Brazyn Life incline bench really is a strong competitor in the workout bench market. 
Here's the thing, the average market price for benches starts around the $100 dollar range. But within this tier of equipment, you're getting the bare minimum without getting much of that support you really need in a good bench.

Once you start getting to the better quality benches, you jump into an average price range of around $200 – $500. These are the benches that the FLiPBENCH is specifically competing with, both price and usability-wise. The pitfalls of the FLiPBENCH is that for one it is very much space-saving, but it doesn't make it maneuverable. But I guess it's a trade-off thing.

So let's break it down. One of the main advantages you'll get from this bench is that it saves a whole lot of room wherever you choose to set it up. It's easily installable. And you get a gym-quality bench, pulled out from the wall in just two seconds.

So how do other benches edge the FLiPBENCH? Movability. You can't just move this from one room to another. That's because you need to screw it into a wall so that you get the most out of the bench. But it really comes down to everyone's specific needs. If you're looking for a bench that is solid, stable, might match the style of a room, and is virtually invisible when you no longer are actively using it… Then FLiPBENCH is a great option.

But if you need something that you can move around from one place to another, slide around, but might sacrifice a bit of stability for the sake of maneuverability, then you might want to check out some other options. But all things considered, Brazyn Life's FLiPBENCH is one of the best solutions out there for an at-home incline bench.
Product Competitiveness Score
The Team
Reliability
How capable is the team? Have they developed something like this before? Do they have crowdfunding experience? Manufacturing experience? A lot of campaigns fail to deliver their product because they don't know what they're doing.
Brazyn Life was founded in 2015 by Nate Lawrie who is a Yale University graduate. Not only is he a graduate, but he also was an All-American Tight End on their football team. Once he graduated, he took his talents to the NFL where he played a solid 8 years. In that time, he sustained many injuries which prompted him to get a physical therapist. Within rehab, he used lots of equipment which led him to rethink many of the products he was using to aliment his recovery process. 
That's when Nate came up with the company idea and created Brazyn Life's first product, the Morph Collapsible Foam Roller which they launched on Kickstarter (as you can see in the image below). And the rest is history…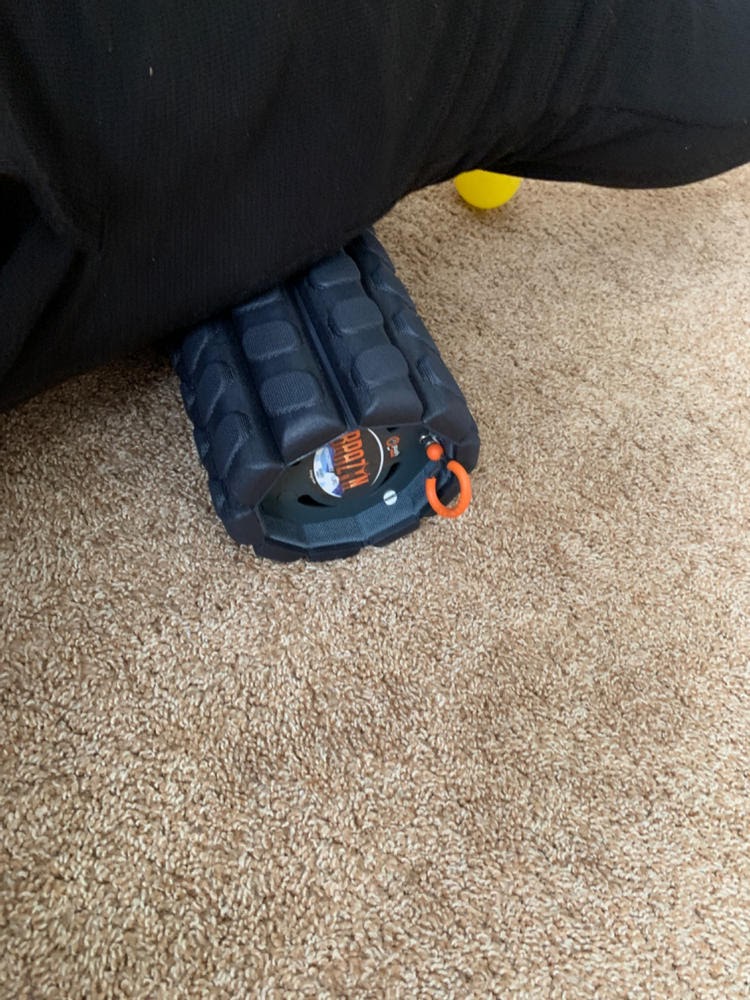 Now, their team is made up of a combination of professional athletes, engineers, and entrepreneurs working in collaboration to create the best fitness products. This includes everything from different kinds of rollers, sticks, resistance bands, mobility straps, among other things just to name a few.
How is the company doing? Very well. People actively shop and review their products on the official website, leaving an average review rating of 4.9. That's pretty impressive… And the rest of their platforms? Well, their Amazon shop is not very active. Regards to their social channels, their Facebook has 4200 likes, they constantly share posts but the community isn't really engaged. Their Instagram has 6,303 followers and also has a bit of engagement here and there. 
So yeah, they're a pretty established company, not a huge one, but at least from what they show, one that can be trusted.
For their FLiPBENCH line, this product actually represents Brazyn's first product in its new strength training line. This product is a design collaboration between Nate and Tyler Susko. Who is Tyler Susko? For credibility, he's a machine and product designer with an engineering background and has 13 years of professional experience in the field. That says a lot about the quality that will come from this product.

And although they have some crowdfunding experience, they are still relatively fresh in this realm. So there still could be hiccups along the way. But at least you know you're getting a strong and reliable product coming from two dedicated creators and a solid team.
Attitude
How transparent are the campaigners? Do they give their backers valuable updates on their progress? Do they engage with their backers? Crowdfunding is all about community, sharing information, and building a meaningful relationship with the people who fund your project.
Their previous campaign, "Morph Collapsible Foam Roller," raised $65,382 with 739 backers. That's a solid turnout, but that's also a lot of people to take care of. And for being their first campaign, and having over 700 backers to deliver on, there might be a few bumps along the way.

So what was the overall reception of the rollers? The ones who received their rollers were very satisfied with the quality. And that's great, but there were some backers who did have some delivery issues. And though this can be a tough thing to work out, the Brazyn team handled the situation well by responding openly and in a caring way, doing their best to solve the situation.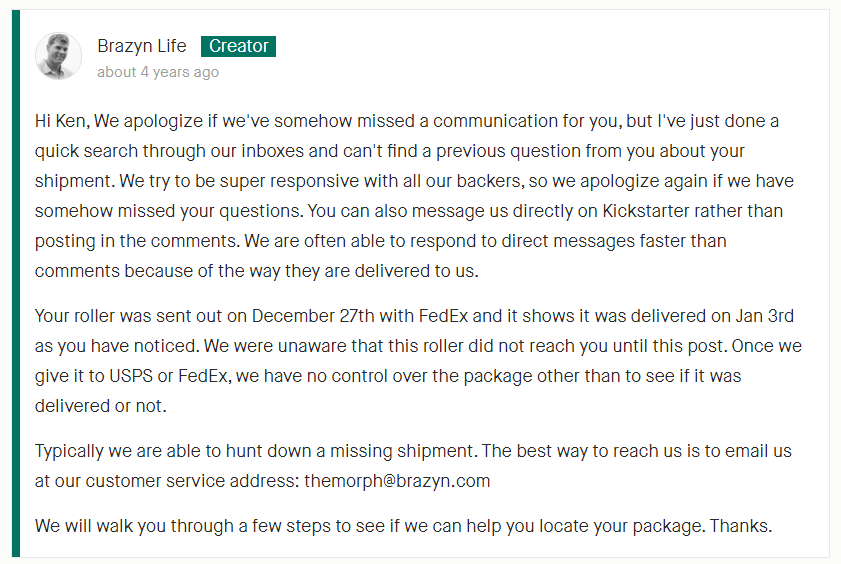 The fact that the team took the time to give all of this information, and also walk them through the steps to help them figure out a solution for the problem speaks volumes. And specifically during the live campaign, comments are answered within a day, thoroughly covering questions.

One concern was addressed very well when a backer stated that some campaigns can be scams. And what they wrote below was both reassuring and direct.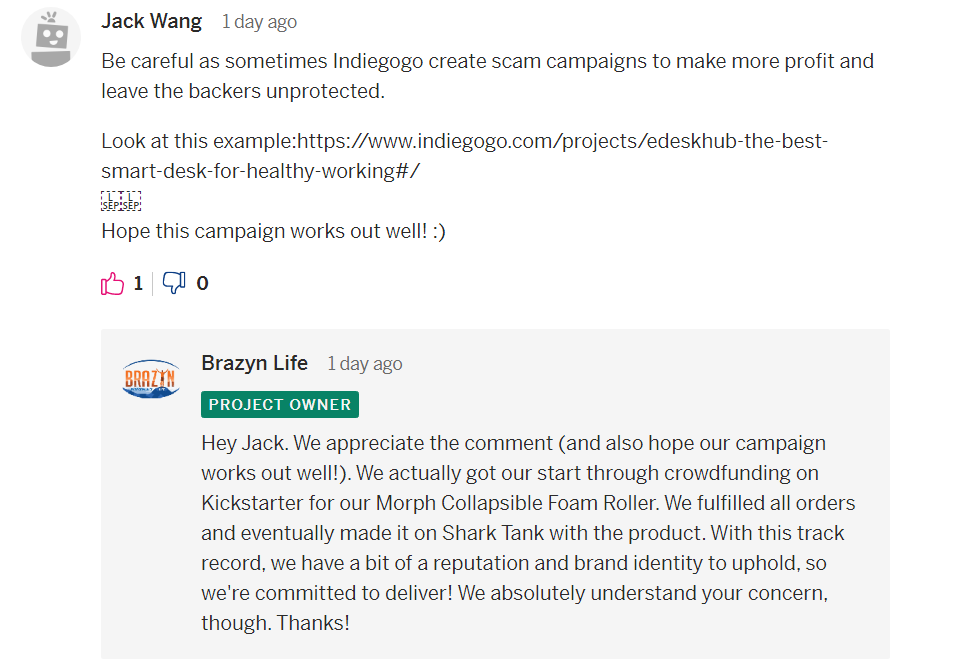 So compiling everything together, they're an incredible company to be in communication with. They will be very attentive and answer your questions in a timely manner.
Conclusion & Public Opinion
To bring this thing to a nice close, the FLiPBENCH is the next solid investment in-home fitness. If you're looking for a bench that is transportable from one place in the house to another, this is not the product for you. It is specifically designed to supply support and stability, meaning your bench won't shake when doing step-ups or when you are lifting serious weight.

But if you want to take your bench from the living room to the garage, to the home office, and back, well, then you'll have to unscrew it from the wall and assemble it. But that's not the point of the FLiPBENCH. It solves a specific problem, the intrusiveness of workout equipment in your home. 
The creators and the team are well established, have an athletic background, and work with top-quality engineers and designers to give you a top-of-the-line solution for at-home workouts. That being said, the FLiPBENCH isn't the solution to all of your at-home workout problems, but it is an amazing solution to saving space, giving you a solid and versatile bench, all for the industry average price.
Do you lift bro? Well, now that you mention it… I might start.
TIW Total Score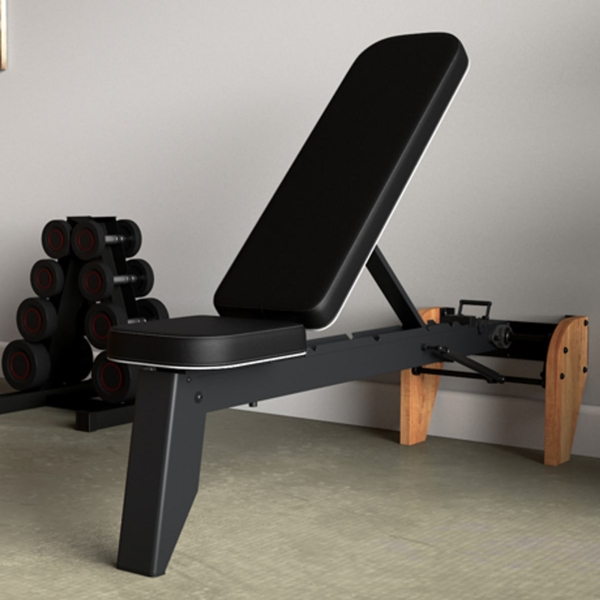 FLiPBENCH
FLiPBENCH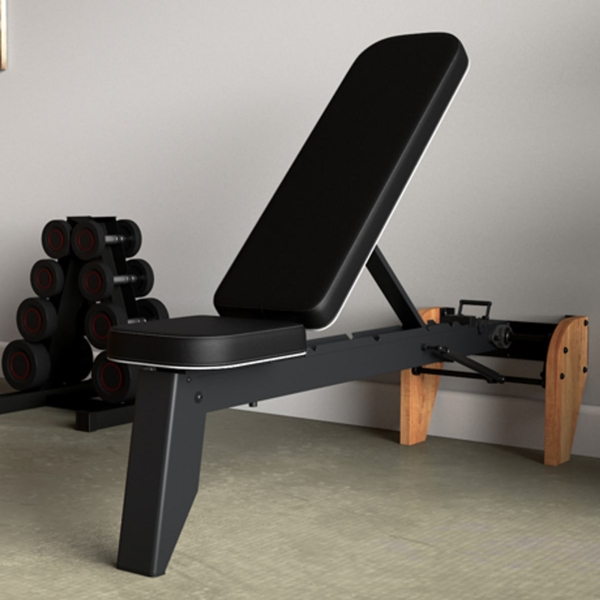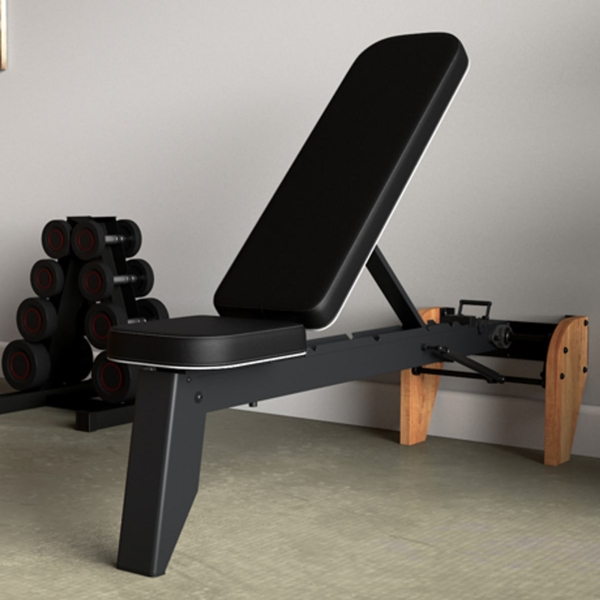 Limited time offer
d
·
: :