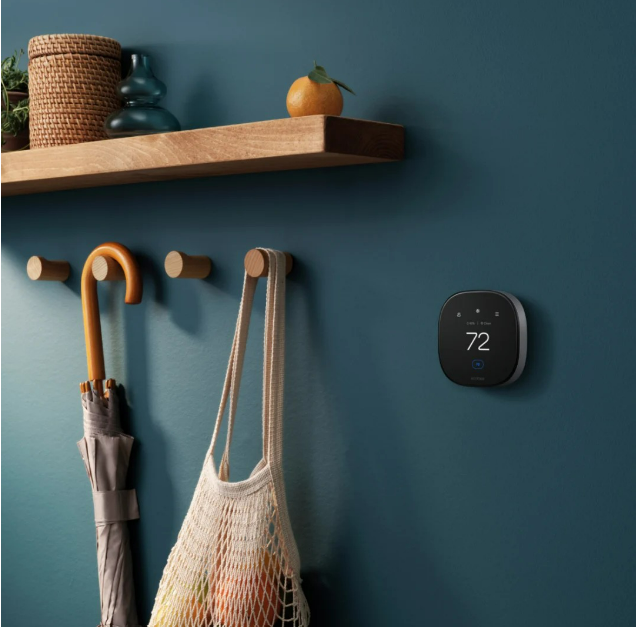 PRODUCT OVERVIEW
Stay cool, and stay dry with Ecobee Smart Thermostat with Voice Control.
The product that can make you live comfortably while saving automatically is Ecobee Smart Thermostat with Voice Control.
You can control this from any kind of device, be it with your IOS or Android phone.
This has an additional SmartSensor to comfort you everywhere inside your house, especially in your room.
This feature comes with Siri and Alexa built-in for a smoother and easier way of using it however you like.
You can save up to 26% maximum of your annual energy cost using this ThermoStat.
This is certified ENERGY STAR, which is one of the most efficient in helping you save money while protecting the environment through this Smart Thermostat.
Different and reliable reviews can be found in this article, and we have collected them for you. Continue reading to have authentic and trustworthy reviews.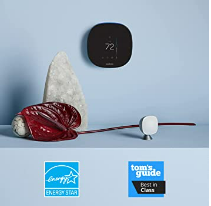 SPECIFICATIONS
Display
3.5 inches full-color LCD touchscreen
320 x 480-pixel display
Thermostat Dimension (HxWxD)
4.29 x 4.29 x 25.6 inches
SmartSensor Dimension
1.6 x 1.6 x 1 inches
Trim Plate Dimension
6.2 x 6.2 x 0.3 inches
Processor and memory
1.5GHz quad-core Cortex A35 processor
4GB Flash (eMMC)
512MB DDR4 RAM
Power Consumption
Up to 3.5 VA
Temperature Range
45 to 92 F
Humidity Range
20% to 90%
Get The Product Here!
---
Who Should Buy Ecobee Smart Thermostat?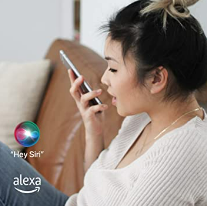 The thermostat is a device that detects the changes in temperature within the day to adjust or maintain the temperature within an enclosed area inside your house. It is important to have a thermostat inside the house, especially for families with children, so you can adjust it anytime to their comfort. The thermostat is important, but Ecobee Smart Thermostat with Voice Control is a smart choice to buy because of its additional voice control feature, which allows you to control the thermostat wherever you are inside the house.
Ecobee is a famous brand which assures their customers to always detect fluctuations in indoor humidity to ensure their home always feels like the temperature they've set on their thermostat. Their products also keep your home energy efficient and comfortable even during unusually high or low humidity.
Ecobee Smart Thermostat with Voice Control is the company's fifth-generation model that releases new features like their schedule assistant that learns the owners' routine and recommends changes in their thermostat schedule to match theirs better. They also automatically adjust the temperature for energy savings when you leave home for a moment and adjust to your comfort setting when you return home from work.
This also has a feature of intelligently preheating or pre-cooling your home when electricity is cheaper and reduces usage when it is expensive, letting you save money while using cleaner energy. The community energy savings feature makes slight temperature adjustments during peak energy demand in your community, letting you consume cleaner energy while reducing strain on the energy grid without sacrificing your comfort.
Respectable brands also look up to Ecobee Smart Thermostat with Voice Control, and they agree that this is one of the most famous and the best thermostat in the market when it comes to brand and features. One of the strongest points of the Ecobee Smart Thermostat with Voice Control is the eco+ feature that helps every home consume energy differently than most homes while still giving you the best comfort possible.
To know more about the Ecobee Smart Thermostat with Voice Control, we recommend you read more reviews about them online because many customers give positive feedback about the product and the brand itself. Most reviews about the product say it is the easiest thermostat to install and very easy to operate with reliable features. Some first-time buyers also said they were not disappointed with the product and highly recommend that other people buy it.
Choose Ecobee Smart Thermostat with Voice Control to live comfortably while saving automatically.
---
What Are The Experts Saying about Ecobee Smart Thermostat?
We've read all the most credible reviews from some respectable companies about the product to give you the most comprehensive, reliable, and trustworthy opinion to everyone.
Overall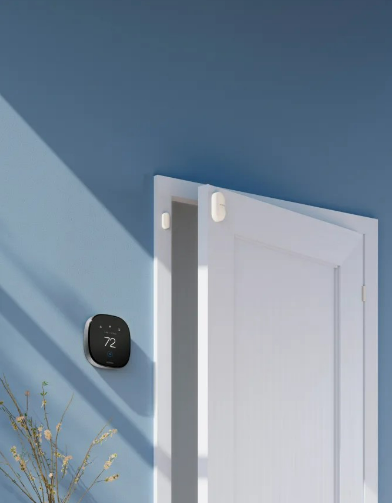 Most of the reviews about the Ecobee Smart Thermostat with Voice Control were positive because the brand always assures their customers quality service, so buying this is worth it. Various respectable companies give their reviews about the product saying that the Ecobee Smart Thermostat with Voice Over is the best smart thermostat not only on their whole brand but possibly also in the market. It has everything you want in a smart thermostat, like intelligent schedule assistant, smart home and away, follow me, feels like, time of use, and community energy savings aside from letting you live comfortably inside your home.
You are indeed getting the worth of what you paid for in this product. The brand used high-quality materials in this product, taking over the place of Ecobee4 as the best smart thermostat of the brand. Some of the reliable reviewers also said that Ecobee Smart Thermostat with Voice Control is their Editor's Choice for smart thermostats because of their overwhelming features living up to the hype on the product showing in their performance. The only downgrade for this product is the price because it is too expensive for some average families to own one with their price.
Object Detection
Get comfortable while saving with Ecobee Smart Thermostat with Voice Control. You have the power to choose. This thermostat with voice control was the first in the world with Alexa Built-in, but now the brand makes it better by adding Siri to their feature. Simply connecting with your IOS or Android device, you can now comfortably control the thermostat inside your house wherever and however you like. But the surprise doesn't end there because you can now also listen to your favorite music and podcasts using the smart thermostat when you connect to a Bluetooth speaker for high-fidelity and clear sounds inside the house.
Advanced Thermostat Capabilities
Smart recovery in this product allows the customers to learn how long it will take to reach their desired temperature. With the help of smart recovery, it will start heating or cooling their home in advance to make them feel comfortable all the time. The smart thermostat also uses the outside air to cool down their home instead of using the cool air conditioners, making them save more energy and electricity.
Convenience and Comfortable
Having SmartSensor as an addition to the package helps you have enhanced comfort. It will make you feel comfortable inside your own home, wherever you are, and not where your thermostat is. Especially when you have small children in your home, it will make them feel more comfortable with a Smart Thermostat in your house.
Looks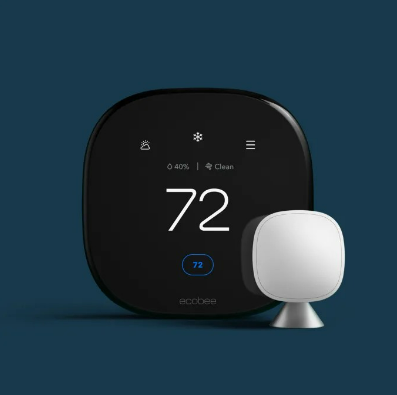 Ecobee Smart Thermostat with Voice Control may look like Ecobee4 at first glance, but the difference is very obvious when you look at it carefully. It has two microphone holes on either side that offer echo cancellation and more advanced audio processing. It is equipped with a speaker that allows you to listen to clear music and podcasts twice as powerfully as any other brand. There is also an LED strip on the top of the device that glows blue lights when you use the Alexa Built-in feature and turns red when you turn it off. Lastly, the back of the product contains 12 terminals for their connections to heating and air conditioning, humidifiers and dehumidifiers, air ventilation devices, and other HVAC accessories like SmartSensor.
Get The Product Here!
---
What Are The Customers Saying about Ecobee Smart Thermostat?
Not just respectable companies but most of the customer's feedback about the product is very high and positive because they experience it in real-time. With over 7,000 reviews from Amazon, they received 79% of 5 stars, 12% of 4 stars, 4% of 3 stars, and 7% combined 2 stars and 1 star showing that most of the customers are satisfied buying the product.
Most of the Ecobee Smart Thermostat reviews said:
They did not regret buying Ecobee's products, and they keep coming back because of their durability and great features. They keep returning to the brand rather than buying other brands because it is already tried and tested. They believe that Ecobee Smart Thermostat with Voice Control is the best smart thermostat in the market, making it the greatest by the intelligent addition of the voice control feature. They said that despite the high price, you would surely get what you paid for because of the great features with superior results.
Most of the customers who purchased this product are happy and satisfied with the performance given to them by the Ecobee Smart Thermostat with Voice Control, assuring future customers that they will surely come back to buy another Ecobee product because of its high-quality service and products. They said that the product gives them a comfortable real-time experience while saving energy and electricity bills because of the eco+ feature.
Here is an example of a second-time purchaser who came back because of the great performance the Ecobee product gave them:

While it is true that Ecobee Smart Thermostat with Voice Control is more expensive than other brands, it will surely give you the best and most comfortable experience in your home.
Warranties Without Worry
All Ecobee products, not just the Smart Thermostat with Voice Control, are covered with three years limited warranty that allows the customers to have an extended period of time as a guarantee and as a written agreement to repair or replace the product in case of malfunction, which rarely happens because of the high-quality materials used in their products. But the warranty is always given to all Ecobee customers to make them feel at ease and peace of mind when buying their product. An additional two years is given to every customer when they decide to let professionals install the smart thermostat in their home.
Ecobee Smart Thermostat Purchasing Process
On Ecobee's official website, the current price of Ecobee Smart Thermostat with Voice Control is $219.99 with a free shipping voucher. You can go to their official website, add the product to your cart, and check it out, which means you will probably receive the product in 1 to 5 business days. They also offer a full refund when you return it within the first 30 days of your purchase.
You can also purchase the Ecobee Smart Thermostat with Voice Over on Amazon at $219.99, which can deliver the product to your home for as fast as two weeks with a free shipping voucher. It is also eligible for return, refund, or product replacement within 30 days of receipt.
The difference when you buy from the official website of Ecobee and Amazon is you need to add a $99.19 import fees deposit when you buy on Amazon, making you pay a total of $319.18, which is way more expensive than the original price.
But you can still find better deals on Amazon because they also offer Save with Used – Like New items, which are second-hand products but still good as new at lower prices than the original price.
CONCLUSION
Overall, when you look at the price, Ecobee Smart Thermostat with Voice Control is more expensive than any other thermostat in the market. Still, the product's great features are the best among its competitors, so the high price is worth it because buying this product will make you live comfortably while saving automatically.
When looking for a product worth your money because of the additional and improved features like powerful speakers, digital microphones, and the enhanced Alexa built-in, it will also not disappoint you with its dual-wifi feature because it just increases the value of your home functionality over time.
Should you buy the Ecobee Smart Thermostat with Voice Control? Definitely.
When you are still looking for the right smart thermostat, this product should be the number one on your list to make your little home feel more comfortable. Every product always has minor drawbacks, but the overall performance and benefits when you buy an Ecobee Smart Thermostat with Voice Control outweigh everything because of its great performance to its customers. Plus, it will help you save more energy, up to 26% of your annual energy costs, which is another thing to consider when buying this product.
Get The Product Here!