Echo Show 10 (3rd Generation) is an Amazon Echo Line product and game-changer with its motorized smart screen and motion-tracking camera. Its smooth and brushless motor tracks your motion and follows along with you as you move in the room. Control all your compatible smart devices with the use of this magical gadget.
Echo Show 10 will protect our privacy and security. Do you want to have a look around when you're away? No problem, just use your smartphone, and your smart display's built-in camera will remotely monitor your home. Watch films, listen to music, play games with this transformative device, and upgrade your smart-home experience.
In addition to all of these features, Echo Show 10 is about sustainable choice, as it's made of post-consumer recycled plastic, fabric, and die-cast aluminum.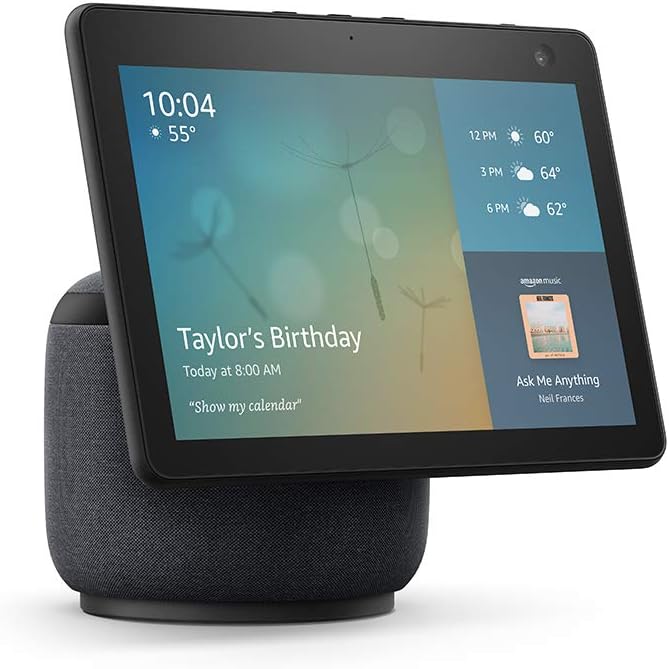 Specifications:
Echo Show 10 is a loved product by smart-device lovers and is widely known for its innovative and convenient features
| | |
| --- | --- |
| Size | 9.9" x 9" x 6.7" |
| Weight | 5.64 Pounds |
| Colors | Charcoal, Glacier White |
| Display | 10.1" with 1280 x 800 resolution (rotating screen with manual tilt) |
| Camera | 13MP + Shutter (Photo quality/size may vary) |
| Audio |  2.1 System: 2 x 1.0" tweeters and a 3.0" woofer |
| Processor |  MediaTek 8183 main processor plus second processor with Amazon AZ1 Neural Edge |
| Generation | Echo Show (3rd Gen) |
| Motion | Brushless Motor +/- 175° rotation |
| Sensor | ALS RGB |
| Smart home hub | Zigbee + Sidewalk + Matter |
Product Overview
Motion-Tracking
The main feature of the Echo Show 10 is its motion-tracking camera. You can freely move in the room, and the smart tablet will follow along with your movements, allowing you to focus on what you're doing or who you're talking to.
Auto-framing
Using its 13MP camera, the auto-framing feature of the Echo Show 10 will allow you to make better-quality video calls with your family and friends. You can make your video calls via the Alexa app, an Echo Show, Skype, Amazon Chime, or Zoom.
Home Voice Control
Echo Show 10 is compatible with Zigbee and Matter smart devices, so you can easily connect with your smart devices without any separate hub and control them using Alexa commands. 
Take a look around
If you're away from home and wanna make sure everything is okay, you can use your Echo Show 10 to have a look. Simply use your smartphone, and the tablet's built-in camera will look around the room. 
Get The Product Here!
---
What Are The Experts Saying?
Overall, experts are not complaining. The reviews are mainly positive, and that's natural considering all the features the smart tablet has. In the Mashable.com review, Echo Show 10 received 4.4 points, with a WOW point of 5. According to the review, the Echo Show 10 has considerably better speaker quality than Amazon Echo Show 15. However, Mashable.com continued the comparison of Echo Show 10 and Echo Show 15 and concluded that the latest model is less responsive as, in some cases, Alexa didn't hear the commands.
Echo Show 10 received another positive feedback on the PCMAG review. The expert on PCMAG named the rotational movement the key feature of the gadget that makes it different from every other Echo. The review also discussed the smart tablet's ability to serve as a home security device, enlarging its capability scope. While the motion feature is a nice addition, the review still states that, in some cases, the motion tracking can become less accurate. So, we can conclude that motion tracking still needs improvements.
According to another expert from theverge.com, the Echo Show does not differ much from the previous versions, as it's still very much a voice-first experience rather than visual. The review says that the major change is additional information appearing on the tablet's screen. The review doesn't consider the Echo Show 10 to be as transformative and innovative as it's said on the paper. In some cases, the review explains, It's difficult to touch the screen or use the volume buttons on the top edge whenever Show 10 is playing something, as the camera's view can easily get blocked.
As an overall summary, Amazon created another smart-home gadget with improved audio and video-call quality. The experts are very positive about the smart tablet. However, the product is not very transformative, and as an updated version of previous models, it doesn't offer much. So, by choosing the previous versions of Echo Show, such as Echo Show 15, you pretty much get the same product without the rotational feature and a bit less audio and video quality.
Get The Product Here!
---
What are the Customers saying?
In general, customers are very positive about the Echo Show 10. The product got 4.6 out of 5 on Amazon ratings. The reviewers on Amazon define the audio quality as outstanding, and the Echo Show 10 has far better quality than its previous versions. However, the voice recognition got worse, according to customers. And in most cases, customers complain that commands should be repeated for Alexa to recognize them.
The main improvement of this model is, of course, motion tracking, which received diverse comments. Customers are generally very happy with this feature and mention it as a useful improvement. However, one reviewer considers this feature not very well developed and needs improvements. In some cases, customers mentioned the tracking front camera was not facing them exactly, which was annoying.
One more widely discussed point was the white cable that does not look very good with the black device. So, some customers were dissatisfied with the white-colored cable and black-colored device, as it looked cheap. However, the reason for the different colors is the recycled materials manufacturers used.


To generalize customers' opinions, they love the product, and it is definitely a good addition to your smart home that will make everything easier and more accessible with its capabilities. However, the Echo Show 10 needs improvements, especially its new motion tracking and voice recognition feature. The users of previous versions have very high expectations and consider that in almost a decade of its existence, Alexa could have become more intelligent and done a lot more in the Echo Show 10.
Shipping
The shipping of the product is fast. However, in some cases, customers complained that the shipping experience was not as fast as mentioned. A number of users needed replacement of the product. Even though some had a difficult experience contacting the support, the replacements were successfully done by Amazon. So, the shipping, in general, is very good and fast, and in case of an issue, Amazon will replace your product.
Conclusion
With its new motion tracking feature, improved audio, and a very nice camera, the Echo Show 10 is one of the smart gadgets that will improve your smart home experience and upgrade its quality level. Even though it needs some improvement with its voice recognition and new motion tracking feature, the Echo Show 10 is a representative of Amazon's Echo line worth buying and using. Moreover, its production uses recycled materials, and this makes the product an even better choice. So, if you're a smart gadget enthusiast and a person who cares about the environment, this is a good product for you.
Get The Product Here!
---