The ultimate Tech I Want Backfire Zealot review
Product Overview
If you're in the market for a new electric skateboard, the Backfire Zealot Belt Drive Electric Skateboard is worth considering.
This board differentiates itself by having a very high top speed (46KM/h / 28.5MPH), an above-average range of 28-36km / 17.5-22miles, and great design.
This board has some impressive specifications, and it has received mostly positive customer reviews.
But what do experts have to say about it? We've collected all the major reviews of this skateboard into one so you don't have to.
Keep reading for a comprehensive Backfire Zealot Review.
Specifications
| | |
| --- | --- |
| Range | 28-36km / 17.5-22miles (80kg rider S mode 30km/h speed flat road) |
| Speed | 46KM/h / 28.5MPH |
| Battery | 50.4V 311Wh, Changhong Sunpower Cells (Equivalent to 42V 8.6Ah-9Ah) |
| Motors | 2 x 750w High Torque Motors, again supplied by Hobbywing, with incredible power whilst accelerating and climbings |
| Deck | Flexible Bamboo with Maple |
| Wheels | 96mm Replaceable |
| Truck | Front CaliberII |
| Lights | LED Ambient Light |
| System | 12S High Voltage and High-Efficiency Electronic System with 21700 Battery Cells Output Current=60A |
Get The Product Here!
---
Who should buy this (pulling strengths and weaknesses of the product) 
Both beginners and experts. The board is extra worth it if you're comfortable with speed.
With a flexy bamboo deck and a high top speed, this electric skateboard promises a smooth and fast ride but is not for beginners.
The Backfire Zealot reviews mainly mention that it is meant for experienced riders who are looking for a fast, powerful board that can handle lots of abuse.
This board is very portable, so it's a good option if you're looking for something to take on public transportation. E-skateboarder mentions it is more portable than say an Evolve Bamboo GTR with street wheels
Many reviewers have also mentioned that the range is massive for a skateboard at this price. This mainly comes down to the big battery.
The Backfire Zealot has three distinct riding modes: Eco, Sport, and Turbo so it does allow for some customization. If you are a beginner with a thirst for adrenaline, we recommend starting with eco first as the acceleration will be slower and build up from there.
We don't usually say that a product is for all people because no products really are universally good for everyone. But based on the Backfire Zealot reviews from the experts, it is an insanely good deal for the price to get it.
If you're looking for something more budget-friendly we could recommend the MEEPO Shuffle
---
What are the experts saying?
We've read all the most credible reviews of the product and collected them to give you the most comprehensive overview of what experts think.
Overall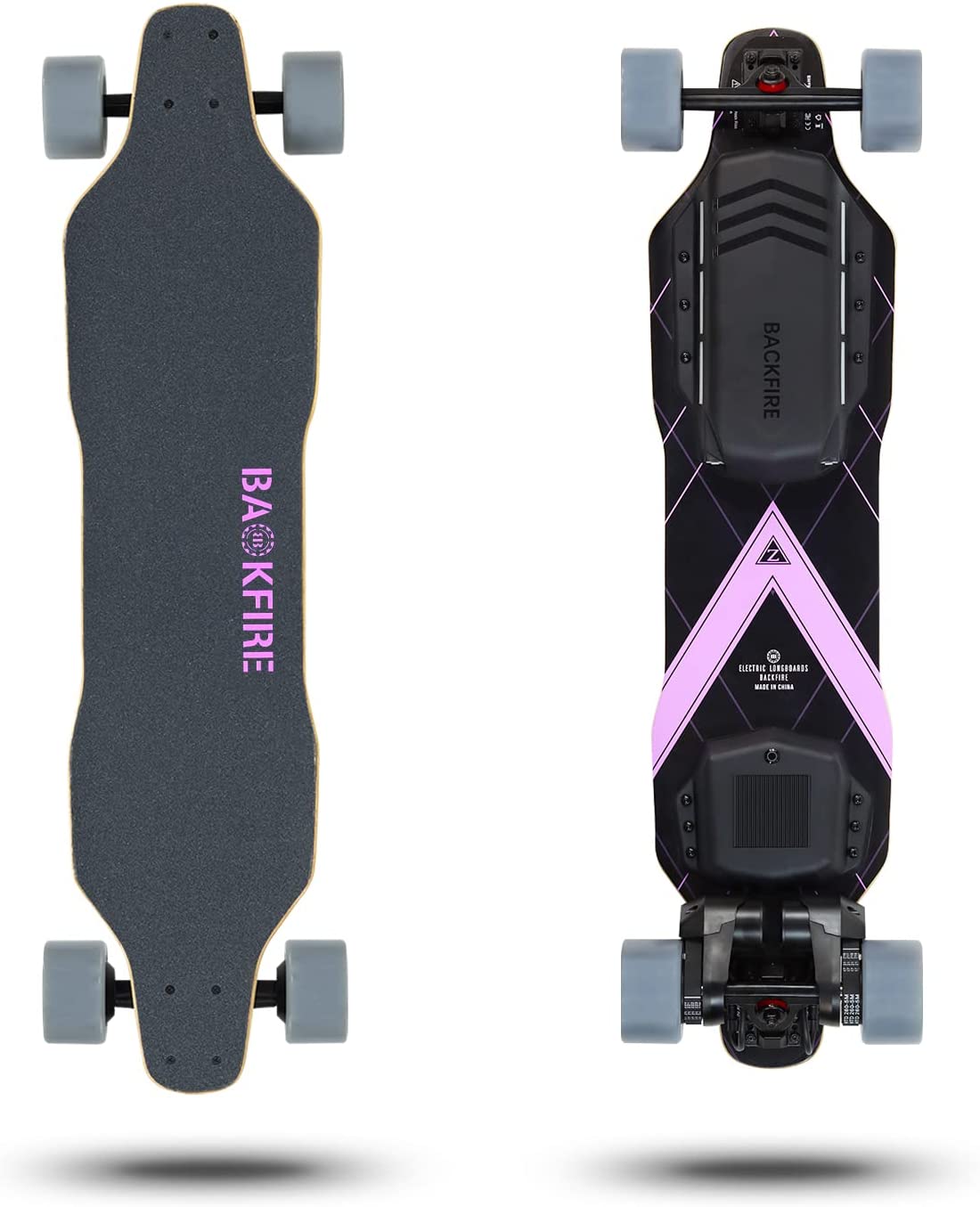 The general opinion taken from the Backfire Zealot reviews is that it is a high-quality product that has been designed with a lot of thought and care. It has a solid balance between price, build quality, and performance.
It is a very fast skateboard that is smooth to ride. The marketed range is great – though some reviewers mention that the actual range is a bit lower than the marketed.
This board is an upgrade from the previous backfire board and it was built by professionals who are skateboarders themselves. This means that a lot of small details have been taken care of.
Especially the trucks have gone through a considerable change since they are now forged and CNCed.
Speed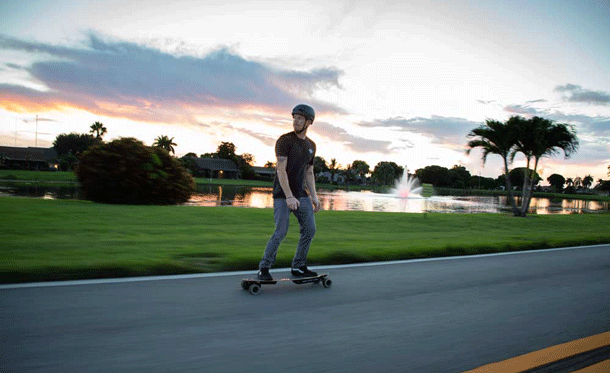 The top speed on this board is scary fast. [e-skateboarder.com] All reviewers mention that the top speed is much faster than they were expecting. A few people said that it was too fast for them and they needed to get used to it.
Since it has 3 modes, you can luckily control the speed rather easily. We see backfire zealot reviews generally recommend this especially if you're a beginner.
Portability
The board is definitely portable weighing 19 points (8kg). One backfire zealot reviewer mentioned he is not using his board as a transportation device but rather just to move around and have fun.
Compared to other boards, it is normal weight and easy to transport around.
Deck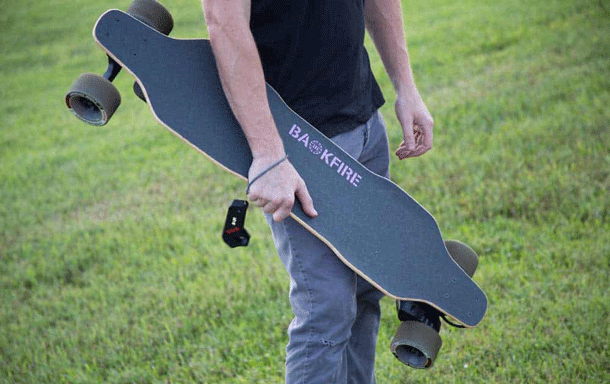 Overall, all backfire zealot reviewers are super satisfied with the bamboo and fibreglass deck. The deck is very flexible, which gives the rider a lot of control. It makes this board very playful and fun [e-skateboarder.com]
Another backfire zealot reviewer mentions that the electric skateboard absorbs vibrations really well and has a smooth and pleasant ride.
A concave deck design is used on the board. This ensures that your feet remain in place while you're riding for a more comfortable trip. The concave also makes it easy to turn, allowing you to have precise turning. [skatingelectric.com]
Electric Speed Control (ESC) + trucks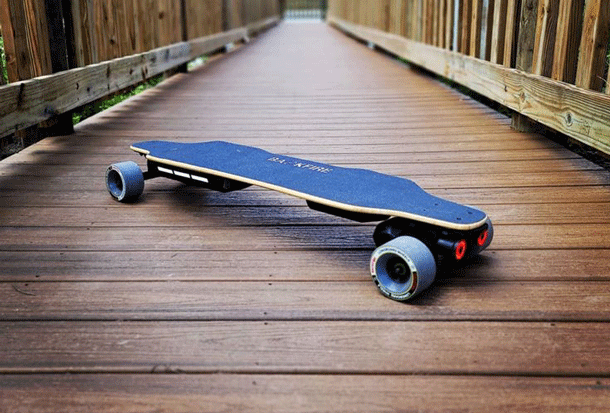 The Electric Speed Control has been manufactured by Hobbywing and they ensured the 12S control of voltage is secured. Beyond controls, this means that this board can brake better and have a softer acceleration. [skatingelectric.com]
The way that this electric speed control feels and looks is just great. The profile of the board has been designed so it won't scrape the surface it is riding on. Given, the manufacturer of this ESC is often used (Hobbywing) – which gives the board credibility. Even after months of use, there haven't been any problems. [e-skateboarder.com]
Looks
The built-in LEDs are a cool touch, but they are not functional when riding other than increasing visibility. [e-skateboarder.com]
The logo is engrained in the board rather than painted on the top making the logo last.
Get The Product Here!
Functionality
It's important to mention that this board is resistant to water – not waterproof. When riding through wet roads and hitting small puddles there are no problems. Still, this skateboard is electric, and like with any other board, I would not use them while it is raining. [e-skateboarder.com]
A user on Reddit mentions that their biggest complaint is that the drivetrain makes a sound. They are not entirely sure what the reason is but there is some sound related to grinding or granulation. A possibility could be the motor pulley covers. [adeadsquirrel on Reddit]
Wheels + trucks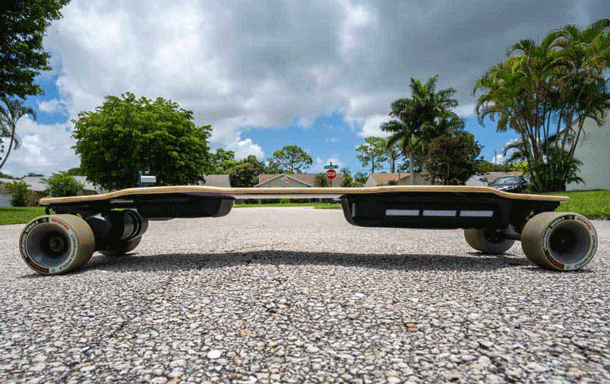 E-skateboarder mentions that they like the 96mm street wheels which come together with the Backfire Zealot. Judging by the size, they were impressed. Especially the grip on the street is great and it takes on bumps well. [e-skateboarder.com]
Another Backfire Zealot reviewer said that the trucks feel amazing going from side to side. [eSkate Hub]
Trucks are forged and CNC machined by Backfire themselves. Compared to the previous boards, these trucks are better overall mainly due to them being forged. [Daniel Kwan]
Electric Skateboard HQ mentioned that the truck in the back that mounts the motor is Backfire's own truck – not those of Caliber. However, that is completely fine since Backfire's own trucks are high quality. [Electric Skateboard HQ]
Battery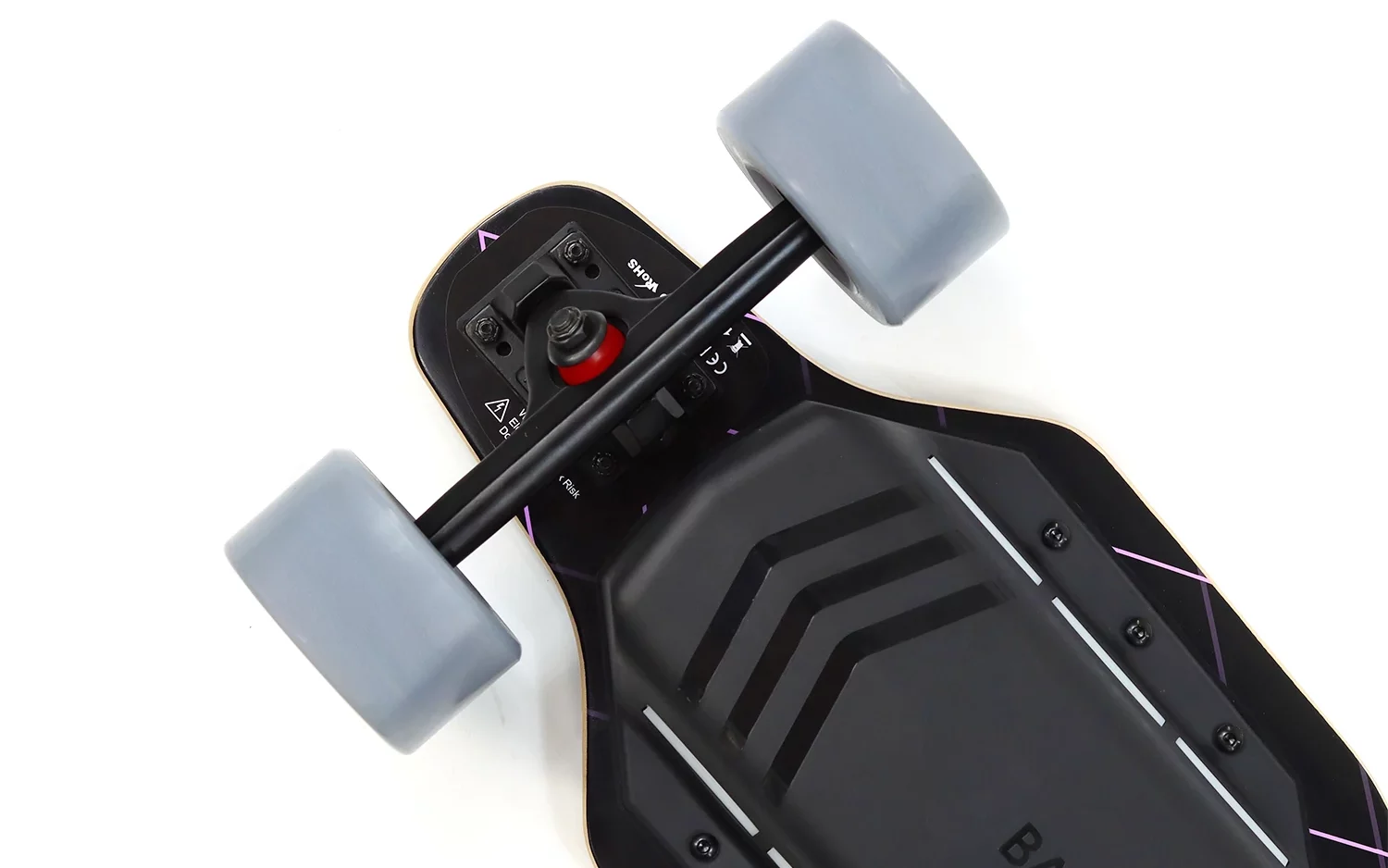 E-skateboarder.com mention that the battery is a little bigger than they'd like. The size of it can make scraping happen if the board would bend or you'd ride over a speed bump. Anyways, this often does happen to boards and they will be scratched over time. [e-skateboarder.com]
Get The Product Here!
---
What are the customers saying? 
There are not yet many purchases from Amazon so most of the backfire zealot reviews are from the backfire website itself which has received 5/5 stars based on 20 reviews. 
From what we see, customers of all levels beginner/intermediate/experts love this board and all backfire zealot reviews written by customers give the backfire zealot top ratings.
One of the backfire zealot reviews mentions:
He upgraded to the Backfire Zealot from a Meepo NLS Pro. It has increased performance in almost all ways. The handling is good, the deck is sturdy and comfortable (100kg rider), great low-speed acceleration, and the range is above average considering the power of the board, belt drive noise on this board seems to be higher than the norm but has heard other boards that are louder, quality/strength of materials used seems really good.
The user mentioned that when he received the board, the wheels were loose. After a check-over and tightening, everything turned out perfect.
He also suggested upgrading to aftermarket bushing to suit your weight and riding style because it significantly improves the performance of the board. It's also worth noting that this board is on the higher maintenance end, being a belt drive, so you'll need to clean the axles, bearings, belts, and other components on a regular basis.
Pierre has gone approximately 600 kilometres on this board thus far with several big stacks, and a lot of fast and demanding riding/skating, and it's still functioning well; the only difficulty he's had is a rare lack of brakes when braking hard down a hill, I believe it's due to the motors/batteries overheating.
Here is an example of a customer who praises Backfire for having premium customer service:

Another example of a general user who loves the board.

Shipping
You can go to backfire's website right now and buy the board for $699
They mention these shipping options:
US: Shipping time is 3-7 business days for (US warehouse)
Europe: 40-45 business days (China warehouse)
Canada: 5-10 business days (US warehouse)
Other regions: air shipping 7-20 business days (China warehouse)
E-skateboarder.com decided to go with sea shipping for the Backfire Zealot. They were in no rush and actually saved some $150 on the shipping. After 5 days, the Backfire Zealot arrived. [e-skateboarder.com]
A Reddit user didn't like the unboxing experience. They mentioned that the additional gadgets and accessories are put in a sware made of foam and a layer of cardboard. If you have a small living space, it is frustrating to have this much cardboard and package materials. [adeadsquirrel on Reddit]
---
Conclusion
Overall, the Backfire Zealot reviews all agree: this electric skateboard is an amazing board with great customer satisfaction rates. Customers and experts have praised the trucks for their side-to-side feel, grip on streets, and overall performance. The battery is large but manageable, and experts recommend upgrading to aftermarket bushings for an even better skating experience.
The Backfire Zealot belt drive electric skateboard is a great board for beginners and experts alike.
Right now, this board is in an insane deal. If you choose sea shipping, you can snag it for $699 USD. That is an amazing price for what you get. You are absolutely getting your money's worth with this board. Another board in this price range, with similar specs, would be the Exway Flex. [eskateboarder.com]
Get The Product Here!