key advantages
65 millisecond response time
Music Mode, Movie Mode & Gaming Mode
Immersive HD Audio
Bottle Opener with strong Zinc-Alloy Material
estimated
delivery
October 2021
Did you know that almost 2.8 billion people worldwide play video games?
Are you one of those people?
If yes, then read on.
As you may have noticed, many games have gorgeous sound effects and music. Unfortunately, sometimes our parents or spouses hate the noise, so what do we do? Yup, the only options we have are either moving out or using earphones. The second one is probably better for your pockets)
The majority of earbuds are not able to transmit the fantastic sound quality of the game. So, today we will look at GravaStar gaming earbuds and understand how much potential it has.
The Product
Innovation
Is this a truly new product that you can't find on the market? Or this a product that defines an entirely new product category. In some cases, the combination of several features into one or the introduction of a new feature to an old product are also considered to be an innovation.
The Gravastar Gaming earbuds receive an innovation score of 8 due to their unique Sci-Fi Design, Knowles Balanced Armatures, 65ms Latency, and 24H Battery Life.
These gravastar earbuds target gamers who spend several hours in front of their PCs playing online games or even console games like Xbox 360 and Nintendo Switch. 
The main selling points we see for backers are, first, The 65ms Ultra-Low Latency which enables you to take the responsiveness of high-frame-rate gaming without decreasing graphical fidelity; second, the  HD clear sound; and third, the design of the wireless gaming earbuds is going to make you stand out from the crowd. These futuristic earbuds may leave an impression that the person using them is a time traveler. Perhaps, it came from 2088? And the fact that it is possible to open a bottle with the case of earbuds is just crazy! 
Compared to the general market, the GravaStar Sirius Pro has an alleged battery life of 24 hours more than the Bose QuietComfort 20, which lasts for 16 hours. 
Take into account that you will need to buy an adapter to connect your earbuds to gaming consoles. 
But these low latency earbuds are not just for gamers; People who work out can also use them. The water, sweat, and dust resistance enable the users to get fit while listening to music or motivational speeches.
Competitiveness
How much better is it than the competition? Is it faster? Bigger? Cooler? More affordable? There needs to be a solid reason why you should back this project over any other.
| | Sirius Pro | KMOUK 5.0 | Sony WF-1000XM4 |
| --- | --- | --- | --- |
| Price | $79(IG) | $40 | $278 |
| Bluetooth | 5.2 | 5.0 | 5.2 |
| Battery Life | 24H | 20H | 24H |
| Full Charging Time | 2 hours | 1.5 hours | 3 hours |
| Waterproof Rating | IPX5 | IPX4 | IPX4 |
| Charging Type | Type-C | Type-C | Type-C |
| Effective Distance | 10 meters | 10 meters | 10 meters |
The Sony and Kmouk have IPX4 waterproof ratings, which means that they are resistant to water splashes from any direction. In contrast, the Sirius Pro earbuds have an IPX5 waterproof rating, meaning they can resist a sustained, low-pressure water jet spray.
Product Competitiveness Score
The Team
Reliability
How capable is the team? Have they developed something like this before? Do they have crowdfunding experience? Manufacturing experience? A lot of campaigns fail to deliver their product because they don't know what they're doing.
Gravastar, a company founded in 2018, continues bringing innovative products into the market, like modern Bluetooth speakers and earbuds. Judging from their Linkedin page, the team consisting of engineers, designers, craftsmen, cartoonists, and others is experienced in making good quality products that look like they fell on earth straight from Mars.     
The company already led two successful campaigns on Indiegogo, so we are confident this project will also be successful. For example, Gravastar's "Crazy Cool Speaker" was backed by more than 2000 people and received a total of $444,069.
Attitude
How transparent are the campaigners? Do they give their backers valuable updates on their progress? Do they engage with their backers? Crowdfunding is all about community, sharing information, and building a meaningful relationship with the people who fund your project.
By looking at Gravastar's very first campaign, I have noticed that some of the comments never got their replies, and those who got them maybe forgot they ever wrote a comment or backed a project. 
For this one, it took a whole year. A whole year?! That is crazy.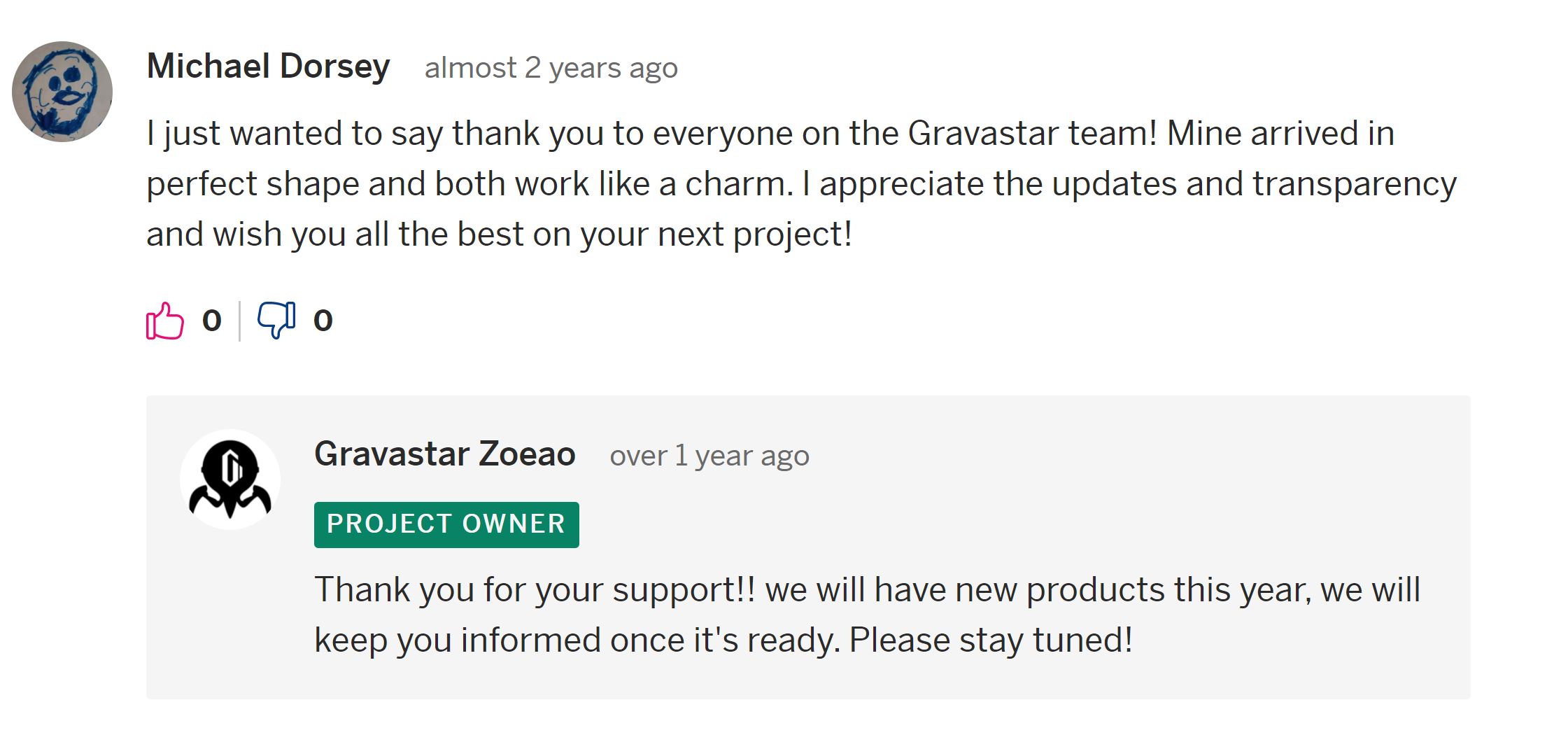 However, they have improved since then, and backers of their current campaign should be happy. The comments get answered within hours.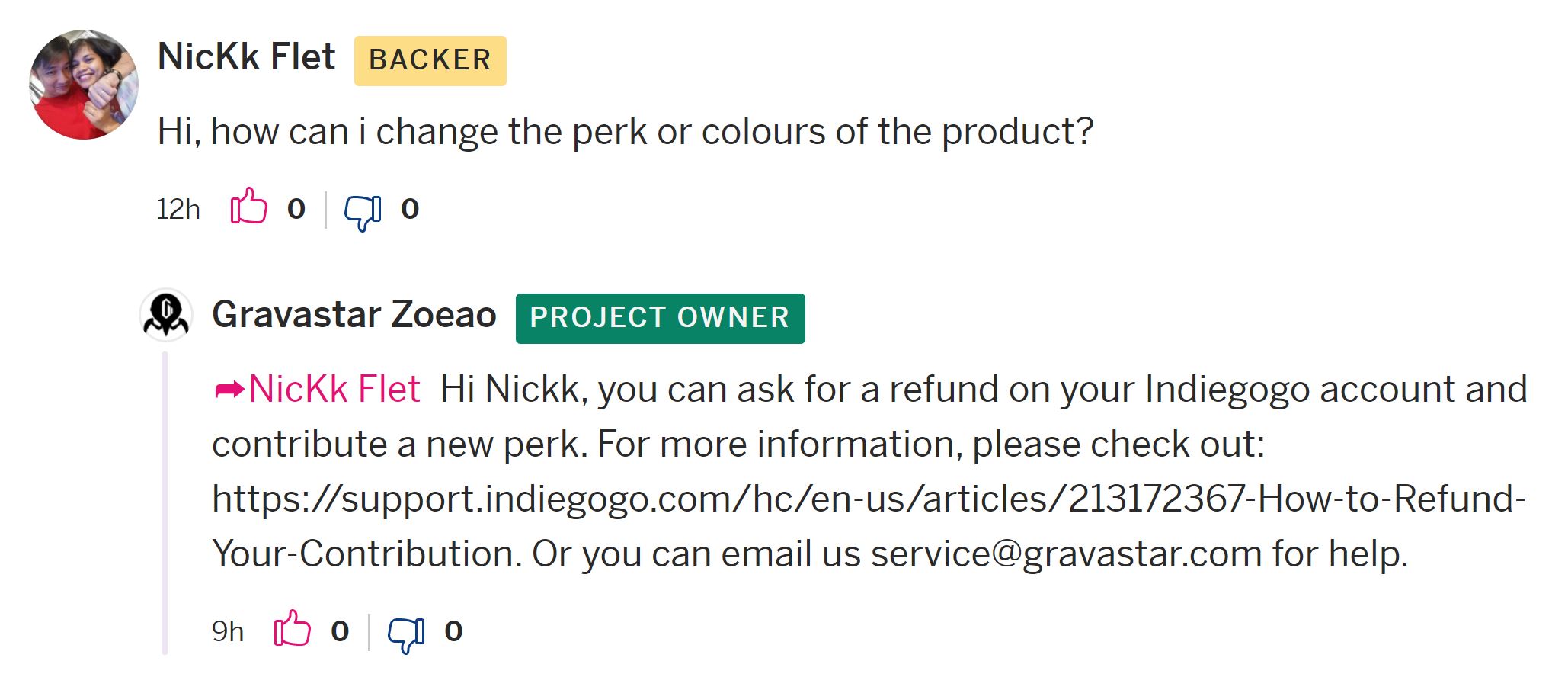 Conclusion & Public Opinion
After thoroughly analyzing the gaming earbuds and the team behind them, I can say that our planet is currently under attack. Gravastar, a company, consisting of aliens, has the potential to make these earbuds for gaming successful.
All the features, including the new design, 65ms Ultra-Low Latency, battery life, HD clear sound, dust, sweat, water-resistance point towards the direction of success. And the fact that you can use the case as a bottle opener makes it more fun. 
TIW Total Score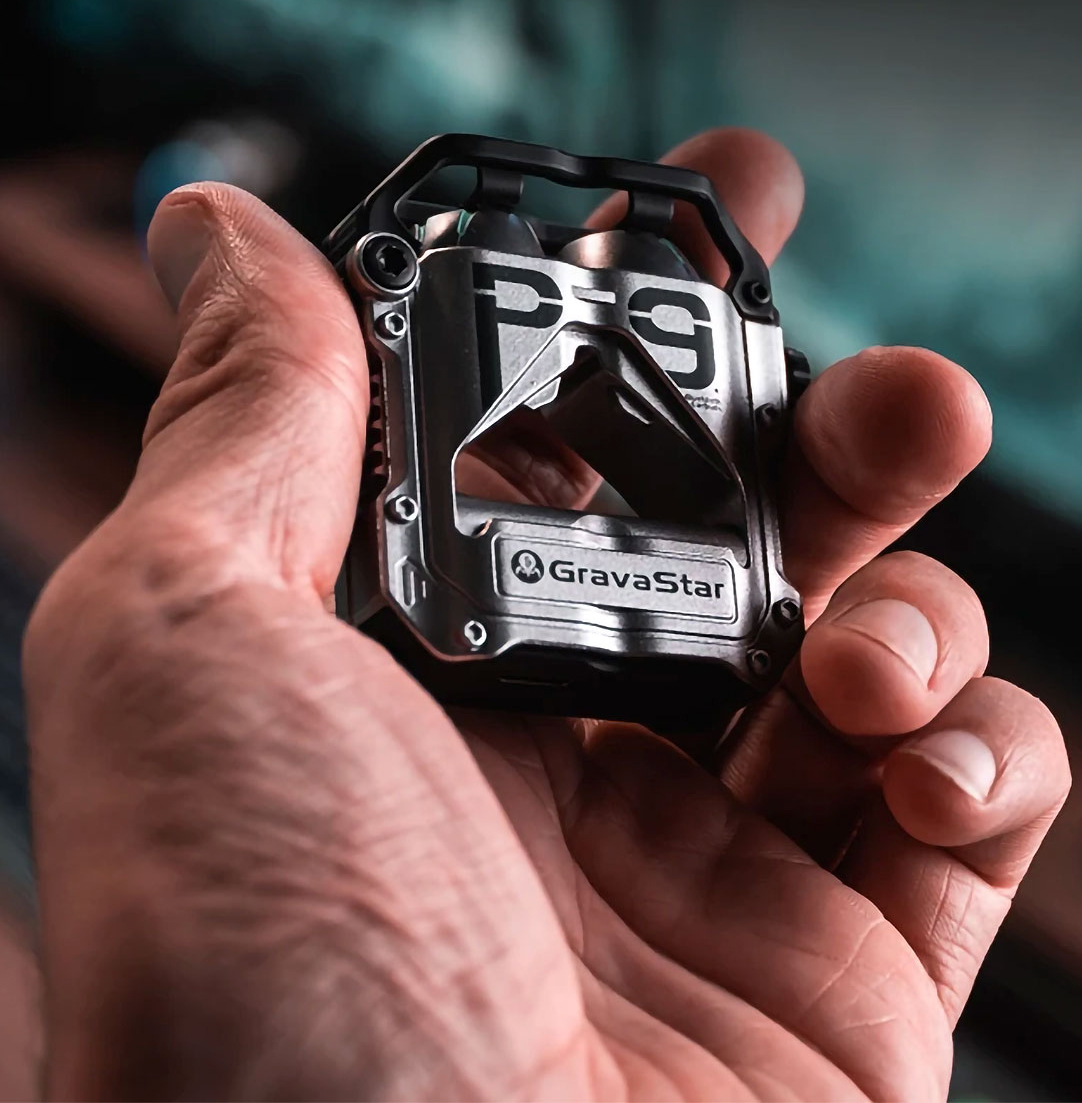 GravaStar
GravaStar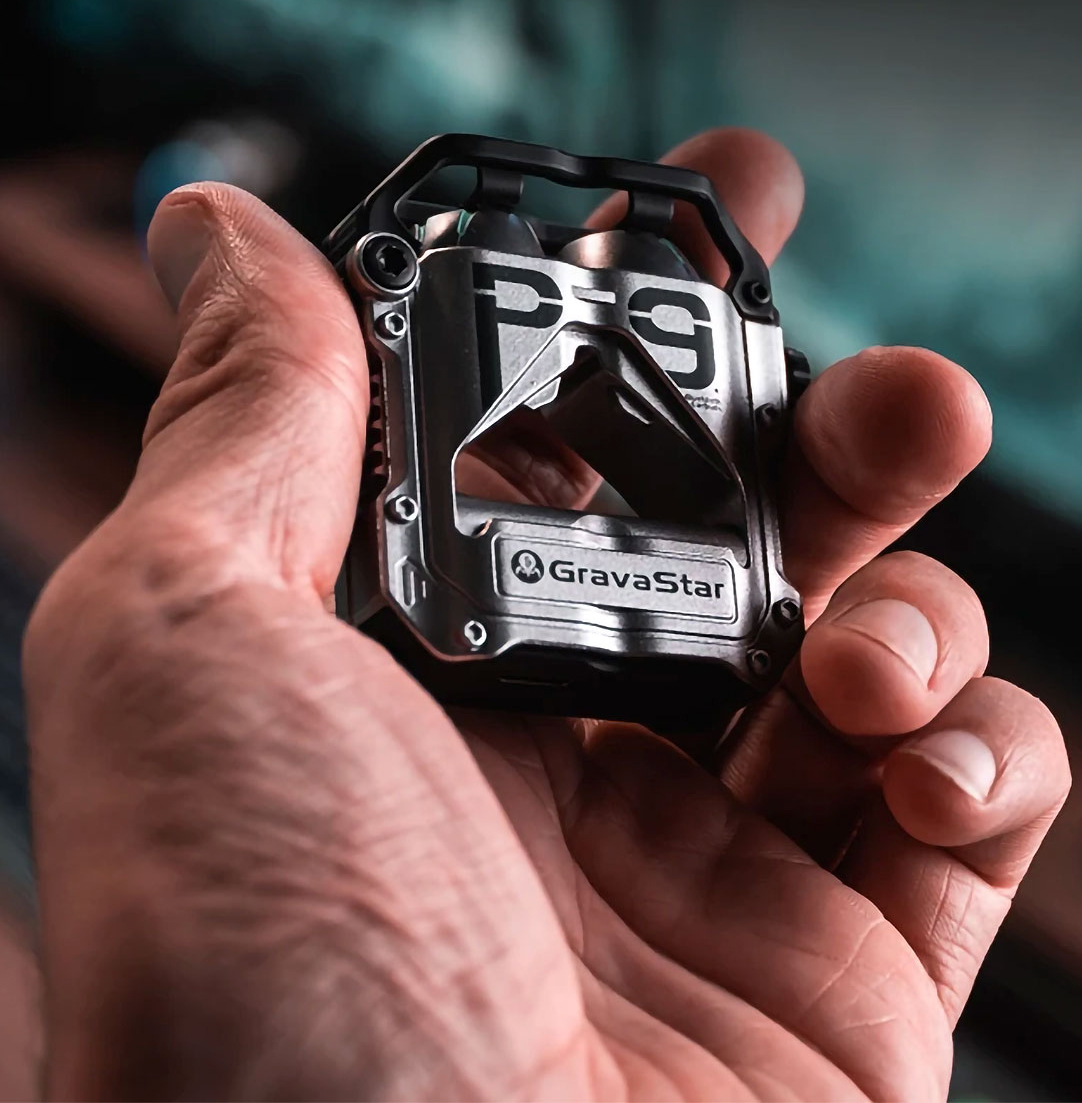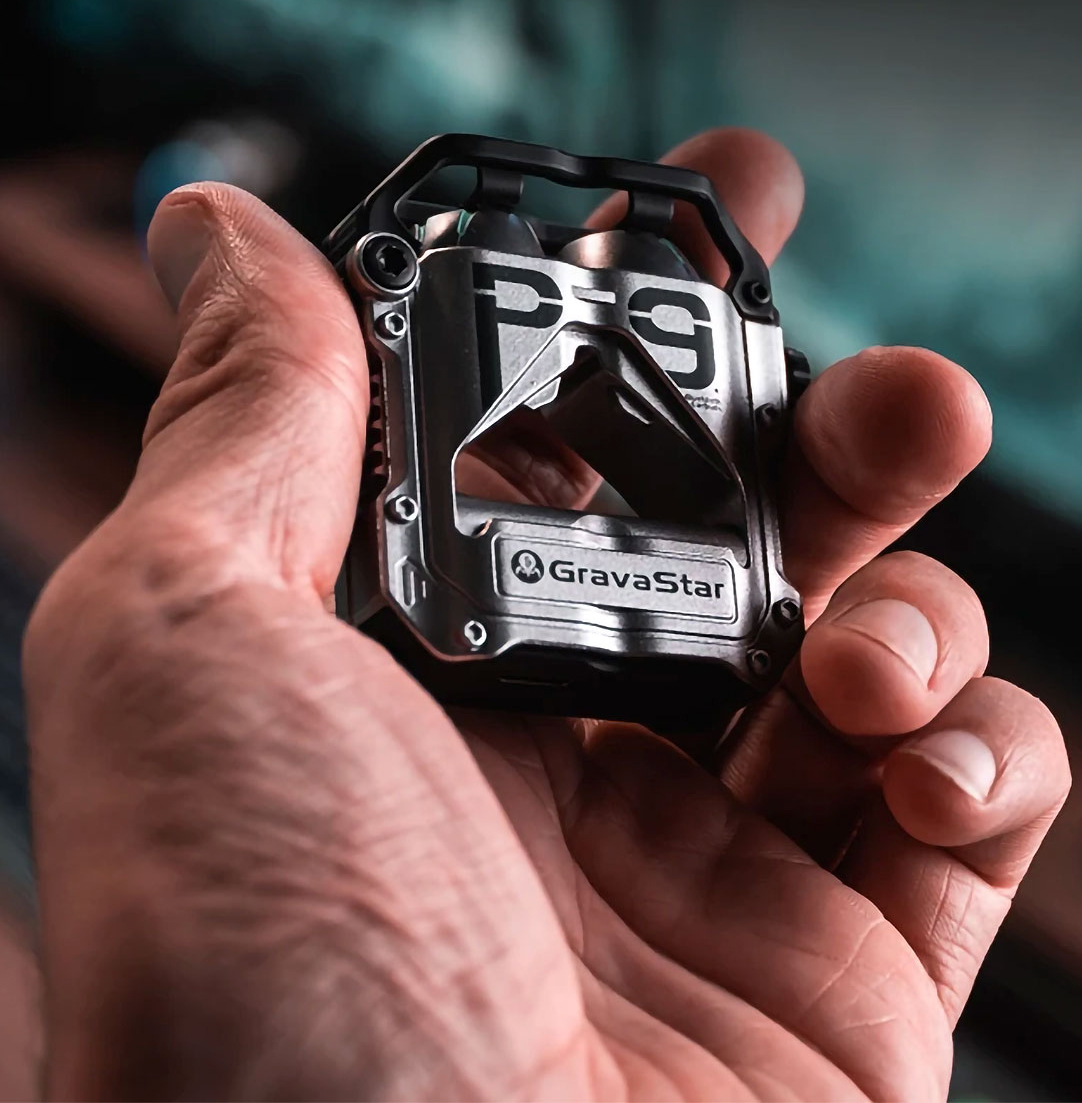 Limited time offer
d
·
: :