key advantages
Develop All Muscle Groups
Outdoor and Indoor Usage
Easy Installation
estimated
delivery
April 2021
We continuously search for a convenient and effective way of workout with a reasonable budget, mostly as the stay-at-home orders are again being lifted in different states. Don't feel like paying a gym membership fee, or not in the mood to buy heavy and expensive gym equipment to transform your backyard or garage into a fitness room? Gone are the days for space-consuming treadmills, heavy barbells and dumbells, and bulky gym equipment. We live in the "all-in-one" golden age! Gym equipment is no exception — becoming smaller, lighter, and portable to help you build strong muscles and a healthy body even when you are home! FREESIXD is one of a kind. It is a sling and resistance trainer to use indoors and outdoors. It comes with tons of small accessories to experience the versatility and try compound movements.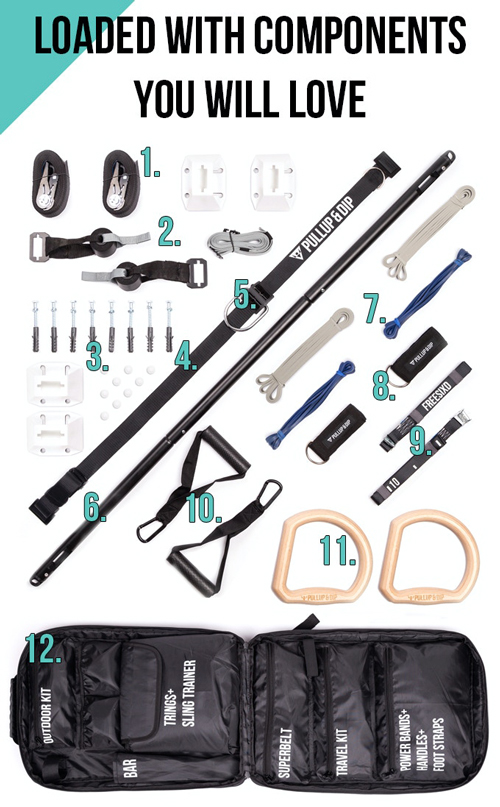 You can separately obtain the bag with several compartments and pockets to have all of them tidily and neatly organized.
Let's dive deeper and understand why you need FREESIXD portable gym equipment, how to use and whether it is worth the price.
The Product
Innovation
Is this a truly new product that you can't find on the market? Or this a product that defines an entirely new product category. In some cases, the combination of several features into one or the introduction of a new feature to an old product are also considered to be an innovation.
FREESIXD is an all-in-one home gym equipment that allows you to do almost 100 exercises without going to a gym. You can train ALL YOUR MUSCLE GROUPS thanks to its versatility. It is also extremely easy to use. It allows you to adjust the buckle to your desired height and train from all the possible angles. So what you get:
Outdoor adapter and Tension Bar

Door attachment

Wall adapters

Super belt

Buckle

Pluggable Bar

2x resistance straps

2x Ankle straps

Sling straps

2x Handles

2x Trings (Triangle Rings)
Imagination is yours. 
Want to train in the park? You are very welcomed: Attach it to the tree and feel the breeze.
Want to train at home? No problem. Fix it on the wall or on the door and be stronger.
The maximum bodyweight FREESIXD supports is 150kg which is tested by the project owners. You can adjust the resistance by passing the bands through the hook of the belt and moving the buckle up and down. The thing that makes this portable gym equipment really stand out in the market is its versatility in training all muscle groups. Let's not forget the portability and the price. You can get the whole package at  $168 including all the accessories.
Competitiveness
How much better is it than the competition? Is it faster? Bigger? Cooler? More affordable? There needs to be a solid reason why you should back this project over any other.
| | FREESIXD | OYO Personal Gym | Gymwell |
| --- | --- | --- | --- |
| Price | KS $168 | $150 | $110 |
| Resistance Bands | 15kg/30kg | 12kg | 14-55kg |
| Weight Capacity | 150kg | - | 100kg |
| Warranty | 24 months | 36 months | - |
| Online Guide | ✔️ | ❌ | ❌ |
As there are not many common features that portable home exercise equipment share we will concentrate on how effective they are. FREESIXD is for training all muscle groups using different accessories. The campaign page shows how to adjust the straps for the desired exercise very simply and accurately. The next thing is the tension level resistance bands provide. For beginners 10-15kg tension level is normal, but for the ones who want to experience more and workout harder 30kg is not enough. The team plans to add a 50kg resistance band if they reach the 500k stretch goal. People also ask about higher weight capacity. The team has tested 150kg weight and FREESIXD works perfectly and it is absolutely safe. For you to know elliptical machines can handle up to 170kg. So, 150kg is more than acceptable for portable gym equipment.
Although the price seems a bit higher compared to the competitors, FREESIXD offers much more accessories and a wide range of exercises you can do with it.
Product Competitiveness Score
The Team
Reliability
How capable is the team? Have they developed something like this before? Do they have crowdfunding experience? Manufacturing experience? A lot of campaigns fail to deliver their product because they don't know what they're doing.
Founded in 2016 Pullup & Dip is a German brand specialized in bodyweight training equipment design. Their mission is to provide high-quality and innovative products for a flexible full-body workout.
The team launched the first crowdfunding project back in 2016 and managed to raise $67,000 with the help of 227 backers. The team is very sincere in sharing all the campaign details and images on their website. They openly speak about the failures and how they solved them.
Attitude
How transparent are the campaigners? Do they give their backers valuable updates on their progress? Do they engage with their backers? Crowdfunding is all about community, sharing information, and building a meaningful relationship with the people who fund your project.
The team has managed to raise $216,846 with 32 remaining days. This is a very good start with a promising future.
The team is very responsive in answering the comments and all of them are answered within 4 hours.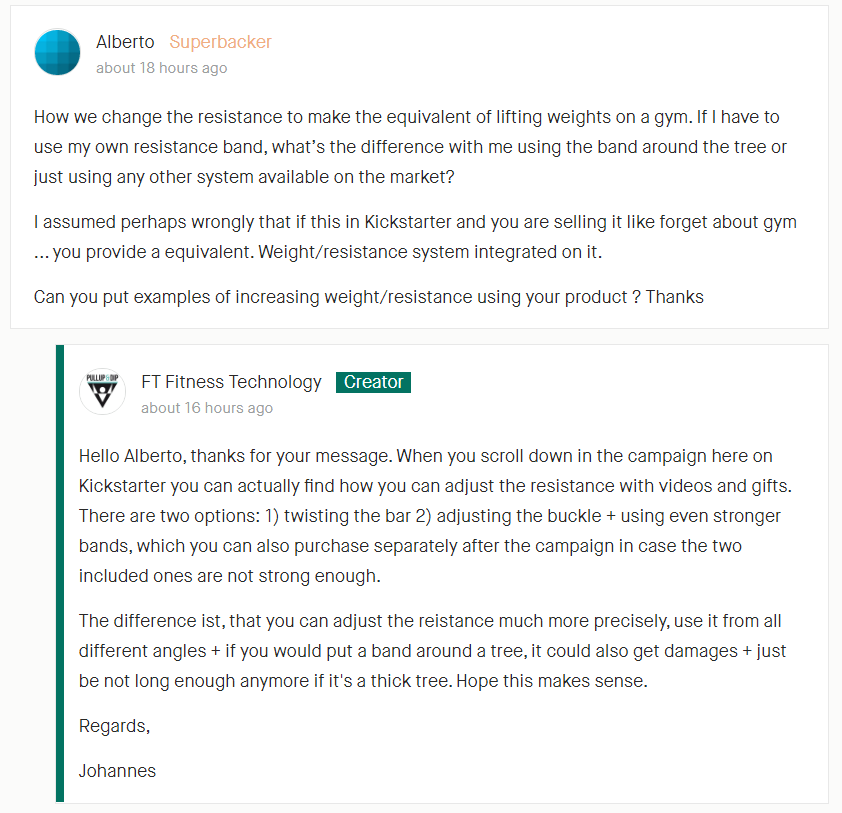 Just leaving this comment here for you to decide who is right.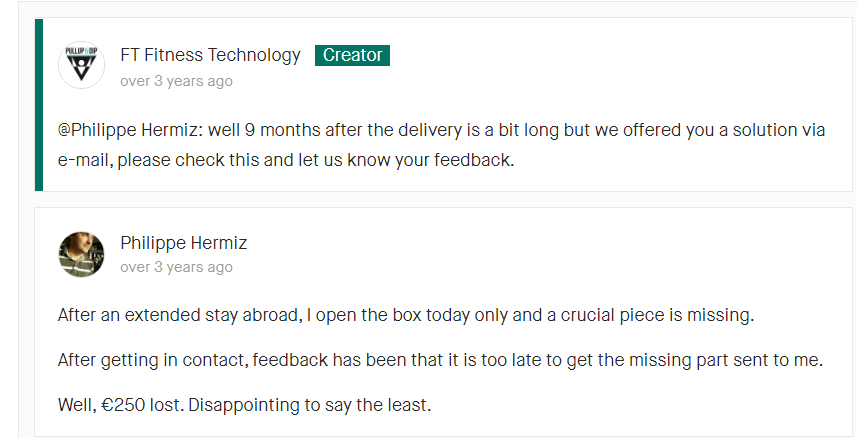 Conclusion & Public Opinion
Taking into consideration all the reviews both from Kickstarter and their official website I have an impression people are very satisfied with most of the calisthenics and bodyweight training equipment they have. And the range of training accessories is very wide starting from pull-up bars to resistance bands and gloves. There are very few complaints about shipping delays. The only thing is that it takes longer to get the order from Germany to the USA. 
Here are some reviews for you to better understand the quality of the product they offer to their customers.



TIW Total Score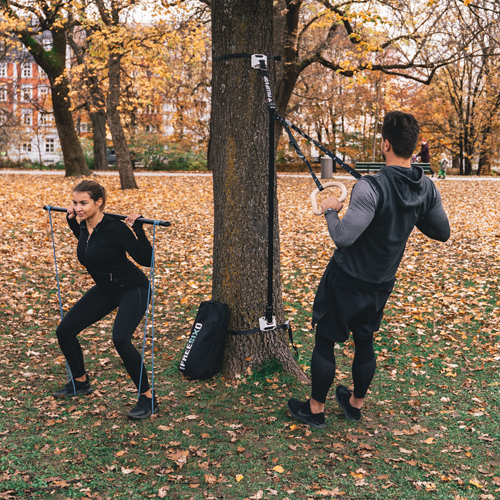 FREESIXD
FREESIXD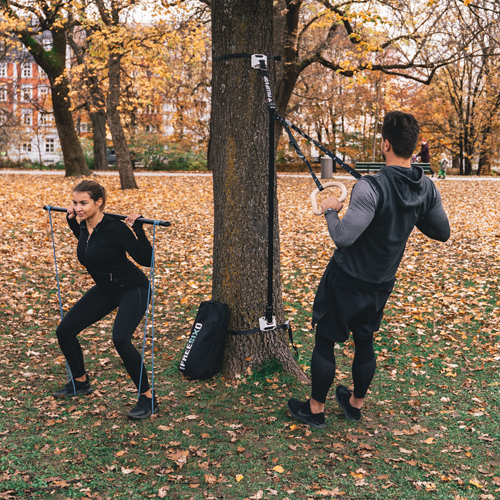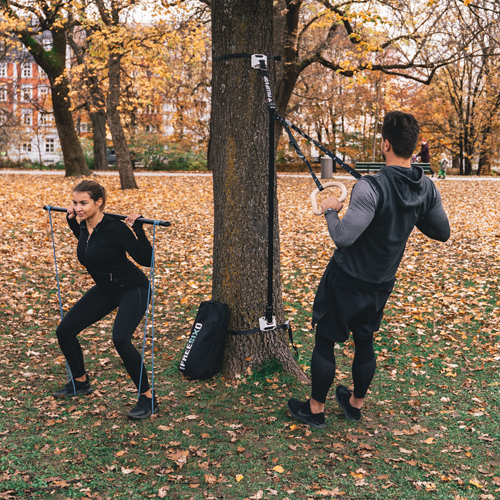 Limited time offer
d
·
: :