key advantages
PD Fast Charging
Data Transmission
Waterproof Design
estimated
delivery
May 2023
How often do you replace your charging cables?
Because this might be the last one you'll ever need.
Twisted, pulled, broken… why are charging cables ways of such low quality? Seriously… it starts with a little crack, and before you know it, they outright refuse to charge.
*Uhm hey, do you have a charging cable I can borrow?*
It's time to stop this madness. Ladies and gentlemen… meet the ZIPCC.
It's time to "zip it… literally!
The ZIPCC is a cable that's made to withstand a beating. The campaign page shows that it's strong enough to lift things up to 176lb (80 kg)… if that's your jam.
But the coolest part is how it looks like a zipper, acts like a zipper, and feels like one too (yes hello durability)!
It has 2 main connectors — one type-C and one lightning connector so that you can charge 2 devices at the same time while the zipper prevents both cables from getting stuck (+provide a super clean look). 
And on the other side, you get a single USB Type-A that should provide plenty of power to both connectors.
How cool is that?
Durable — zipper design
3 output interfaces
PD fast-charging support
65W charging over USB-C
27W charging over lightning
Oops. Your cable is too short? Ha — wouldn't it be great if you could just… I don't know… unzip it to make it longer? Oh yes. Unzipping the ZIPCC doubles its length.
And if you ever accidentally throw it into the washing machine — don't worry, you won't stay without charge, because this baby is waterproof. Nice.
So… wanna zip'n'charge?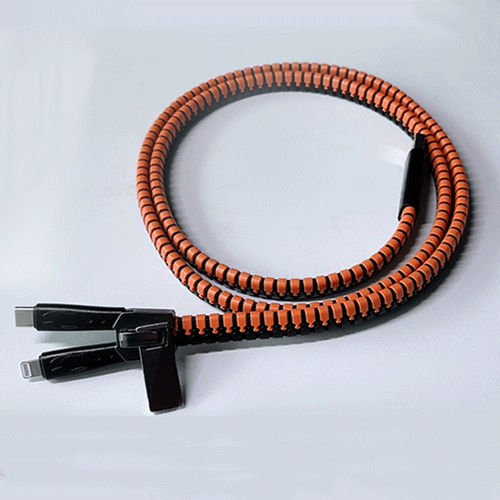 Limited time offer
d
·
: :