key advantages
Anti-theft protection
Human detection
Motion detection
Weather-resistant
estimated
delivery
June 2021
Shawn, this one's for you!
With all the cool innovations we suggest on Tech I Want, you all must have a lot of parcels on the way…
But if THIS is how they're delivering them, good luck!
This secure post box, featured on Forbes, makes it easy for you to interact with delivery workers while you're out.
See them arrive through its 1080p camera, talk to them, open the box, and watch them put in the parcel.
The cold-rolled carbon steel-reinforced box will keep your parcel safe from thieves and the weather until you come home and unlock it with your PIN or key.
Never have another parcel go missing!
Tech I Want Score
It is more likely that it is the need of making your home a secure place that has brought you here, and I'm pleased to say that you are in the right place! Read out this informative review I've prepared for you and learn the most unique and important features of SmartDrop secure package delivery box.
The Product
Innovation
Is this a truly new product that you can't find on the market? Or this a product that defines an entirely new product category. In some cases, the combination of several features into one or the introduction of a new feature to an old product are also considered to be an innovation.
We have been receiving packages for centuries, and making them land in front of our house safely is something we have definitely thought about many years ago. However, as technology develops extremely fast nowadays, the ways to secure our deliveries keep improving, too. SmartDrop secure package delivery box appears to be the result of some successful improvements in this field. Track and view your delivery from the beginning to its very end with this secure delivery box's on-device AI and 1080p camera.
Get involved in communication with your delivery carrier via 2-way audio and lock your box through codes rather than using the traditional keys and then forgetting them somewhere.   An advanced solution to this pretty old problem, no?
Competitiveness
How much better is it than the competition? Is it faster? Bigger? Cooler? More affordable? There needs to be a solid reason why you should back this project over any other.
| | SmartDrop | Qualarc PCSDB-LG | CleverMade S100Series | Step2 583199 |
| --- | --- | --- | --- | --- |
| Price | $149 | $242 | $158 | $160 |
| Dimensions (inches) | 25.6 x 17.7 x 15.0 | 24.5 x 22 x 17 | 22.6 x 18.1 x 18.1 | 25 x 18 x 15 |
| Built-in camera | ✅ | x | x | x |
| Weight (pounds) | 37 | 45 | 38.1 | 13.92 |
| Notifications | ✅ | x | x | x |
| Code locking | ✅ | ✅ | ✅ | x |
The chart above is the illustration of SmartDrop's leading position in the competition. The lowest price with yet the built-in camera, multiple types of human, motion and delivery notifications and compatibility with Alexa & Google Assistant. Theft protection is something you can definitely afford yourself if you end up getting the SmartDrop.
Product Competitiveness Score
The Team
Expertise
How capable is the team? Will they be able to pull off their design? Experienced engineers, designers, market analysts, operations and other specialists have a huge impact on a project's success
Being a part of Anker Innovations, one of the leading electronics brands in America, Eufy's team is giving birth to home appliances and security devices that are aimed to serve people in the most diverse occasions. HomeVac S11 Go is their cordless vacuum cleaner, Lumi is their automatic plug-in night light, Smart Scale is to assist you when keeping track with your diets and health by measuring your weight and tracking it through a mobile app. In addition to these products, eufy has designed a whole ecosystem of security equipments with eufyCam wirefree security cam heading the journey. The latter has been launched on Kickstarter and has brought some big recognition to the team with its success.
Experience
Have they developed something like this before? Do they have crowdfunding experience? Manufacturing experience? A lot of campaigns fail to deliver their product because they don't know what they're doing. Or they might spend all the raised funds on getting a fully functional product, but fail to mass-produce it.
As noticed, eufy's team appears to have some impressive and inspiring background with plenty of manufactured products and an absolutely successful campaign on Kiackstarter. EufyCam has raised $3,139,558 with the support of 8803 backers and has become the base of the security ecosystem that eufy has designed and manufactured since then. Eufy's website provides multiple opportunities to review and purchase the variety of home appliance & security products they offer. Having experienced some serious success by doing their first steps in crowdfunding on Kickstarter, the team seems to have done a pretty good job at moving forward and inventing!
Transparency
How transparent are the campaigners? Do they give their backers valuable updates on their progress? Having credible and reliable campaigners is one of the deciding factors in building the trust that backers look for.
That wirefree cam, about which we were talking when referring to eufy's experience and background, was indeed a successfully planned campaign from more than one perspective. 36 updates and these include discounts, rewards, shipping information, news about new-releasing products and…wait for it…an offer to become the ambassador of their brand!
Well, the trust one might have towards the company seems to be more than paid off by the trust they have towards their backers! Trying to get this close to backers illustrates some high level of reliance, belief, and affection the team is trying to display towards its supporters! I would have felt touched by this, wouldn't you?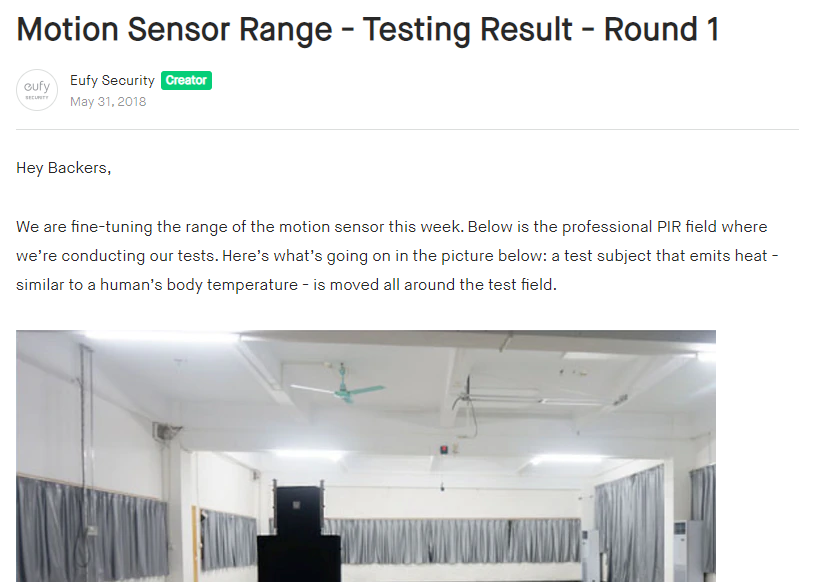 As open as they can get, they are letting their backers know about the equipment testing process and the details of it! It is crucial to be clear about a procedure of such a product, otherwise there would always be some place of uncertainty in everyone's hesitant hearts for sure!
Responsiveness
How responsive are the campaigners? Do they engage with their backers? Crowdfunding is all about community, sharing information and building a meaningful relationship with the people who fund your project.
I was trying to check the 5320 comments the team had to respond for their first campaign, and I must confess it seemed quite a challenge to me! But here I am with some findings that might make us feel the customer service wasn't doing that good of a job!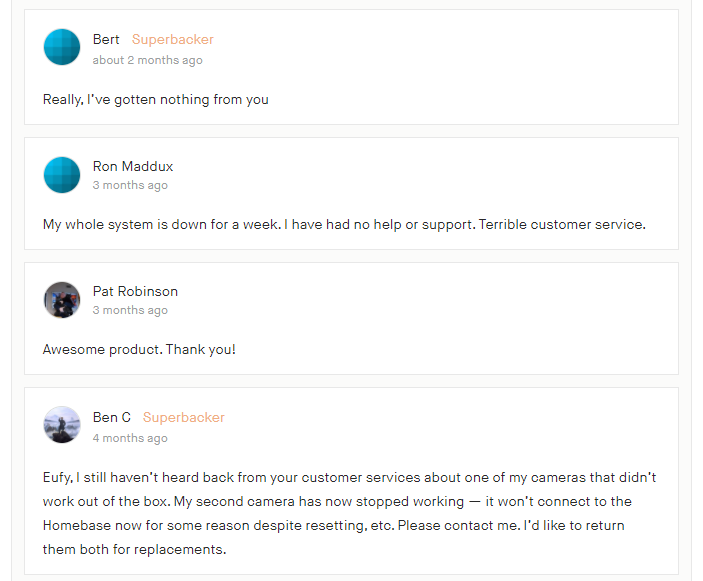 As I kept on reviewing the comments, I noticed that some highly significant concerns such as the ones above remained unaddressed by the team, while some other issues got resolved.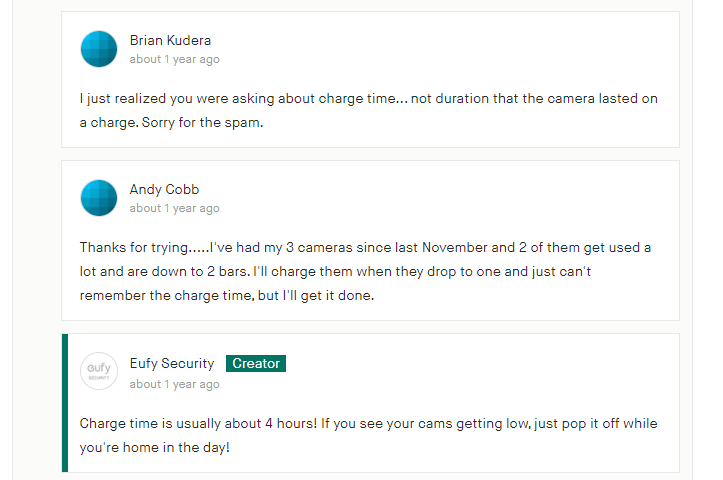 This didn't ascertain me that I have enough information to draw a proper conclusion about the team's responsiveness, so I dug deeper to find out how responsive the team is to their current campaign, SmartDrop.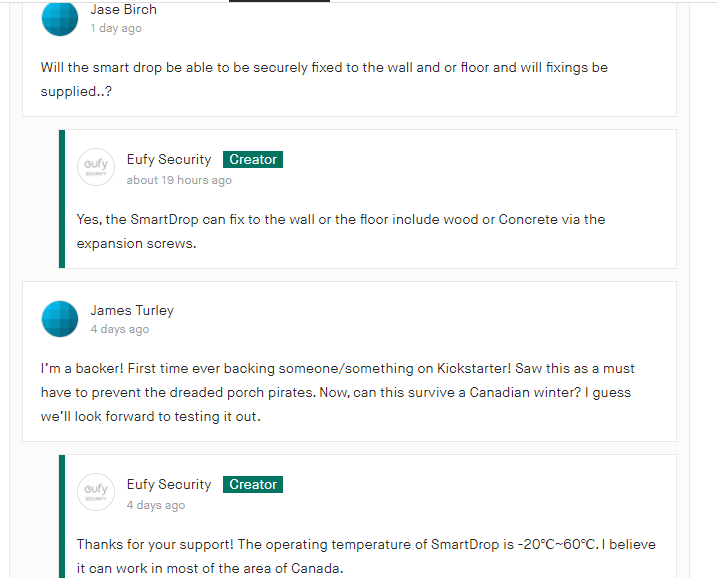 Doing a better job for sure! Responding more quickly and more efficiently and trying to address the concerns of backers. Progress is always a good sign! With progress in our minds and this package locker for home, we are dealing with some experienced experts who have proved to be successful enough in the industry they are involved in.  Inspired by the experience and touched by the transparency, the backer community was and is powerful enough to push the SmartDrop team to lead a more responsive and efficient path for the ones who demonstrate trust, support and belief towards them!
Team Responsiveness Score
TIW Total Score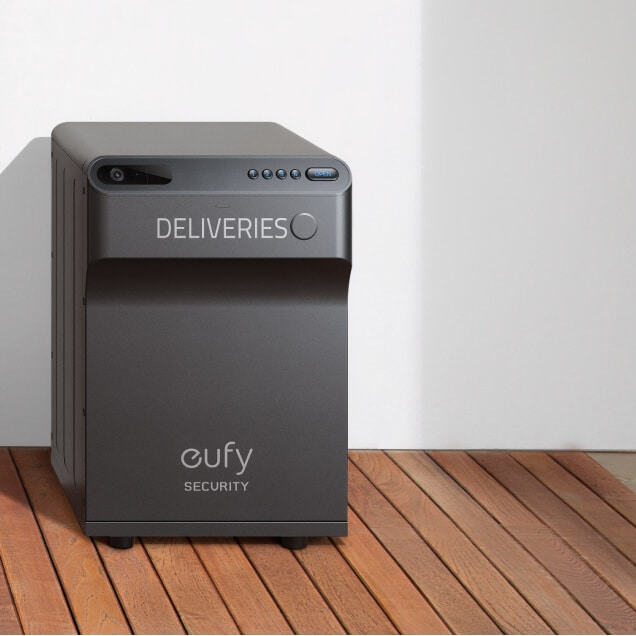 SmartDrop
SmartDrop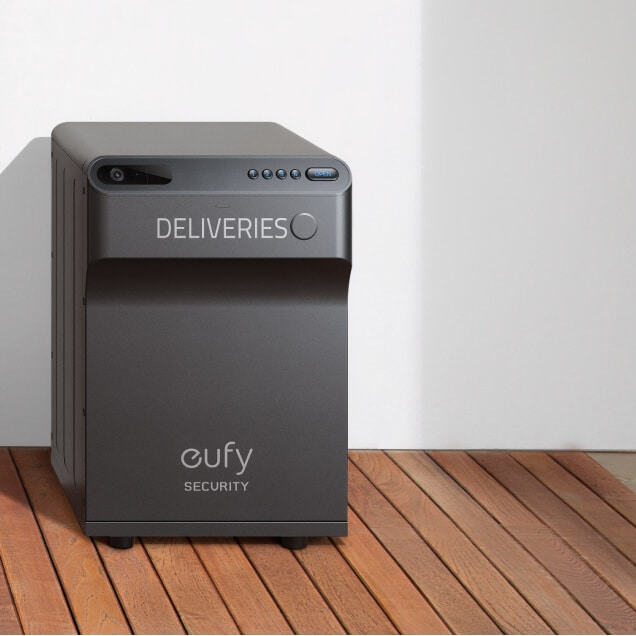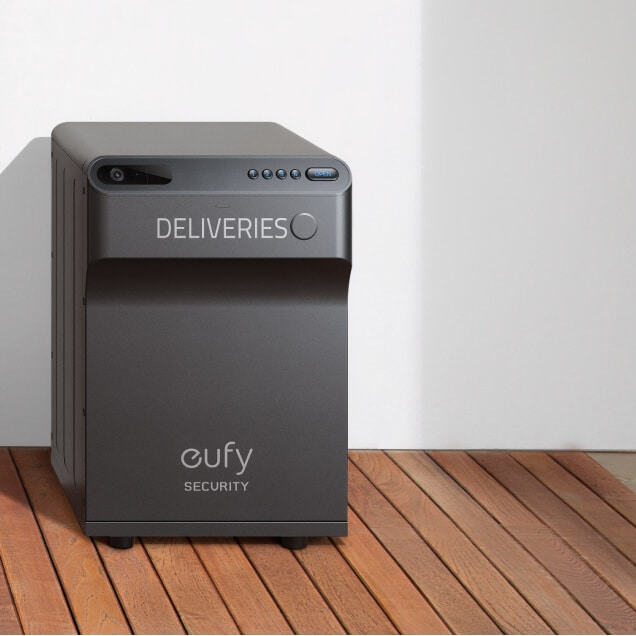 Limited time offer
d
·
: :