Reinkstone R1
The Ultimate True Color DES E-Paper Tablet
key advantages
Highest Color Display for E-Paper Tabs
100 Days of Battery Life
Supports unlimited formats and searchable files:
estimated
delivery
November 2021
Your handwritten ideas brought to life
Tablets are everywhere… They've taken over the handheld digital experience with high processing power to go along with useful multi-functionalities.
But are you ready to break the bank to get your hands on an expensive slab of glass? You don't have to… This might not be an iPad, but if you're one who likes reading, drawing, listening to audiobooks, and turning your handwriting into instant type, then you might want to check this out.

Thinnest book-sized color E-Paper Android tablet.
Highest Color Display for E-Paper Tabs: 140 color PPI.
Supports unlimited formats and searchable files: PDF, EPUB, RTF, etc.
Share via Wi-Fi, Bluetooth, OTG, or screencast.
100 Days of Battery Life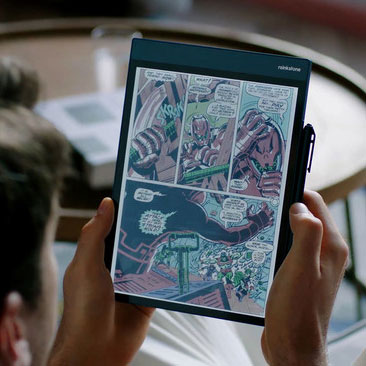 Limited time offer
d
·
: :