key advantages
full tilt steering
25 mph & 50-mile range
350-lb Capacity
estimated
delivery
December 2022
Think e-scooters should be more comfortable to ride?
If the answer is yes, then you'll love this one!
E-Scooters are cool until you get onto a bumpy road. Yeah, that damn upward shock you feel while hitting a pothole or bump or riding on cobblestones. Ugh! Even e-scooters with suspension systems don't seem to do the job. Time to find a better way to get around town? 
Actually, there's an e-scooter coming that could well be a total game-changer!
Say hello to the Dragonfly 🔥
Its creators call it a Hyperscooter, like the e-scooter equivalent of a supercar, and it seems like they're very serious about it.
With the Dragonfly, going over bumps could feel like you're simply… flying over them. That's how comfortable it's made to be. Obviously, you won't be actually flying, but it could certainly feel like so.
Because, unlike other e-scooters, this one has 4 10-inch wheels, and each of them has an independent damped suspension. Yep, suspension on every single one of them. This e-scooter takes comfort very seriously.
Fast charging time — 3 hours to 100%
Up to 80 km (50 mi) on a single charge
Up to 40 km/h (25 mph) speed
10'' pneumatic tires
The Dragonfly is designed with both beginners as well as pro riders in mind. You can just use its cool-looking ride display to choose a ride mode that suits your experience, and off you go. It should make your ride much safer!
Beginner: Max 15 km/h (9mph)
Intermediate: 25 km/h (16 mph)
Pro: 40 km/h (25 mph)
And we haven't even mentioned its full-tilt steering ability. Yep, a patented steering tech that should allow for an impressive turning radius, smooth manoeuvres, and total control over the Dragonfly's steering behaviour. Agility? Check!!
So, if you're looking for a cool-looking e-scooter that makes for a comfortable and safe ride, you may really like the Dragonfly Hyperscooter.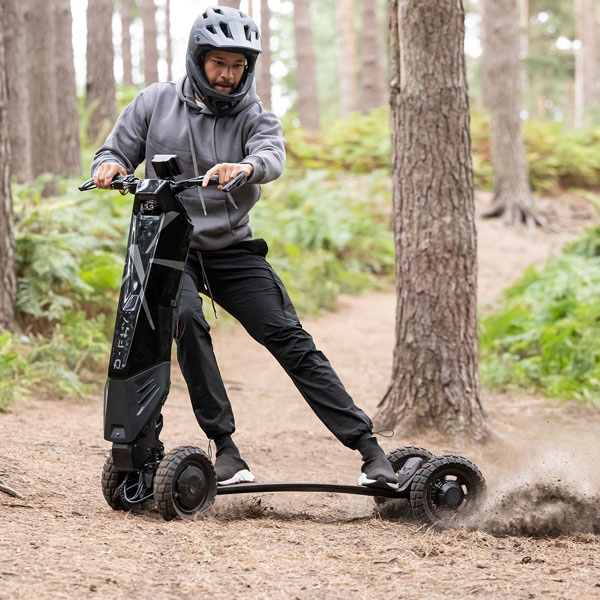 Limited time offer
d
·
: :