key advantages
AI bird recognition
High resolution camera
Weatherproof
estimated
delivery
September 2021
Do you like birds? If you do, I bet you spend hundreds of hours on the balcony with your camera in your hands trying to capture the most exciting flights of the most colorful birds in your sky. And it is with great sorrow that you and I have to face the fact that you end up being not that successful in this deal. Despite your endless dedication and restless effort, your photos end up displaying something blurry waving around the sky.
Bird Buddy has come to solve this problem of yours by making you feel satisfied with the bird shots and by requiring literally no effort throughout the entire process. The smart bird feeder camera notifies you every time someone lands in it by inviting you to take a look at your guest, to admire them, and eventually to enjoy the spectacular photoshoots produced with them!
Bird Buddy features both detachable and upgradable modules, is easy to refill, and serves as a cozy home for your beloved guests.
Check out Kickstarter's most funded Tech & Design category products of 2020 here!
The Product
Innovation
Is this a truly new product that you can't find on the market? Or this a product that defines an entirely new product category. In some cases, the combination of several features into one or the introduction of a new feature to an old product are also considered to be an innovation.
Go to Amazon and find the cutest bird feeders or the most professional cameras to capture all the details and colors. But try finding these two in one. You gotta face some challenge! Certainly, this bird feeder camera is an innovation combining the two indispensable features every bird lover seeks – feeding the birds decently and capturing their beauty entirely. It is true that bird buddy is not the very first one in the market, but we should also confess that it's on the list of the leading developers of this innovation.
Take a look at this shot by the bird feeder camera!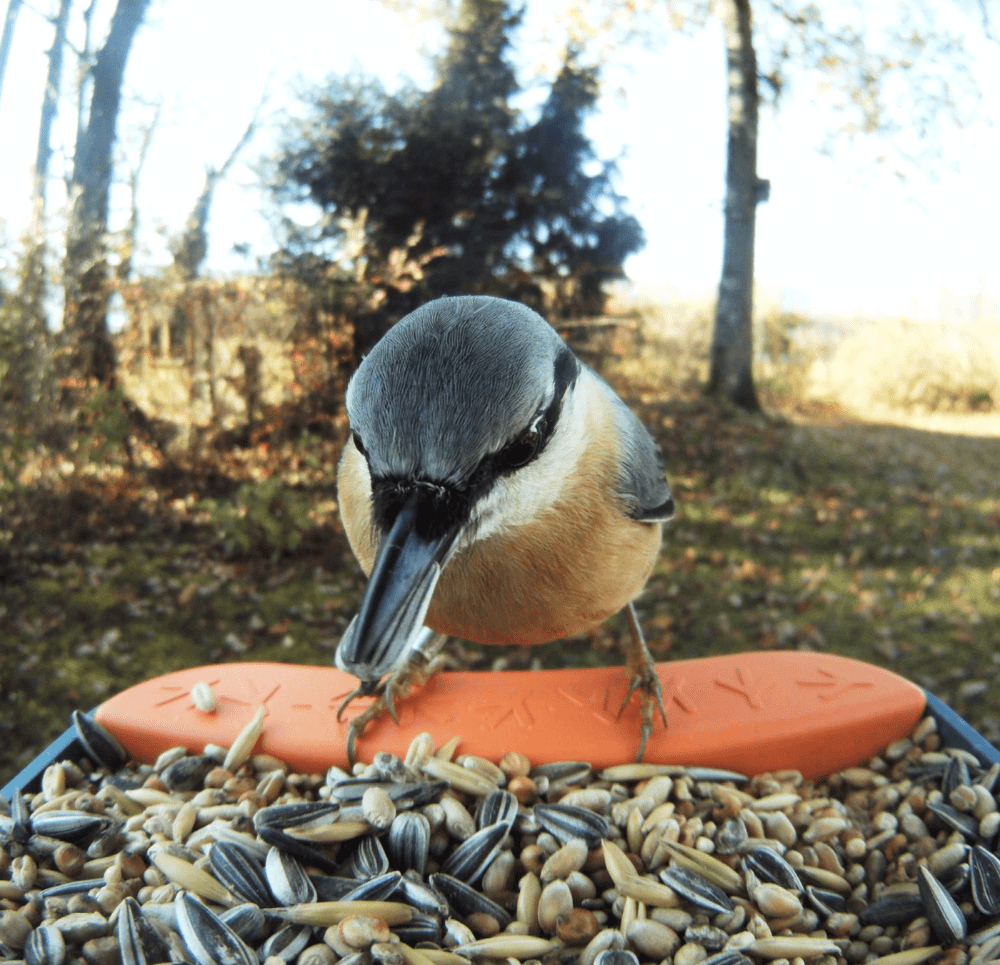 Competitiveness
How much better is it than the competition? Is it faster? Bigger? Cooler? More affordable? There needs to be a solid reason why you should back this project over any other.
| | Bird Buddy | Golbong | Bresser |
| --- | --- | --- | --- |
| Price | $156 | $125 | $66 |
| Dimensions (inches) | 9 x 6.3 x 6.89 | 1.73 x 1.73 x 1.97 | 6 x 10 x 6 |
| Mobile app | ✔️ | ✔️ | ❌ |
| Entirely wireless | ✔️ | ❌ | ✔️ |
| AI bird recognition | ✔️ | ❌ | ❌ |
Obviously, Bird Buddy doesn't show up as the least expensive option amongst the competitors. However, there are some original features it manages to stand out with such as AI bird recognition, the high-resolution camera and the mobile app notification system. Although Golbong has a mobile app and camera system, too, it serves for capturing what is happening inside the birdhouse rather than for taking pictures of the birds appearing there. If you're someone artsy, Bird Buddy is what you should get for yourself!
Product Competitiveness Score
The Team
Reliability
How capable is the team? Have they developed something like this before? Do they have crowdfunding experience? Manufacturing experience? A lot of campaigns fail to deliver their product because they don't know what they're doing.
This bird-lover equipment is the very first crowdfunding campaign of the Bird Buddy team. Nevertheless, the campaign has managed to raise $1.561.201 USD with the support of 8121 backers within less than 20 days. Young but promising, the team members have had job experiences in companies and projects like My Talking Tom, Snap, Porsche, and many more. The industrial designer of the product has worked on 3 successful Kickstarter campaigns and has been membering various startups. In u nutshell, a group of experts has gathered together with sustainability and innovation in their minds to produce an original product for the original section of the people – bird lovers.
Attitude
How transparent are the campaigners? Do they give their backers valuable updates on their progress? Do they engage with their backers? Crowdfunding is all about community, sharing information and building a meaningful relationship with the people who fund your project.
I have been checking the updates of the campaign on Kickstarter, and most of them are restricted to the backers only. The comment section, however, reveals a lot about the team's attitude towards their backer community.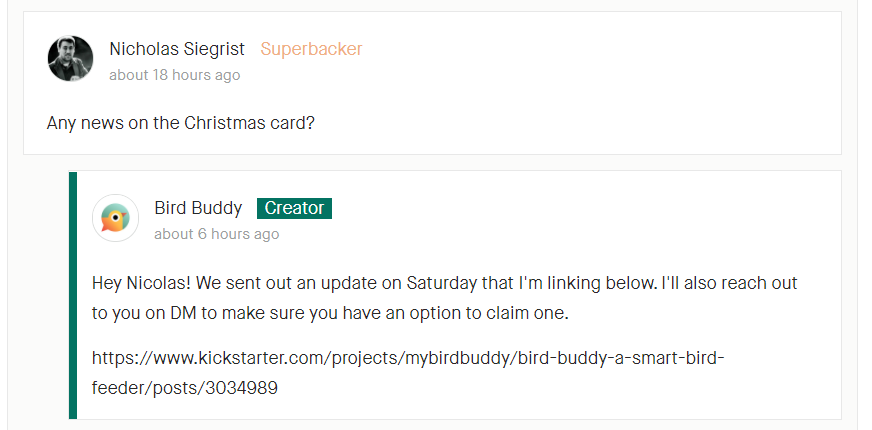 A fast, detailed, and personalized response, and some respect towards the superbacker, no?
The overall impression I got from the comments was that the community is excited and happy with the idea. The positive vibe was dominating as the backers kept asking their questions and receiving quick and helpful answers from the team.  All of the comments were replied to, and the team put enormous efforts into being responsive and supportive.
I found this single comment being replied to later than the other ones, and I would say the team is demonstrating some high level of commitment by apologizing for a relatively late reply at this stage of the campaign.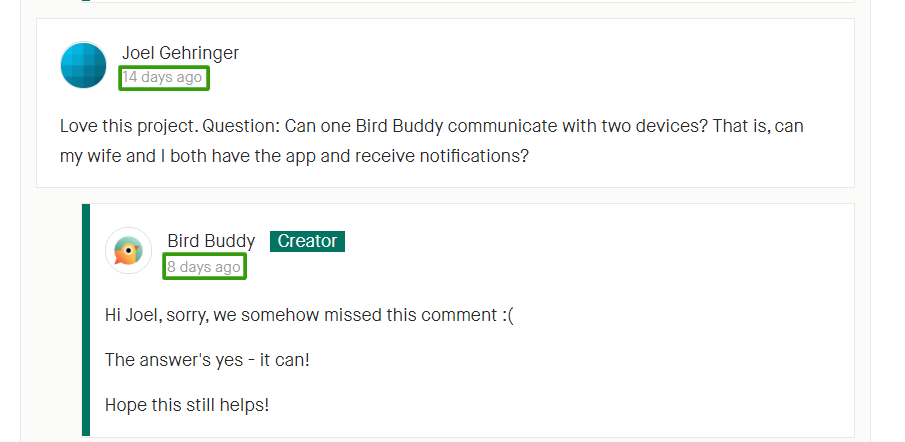 Conclusion & Public Opinion
Since this is the first crowdfunding campaign of Bird Buddy, it is challenging to expect the public to have already developed an idea regarding how successful the product is and how well it works. 
What we could do at this point to analyze the public's opinion, is evaluating the available numbers out there. 
8121 backers on Kickstarter, 4612 followers on Instagram, 6345 followers on Facebook and 569 followers on Twitter. To add to this, a well-structured website telling a lot about the team and the product. Moreover, $1.561.201 USD, and all of this when there are still 43 days for the campaign to go!
Giving you the numbers and leaving you the conclusion…Bird Buddy is a good buddy to get!
Limited time offer
d
·
: :