key advantages
Swappable & easily changing surface
Naturalistic mat experience
Combines 5 active standing elements
estimated
delivery
April 2021
You're looking at last week's photos at the river… The hike to get there. The blue skies and the smell of the rushing water…
All of a sudden. You snap out of it.
Boom… You're back at the office. Bummer!
Everything in your body wishes it was out in nature. You're tired of sitting all day, so you invested in a sit-stand desk. You sit down, you stand up… But it still quite doesn't do the trick… What if you could work while walking out in nature? What if you could experience the natural ground under your feet?
Well, Monkii is back with another awesome product to release your inner beast!
This is not your standard standing mat. It's not built for soft people… Who need soft surfaces.
If you're not a BEAST you don't want this. If you can't survive the WILD, you don't need this. If you would rather sit, STOP reading!
This standing mat has swappable surfaces, so you feel like you're in the woods, running along a rocky river; strengthening the dozens of muscles and tendons in your feet.
Even when you're inside… GET OUT THERE! And feel nature at your feet.
Tech I Want Score
I see you've had a tough working day. Or maybe you want to spice up your weekend with some self-care and fun. For that all, I have prepared STOIC's review to offer you a deep glimpse into this multi-functional standing mat. Find your workout, chillout and relax tool right in this review. Let's go!
The Product
Innovation
Is this a truly new product that you can't find on the market? Or this a product that defines an entirely new product category. In some cases, the combination of several features into one or the introduction of a new feature to an old product are also considered to be an innovation.
There are various types of standing mats available to you and to everyone, and the comfort level provided by each of them is different, too. STOIC's innovation lies in its versatility and in multiple ways it can be implemented and used. Introducing 5 elements of active standing, such as motion, balance, fidget, massage and strength, STOIC features over 50 setup options enhancing your connectivity with nature with features varying from flathead river rock to redwood forest. The ease to change the standing surfaces combined with the benefits such as non-sweat workout, effortless calorie burning and releasing stress, makes STOIC standing mat stand out proudly in the diverse world of standing mats. Also, to meet the needs and terms of the consistently digitizing world, this standing pad has got a guiding app for you to install and to organize your workout, standing and massage sessions accordingly.
Competitiveness
How much better is it than the competition? Is it faster? Bigger? Cooler? More affordable? There needs to be a solid reason why you should back this project over any other.
| | STOIC | Homfort | AFS-TEX 2000 | Topo Mat |
| --- | --- | --- | --- | --- |
| Price | $169 | $62 | $41 | $102 |
| Customizeable surface | ✅ | x | x | x |
| Shoes-friendly | ✅ | ✅ | ✅ | ✅ |
| Workout-adjustable | ✅ | x | x | x |
| Material | Non-toxic molded foam | Phthalate-free | Polyurethane | Plastic |
| Naturalistic experience | ✅ | x | x | x |
Let the price of STOIC not surprise you or make you feel it is less affordable in the competition. Even though it does not stand out with its low price, it does come up with benefits and advantages to make it worthy for how much it is offered.
Firstly, it is the only one providing a nature-style experience and enabling you to feel the real rocks, rivers and stones under your feet right in your house or in your office. You can freely change the surface, shift from the high mountains to the smooth and chilling rivers, massage your feet, train our bones and keep strong. Together with this, it is a production of a well-trusted team and brand, Monkii, about which we will talk more in the team section. 
Now, after learning all this, are you still hesitating whether or not to invest your money into your health and pleasure?
Product Competitiveness Score
The Team
TIW Total Score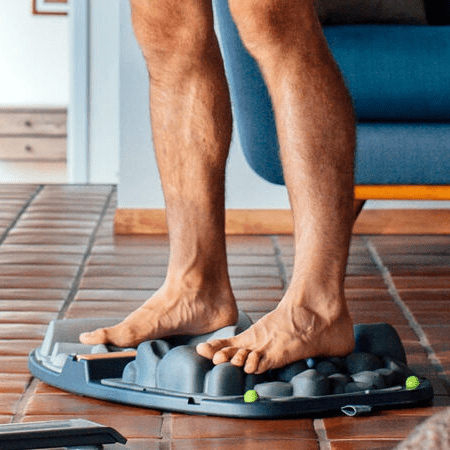 STOIC
STOIC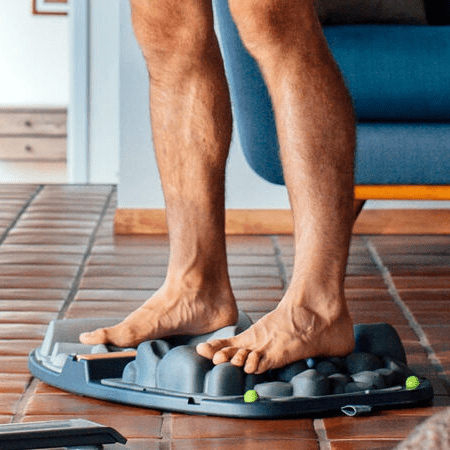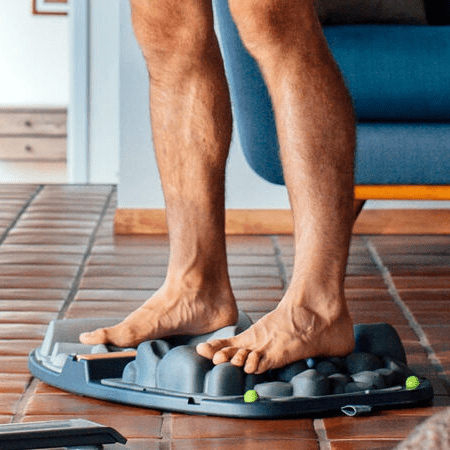 Limited time offer
d
·
: :