Orb One: Stovetop Coffee Maker
Delicious coffee in a variety of styles
key advantages
Beautiful Design
Heat Efficient Structure
Immune to over-extraction
estimated
delivery
November 2021
As I purchased my own stainless steel stovetop coffee maker, a Moka Pot, last weekend, this review makes me happy and sad to write.
Happy because I now think I'm a coffee expert.
Sad because I'd rather have the Orb One by Crucial Detail over my cheap ugly Moka Pot.
The Orb One looks fancy, has a good review from a coffee-master, and definitely is onto something. But is it revolutionary? Do I want it?
Do you want it?
Should you want it?
Let's see if it survives our Tech I Want review process.
The Product
Innovation
Is this a truly new product that you can't find on the market? Or this a product that defines an entirely new product category. In some cases, the combination of several features into one or the introduction of a new feature to an old product are also considered to be an innovation.
Ever since the moka pot was invented in 1933, there's never really bean (yes, a coffee joke) a good stovetop competitor that could give the same strength.
Cold-brew chambers, AeroPress, pour-over systems, all these machines create great coffee, but the coffee is a different style.
Now, Martin Kastner from Crucial Detail tries to change that with the Orb One. He claims to have made a one-size-fits-all efficient stovetop coffeemaker from stainless steel that "fills the gap between the french press and the espresso".
I can't comment on the taste of this stovetop coffeemaker, cause I haven't bought the Orb One yet, but I can definitely see that the consideration and detail that has gone into this product is insane.
However, feature-wise – I actually don't think it is destroying the vast array of competitor stovetop coffeemakers from stainless steel.
More about that in the next section.
Competitiveness
How much better is it than the competition? Is it faster? Bigger? Cooler? More affordable? There needs to be a solid reason why you should back this project over any other.
| | Orb One | Yabano | Elabo |
| --- | --- | --- | --- |
| Price | $120 | $20 | $27 |
| Material | Stainless Steel | Aluminium | Stainless Steel |
| Capacity | 225ml | 4 demitasse cups | 4 demitasse cups |
| Over-extraction safe | ✅ | ❌ | ❌ |
| Heat efficient | ✅ | ❌ | ❌ |
The two features that really speak to me is the stovetop efficiency and the design from Crucial Detail.
These features I think are just great.
They also mention that their stovetop coffeemaker prevents over-extraction – but if you know how to use a moka pot correctly, it shouldn't be your biggest problem. As first-time stovetop coffee makers – the anti-over-extraction feature is the whipped cream on the ice cream.
The Orb One stovetop coffeemaker beats the best moka pots I've researched but in my perspective, it doesn't precede them in features and usage – it simply just has the potential to be the best stovetop coffeemaker in town. For many people, this justifies the price. 
As we, in this consumerist society of the 21st century, always want more more more – I think that if they had added an included milk heating chamber, electric pressure gauge making the coffee strength closer to the espresso, or some other cool feature – they would've gotten funded in the first day.
But again, their goal might not be to break the charts, but simply just to make a great modern version of the moka pot and kickstart their product.
Product Competitiveness Score
The Team
Reliability
How capable is the team? Have they developed something like this before? Do they have crowdfunding experience? Manufacturing experience? A lot of campaigns fail to deliver their product because they don't know what they're doing.
These guys from Crucial Detail are impenetrable.
Serial inventors with their own design practise that has a huge portfolio of successful projects and customers like Grant Achatz from Alinea – which is on top of my bucket list of restaurants to go to.
The last Kickstarter campaign was in 2011 and was a huge success for Crucial Detail. They still sell the product from back then today and keeps getting great feedback from customers.
Though launching a Kickstarter campaign is very different in 2021 than in 2011 – I completely trust they have the expertise from their previous work to succeed.
They've also backed 19 products on KS before – which shows their commitment to the crowdfunding industry
The leader of Crucial Detail, Martin Kastner, is on The Future Laboratory's list of 100 most influential individuals in contemporary design.
Attitude
How transparent are the campaigners? Do they give their backers valuable updates on their progress? Do they engage with their backers? Crowdfunding is all about community, sharing information, and building a meaningful relationship with the people who fund your project.
They respond timely to all comments on Kickstarter and give technical answers when asked.
They are friendly enough but not warm in their responses.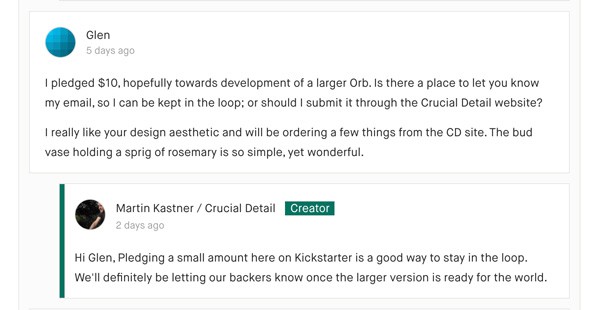 For example, they seem to be the type of people who – when getting both a compliment and a question, only answer the question.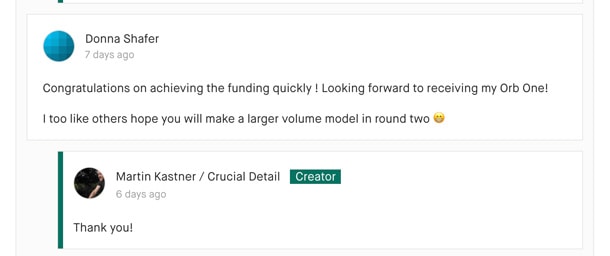 The good news is: after launching their past campaign – an infusion vessel – they later shared recipes with their audience in the updates section after shipping.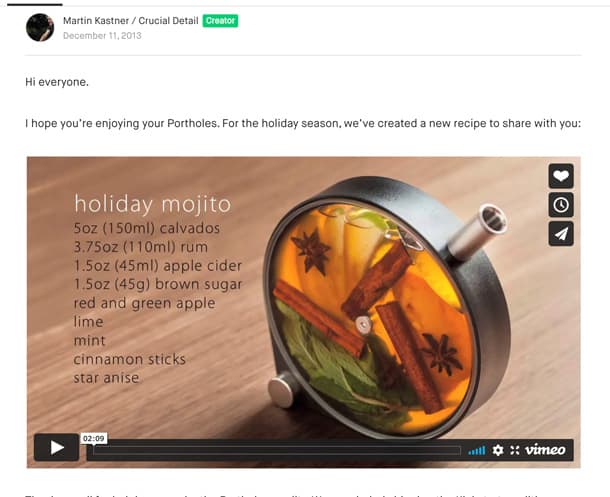 That is just amazing and personal.
Conclusion & Public Opinion
The Orb One stainless steel stovetop coffee maker will be a new great functioning and beautiful moka pot.
It doesn't push the borders for what coffee is and what you can achieve on the stovetop, but it is ensured to give you an amazing cup of coffee.
The team is trustworthy, professional, and have had great success in product design over the years so you can back without worry – in my opinion.
TIW Total Score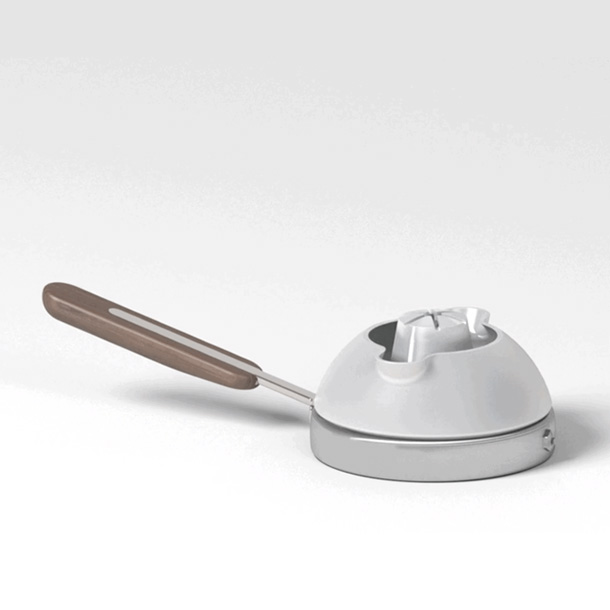 Orb One: Stovetop Coffee Maker
Orb One: Stovetop Coffee Maker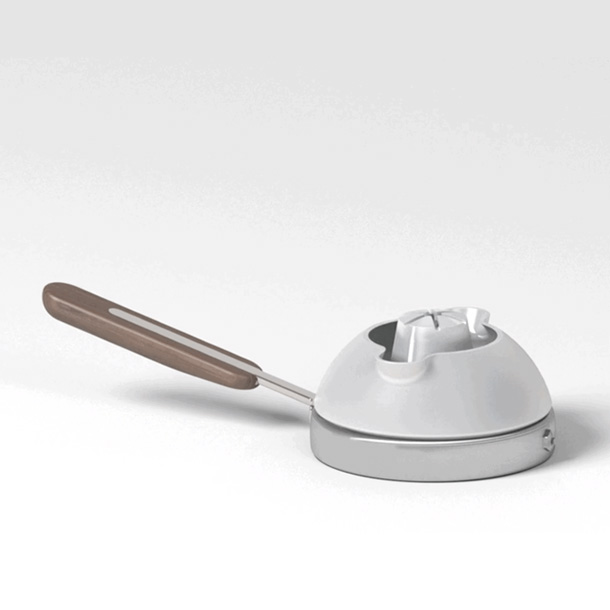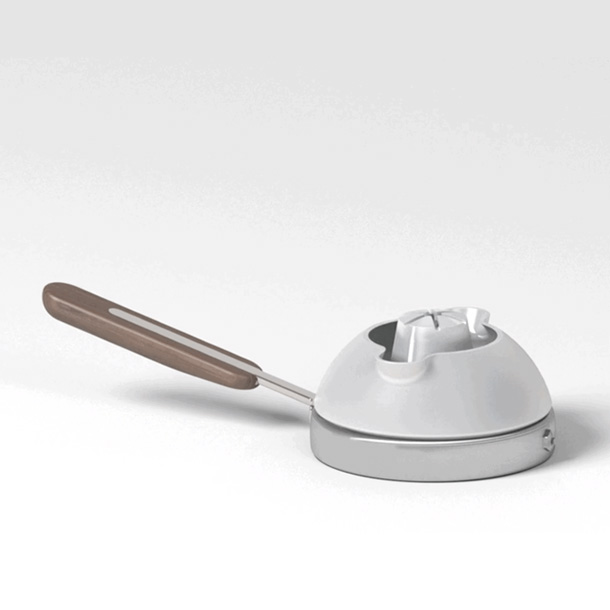 Limited time offer
d
·
: :