With the Oculus Rift S, you will get a straight ticket into the world of crystal clear optics, cinematic 3D positional audio, and more than 1000 games. It enables its users to explore the world of gaming from the comfort of their house. 
The VR gaming headset not only has 5 built-in cameras which effectively scan the room, but also cameras on the controllers. The Oculus team made sure you don't break your nose by bumping into the wall. This will make your gaming experience fun and simultaneously safe.
Let's say you bought this item from Amazon and now have to set it up. For that, you are going to need a VR-compatible computer or a laptop. The process of setting up is quite easy!
The Oculus Rift S recommended PC requirements.
OS: 64-bit Windows 10
CPU: Intel i5 4590 / AMD Ryzen 5 1500X or greater
RAM: 8GB
GPU: Nvidia GeForce
GTX 1060 / AMD Radeon RX 480 or greater
USB Ports: 1 USB 3.0
DisplayPort video output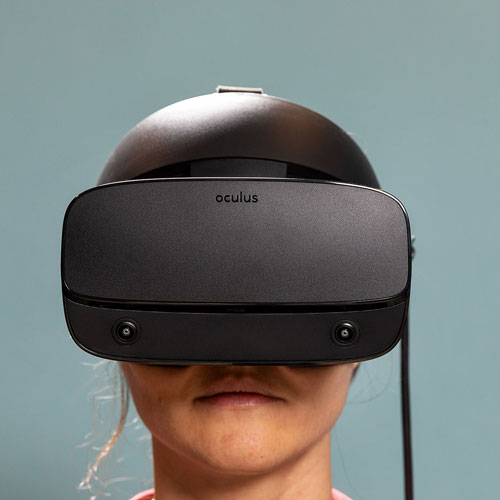 The updated virtual reality headset uses a single display with a resolution of 2,560 x 1,440 and a refresh rate of 80 Hz. These display improvements make the gamer's experience far better thanks to the clearer and sharper environment image.
Another great feature of the Oculus Rift S is that it's compatible with eyeglasses. Just make sure to check the sizes of your glasses before putting them in. The width should not exceed 142mm and the length should not exceed 50mm. If the size is okay, then you are ready to go!

What To Look Out For When Buying a VR gaming headset
How much space do you need to play VR games?
The company recommends having a play area of at least 3 feet x 3 feet, and 6.5 feet x 6.5 feet for room-scale. The Rift S doesn't have external sensors, but it has full room-scale tracking built-in.
the minimum PC requirements
OS: 64-bit Windows 10.

CPU: Intel Core i3-6100 / AMD Ryzen 3 1200, FX4350 or greater.

RAM: 8GB.

GPU: NVIDIA GeForce GTX 1050Ti / Radeon RX 470 or greater.

USB Ports: 1 USB 3.0 .

Compatible mini DisplayPort video output (miniDisplayPort to DisplayPort adapter included with Rift S)
Do you have eyesight problems?
If so, you don't have to worry about that unless the size of your eyeglasses exceeds the allowed (width no more than 142mm, length no more than 50mm). However, if it does exceed the given numbers, you can try contact lenses.
Oculus Rift S automatic movement tracking
Motion sensors are built into the device. When setting it up, you map out your room's play area, and if you get near the boundary a warning wall will automatically appear.