Moft Float
Foldable iPad Stand Case
key advantages
Floating across unlimited viewing angles
Adjustable height
Usable in floating, stable & portrait modes
estimated
delivery
January 2021
Levitate your iPad… Yes, you heard that right!
With 3 standing modes — Floating, Portrait, Stable; you'll be able to elevate, turn, and angle your iPad to the perfect position that suits you. Now you have a desktop on the go!
But if you wanted to take it a step further, add on the keyboard accessory that's so so sleek and thin, it could be a product of its own!
Quick and easy, and ready to go wherever you go! Levitate with Moft!
Tech I Want Score
Are you using your IPad Pro mostly for watching movies or reading or doing office stuff? Maybe you are a designer or a painter or a creator constantly working with IPad Pro. Interested in MOFT FLOAT and its peculiarities? Without further torturing you, let me tell you a few things about this IPad Pro case stand and raise your desire of having it.
The Product
Innovation
Is this a truly new product that you can't find on the market? Or this a product that defines an entirely new product category. In some cases, the combination of several features into one or the introduction of a new feature to an old product are also considered to be an innovation.
Creating a cozy, comfortable, and portable working atmosphere is something all office people need. Making it in style is even better. MOFT FLOAT is the solution to this problem. It is a slim case and stand with adjustable height and unlimited angles for holding your tech not seen in other stands. Elevate your screen to a preferable height and angle wherever you are and enjoy your working without neck or back pain. It will bring the utmost pleasure and level-up your working performance in a highly functional manner. MOFT stays true to its "invisible design" philosophy and comes with a built-in stand. It provides 3 standing modes to make the usage even more comfortable. Seamlessly switch to floating, stable, or portrait mode with quick and simple set up. Is that enough to understand how portable and carefully this IPAD Pro stand case is designed?
Competitiveness
How much better is it than the competition? Is it faster? Bigger? Cooler? More affordable? There needs to be a solid reason why you should back this project over any other.
| | MOFT FLOAT | MOFT X | VIOZON | ZUGU Case |
| --- | --- | --- | --- | --- |
| Price | KS $39 | KS $17 | $43 | $59.99 |
| Weight(g) | 368 | 74 | 362 | 365 |
| Adjustable Height | ✅ | x | x | x |
| Unlimited Angles | ✅ | x | x | x |
| Functional Modes | 3 | 2 | 2 | 1 |
I don't want to add any comments as the table speaks itself. Despite the fact that it has 2 totally new features MOFT FLOAT also delivers 3  different productive modes for you to feel comfortable while using your IPad Pro. And let's not forget to mention its highly affordable price along with portability and functionality. Isn't that great?
Product Competitiveness Score
The Team
Expertise
How capable is the team? Will they be able to pull off their design? Experienced engineers, designers, market analysts, operations and other specialists have a huge impact on a project's success.
Founded in 2017 MOFT is a company of young enthusiasts gathered together for one mission: to keep life simple and people more focused on their work, without getting disrupted by health concern. 
Team lead and CEO Julianna He has almost 10 years of experience as a CEO. She worked at LeMore, a company dedicated to uncovering different marketing tactics for smart hardware. From her personal experience of trying to find the best working corner, she has decided to contribute herself to saving those who work in mobility from a potential health issue.
Currently, MOFT has 23 employees, all bright and young experts full of enthusiast and professionalism. I am more than sure they will achieve all their milestones.
Experience
Have they developed something like this before? Do they have crowdfunding experience? Manufacturing experience? A lot of campaigns fail to deliver their product because they don't know what they're doing. Or they might spend all the raised funds on getting a fully functional product, but fail to mass-produce it.
Not only experienced in their fields but also in crowdfunding. MOFT is a true Kickstarter campaigner since 2019 after launching their first MOFT campaign which is a laptop stand. The community showed a very big interest in the product by raising $926,567. After this huge success, the company decided to continue developing new products. 
The next two campaigns are MOFT X and MOFT Z. The latter was the peak of success raising $1,144,245 with the help of 16,388 backers. So now its MOFt FLOAT's turn, guys. The awaited project was launched 10 days ago and already raised $194,931. Dear MOFT FLOAT, you know what you should do. It's time to pace your ancestors and beat a new record.
Transparency
How transparent are the campaigners? Do they give their backers valuable updates on their progress? Having credible and reliable campaigners is one of the deciding factors in building the trust that backers look for.
For the beginning let me state that we have areally active community and backers during 4 MOFT campaigns. This is to prove that the products are of high demand and interest among backers. Let me also say that the campaigners are very transparent in sharing info including shipping data  in the updates sections having 15-19 updates on each campaign.
… seems like they have some issues with shipping.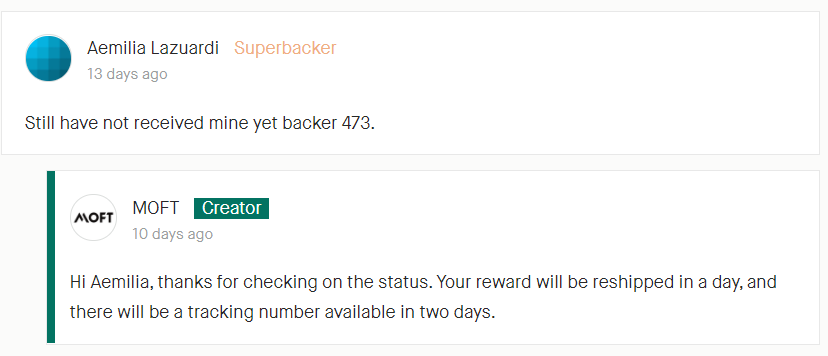 Hopefully, they will solve such kind of issues.
Responsiveness
How responsive are the campaigners? Do they engage with their backers? Crowdfunding is all about community, sharing information and building a meaningful relationship with the people who fund your project.
I check as many comments as possible. It was a really challenging task as I already mentioned community is really interested in MOFT products. Almost all the comments are answered but sometimes after 10+ hours.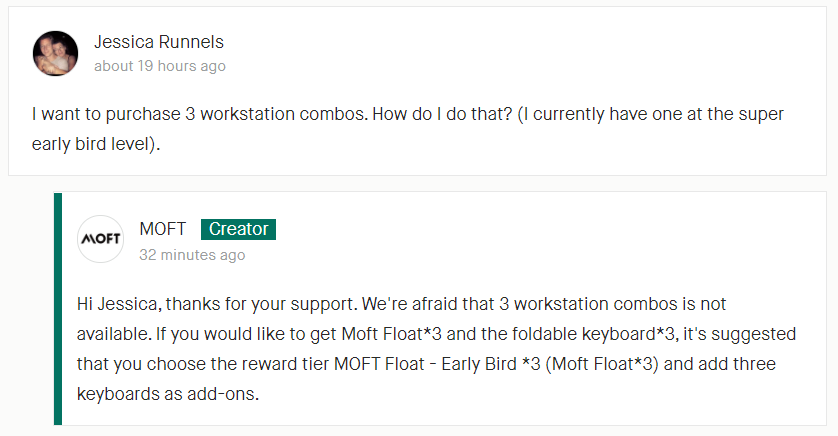 Some of them remain unanswered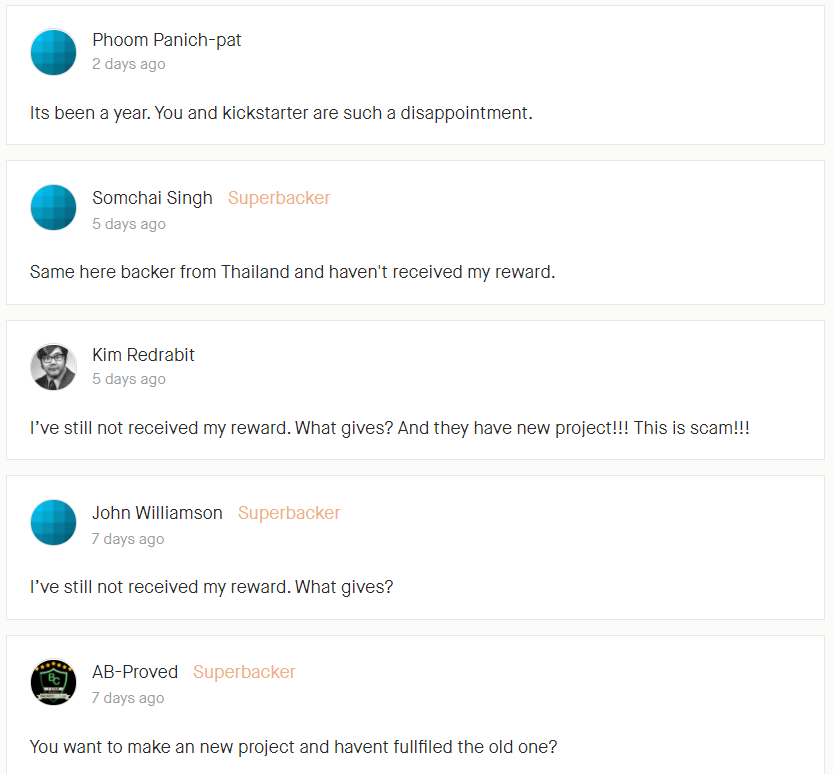 Team Responsiveness Score
TIW Total Score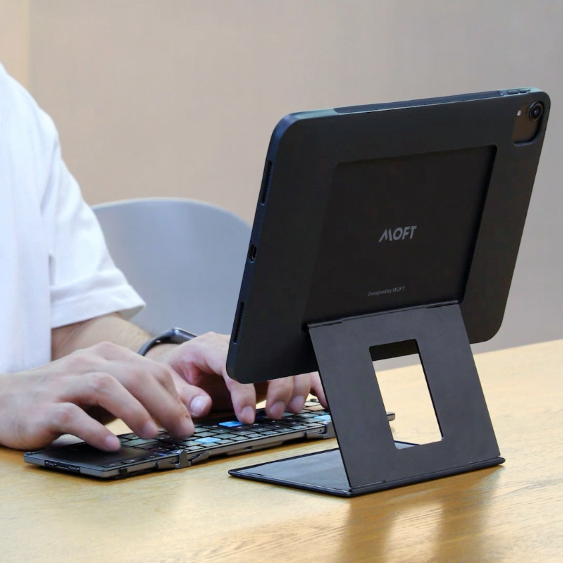 Moft Float
Moft Float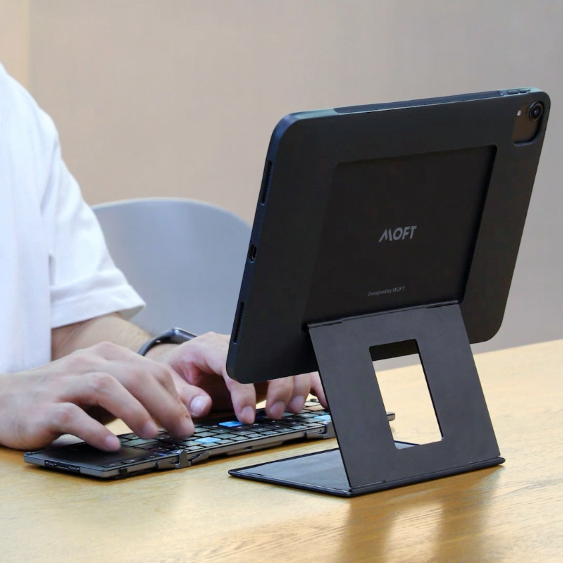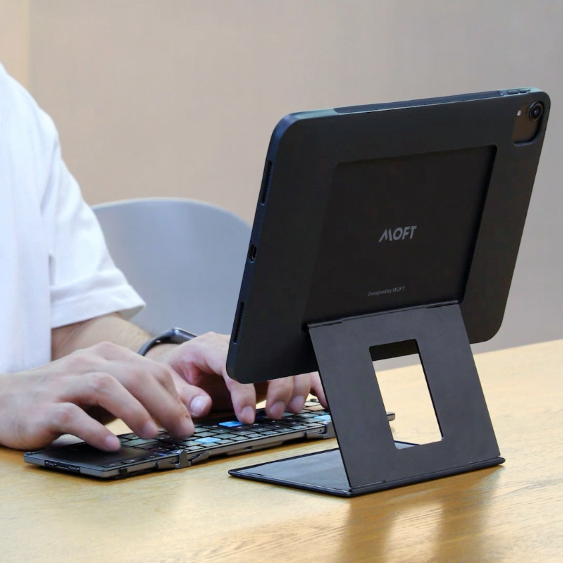 Limited time offer
d
·
: :