key advantages
Works both ways from iPad to PC & vice versa
Connects wirelessly through Wi-Fi
Ultra lightweight & compact
estimated
delivery
May 2021
Looking for more working space? I've got something for you. Luna Display is made to expand your working space by turning your iPad into a second monitor for your PC. Whether you're a programmer, a designer, an artist or a writer, Luna is made to meet your needs of an expandable, convenient and high-quality working display and to enable you to create as much as your mind is capable of.
As lightweight as the feather and as tiny as the coin, Luna makes your entire working process seamless by connecting through Wi-Fi or USB, functioning wirelessly and providing an advanced visual experience.
| | |
| --- | --- |
| Pros | Cons |
| ✅ Connecting wirelessly through Wi-Fi | ❌Designed solely for iPad |
| ✅ Lightweight & portable | |
The Product
Innovation
Is this a truly new product that you can't find on the market? Or this a product that defines an entirely new product category. In some cases, the combination of several features into one or the introduction of a new feature to an old product are also considered to be an innovation.
There have been people in the need of more working space since a while. And they eventually did get the opportunity to have more of it through the various display ports that were designed and supplied. However, what caught my eye the most when doing research was the combination of effortless installation process, wireless working experience and a PC on iPad that Luna Display for Windows offers! 
In the world full of cables, big and small display ports and heavy adapters, Luna Display fits in your smallest pocket. Thus, it is fair to consider that even though the idea it holds has its roots deriving from the past, the design it appears with has something new to say!
Competitiveness
How much better is it than the competition? Is it faster? Bigger? Cooler? More affordable? There needs to be a solid reason why you should back this project over any other.
| | Luna Display | StarTech | TRENDnet 2 | SideTrack |
| --- | --- | --- | --- | --- |
| Price | $49 | $118 | $170 | $307 |
| Wireless connection | ✅ | x | x | x |
| Touchscreen | ✅ | x | x | x |
| Windows-to-iPad | ✅ | x | x | x |
| Windows-to-Windows | x | ✅ | ✅ | ✅ |
As you can see, Luna is a master in turning your iPad into a second monitor without requiring any effort or time. Its minimalist size is accompanied with its minimalist price, too, and the even greater advantage of it is that it enables the two way connection from iPad to Windows and vice versa. Right, the multiple display ports and monitors available in the market can be useful if you're not an iPad user, but Luna appears to be the most affordable, portable and versatile option if you own an iPad.
Product Competitiveness Score
The Team
Reliability
How capable is the team? Have they developed something like this before? Do they have crowdfunding experience? Manufacturing experience? A lot of campaigns fail to deliver their product because they don't know what they're doing.
Luna Display for Windows is the 2nd campaign of the 7-years-old Astro HQ team on Kickstarter. The previous version had the same functions with a difference of being designed for Mac. The team seems to have done thorough research and to have identified as a result that a big number of people prefer to be working with Windows software and to have all those programs available for Windows on their iPad. The graphic designers and artists lead the list of the mentioned category. The producer team's first campaign was a promising beginning in the crowdfunding world, as they managed to raise $645.393 USD with the support of 7766 backers. 
Astro's website tells even more about the products designed and manufactured by the team. Astropad Standard enables seamless transition from Mac to iPad, while Astropad Studio is a professional drawing tablet made for the creative professionals. The team appears to be putting huge effort in easing the life of the workers of the most diverse fields and helping them unleash their creativity. 
With inspiring experience and socially desired products, the team's reliability seems to be lying in its commitment and sought. 
Attitude
How transparent are the campaigners? Do they give their backers valuable updates on their progress? Do they engage with their backers? Crowdfunding is all about community, sharing information and building a meaningful relationship with the people who fund your project.
It is mainly the way the team interacts with its backers that helps us form an idea about the team's attitude. The Astro HQ team seems to be doing well at it. They have been diligently catching up with the 647 comments on their first campaign. Questions, concerns, satisfaction phrases and different issues, and most of them seem to be addressed and replied:
Customer assistance to be appreciated…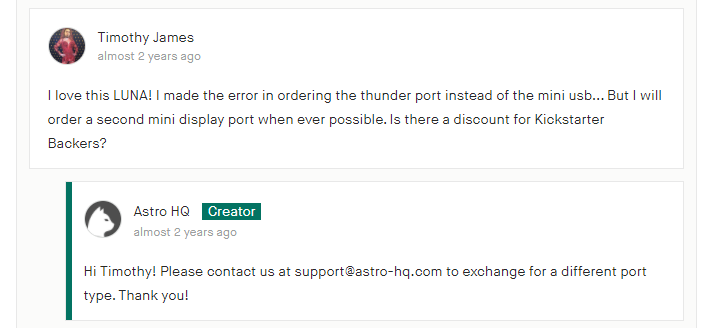 Yet, shipping delays with, however, a supportive approach.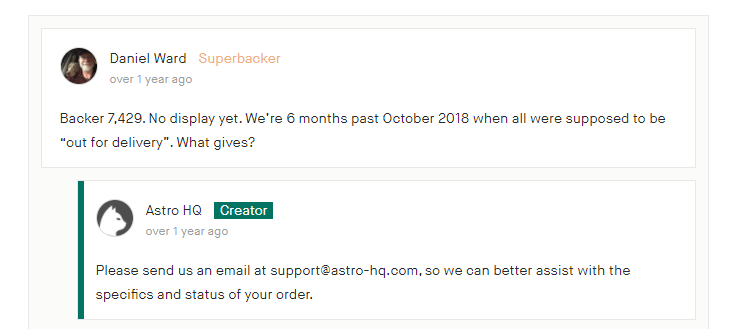 The ongoing Luna Display for Windows campaign has 243 comments, which appear to be answered in a detailed and informative way by the campaigners who have also posted 2 updates about the product by expanding on its development timeline and enabling the backers to track with the production and shipping progress.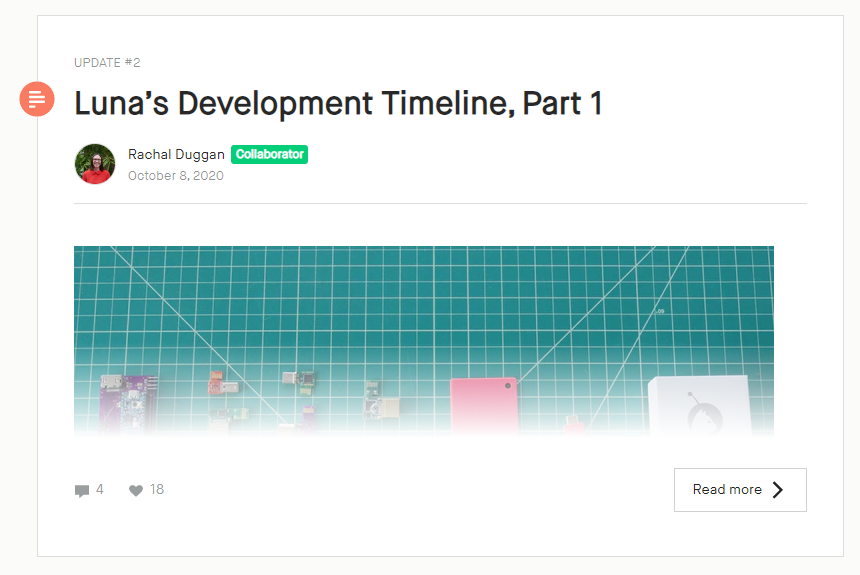 Conclusion & Public Opinion
To sum up, the Kickstarter community has displayed sympathy and appreciation towards the 2 versions of the Luna Display. This is shown as a result of the commitment demonstrated by the team and the versatility and comfort enabled by the product. 
With all this in mind, Luna Display for Windows is something truly desirable and convenient to get if you're someone creative with your iPad in your backpack.
TIW Total Score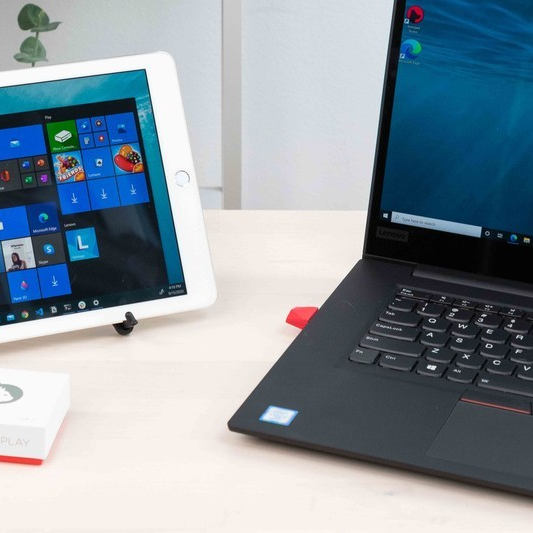 Luna Display
Luna Display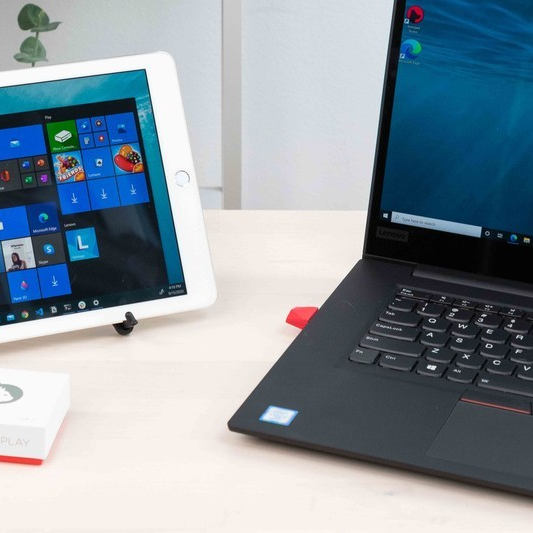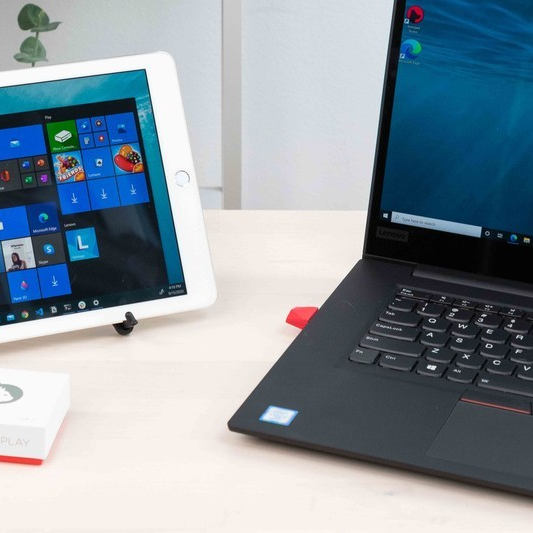 Limited time offer
d
·
: :