key advantages
Palm-sized and portable (0.27Ibs)
Storage options available (up to 512GB)
Wireless connection
estimated
delivery
October 2020
Laptops are great… they're light, efficient and functional for your on-the-go needs.
But who has the floor space for a massive desktop tower?
Not much larger than an external HDD, GMK NucBox is your portable desktop powerhouse.
Built into this solid little paperweight are 512GB SSD, 8GB RAM, 4 cores… Wi-Fi, Bluetooth, 4K HDMI… all kinds of USB ports.
Plug it into your TV, and show off your Arsenal pictures.
Take it to your next business presentation, and stop worrying about your weak laptop freezing.
Have a monitor at home and at work? Have an Ajazz portable keyboard?
Forget lugging a laptop around, now you've essentially got a powerful PC you can hang on your keychain!
Tech I Want Score
Either a fan of small-sized powerful devices or just couldn't help exploring more about this mini PC! I'm glad you're here as I have prepared this in-depth review for you to read and get a better idea of how innovative and competitive NucBox is and how reliably and responsibly the team behind performs! Let's dive in now!
The Product
Innovation
Is this a truly new product that you can't find on the market? Or this a product that defines an entirely new product category. In some cases, the combination of several features into one or the introduction of a new feature to an old product are also considered to be an innovation.
Gone are those days when a desktop, a keyboard and some speakers were pleasing us with the feeling of having a multitasking computer…Not because we stopped using computers or something, but because it requires less than 0.27 Ibs of a palm-sized mini PC to feel the power of a computer. It requires just a single NucBox! Not the first mini PC the world is seeing, correct! But some high-quality identifiers grabbing our attention here: 4K resolution to watch your favourite movies as long (and as wide) as you wish; H.264, H.265/HEVC, VP-9 video encoding and decoding to play to the funniest and 8GB+512GB RAM to store to the fullest! Connecting wirelessly, transferring seamlessly and storing restlessly!   
Competitiveness
How much better is it than the competition? Is it faster? Bigger? Cooler? More affordable? There needs to be a solid reason why you should back this project over any other.
| | GMK NucBox | CHUWI | ZOTAC ZBOX | ACEPC AK1 |
| --- | --- | --- | --- | --- |
| Price | $179 | $169 | $269 | $179 |
| RAM | 8GB LPPDR4 | 6GB LPPDR4 | 4GB LPPDR4 | 4GB DDR3L |
| Storage | 128/256/512GB SSD | 128GB eMMC | 64GB SSD | 32GB eMMC |
| Weight | 0.27Ibs | 0.28Ibs | 3.65Ibs | 0.87Ibs |
| Dimensions (inches) | 2.4 x 2.4 x 1.6 | 2.4 x 2.4 x 1.6 | 7.4 x 7.4 x 1.7 | 5.04 x 5.04 x 1.4 |
| Processor | Intel® Celeron® J4125 | Intel® Celeron® J4125 | Intel® Celeron N4100 | Intel® Celeron® J3455 |
| OS | Windows 10/Linux | Windows 10/Linux | Windows 10 | Windows 10 |
Not much effort is required to notice that NucBox proudly stands out in the competition with more than one peculiarity. The lightest weight with yet the greatest memory and the biggest storage options. Another good thing to note about NucBox is the variety of price & storage options offered to backers. You don't have to pay the price of 512GB storage if what you need is just the 128GB one. And you still get to have it fit neatly in your backpack or even in your pocket. If you're hesitating whether or not the extra $10 is worth it when compared to CHUWI, take a look at NucBox's 8GB storage for one more time!
Product Competitiveness Score
The Team
Expertise
How capable is the team? Will they be able to pull off their design? Experienced engineers, designers, market analysts, operations and other specialists have a huge impact on a project's success.
The team of Geek, Modern and (K)creative inventors, GMK, as they call themselves, came together to design and produce a device that would make the usage of essential items, such as desktop and SSD-s, easier and more enjoyable. The pursuit of innovation, creativity and dedication brought these people with more than 20 years of R&D experience to the stage they are in currently. Having set their team in June, 2019, GMK has managed to design and manufacture its first product with the collective effort of team members.  Experts with dozens of campaigns would seem more experienced and trustworthy to some of us, but let's always bear in mind that they have started from scratch, too!
Experience
Have they developed something like this before? Do they have crowdfunding experience? Manufacturing experience? A lot of campaigns fail to deliver their product because they don't know what they're doing. Or they might spend all the raised funds on getting a fully functional product, but fail to mass-produce it.
It's always the beginning – tough, risky and challenging! But once you make it, you've got it! NucBox is GMK's first ever campaign on Indiegogo having already raised 1342% of its pledged goal with still more than 40 days to go. 699 backers came together to support the new campaigners' project and $134.215 has been raised so far.  There have been plenty of more successful campaigns on Indiegogo, I know it too! But neither me, nor you were perfect at doing our very first steps on our own! The effort is worth appreciation and so is the team's result-driven mindset.
Transparency
How transparent are the campaigners? Do they give their backers valuable updates on their progress? Having credible and reliable campaigners is one of the deciding factors in building the trust that backers look for.
Not much is there for the team to update their backers about at this point, but gratitude and appreciation are always nice moves to take! Considering that this is the stage of the team's first interaction with their new-developing backer community, a "thank you" is always a good start for any little contribution the backers demonstrate to the campaign.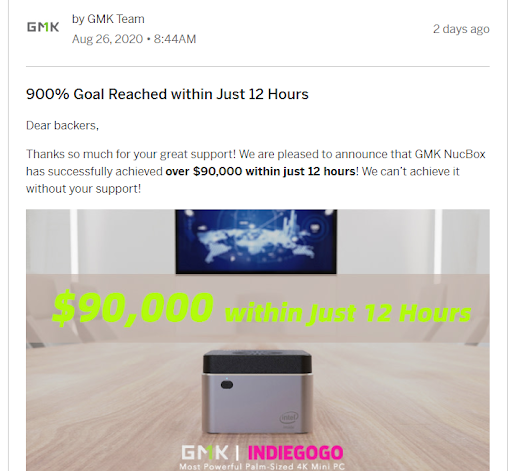 Also, good to be open with backers and let them know about how certain processes take place and what kind of technical issues might come across for the team!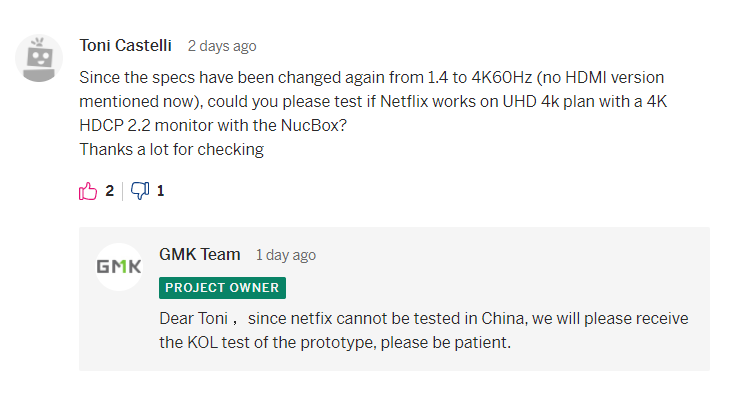 Responsiveness
How responsive are the campaigners? Do they engage with their backers? Crowdfunding is all about community, sharing information and building a meaningful relationship with the people who fund your project.
The level of responsiveness is one of the key factors one should pay specific attention to when reviewing a new-born company's campaign and activity. And my attention was rewarded with some impressive results here! 2-3 hours is the average interval within which the team members are replying to their backers' comments, questions and concerns. As much as I'm managing to check, the responses seem clear and comprehensive not only to me – as a reviewer, but also to the backers who have expressed opinions or troubles.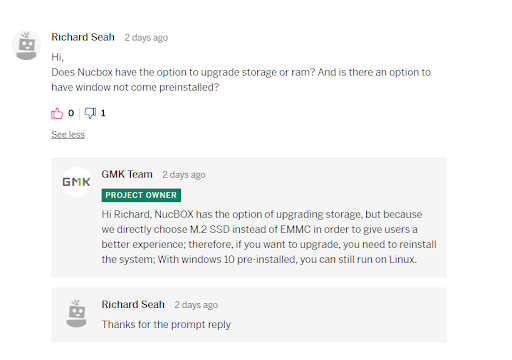 People with different moods and worries in here, but the team gets to look after all of them: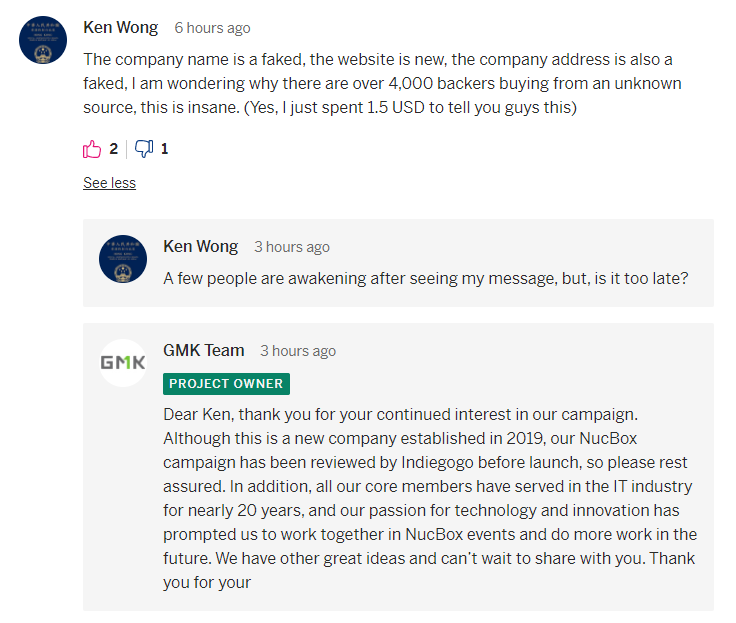 To sum it up, some impressively responsible group of people have joined to create some competitive and useful product for people! A group of backers have noticed, liked and supported them, and this is how the path of reliability and big success is getting built!
Team Responsiveness Score
TIW Total Score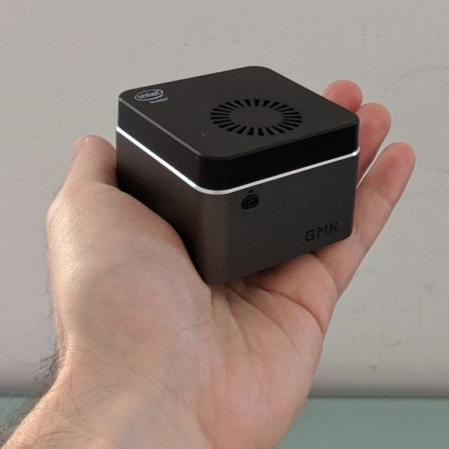 GMK NucBox
GMK NucBox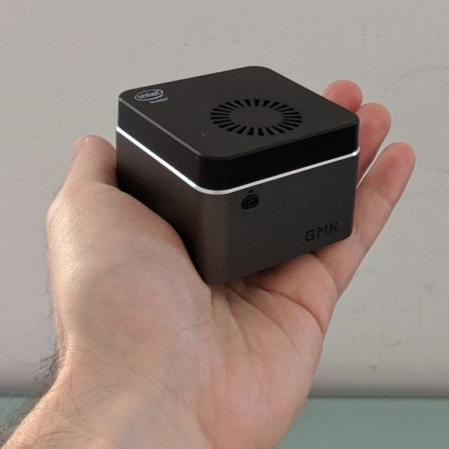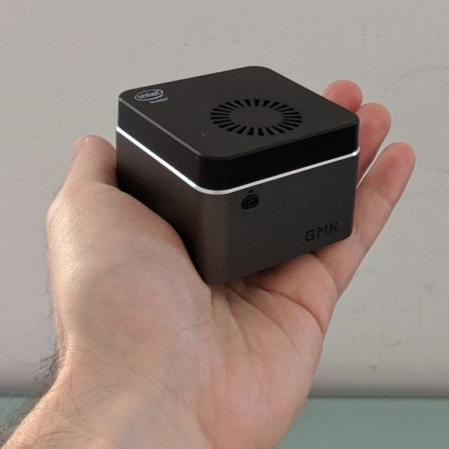 Limited time offer
d
·
: :