key advantages
Front, rear & hidden safety LED lights
Fall detection
Sleek & compact design
estimated
delivery
May 2021
Riding a bike may sometimes be very dangerous as roads often don't have designated lanes. So safety is the thing one should take into account. Bike helmets are considered to be one of the must-have bike accessories. So choosing one can be really tough as a lot of factors play important roles: price, fitting, design, material and so on. But nowadays many of us are inclined to the safety factor.
FARO is an urban bike helmet with features that provide visibility and safety. Cycling accidents happen mostly because you are not noticed by the drivers and they can't predict your next move. That's why FARO has 15 white and 15 red, plus 40 RGB front and rear lights that will keep you safe during the night visibility. With the help of FARO app, the Bluetooth handlebar assists as a remote indicator. Simply press the button on your bike and the lights will signal your intentions during the riding mode. One of the things people concern is the design. The refined appearance, sleek and simple solutions will make you the most stylish rider of the road. Wanna be that very noticed one?
I will tell you about the most important feature in the next section. Sure you are already interested.
| | |
| --- | --- |
| PROS | CONS |
| ✅ Design | ❌ Price |
| ✅ Front & Rear Lights | |
| ✅ Safety Features | |
| ✅ Waterproof | |
| ✅ Certifications | |
| ✅ App-Control | |
The Product
Innovation
Is this a truly new product that you can't find on the market? Or this a product that defines an entirely new product category. In some cases, the combination of several features into one or the introduction of a new feature to an old product are also considered to be an innovation.
FARO is the best choice for safety-conscious riders. MIPS (multi-directional impact protection system) is gaining popularity among manufacturers. What does MIPS mean? The idea behind this technology is adding an extra safety layer which is very lightweight. When we fall from our bike the lids move with us. This helps to reduce the rotational motion of the brain and prevents injuries. The next safety feature implemented in the product is fall detection. So when you fall from the bike this smart bike helmet detects it and waits for your response. When you don't answer the app sends  SOS message to your emergency contact indicating your geolocation. The FARO app has not yet been fully developed. Hope the final version would have more features. Huge attention is paid to the design to fit any taste. It comes in 3 sizes and 4 colours. Choose the one to accompany your style.
Competitiveness
How much better is it than the competition? Is it faster? Bigger? Cooler? More affordable? There needs to be a solid reason why you should back this project over any other.
| | FARO | LUMOS | Smart4u |
| --- | --- | --- | --- |
| Price | KS $129 | $219.95 | $69.99 |
| Weight(g) | 480 | 380 | 360 |
| MIPS | ✅ | ✅ | ❌ |
| LED Lights | 30 LED +40RGB | 70 | 3 types of lights |
| Adjustable Straps | ✅ | ✅ | ✅ |
| Safety Certification | CPSC, EN1078, AS NZS2063:2008 | CPSC, F1492, EN1078, AS2063, NTA 8776 | CPSC |
| Ventilation | 5 vents | 4 vents | 12 vents |
| App-Control | ✅ | ✅ | ❌ |
| Waterproof | IPX6 | IPX6 | IPX4 |
| Battery Life | Up to 10 hours | 6 hours | 26 hours |
As you can see there are no big differences in the above-given urban bike helmets. FARO is paying a bit more attention to the safety factor. Fall Detection feature is something all the bikers would appreciate. This smart bike helmet is also made to fit perfectly and due to its ventilation system, you will feel comfortable while riding. 
And the one that is not included in the table but plays a really important role is the slim and minimalistic design. The materials are also of high quality and endure different weather conditions. The battery life of the smart helmet is enough for riding almost all day long. So no worries here. Price is very controversial as it is above average but we connect it with its smartness and durability.
Product Competitiveness Score
The Team
Reliability
How capable is the team? Have they developed something like this before? Do they have crowdfunding experience? Manufacturing experience? A lot of campaigns fail to deliver their product because they don't know what they're doing.
Founded in 2016 an American company UNIT 1 is specialized in creating hardware and software products for action sports and urban mobility. The team of young designers, engineers and entrepreneurs is led by Juan Garcia Mansilla who has about 8 years of experience in design. A Reddot award-winning design team is dedicated to creating awesome products for those who like sports and active life. Unit 1 has a very strict and careful approach to quality. To ensure the high quality of smart bike helmets Unit 1 is actively cooperating with famous companies including MIPS which is a Swedish company focusing on the safety system.
FARO is their third crowdfunding campaign. The previous two campaigns, 1st and 2nd generations of SoundShield were promoted on Indiegogo. SoundShield is designed for ski and snowboarding. Although the raised amount for both projects was not high( average $100.000) Unit 1 has managed to deliver thousands of SoundShields throughout the world.
With $242,109 amount raised in 15 days, FARO has all the chances to be one of the most funded smart bike helmets in crowdfunding. Almost 1400 backers contributed to the project which shows the products is one of the needed bike accessories in the market.
Attitude
How transparent are the campaigners? Do they give their backers valuable updates on their progress? Do they engage with their backers? Crowdfunding is all about community, sharing information and building a meaningful relationship with the people who fund your project.
FARO's team shared 2 updates during 15 live days The second one tells how they created FARO, the challenges they faced and how they overcame them. Quite interesting.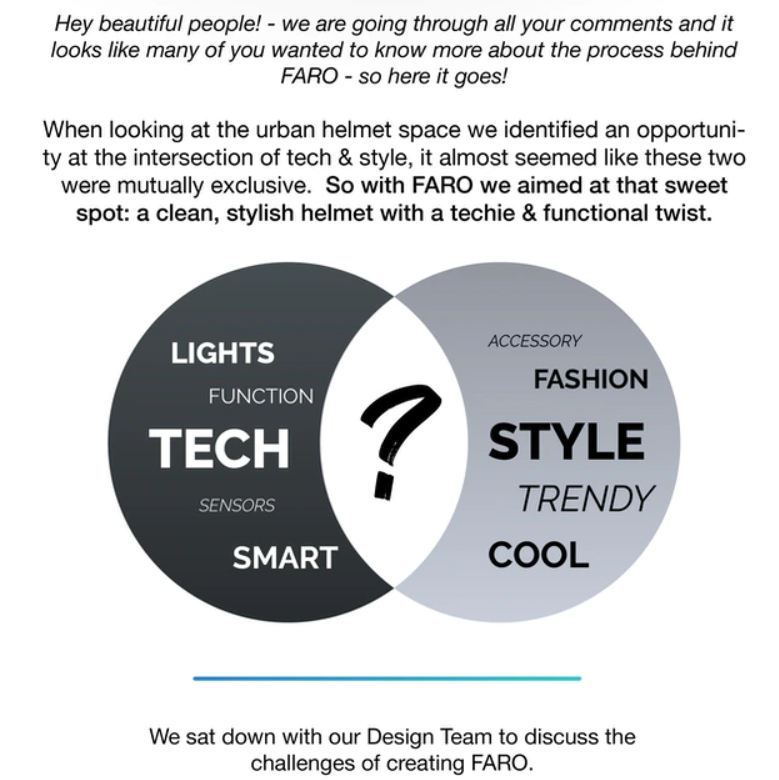 This time my task of checking comments and the responsiveness is not that tough as we have 240 comments. All of them are answered and the team is very responsive and caring.
Putting this comment here… maybe you had the same concerns.
They are responsive in shipping too as they could organize it very properly. Seems like these guys know how to treat their backers.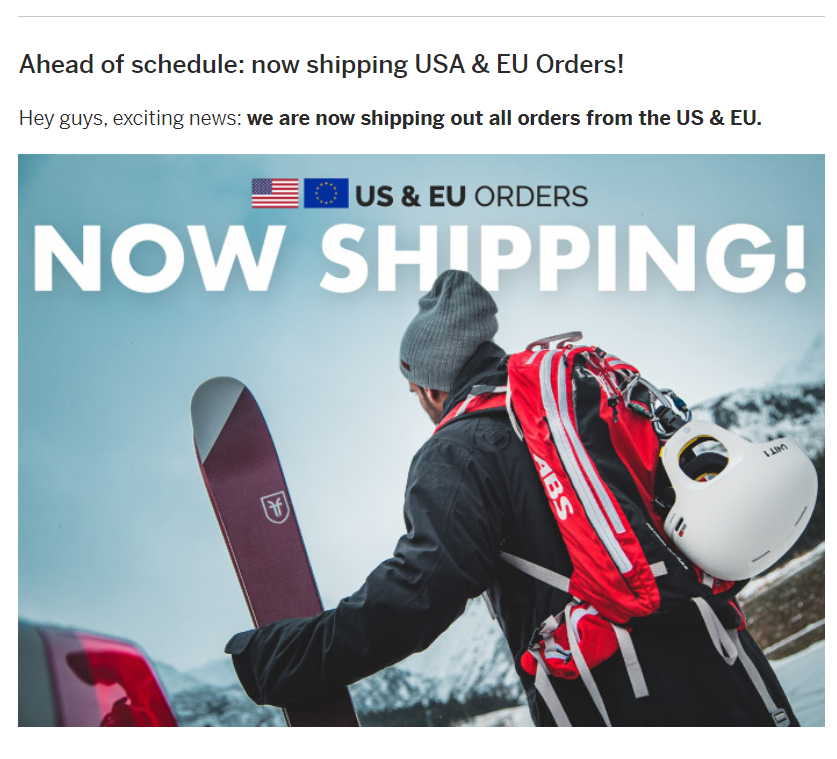 Conclusion & Public Opinion
Here is how people react to SoundShield.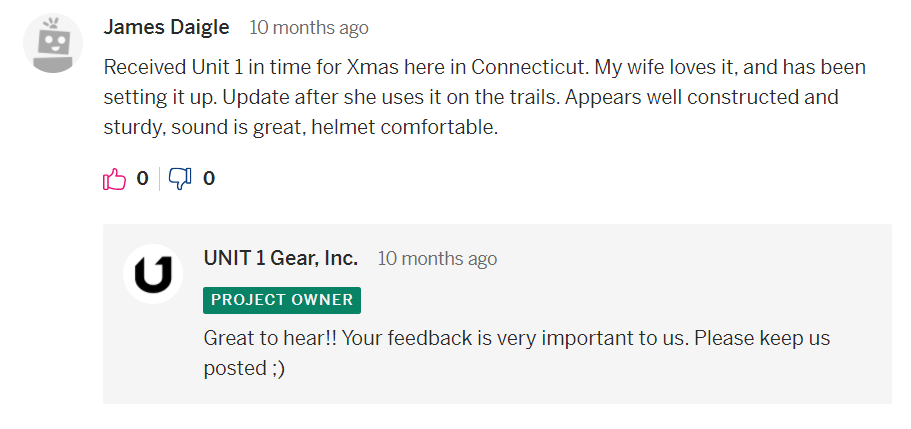 So FARO is one of those smart bike helmets that will make you stand out in the road. Your safety and style are of primary importance for UNIT 1. The company has achieved its goal of producing helmets for different kinds of activities. Hope this new urban helmet will satisfy all your needs and you will enjoy riding with it.
TIW Total Score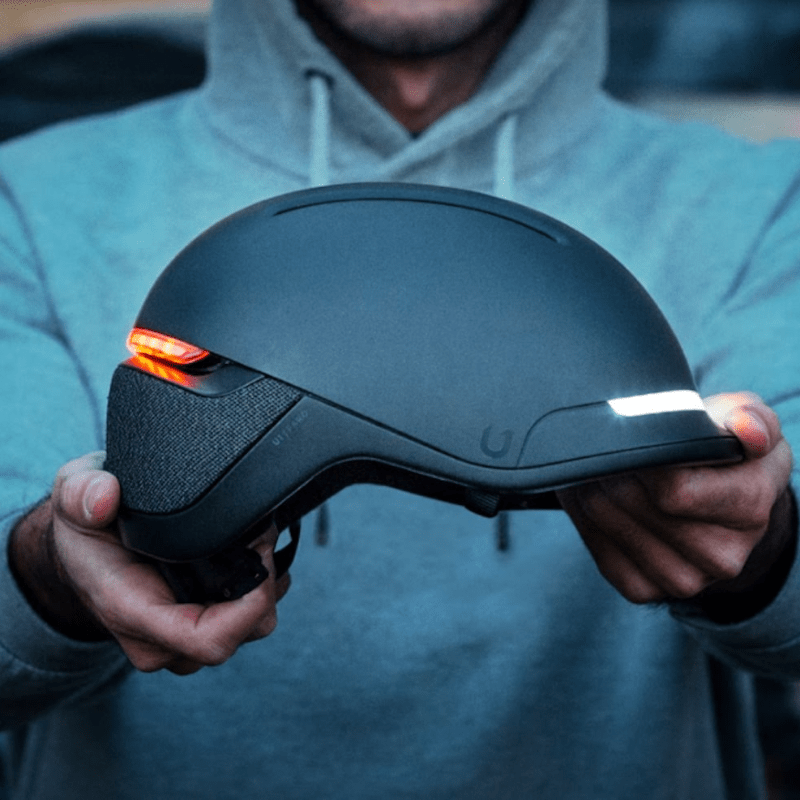 FARO
FARO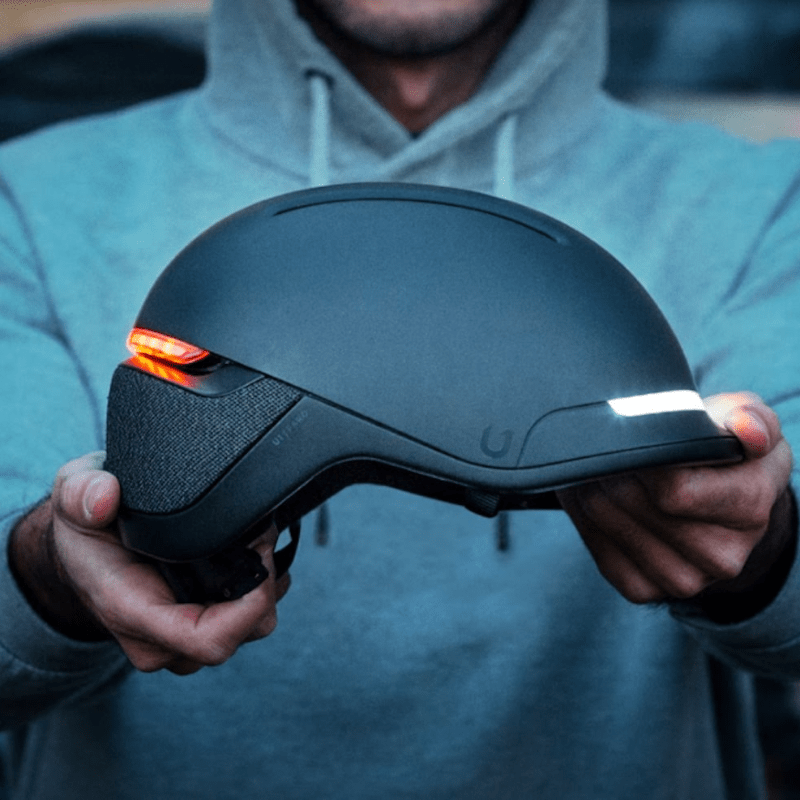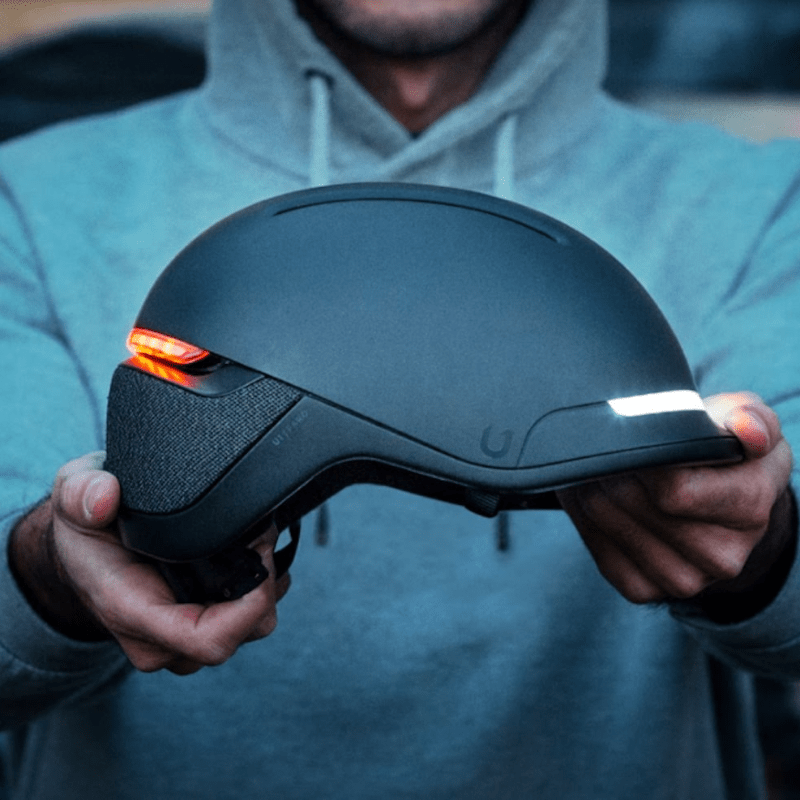 Limited time offer
d
·
: :