Earth 2.0
Jump Rope System
key advantages
Customizable speed & weight cables
Fitness coaching through the mobile app
Durable PVC Cover
estimated
delivery
March 2021
Jump ropes were our childhood companions and we all have sweet memories connected with them. Do you remember how we were competing with each other who would rotate it longer and faster? Want to bring those memories back? Sure, you do. But we are adults now and the purpose of usage is somehow changed and it is mainly for keeping in shape and burning calories. But if you are more for playing or competing with your children that's your choice. Go ahead and beat your childhood records.
Earth 2.0 is a fitness jump rope designed both for amateurs and professionals. With its three ropes of different thickness, you can choose the one suitable for you. Want to burn calories and achieve maximum speed then choose the 2.5mm rope. If you are more for developing strong muscles then the 4mm or 8mm(if you are already professional) are the ones to accompany your workout. If you want to level up your experience and create new challenges then add handle weights and achieve ultimate results. Let's dive deeper into the best jump rope and discover cooler features.
| | |
| --- | --- |
| PROS | CONS |
| ✅ High Quality | ❌ Price |
| ✅ Durability | |
| ✅ Adjustability | |
| ✅ Fitness App | |
The Product
Innovation
Is this a truly new product that you can't find on the market? Or this a product that defines an entirely new product category. In some cases, the combination of several features into one or the introduction of a new feature to an old product are also considered to be an innovation.
Being one of the best jump ropes Earth 2.0 is designed to last a lifetime. Here is the biggest advantage popping up the surface. Instead of plastic handles commonly used in jump ropes, Earth 2.0 has rocket-grade aluminium and stainless steel to ensure durability. The cables have an extra PVC cover to hold up against any surface. And the Velites team gives a 2-year guarantee for the handles. 
Earth 2.0 jump rope has iOS/Android training app. The App offers 1000 different workouts and training programs. So you choose the one you like the most, set the schedule and goals and receive recommendations. If you need extra motivation then turn on the Coach mode and achieve new milestones.
Competitiveness
How much better is it than the competition? Is it faster? Bigger? Cooler? More affordable? There needs to be a solid reason why you should back this project over any other.
| | Earth 2.0 | Fire 2.0 | Rookie |
| --- | --- | --- | --- |
| Price | KS $69.5 | $49.5 | $40 |
| Material (handles) | Aluminum and stainless steel | ANODIZED ALUMINIUM | Polycarbonate |
| Material (rope) | PVC Cover | - | - |
| Length (m) | 3.5 | 3 | 3 |
| Ropes (types) | 3 | 3 | 1 |
| Extra Weights | ✅ | ✅ | ❌ |
| Fitness App | ✅ | ❌ | ✅ |
| Warranty for Handles | 2 years | ❌ | ❌ |
The thing that makes this fitness jump rope stand out is the material. As I mentioned above Velites team cares about the quality of the product. Earth 2.0 is for long usage so no worries from this angle. The length is 3.5m but you can adjust to your height simply cutting with a regular plier. 
Another Advantage of Earth 2.0 is the Fitness App with advanced features. As you can see price is a little bit high but the features and durability the rope provides fully justifies it.
Product Competitiveness Score
The Team
Reliability
How capable is the team? Have they developed something like this before? Do they have crowdfunding experience? Manufacturing experience? A lot of campaigns fail to deliver their product because they don't know what they're doing.
Founded in 2015 Velites is specialized in producing fitness products to better the lives of athletes. The team led by Matias Hernandez strongly believes in the strength of the company and the objectives which are fulfilled perfectly. High quality, durability and design are the main things Velites team puts the stress on. As an ISO certified company Velites assures that all the products meet the high-quality standards. Being sports enthusiasts and athletes themselves they definitely know the problems that are mostly encountered. So taking account their own experience the team put all the efforts to be the best in the market.
Earth 2.0 is their first crowdfunding campaign. In 20 days Velites managed to raise almost $400.000. Not bad though. The campaign is very promising and we hope they will achieve what they have expected.
Attitude
How transparent are the campaigners? Do they give their backers valuable updates on their progress? Do they engage with their backers? Crowdfunding is all about community, sharing information and building a meaningful relationship with the people who fund your project.
Velites shared 2 updates in 20 days. The first one as you can already assume is "Thank you".
The second one is about the new stretch goal. Well, I guess you should already have at least 4 updates, guys.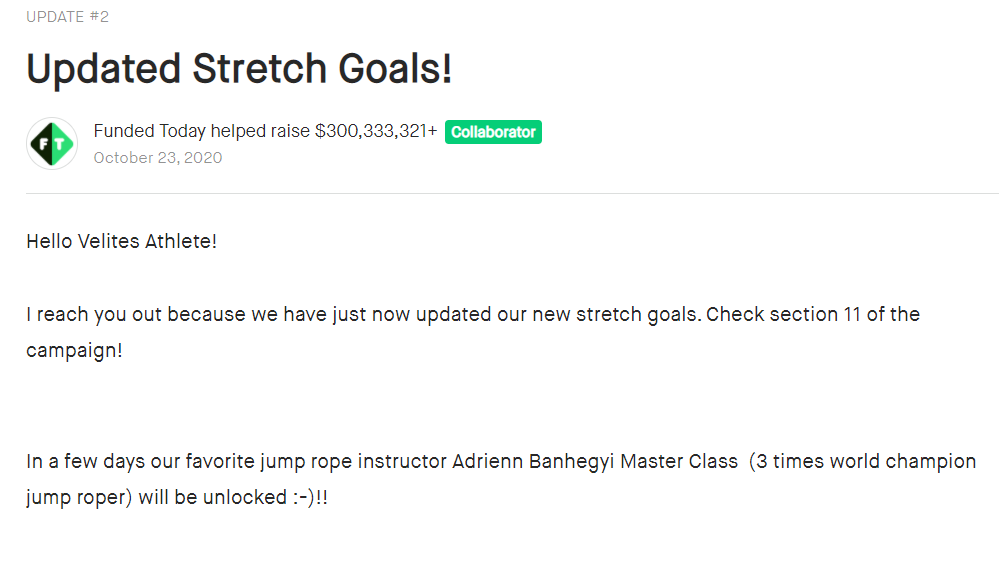 We have 184 comments. Almost all of them are answered mostly within 5 to 10 hours.
It is not always easy to satisfy a superbacker))) But they succeeded.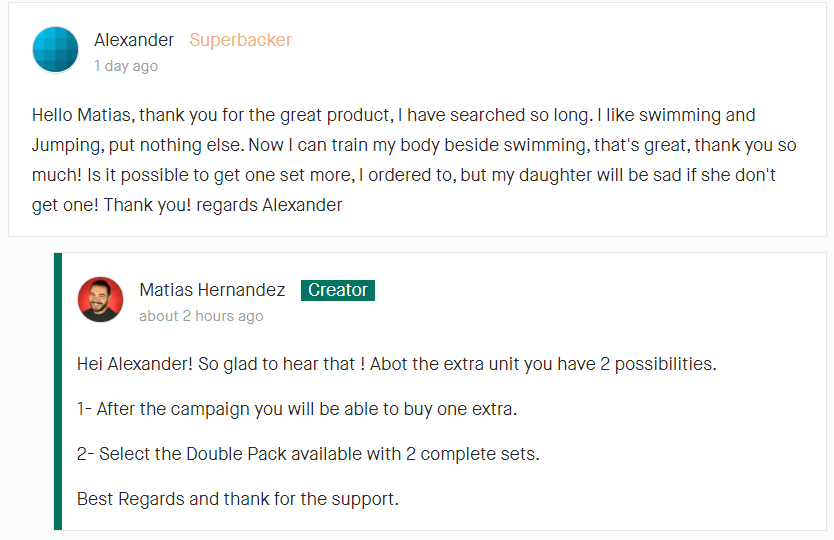 Conclusion & Public Opinion
Velites is a pretty successful company that has managed to produce different kinds of fitness products including jump ropes and body maintenance creams. Here you can see how people feel about their products.

So Earth 2.0 is one of the best jump ropes designed to fit anyone. With its high quality and durability, you can use it under any circumstances and against any surface. We have great hopes that people who are seeking for the best jump rope will definitely like Earth 2.0.
TIW Total Score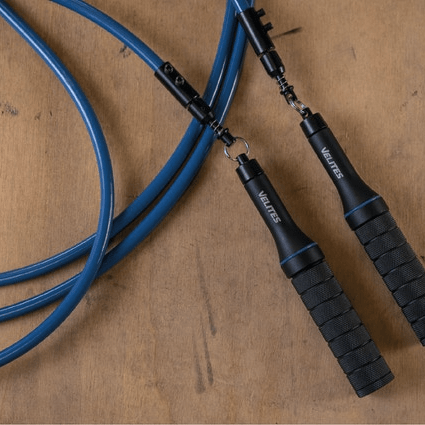 Earth 2.0
Earth 2.0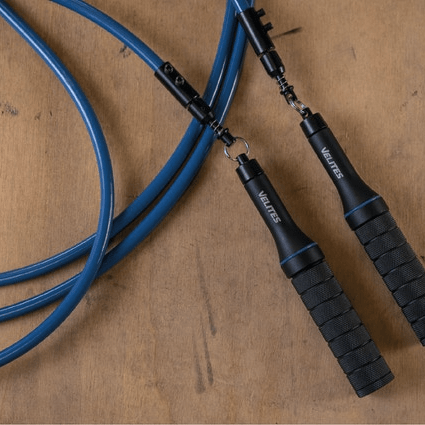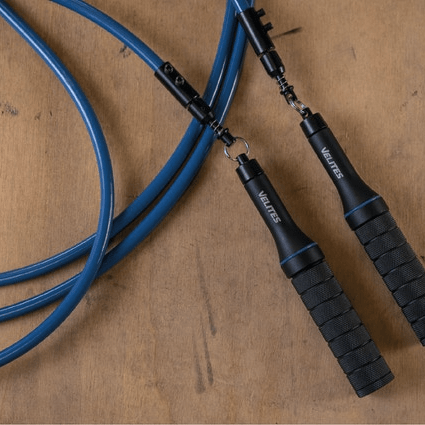 Limited time offer
d
·
: :