Exway Wave Riot Electric Skateboard Review
Product Overview
Hunting for an electric skateboard that boasts of agility performs well, and offers control and portability? The Exway Wave Riot electric skateboard might be what you're looking for!
With smart features like lighting and seamless battery swapping (we're talking less than 10 seconds), the Exway Wave is considered the newest evolution of electric skateboards.
What makes the Exway Wave so amazing? Well, for starters, the market is saturated with electric skateboards that are two times bigger in size and two times more expensive. Not this bad boy. The Exway Wave can reach maximum speeds of 38 km/h (23 mph), weighs only 6.9 kg (15 lbs), and sports an innovative, durable, and safe design. 
Designed to withstand daily use, and built with portability in mind, the Exway Wave can go wherever you go.
It also delivers unparalleled agility, thanks to the shorter distance between the front and rear trucks with kick tail designs. And you won't have to worry about wearing down the deck thanks to the standard equipped tail puck, providing solid protection.
At least, this is what the producers of the Exway Wave claim. But how do we know it really is all that it's cracked up to be?
We understand that any online purchase deserves some sleuthing in the reviews section, which is why we've done all the dirty work and have dug up some of the most reliable Exway Wave reviews on the internet, so you can learn all there is to know about the Exway Wave Riot before clicking buy!
Specifications
Before we get into the Exway Wave review, let's take a look at its specs: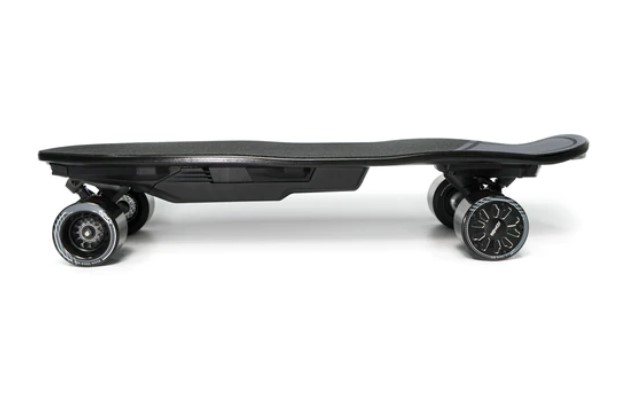 Range: 12.42 miles / 20 km
Speed: 23 mph / 38 km/h
Battery Capacity: 180Wh
Charge Time: 3 hours (standard charger) / 1 hour and 15 minutes (quick charger)
Motors Max Power: Riot 1000W×2 Rated 430WX2
Braking Mode: Regenerative Braking
Grip Tape: 3mm Shock-Absorbing
Trucks: Exway Trist 45° 7-inch
Hill Climb: Up to 25% grade
Weight: 6.9 kg / 15 lbs
Waterproof Rating: IP53
Torque: Riot 4.3Nmx 2
Who should buy this (pulling strengths and weaknesses of the product)
No e-skateboard is perfect for everyone, which is why we did some research to find out what different people had to say about the Exway Wave electric skateboard. This is the best way to discover the strengths and weaknesses of any problem, and how well it suits different people of different sizes and goals.
Perhaps the most prominent feature spoken about in the reviews was how easy it was to quickly swap out the Exway Wave battery. This is because there are no screws, cables, or tools required to get it done. With just a simple press of a button, the battery simply slides out!
Have an extra charged battery or two on hand and you can ride for hours on end without skipping a beat! And since the battery weighs less than 2 kg (~4 lbs), carrying around spares is no big deal. 
The next fun feature that buyers are raving about is the lights!
There are 5 modes to choose from in the Exway App:
Throttle, which acts like car brakes;
Comet, bursts of the color of your choice streaming;
Breathe, with pulsing lights of various speeds and colors customized by you;
Transform, cycles through a range of colors at the speed of your choice;
Permanent, a continuous solid color of your choice and at the brightness of your choice.
Front lights are not included in the Exway Wave, but many feel that it's an extra add-on that's worth the extra cash. Not to mention the fact that you normally wouldn't be able to get seamlessly integrated e-skate lights of this quality at that price range (only $749.00)!
While each board is usually designed for different types of riding, they are all set up to be beginner-friendly.
If, however, you are a more experienced rider, not to worry! You can go into the Exway app to fine-tune the settings to fit how the Exway Wave electric skateboard will perform to your liking. 
The biggest complaint would probably be the fact that this board will not withstand water well. In fact, the overwhelming word of advice is to avoid using it in wet conditions altogether. And that's mainly due to its swappable battery.
No electric skateboard is perfect, and there are always some positive and negative things to balance and keep in mind when deciding to make a purchase, but as far as what experts and buyers are saying, many feel that the Exway Wave is the top of the game!
What are the experts saying?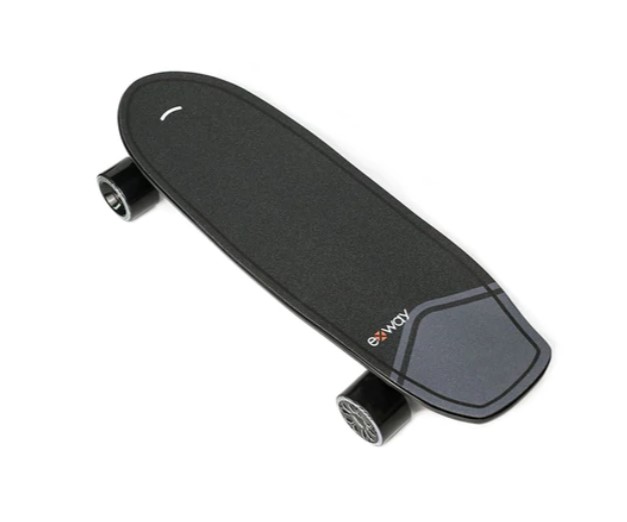 What we can say about the Exway Wave, is that the majority of expert reviews were positive, with praise going so far as to call it one of the best mini electric skateboards that can be found on the market to date!
Overall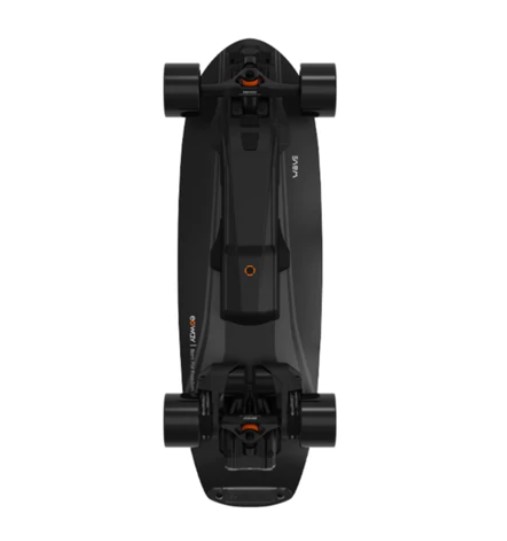 The features available on the Exway Wave electric skateboard really have all the experts talking. Everything from the smart remote feature, smart battery feature, and available add-on options make it a winner in almost everyone's books. 
This is mainly thanks to the fact that it has better range, top speeds, smart features, and more about the Exway Wave specs making it more advanced than its competitors.
Experts were excited to report that the Exway Wave has great battery life. The fact that it lasted so long wasn't the only thing that had experts impressed. The Exway Wave comes with a smart battery so that you don't have to calculate a margin of error to see where your battery level is. The indicator is completely accurate when you look at it. 
You can also charge your board and leave it like that for an extended period of time. The battery will automatically discharge itself to 60% to help preserve the battery life! 
Another smart feature that had experts raving is the convenient smart remote feature where the skateboard will turn on when you turn the remote on and turn off when you turn the remote off.
Some were happy with the fact that this e-board is so travel-friendly and portable. Others found it less convenient to carry around than longboards, but it's really just a matter of preference at the end of the day.  
They also mentioned the convenience of the flexibility of options, like being able to switch between drivetrains, meaning you can buy with hub motors or belt-drive motors, depending on your preference. You can also change up your wheels for either something bigger or smaller. 
That isn't to say that there were absolutely 0 complaints. Some weren't too happy with the top speed in the third mode, claiming that it was low compared to the fourth mode.
They also mentioned that the Exway Wave not performing as well as some of its competitors when going uphill and that you'll feel the cracks and bumps on the road a bit more than when riding on a longboard/
Still, that is pretty standard as far as shortboards go. One expert claims that of all the Exway boards, the Exway Wave is the least water-resistant board! While it's still splash-proof, the Exway Wave won't handle deep puddles very well. 
Cons aside, the consensus is if your heart is set on getting a shortboard, the Exway Wave is the most feature-rich option on the market. Few competitors can beat it in terms of build quality and useful features. 
Speed
The Exway Wave is more powerful than most shortboards at its price range. The marketed Exway Wave top speed is 38km/h, though very few reviewers actually even attempted it. 
The fact is, not many skaters want to be riding at speeds that fast, especially when riding a shortboard. Many prefer to reach speeds of 30-35km/h max, but it's an added perk to know that if you wanted to ramp things up, you absolutely could. 
Are there thrill-seeking riders out there who live for speed? Sure. They'll love this whizzing e-board. 
The average rider will be just as happy cruising around at more reasonable speeds while retaining bragging rights when sharing with friends how fast it can go.
Keep in mind that this is particularly true for the Exway Wave Riot, as the Hub version's top speed may clock in a little less by a few kilometers or so.
Portability/Weight
The Exway Wave electric skateboard is fairly compact, it is a shortboard after all. That being said, shortboards tend to be a bit more on the heavy side when compared to their longboard counterparts. 
Still, as far as portability goes, the Exway Wave weight isn't all that bad at 6.9 kg / 15 lbs.
It has the potential to be a great e-board to travel with as well, and its size makes it totally convenient for toting around in public places as well as for storage.
Battery Range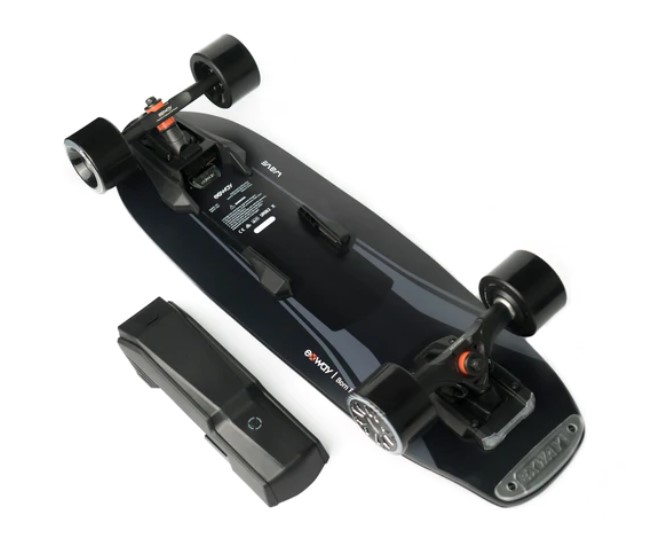 Once again, the marketed Exway Wave range, 24km, seems to be fairly accurate.
Keep in mind that there are many factors and riding conditions that can affect the results including the weight of the rider, the terrain, inclines, etc.
Even setting it to Turbo mode can deplete from your maximum range in exchange for a higher top speed, but in this case, it seemed to have a very little negative effect.
The fact that you can buy and pack an Exway Wave battery (which is super easy to switch in and out) translates into a much longer range!
Hill Climb Test
When it comes to the hill test, Exway Wave reviews are mixed. While one reviewer managed to make it up one of the steepest hills in their area at an average pace of about 20km/h, another reviewer claimed that they only managed to do it at 18km/h. 
The difference is very slight though, and once again, factors like the weight of the rider will absolutely have an effect.
With this in mind, when compared to other electric skateboards, these speeds are between average and even above average.
Comfort
First, let's look at the Exway Wave dimensions. The Exway Wave length is 94cm x 29.3cm (37in x 11.5in). 
The Exway Wave deck is made of a combination of fiberglass and maple, making it a very sturdy and strong deck. This also helps this shortboard to be super stable. 
As for the shape of the deck, it's designed to make you feel like your feet are securely locked in, that way you can concentrate on actually riding rather than constantly feeling like you have to look down at your feet to make sure you're standing right.
The Trist trucks make the Wave a carving machine. I love taking it out on beach trails during sunset and just cruising up and down the bay.
The Trist trucks are made really strong, reducing the chances of them snapping. Add to that the fact that they are CNC'd, and you've got yourself some very precise trucks.
Keep in mind that while the Exway Wave Riot offers a lot more control and flexibility, the Hub drive offers a lightweight, smooth, and quieter ride.
Tires
To our surprise, so many of the reviewers loved the stock wheels that came with the Exway Wave, and some even claimed that they are some of the best e-skate wheels available.
According to one reviewer, they are soft enough to soak up most of the road vibrations, while still maintaining enough firmness to get the most out of your range and speed!
They also have enough grip to set your mind at ease knowing that the board won't slip out from underneath you as you hit those higher speeds.
If the stock wheels don't quite cut it for you though, you also have the option to go for the Exway Wave cloud wheels, which at 105mm will offer the rider maximum comfort.
Acceleration and Braking Abilities
With the Exway Wave's 4230 160kV motor, you'll be able to experience some amazing acceleration, but without completely catching you off-guard and throwing you off.
Once again there's a difference between the Riot and Hub versions, with the Hub offering a more tame and manageable acceleration. But don't take it for granted, it can still pack a punch. 
These settings are completely controllable via the Exway App, giving you control of everything, including the acceleration power.
As for the brakes, they get the job done. It won't jolt you into a shocking stop but will manage to slow you down to a stop in a reasonable amount of time. But If you need to stop very abruptly, you might find yourself in a bit of trouble. 
The braking power is also something you can control in the Exway App.
What are the customers saying?
One super comprehensive review left on Reddit was hard to ignore! TL;DR fast charge, great range, convenient app, heavy but portable, but this particular user prefers longboards to short ones.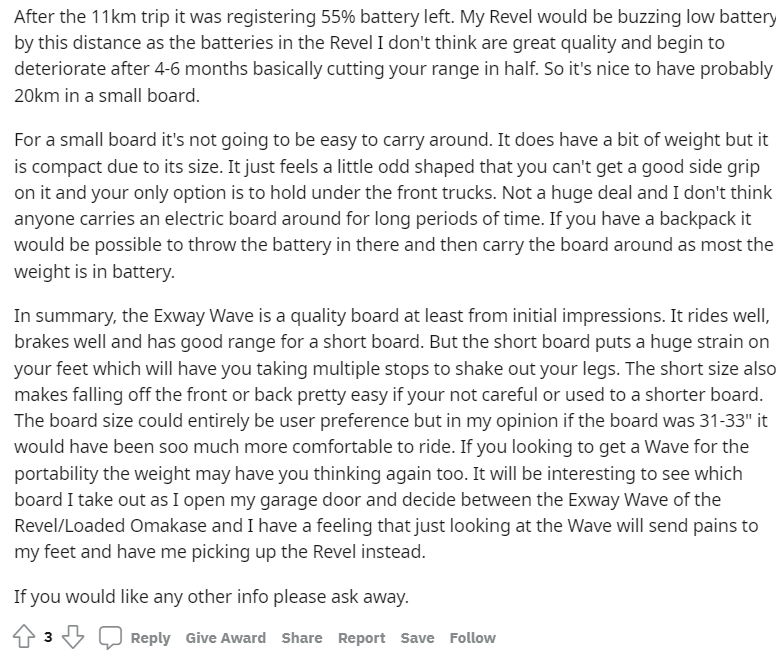 Another countered that, for a shortboard, the Exway Wave is actually not that heavy!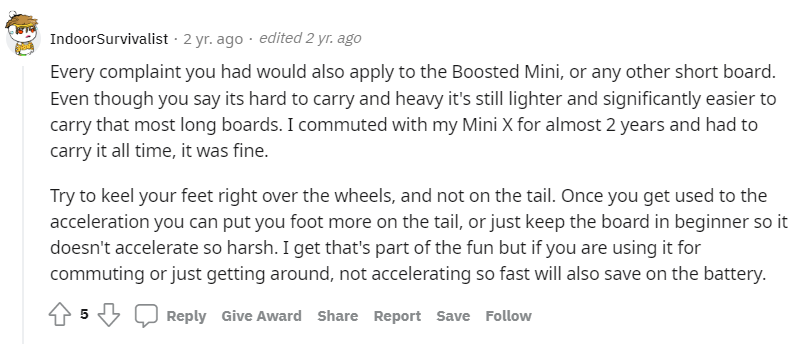 Yet a more concerning review discussed an issue that Exway had with the e-boards stopping at random, causing serious injuries!
Still, the vast majority of buyers had only good things to say about the Exway Wave!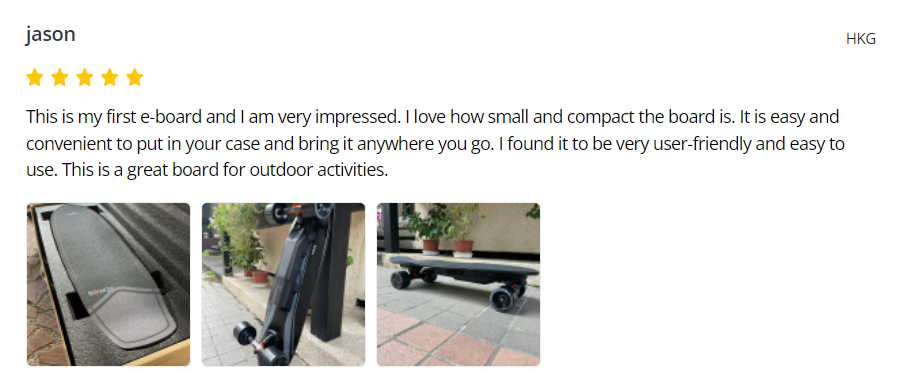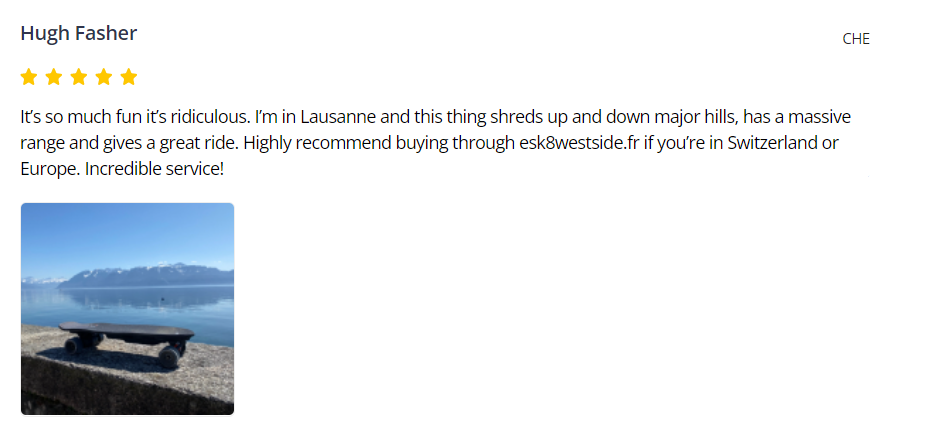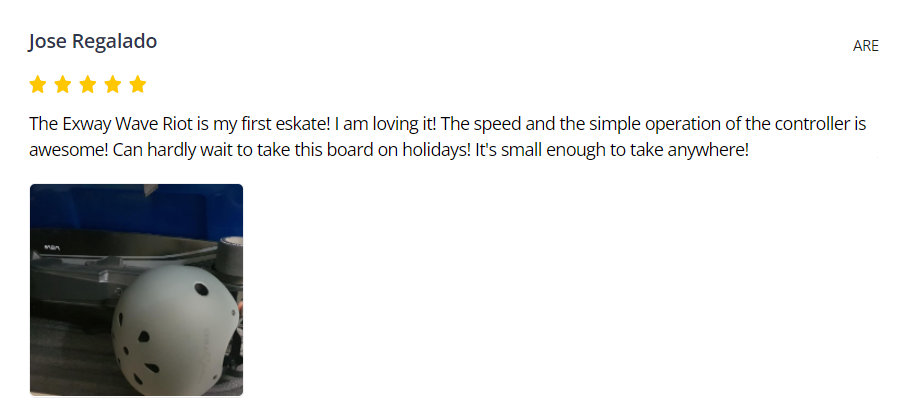 Shipping
Costs
US: Free Shipping
Canada: Free Shipping
Australia: Free Shipping
Shipping is not available for the following destinations:
Alaska, American Samoa, Guam, Hawaii, Marshall Islands, Northern Mariana Islands Palau, Puerto Rico, Rhode Island, U.S. Virgin Islands, Armed Forces Americas, Armed Forces Europe, and Armed Forces Pacific.
Estimated Shipping Days
USA: 5-7 days.
Canada: 2-8 days.
Russia: 5-15 days.
Australia: 2-14 days.
Asia: 7-15 days.
Europe: 4-6 days.
Conclusion
Overall, the general agreement is that the Exway Wave is an amazing electric skateboard, be it for experienced e-skaters or those who are just starting off.
While you may not find it to be the best if you live in a particularly hilly area or if your area tends to be rainy, the Exway Wave is generally a premium electric shortboard, especially for its price of $749.00!
You can find the Exway Wave (both Hub and Riot versions) online from their official website on different online stores in the EU, UK, Australia, and more!
Not only is it able to crank some amazing speeds, but it's fairly durable and stable. It also has an amazing battery life and range, which can be extended even further thanks to the easy swap function.
It isn't as heavy as some shortboards can be and the compact size makes the Exway Wave perfect for portability and any traveling you plan to do with it in tow.