Product overview
E-bikes seem to be the new black.
While some biking purists consider e-bikes to be cheating, e-bike aficionados see them as a technological advancement that has the potential to significantly expand the number of people who exercise with zero emissions.
Here's an impressive fact!
Call it cheating, but people who buy e-bikes cycle 4 times more per day on average.
[A. Fyhri, H. B. Sundfør, "Transportation Research", September 2020, Do people who buy e-bikes cycle more?]
As the popularity of e-bikes grows, so do their prices. Some models have four-digit price tags, and a rising number of models currently cost over $10k. However, if you aren't looking for the highest level of performance, there are still plenty of inexpensive e-bikes on the market.
When it comes to e-bikes, it's commonly considered that purchasers who seek a comfortable ride must forgo speed or excellent aesthetics. With its latest Pace 500 e-bike, Aventon, on the other hand, tosses that notion out the window. Having race-inspired roots, Aventon has a reputation for offering high-quality products at a reasonable price.
The Next-Gen Pace 500 e-bike is an improvement to its award-winning predecessor and it still offers the best blend of comfort and power. With the same upright cruiser frame geometry and handlebars, the Pace 500 features an entirely integrated battery, as well as integrated front and rear lights.
With Pace 500, you're opting for comfort-driven features, a sleek, elegant appearance, and a powerful motor. It is meant for an enjoyable leisurely cruise while being able to pack a punch when needed.
At $1,699, this e-bike offers a 500w brushless rear hub motor, hydraulic disc brakes, 28mph top speeds, and a comfortable riding position. Don't you think it should be more expensive?
Or maybe we don't have to expect much from it?!
So to understand whether this is a bargain price or not, we've combined all of the most important Aventon Pace 500 reviews into one Tech I Want mega-review.
Specifications
Aventon Pace 500: specs and features
Battery: Removable Internal Lithium-ion 48V, 12.8Ah(614Wh) with LG Cells
Display: LCD Smart Easy Read Display with Backlight, Colorful screen with app
Motor: 48V, 500w Brushless Rear Hub Motor
Brakes: Hydraulic Disc Brakes
Tires: 27.5×2.2″ Ebike Rated, Reflective Sidewalls
Pedal Assist: 5 Levels
Speed: Up to 28 mph with Pedal Assist
Range: 25-48 miles Average
Throttle: Thumb Throttle on Handlebars
Cassette: 12-32T, 8 Speed
Aventon Pace 500: weight and dimensions
Weight: 52lbs (23.58 kg)
Weight limit: 300 lbs (136 kg)
The Pace 500 is available in two sizes: regular and large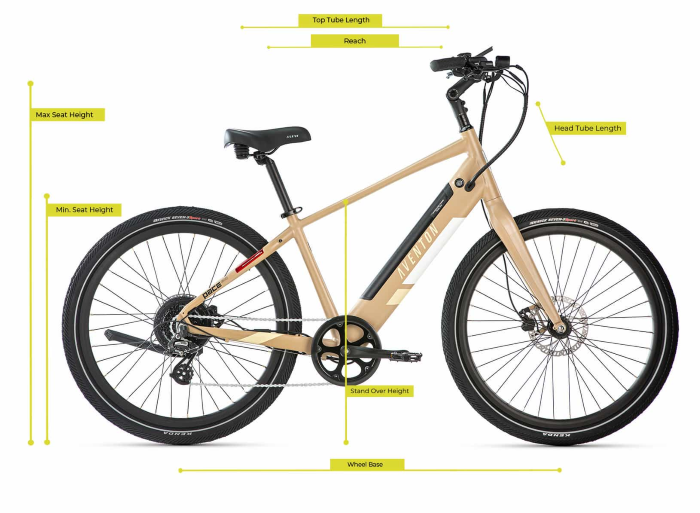 Height – regular: 5'1″ – 5'11" (1.5m – 1.8m)
Height – large: 5'11" – 6'4″ (1.8m – 1.9m)
Top Tube Length – regular: 625mm
Top Tube Length – large: 662mm
Reach – regular: 350mm
Reach – large: 383mm
Who should buy this?
Let's start with the price.
The new Aventon Pace 500 costs $1,699, which is $200 more than the previous version. However, the price difference is inconsequential when considering the upgrades. The Pace 500 is an excellent choice if you're looking for a comfy e-bike for cruising the boardwalk, RVing, or riding on bike paths and rail trails.
Nonetheless, if you don't want to spend that much money and are willing to sacrifice some top speed, you can go with Aventon's Pace 350. Priced at $1,399, it received many of the same improvements but has a less powerful 350W hub motor with a top speed of "only" 20 mph.
When riding alongside vehicles or other e-bikes on the road, the Pace 500's more powerful 500W rear motor and higher top speed come in handy. It will also help if you're planning to ride in a hilly area or if you are a heavy rider.
What's more, the 8-speed cassette on the Pace 500 has a broader gear range than the 7-speed cassette on the Pace 350. It features two different gear ratios: a lower low gear and a higher high gear. This extended range enables you to pedal up longer hills (in low gear) while also allowing you to go faster than the assist maximum of 28 mph (with the higher gear). For sure, the 8-speed cassette's increased range isn't a deal-breaker on an e-bike in this price range. However, it's good to have it, isn't it?
You must also bear in mind the fact that neither Pace 500 nor 350 is designed specifically for commuting.
The upright design and comfort characteristics of these models are more suited to cruising or riding at a slower pace. So if you're in search of an electric commuter bike, go over the Aventon Level.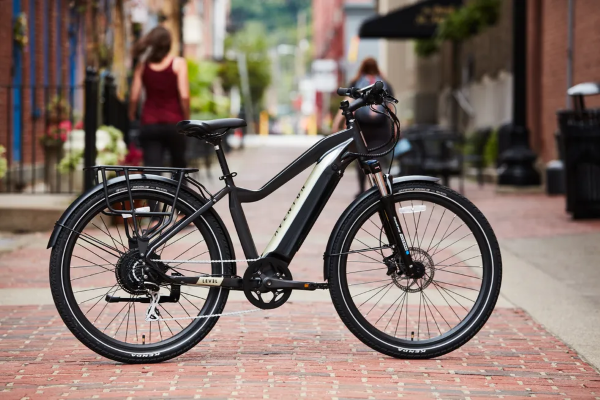 It seems like Aventon offers a wide variety of e-bikes for you to find the one that best suits your needs.
What are the experts saying?
According to Jo Borrás, a motorsports enthusiast, with the launch of the next generation of its award-winning Aventon Pace 500 e-bike, one of the most well-known names in e-bikes raised the bar once more. [cleantechnica.com]
So what were the updates that Aventon brought to the table?
Aventon redesigned their popular Pace 500 model for 2022, keeping many of the previous model's features while modernizing the bike's appearance, electronics, and overall operation. Aventon, on the other hand, entirely overhauled the bike's chassis, including new frames and forks with integrated batteries and taillights neatly tucked into the seat stay of the frame.

The Aventon pace 500 electric bike is available in standard and step-through frames, also in two frame sizes: regular and large for the standard frame and S/M and M/L for the step-through frame. Undoubtedly, it will not be difficult for you to find your size. 
Aventon also upgraded the colors and graphics across the board, with the step-through bikes getting some bright and cheerful hues. The wire routing, on the other hand, isn't especially neat, but that's to be expected at this price point.
Aventon's new, slimmer digital display is also available on the next-gen Pace 500. Now it has a slimmer profile and a backlit LCD color screen. Moreover, the e-bikes are compatible with Aventon's mobile app. It wirelessly connects to the bike and offers additional bike monitoring, as well as remote configuration choices for the bike's performance.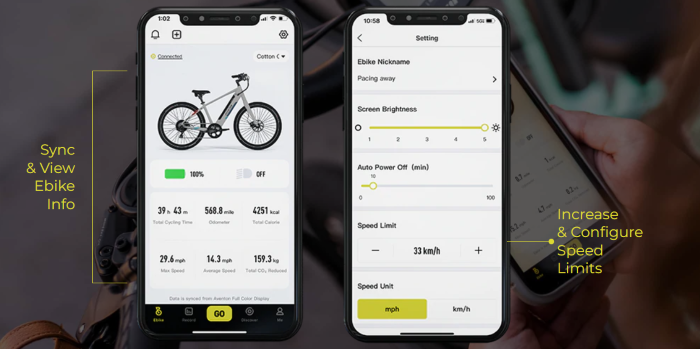 Tara Seplavy, the leader of Bicycling's product test team, claims, that the new display and software make it easier to view and navigate through settings in direct sunlight and at night. Furthermore, without having to remove their hand from the grip, riders can modify power-assistance settings and access ride statistics. [bicycling.com]
Aventon Pace 500: motor
The e-bike features a 500W rear hub motor, a thumb throttle, a cadence sensor, and five levels of PAS. It ships as a Class 2 e-bike that can be upgraded to Class 3. On pedal assist level 5, the 500W rear hub motor propels the Pace 500 to a top speed of 28 mph (45 km/h), albeit the throttle gets it to 20 mph (32 km/h).
After testing the Pace 500, Sam Gross found that the bottom few power settings, like those on many other budget e-bikes with five PAS levels, don't provide much assistance from the motor. So if you want a long-range or a solid exercise, this is a good option, but if you want this e-bike to feel like an e-bike, you'll probably need to choose higher PAS levels.
"Nevertheless, it doesn't mean that the Pace 500 slows you down in PAS 1 or 2." – Sam Gross, Electric Bike Report
In other words, if you produce speeds on your own above 10 and 12 MPH, where PAS 1 and 2 respectively seem to limit their involvement, you might not notice much motor engagement. [electricbikereport.com]
Talking about the Aventon Pace 500 problems. The torque appears to be jumpy. To put it another way, when starting from a standstill or with a sluggish speed, the motor assistance kicks in strongly. So it can be startling and even disturbing for the riders who are new to e-bikes or who are not expecting the power curve of this motor.
In every other manner, the Pace 500 is proven to be a problem-free and simple e-bike, ready to provide you the most out of your rides.
Aventon Pace 500: battery
The Aventon Pace 500 electric bike comes with an integrated lithium-ion 48V, 12.8Ah(614Wh) battery, which is easily detachable for charging or transportation. It's about 10 percent larger than the old 556.8Wh battery in the previous version. Furthermore, when you have the bike locked up, the lock will prevent the battery from being stolen.
Consecutively, a larger battery yields a longer range. Aventon claims, that the Pace 500 battery offers a range of 25 to 48 miles. Some reviewers tested the Aventon Pace 500 range both in PAS 3 and PAS 5.
The e-bike lasted 57.75 miles at an average speed of 13.4 mph in the PAS 3 test and 27.88 miles at an average speed of 16.9 mph in the PAS 5 test. [electricbikereport.com]

With its 48V 3 Amp Aventon Pace 500 battery charger, it'll take 4-5 hours to fully charge your e-bike. You can sleep in peace!
Aventon Pace 500: brakes, tires, and fork
The importance of 27.5×2.2″ tires and Tektro HD-E350E hydraulic disk brakes with 180mm front and rear rotors on the Aventon Pace 500 should not be overlooked. The bike is not only light, weighing only 53 pounds, but also has admirably performing brakes and tires when it comes to stopping. Moreover, having name-brand components on your bike ensures you'll have a backup when something goes wrong and you require maintenance.
The Pace 500 is built on a fully rigid chassis, which means it doesn't have any suspension. But this is not necessarily bad. Suspension forks might be useful for smoothing out bumps, but they're not cheap, and inexpensive ones can be unreliable and serve as more of an aesthetic decision than anything helpful. The Pace 500's stiff fork is comfortable and helps the bike's excellent handling. Also, it looks great, doesn't it?
What are the customers saying?
The vast majority of reviewers gave a 5-star rating to the Aventon Pace 500 on its website. 

The customers seem to be satisfied with their purchase as well as with the delivery. They find it very easy to ride and a lot of fun. Some of them have also ridden the previous Pace 500 model, and they say that the improvements in the next-gen are very thoughtful and stylish.
According to the reviewers, the customer service is supportive and responsive. Those who encountered some problems, got their issues resolved in a timely manner.
Based on the reviews, we can tell that users, from children to the elderly, enjoy their Aventon Pace 500 e-bikes. They found a great value for a reasonable price.
Nonetheless, there have been some complaints. Some reviewers were upset because Aventon does not offer a phone contact option. The others had some difficulties assembling their e-bikes.
How can you get it?
You can buy your Pace 500 next-gen e-bike online on Aventon's website. In addition to the option of a step-through frame, you also have a new palette of colors to pick from. The standard version is available in SoCal sand and midnight black colors, and the step-through is in ghost white and celeste.
On their website, you can also find the Aventon Pace 500 accessories: a fender, a rear rack, a phone holder, etc.
In-stock e-bikes will be shipped in 3-5 business days and the in-stock accessories and components in 7-10 business days.
Aventon offers free shipping to addresses in the 48 continental United States on purchases of $100 or more, including complete bicycles. The cost of shipping to locations outside the 48 continental US is determined by the package's weight and size. E-bikes and e-bike batteries cannot be shipped outside the 48 continental US, because of the shipping carrier limitations regarding high-capacity lithium-ion batteries.
Aventon ships its packages via FedEx and USPS, however, it is not responsible for any items that are lost, stolen, or damaged as a result of the parcel services' actions or inactions.
Conclusion
It's never easy to reinvent a classic. Too much change is not a good thing. Ask the climate!
However, Aventon did great on its Pace 500 next-gen e-bike. The previous Pace 500's great handling, upright yet compact frame, and high-speed motor are all there in this latest edition. Many of the changes Aventon has made are cosmetic or are intended to improve the user interface. This includes the revised design, the hidden battery, and new cockpit features such as a full-color LCD and well-finished grips. The only noteworthy component modification was the larger battery, which provides additional power to that quick motor.
The experts are impressed and the customers are satisfied. Can we call this success?
So, if you want to spend some time on the bike path and go past your mileage limits, you should consider making the Pace 500 your new companion.