BESTEK Wireless Charger Power Strip Tower
The power strip tower that makes cable problems an old story.
BESTEK is a tower charger that's specifically designed to look elegantly on your desktop. Each AC outlet is wide enough without any interference with other devices when charging. Say goodbye to tangled cables!
The tower contains 8 AC outlets that are distributed 2 on each side (2×4 = 8 quick maths) and 6 USB ports, 3 on two of its edges. Best part? Wireless charger on top! All of its sockets are child protected, in case your kid decides to have a new hairstyle, they can't.
All this for $52.99. Okay, okay I know it's a bit pricey… BUT I have to note that, as you can see from the table below, I compared with its other cheaper competitors (pun intended), it's sturdy, fireproof and made out of ABS material (English: very solid yet lightweight plastic). Yet the most important feature that it has, is the 1500J of power surge, unlike the rest for having only 900J. Think about it, investing your money in a bit pricey Power strip? Or buy new devices due to damages caused by strong power surge.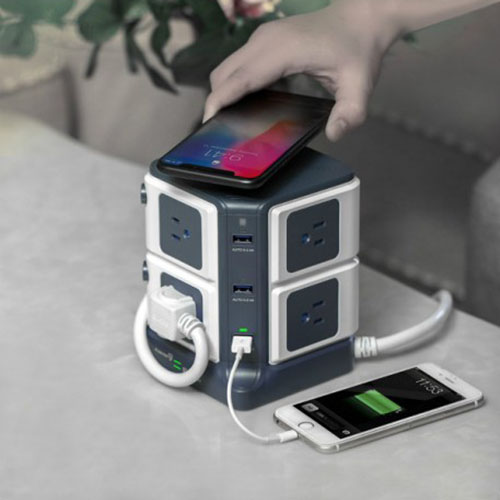 After spending hours looking at the reviews, I noticed that majority of the buyers were satisfied with the product and glad that they invested money in it. However some had issues with the wireless charge feature, either you have to perfectly place the phone on to it or it doesn't even charge. Most of those people suggested getting the non-wireless product which in fact costs $40.99. So, if you don't have a device that gets charged wirelessly,you can get this variant instead, and save $9.
On the other hand, some suggested if you want the wireless charger to work, you have to disable, remove devices from the usb/ac ports and focus on the wireless charging alone. But this will take time as the pad is not fast charging.