The Baseline Midlayer
Jacket Made From Recycled Coffee
key advantages
Made from eco-friendly materials
Honeycomb fabric
Antimicrobial
estimated
delivery
September 2021
Mornings are made for coffee. And so is this jacket… What? Ok, let's bring that back. Mornings are completed with coffee, and so is this jacket. That's better. But wait… what does that mean? That means that this jacket is made from recycled coffee grounds. Yeah… pretty freakin' wild.

Usually, you hear features including something like water resistance and insulation (don't worry we'll get to that), but the recycled coffee grounds are something that comes straight out of left field.
Does this make the jacket any better than other jackets on the market? Honestly, we'll have to get into that below. But it's definitely a cool talking point if you happen to be around friends who start flexing with the gear they own. "This jacket is waterproof," "that's cool, I got clothing made from recycled plastic and coffee grounds…" How do you follow that up?

Well, let's see what else this jacket has to offer by putting it through our sharp TIW review.
The Product
Innovation
Is this a truly new product that you can't find on the market? Or this a product that defines an entirely new product category. In some cases, the combination of several features into one or the introduction of a new feature to an old product are also considered to be an innovation
From the get, we were really excited about this jacked. I mean, on paper, it just sounds pretty cool. But I mean, at first sight, it looks like just another sustainable jacket, but given a closer look, it has some notable features.
Recycling coffee grounds are nothing new and have been used for many years but the Coalatree team really has gone into detail making this jacket. With added recycled plastic in the mix, waterless dyeing methods, honeycomb pattern, and lack of microplastics, it's a perfect combination of utility, style, and environmental-friendliness. All the qualities you'd look for in a solid piece of recycled clothing. 
We did say we were going to get into more details about the benefits of recycling coffee grounds in the intro. So to put it simply, using recycled coffee grounds supplies odor control, sweat-wicking, and it dries over 200 times faster than cotton. It is also naturally anti-bacterial, which is ideal for an all-around jacket.

The honeycomb fabric gives you amazing insulation while the DWR coating keeps you dry from the rain. It also has 3 secret zip pockets, which means you have three places to hide all your environmentally friendly snacks. 
Overall, it's not a ground-breaking jacket, but it does have a cool design, has some great features, and most of all, it's eco friendly clothing.
Competitiveness
How much better is it than the competition? Is it faster? Bigger? Cooler? More affordable? There needs to be a solid reason why you should back this project over any other.
| | The Baseline Midlayer | Evolution Hoodie |
| --- | --- | --- |
| Price | KS $86 | $89.99 |
| Material | Recycled coffee grounds | Recycled coffee grounds |
| Honeycomb fabric | ✅ | ❌ |
| Waterless dye | ✅ | ❌ |
| DWR coating | ✅ | ❌ |
| Odor control | ✅ | ✅ |
| UV ray protection | ✅ | ✅ |
Although people make it known and tell their entire neighborhood about the importance of wearing recycled clothing, it took me an hour to find a product made from recycling coffee grounds. It seems like many people talk about the technology, but few implement it? Am I crazy? Or maybe it's just me who's weird about this.
The competitor jackets offering recycled coffee grounds within their jacket build were not as good as I expected. 
There was also one from Kickstarter: COOR($239) which wasn't a bad product, but I couldn't find it sold in retail anywhere, so maybe they didn't end up producing it?
In terms of competitiveness, the Baseline mid-layer is up there. I mean, considering it's not the first product to be made of recycled materials, even from recycling coffee grounds. But even then, there were very few products on the market that were comparable with its features and its price point.
Product Competitiveness Score
The Team
Reliability
How capable is the team? Have they developed something like this before? Do they have crowdfunding experience? Manufacturing experience? A lot of campaigns fail to deliver their product because they don't know what they're doing.
Coalatree is an American-based company aiming to bring the elements of the outdoors and city life together. They mainly produce products for adventurers (blankets, hammocks, clothing) all from recycled materials. 
They started back in 2010 as a self-sustaining organic farm in Colorado. Eventually, they understood that they want to produce their own eco friendly clothing that is both comfortable and incredibly usable.
The good news is that they are serial crowdfunders! They have 10 previous projects on Kickstarter with an army of 28.000 backers and $2.6m raised in total. 
Although fashion is not a popular category in crowdfunding, they managed to succeed quite well.
The team is also doing charity programs which is that extra thing that really gives them credibility. 
"We are always looking for ways to give back to our local and global community; we wouldn't be where we are today without your support! Each year we use surplus fabric to create warm blankets for the homeless in our hometown of Salt Lake City, Utah. We also partner with local organizations to maintain the hiking and biking trails we frequent and to protect the integrity of our watersheds. Learn more about our giveback programs here. (from their website)"
Attitude
How transparent are the campaigners? Do they give their backers valuable updates on their progress? Do they engage with their backers? Crowdfunding is all about community, sharing information, and building a meaningful relationship with the people who fund your project.
I checked the comments for all their previous campaigns. The people seem very satisfied with their orders. The team is extremely caring and responsive, even very funny trying to build good bonds with backers.
For example: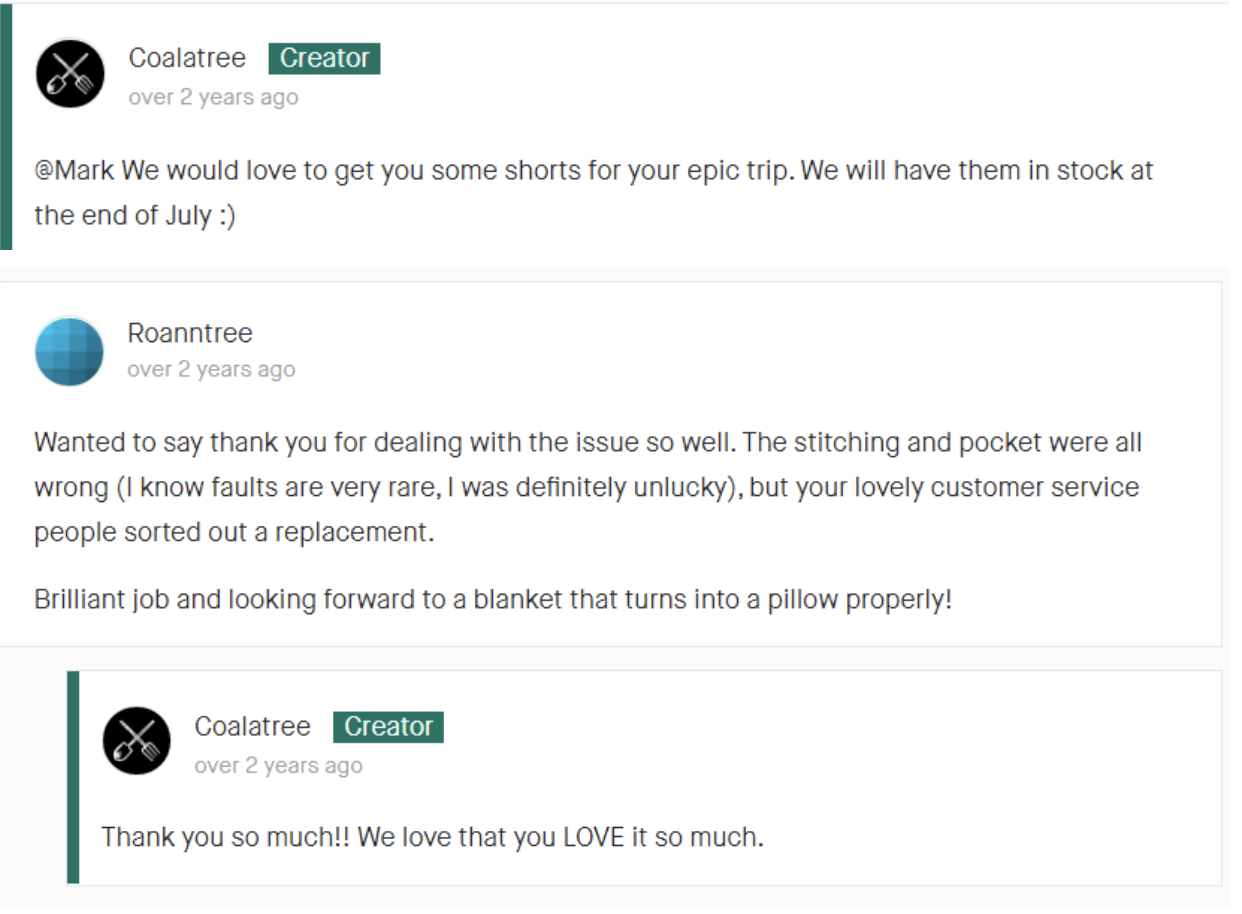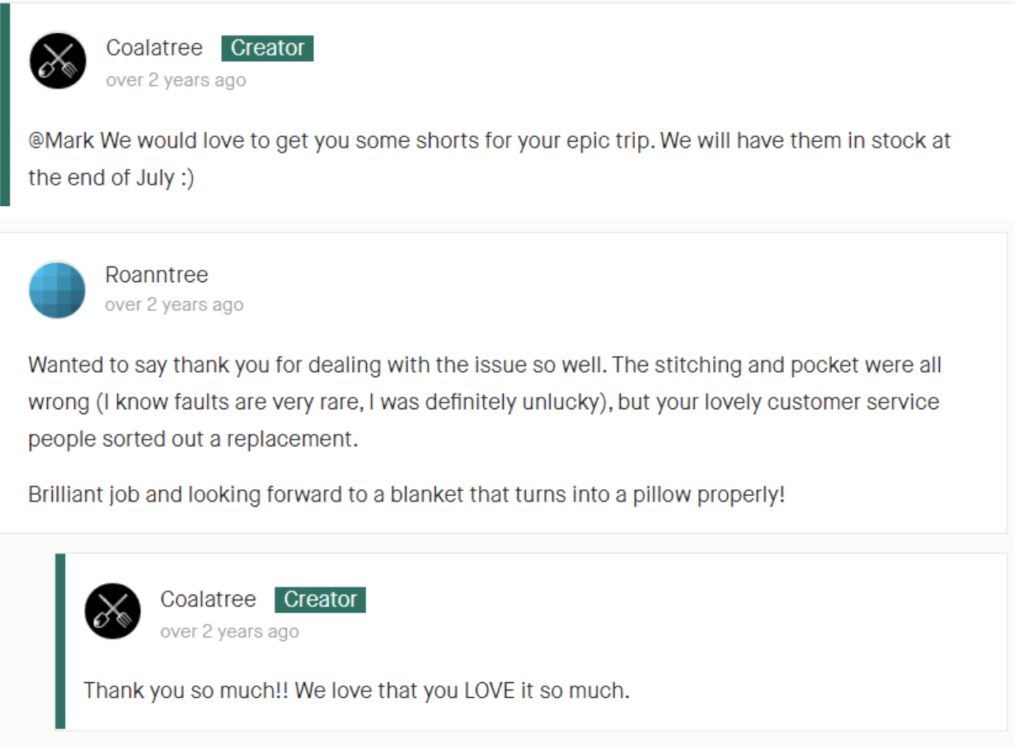 They also offer replacements if the products are broken or not in your size. That definitely brings the kind of trust that you'd want to have with creators within a crowdfunding campaign. 
Conclusion
To put it as simple as Coalatree made this jacket, the Baseline Midlayer is an all-around solid well-rounded jacket made from recycled materials. It's not revolutionary, it's not going to inflate when you're trapped under snow in an avalanche, but it will keep you warm, stylish, dry, and smelling nice with its antimicrobial coffee ground infused fabric. 
The best part, the company is incredibly engaging, making sure you have an amazing experience when interacting with their team and their products. So not only are you getting a solid product you can trust, but you are also getting recycled clothing which is good for the planet from a company that also looks to do good within their community. 
I don't know about you, but I felt good just writing that, and I hope you feel just as good reading that. With that fact alone, I feel like backing this product, and many future products Coalatree come through with.
Limited time offer
d
·
: :