key advantages
Versatile hand & machine coffee grinding
Variety of coffee filter grinding options
Compact and portable design
estimated
delivery
June 2021
"Good morning! I've got your coffee ready for you, enjoy!" You should confess that the first thing you wish for so badly when you wake up is that fresh and hot coffee. It is true, however, that most of the time your morning coffee smells and tastes like some half-boiled water with something unknown in it. Why? Because you're in a hurry and you don't have that much time and dedication to invest in it. If this is you (this is also me by the way), then Arco is the right thing for you. Hand coffee grinder and electric grinder are combined in one compact, lightweight and portable machine – Arco.
Whether you're the "always busy" type or the one who enjoys relieving stress by grinding coffee by hand, Arco has your back by guaranteeing your everyday coffee experience with fresh, high-quality and self-made coffee.
Fill the coffee beans into the electric grinder, choose your preferable coffee filter so that Arco grinds it in the most suitable way, and tap the bottom. Otherwise, take the small-sized hand coffee grinder, fill the beans into it and keep grinding on your own. Whichever way you choose, the result is going to be a cup of pleasing coffee with some true flavors.
Ibrik, Espresso, Moka Pot, Filter, French Press, Cold Brew…You're the one to choose, to make and to enjoy!
| | |
| --- | --- |
| Pros | Cons |
| ✔️Versatility | ❌Price for 2-in-1 Arco |
| ✔️Compact & portable design | |
The Product
Innovation
Is this a truly new product that you can't find on the market? Or this a product that defines an entirely new product category. In some cases, the combination of several features into one or the introduction of a new feature to an old product are also considered to be an innovation.
Arco's innovation is easy to notice! A hand coffee grinder and electric grinder in one place – with an original and modern design. A machine with a big mission of getting your coffee done in seconds with yet small sizes, lightweight, and multiple filters to choose from. Carry it in your backpack as a cozy cup and have your coffee with you whenever and wherever. In the world where hand coffee grinders are so often put in comparison with electric grinders, Arco is designed to free you from that complicated choice by offering you both of them in the minimalist shape you could have thought of.
Competitiveness
How much better is it than the competition? Is it faster? Bigger? Cooler? More affordable? There needs to be a solid reason why you should back this project over any other.
| | Arco (2-in-1) | JavaPresse | OXO Brew |
| --- | --- | --- | --- |
| Price | $354 | $102 | $34 |
| 2-in-1 Electric & Hand Grinder | ✔️ | ❌ | ❌ |
| Number of adjustable grinding settings | 120 | 18 | 15 |
| Dimensions (inches) | 11 x 3.6 x 7.5 | 1.8 x 7.5 x 1.8 | 7.4 x 12 x 16 |
| Weight (g) | 2820 | 266 | 2041 |
Arco is the only 2-in-1 hand coffee grinder and electric grinder and it stands out with this feature and leaves the competitors back in this aspect. The dimensions might seem relatively large, however, it is fair to take into consideration that it combines 2 functions at the same place. The comparatively higher price also derives from Arco's functional versatility, portability and comfort that it creates.
Product Competitiveness Score
The Team
Reliability
How capable is the team? Have they developed something like this before? Do they have crowdfunding experience? Manufacturing experience? A lot of campaigns fail to deliver their product because they don't know what they're doing.
Anze Miklavec, Arco's producer, is well-known to the Kickstarter community with the 5 campaigns he has managed to launch since 2014. The ancestors of a 2-in-1 hand coffee grinder & electric grinder were Goat Story coffee mug, Gina smart coffee instrument, Equa smart water bottle and Equa home & body care products. All of the mentioned projects were funded successfully on Kickstarter, and this reveals some significant level of trustworthiness that the producer has earned by the community. 
Besides having created 5 campaigns and gaining a reputation on Kickstarter, Miklavec also stands out by having backed 43 campaigns on the platform. This appears to prove that not only the producer of Arco is interested in introducing what he thinks is the best, but also in supporting other creators to bring their ideas to life and to push the developing innovation to a new, higher level. 
Miklavec's products that have their roots on Kickstarter are now placed on Goat Story's and Equa's website. Throwing a glimpse into the path the producer has passed and the journey he has taken in the big world of crowdfunding, trustworthiness and reliability appear as the values to refer to him. 
Attitude
How transparent are the campaigners? Do they give their backers valuable updates on their progress? Do they engage with their backers? Crowdfunding is all about community, sharing information and building a meaningful relationship with the people who fund your project.
Having backed 43 campaigns already tells a lot about the producer's attitude towards the whole idea of the backer community. There is no better way to know how to treat backers than being a backer on your own. And indeed, I am checking the comments of Miklavec's very first project on Kickstarter, Goat Story, and all of them are replied. This tells about how well-developed the customer service is and how important backers' questions, comments and feedback are for the campaigner. 
The vast majority of the comments were expressing positive thoughts regarding the product, however, what grabbed my attention the most was the campaigner's understanding and supportive response towards one of the negative comments received.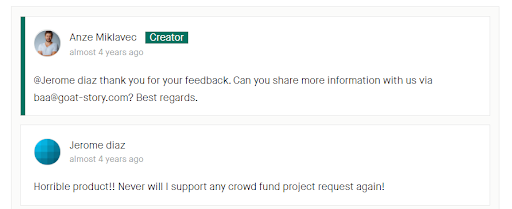 Some professional customer service, no? Also, familiarity with backers' psychology is displayed through the shown approach. 
And also, when honesty and integrity needed, it is fair to assume you can count on Arco's producer:

Conclusion & Public Opinion
A diversity of ideas can be noticed when reviewing the customer feedback of Goat Story. Some of them are in love with it, while others mention it does not satisfy them the way they would expect. 
Overall, the product earned 4.5 stars based on the 50 global ratings, which can be a reason to assume that the majority of customers ended up liking the product.

Furthermore, some detailed and honest opinion about Equa water bottle: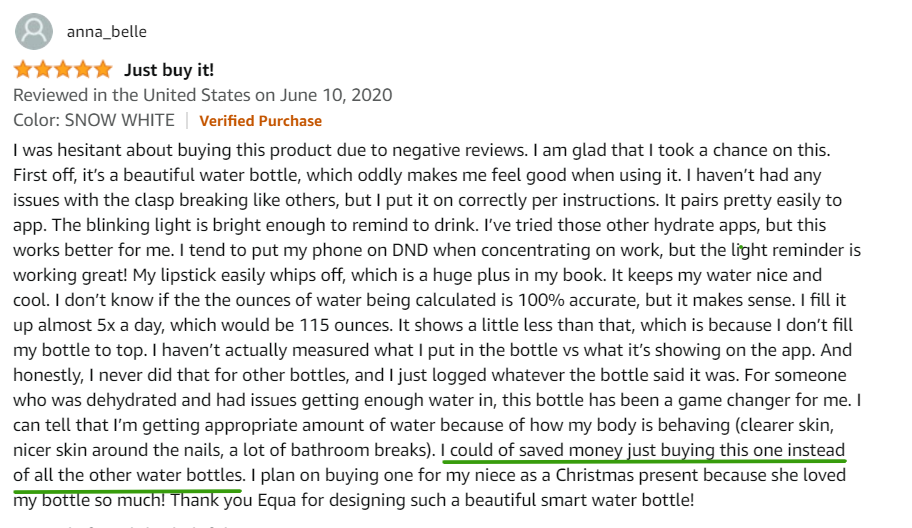 To conclude, the producer has managed to create an impressive background for the backers to develop trust and belief towards the projects he initiates. The products including the hand coffee grinder & electric grinder have managed to go viral and to become popular not only on Kickstarter but also out of it. This proves the big success the producer has managed to have and the interest the products have managed to create within the backer community and the entire customer body. 
TIW Total Score
Arco
Arco
Limited time offer
d
·
: :