AirBolt GPS
Global Tracker
key advantages
Global live tracking
Water-alarm & separation alerts
Small and lightweight (21g)
estimated
delivery
December 2020
Every week we offer you the best stuff. And we know you're excited about it all.
But when you get excited, so do others…
Thieves!
Protect your excitement wherever you are with AirBolt.
Charge it once, and travel the world for 12 months without losing track of all your belongings.
This little GPS beacon will ping you the precise location of whatever it's attached to, whether it's in the arctic or underwater.
And remember, it's not just your laptop, keys or phone that could go missing…
Keep track of your children or pets. Feel like a spy as you track your spouse's movements (don't do this). Or remember where you left the TV remote after binge-watching the 4th season of Fargo.
Tech I Want Score
You are here and it might mean you are in a struggle of constantly losing your beloved things. So, it's not a surprise The AirBolt grabbed your attention. Well, you might still keep losing your things but the good news is from now on you're gonna find them with The AirBolt. 
Okay, let's discover the product and the people behind it to better understand everything we need to know about this Kickstarter campaign. I am here to be your invisible companion and adviser to help you make your final decision.
The Product
Innovation
Is this a truly new product that you can't find on the market? Or this a product that defines an entirely new product category. In some cases, the combination of several features into one or the introduction of a new feature to an old product are also considered to be an innovation.
Have you ever lost anything that you cherished a lot? Our world is rushing at such a pace that we can breathlessly trace it. New mind-blowing innovations appear every day and some of them we get to know months or even years after the release. Losing things remain in the past as now there are a lot of GPS trackers on the market. 
The Airbolt mini GPS tracker stands out with its high functionality and usage. The market is full of GPS trackers specifically designed for cars, kids, pets… and here comes Airbolt with its many use cases, worldwide live location, and long battery life. It stands out with its functionality too. Working with Travel Lock is our team's fav feature.
Competitiveness
How much better is it than the competition? Is it faster? Bigger? Cooler? More affordable? There needs to be a solid reason why you should back this project over any other.
| | Airbolt | Invoxia | LandAirSea 54 GPS |
| --- | --- | --- | --- |
| Price | KS $125-$136 | $159 | $29.95 |
| Size | 37x34x11 | 104x28x10.16 | 57x57x20 |
| Weight | 21 | 29.7 | 136 |
| Tracking Technology | GPS+LTE-M+NB-loT | 4G LTE-M | 4G LTE + Satellite |
| Battery Life | Up to 12 months | Up to 4 months | Up to 6 months |
| Waterproof | YES | NO | YES |
| Geofencing | YES | YES | - |
| Real-Time tracking | YES | NO | YES |
| Monthly fee | KS special price: $4.99/month | First two years: free Then: $39.90/year | First two years:$9.95/month Then: $19.95/month |
It is not difficult to highlight the differentiating factors of the products. As you already guess these are its compact size, high portability and the long battery life. You can track anything you want via Airbolt. Let it be your kid, car or even beloved husband. Its compact size gives you the opportunity to subtly leave it in his pocket and track wherever he goes. Seems like giving you some hints and tips on how to follow the husband… Fantasy is yours, let your imagination work for yourself and use the Airbolt however you wish.
Team Competitiveness Score
The Team
Expertise
How capable is the team? Will they be able to pull off their design? Experienced engineers, designers, market analysts, operations and other specialists have a huge impact on a project's success.
Melbourne based company has a team of tech enthusiasts and sharp entrepreneurs working very hard to bring their mission to life and create a better world for human beings. Team Lead and the founder of Airbolt Kabir S Sidhu sincerely believes in the strength of his team. With 10 years of project management experience, he is a true advocate of good design and tech innovations. Establishing his company in 2014 he started to adhere to this mission that is to build an ecosystem where products interact with each other to enhance their capabilities.
GurBir Pannu is the hardware lead of the product with 8+ years of engineering experience. 
The team is really big and I don't want to bore you enumerating their job experiences and skills. I am sure you've already understood that. So Let's continue our journey!
Experience
Have they developed something like this before? Do they have crowdfunding experience? Manufacturing experience? A lot of campaigns fail to deliver their product because they don't know what they're doing. Or they might spend all the raised funds on getting a fully functional product, but fail to mass-produce it.
Experienced in their fields but not that much in crowdfunding. But before making early judgments let's dive deeper and analyze how well they worked on their first campaign as the Airbolt mini GPS tracker is the second one.
Airbolt Travel Lock is their first Kickstarter campaign. It is designed for safe travel and the main function is to protect the luggage from theft. They managed to raise $149,263 with the help of 1633 backers. 
Well done, guys. It is not that easy to impress so many backers and convince them to support the project. First campaign and your first success. Keep the pace.
Transparency
How transparent are the campaigners? Do they give their backers valuable updates on their progress? Having credible and reliable campaigners is one of the deciding factors in building the trust that backers look for.
3 updates yet and the second one is available only for backers. A little bit disappointing. Updates are meant to share any kind of news with not only backers but with people interested in the product as they are already potential buyers if they are in the updates section.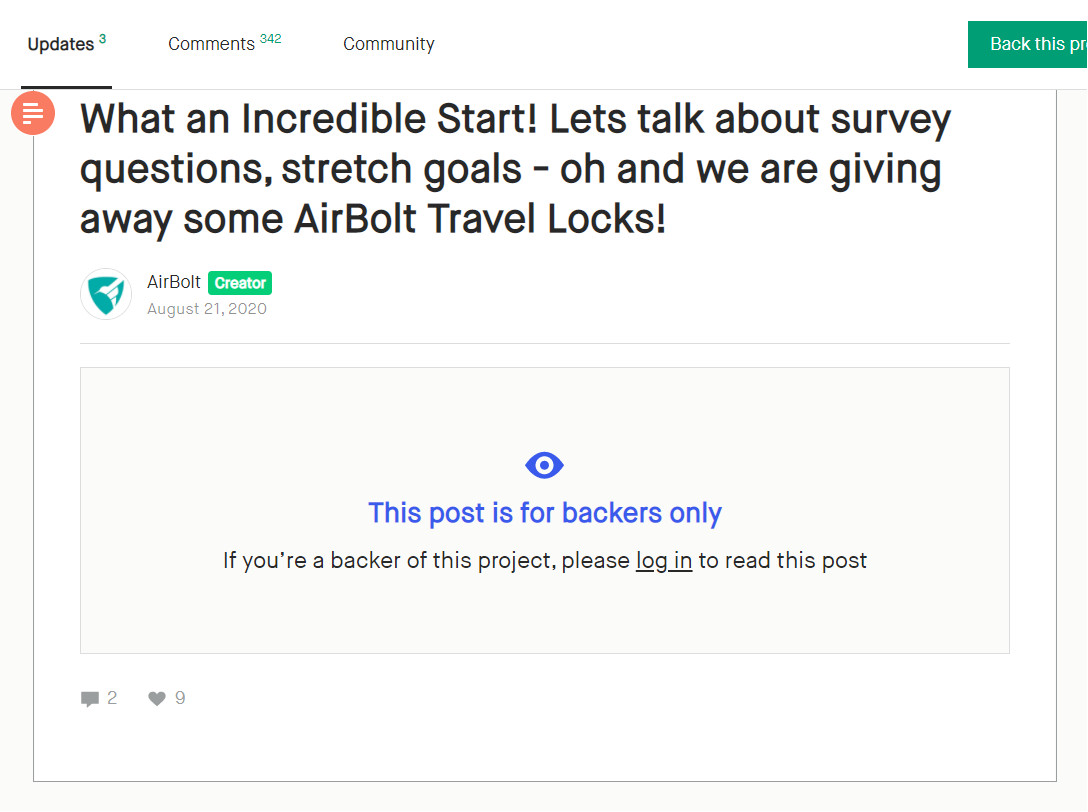 … or maybe they just want you to become a backer and get an Airbolt travel lock for free. Let me know your opinion and write a comment to discuss this part together.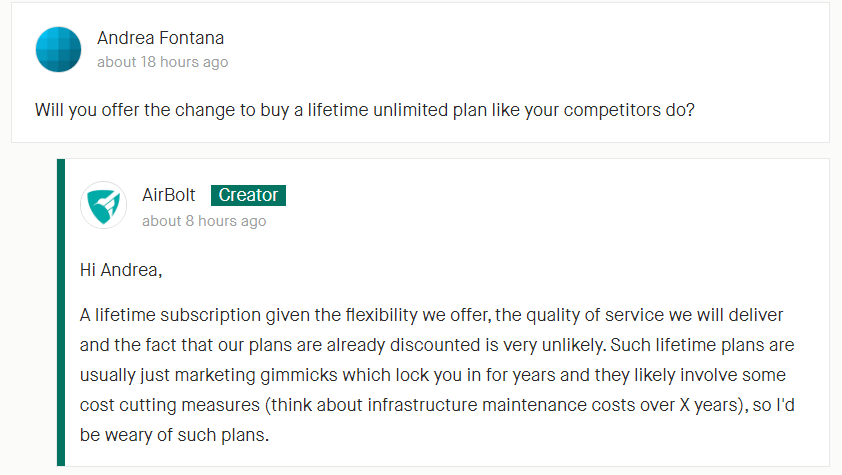 Here is a very sincere sharing with a backer. Not cheating customers is very kind from their side. I guess they will appreciate it.
Responsiveness
How responsive are the campaigners? Do they engage with their backers? Crowdfunding is all about community, sharing information and building a meaningful relationship with the people who fund your project.
Airbolt's team is very caring and respective to all the backers. 
Have a look at this comment below.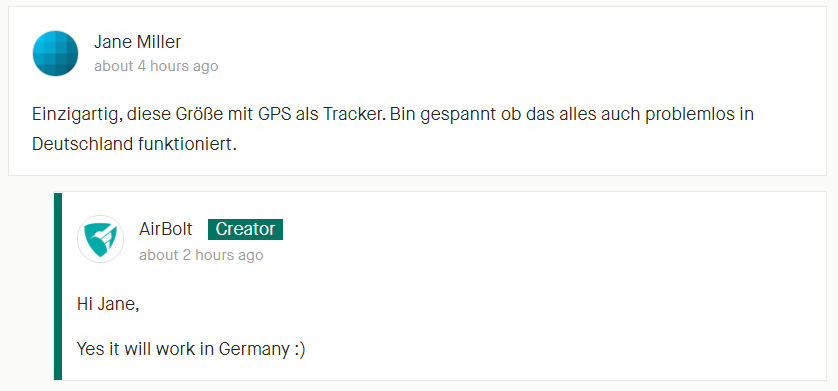 The comment is in German but the message is answered in English. From the answer, you can guess the question too, and there is no need to translate. This is a very good example of customer care.
Despite this, all the comments are answered as soon as possible.

Team Responsiveness Score
TIW Total Score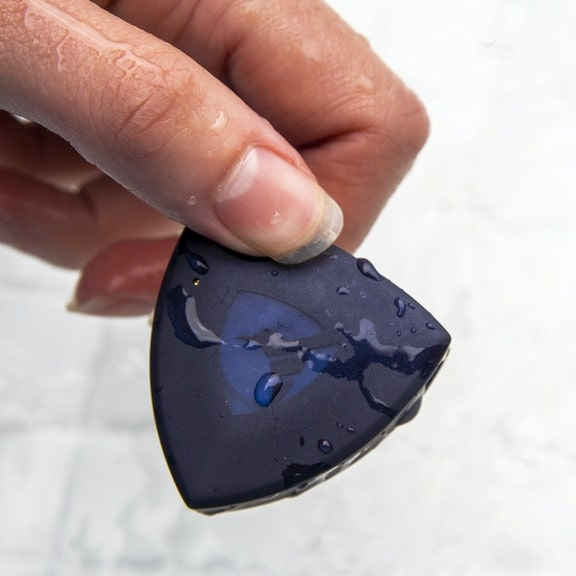 AirBolt GPS
AirBolt GPS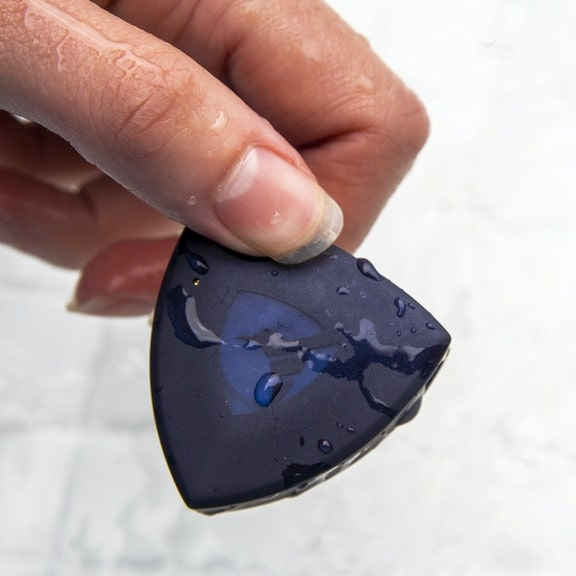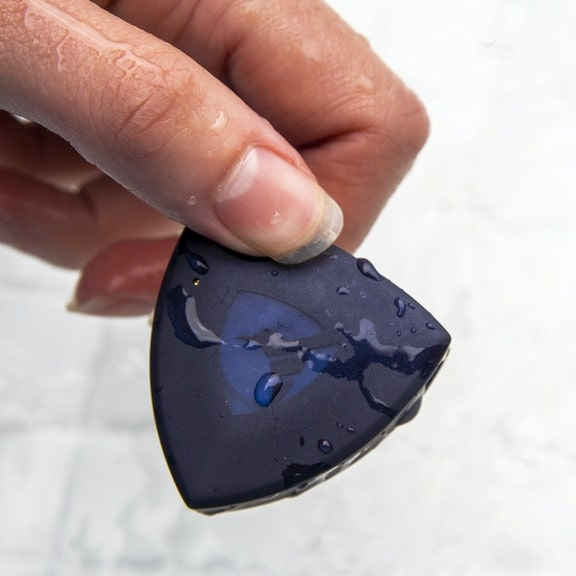 Limited time offer
d
·
: :