key advantages
Fingerprint security system
Multi-device compatibility
Sleek & shock-resistant design
estimated
delivery
October 2020
3 out of 5 people lose data every year, many due to theft!
But people are starting to understand… and now, 93% of people protect their data.
You too, right? Or are you in that 7%?
Get with the game, with VAVA's SSD!
Super slim, it'll back up 2TB of your top-secret files at 540MB/s — that's 200 photos per second!
And with CIA-level AES 256-bit encryption at your fingertips, your files are only accessible to you.
So, whether you're on a top-secret mission to your child's play, a cat-photoshoot, or just a regular day at the office… rest assured that your files are safe AF.
*Caution: Not recommended for cat burglars without fingerprints.
Tech I Want Score
Let me guess. You've got some data to get stored and you're here to learn about one of the cool options to help you do so! Right place to check. Go over this review I've written for you and find out the key advantages of VAVA portable SSD and the team behind it!
The Product
Innovation
Is this a truly new product that you can't find on the market? Or this a product that defines an entirely new product category. In some cases, the combination of several features into one or the introduction of a new feature to an old product are also considered to be an innovation.
If you are on your way of saying that you have got 4-5 SSD-s and you keep getting new ones almost every year, I'm with you! However, let's confess we are secretly hoping for the one to come with much ease of use, advanced features and a smaller size. In that case, we may consider VAVA portable SSD Touch. 1TB & 2TB is a lot of space, 540MB/s is pretty fast, and fingerprint encryption is something to guarantee you are the real owner of your data! The latter is something to appreciate in particular, as not many SSD-s appear with a feature like that!  
Competitiveness
How much better is it than the competition? Is it faster? Bigger? Cooler? More affordable? There needs to be a solid reason why you should back this project over any other.
| | VAVA SSD | SAMSUNG T5 | Sandisk SSD | SpeedSSD |
| --- | --- | --- | --- | --- |
| Price | $129 | $143 | $112 | $189 |
| Dimensions (inches) | 3.9 x 1.1 x 0.35 | 3.30 x 2.20 x 0.30 | 3.79 x 1.95 x 0.35 | 3.9 x 1.1 x 0.45 |
| Transfer speed | up to 540 MB/s | up to 540 MB/s | up to 540 MB/s | 1050 MB/s |
| Storage | 1TB (also available 2TB option) | 2TB | 2TB | 2TB |
| Security | Password + fingerprint | Password | Password | Password |
| Fingerprint encryption | ✅ | x | x | x |
| Cover | Aluminium | Metal | Plastic | Aluminium |
In the world full of SSD-s, VAVA portable SSD manages to stand out in the competition with its unique feature of fingerprint protection and with its slim design. The price, too, is relatively lower, and a variety of perks are available on Indiegogo.  Thus, considering how challenging it is to stand out in a competition of a product, which is being produced and improved almost on a daily basis, VAVA still manages to do a good job and to appear with significant advantages over the giants in the industry like Samsung and Sandisk. 
Product Competitiveness Score
The Team
Expertise
How capable is the team? Will they be able to pull off their design? Experienced engineers, designers, market analysts, operations and other specialists have a huge impact on a project's success.
The portable SSD producer team, VAVA, was set up in 2015. Regardless of their young age, they have managed to create a notable story coming up with some remarkable innovative products.  One of the outstanding proof's of the team's success was their first Red Dot award in 2016, which was a result of their creative designing mindset.  Evidently, the team players are doing their best to get closer with their customers and with everyone ever showing interest in them. VAVA has its own blog, an official group on Facebook for its fans and a website offering various options to purchase their products.  The first glimpse is promising, let's go on!
Experience
Have they developed something like this before? Do they have crowdfunding experience? Manufacturing experience? A lot of campaigns fail to deliver their product because they don't know what they're doing. Or they might spend all the raised funds on getting a fully functional product, but fail to mass-produce it.
As mentioned, VAVA's chain of products starts with Security Cameras and reaches until 4K Projector. The new-born baby of the company's journey, the portable SSD, is their 5th campaign on Indiegogo. Prior to this, the 4K Projector, the Wire-Free Home Cam, the Mobile Pet Cam and the Dash Cam were launched. All of them are now available to check out and order on VAVA's official website. The most recent campaign, the 4K Projector, has raised $2,147,467 with the support of 804 backers, while their very first one, the Dash Cam, had managed to raise $650,176 with the support of 3836 backers. In addition to these, the team has been also producing accessories such as 12-in-1 4K Docking Station, 8-in1 and later 9-in-1 USB-C Hubs.  Some result-driven workers to be standing behind this with consistent attempts to grow and evident dedication towards what they are making. 
Transparency
How transparent are the campaigners? Do they give their backers valuable updates on their progress? Having credible and reliable campaigners is one of the deciding factors in building the trust that backers look for.
Weekly updates on the dash cam, the very first campaign of VAVA. The team is updating their backers about the shipping status, the current procedures regarding the product, sharing their future considerations about the probable changes and amendments and cheering the backer community up with giveaways!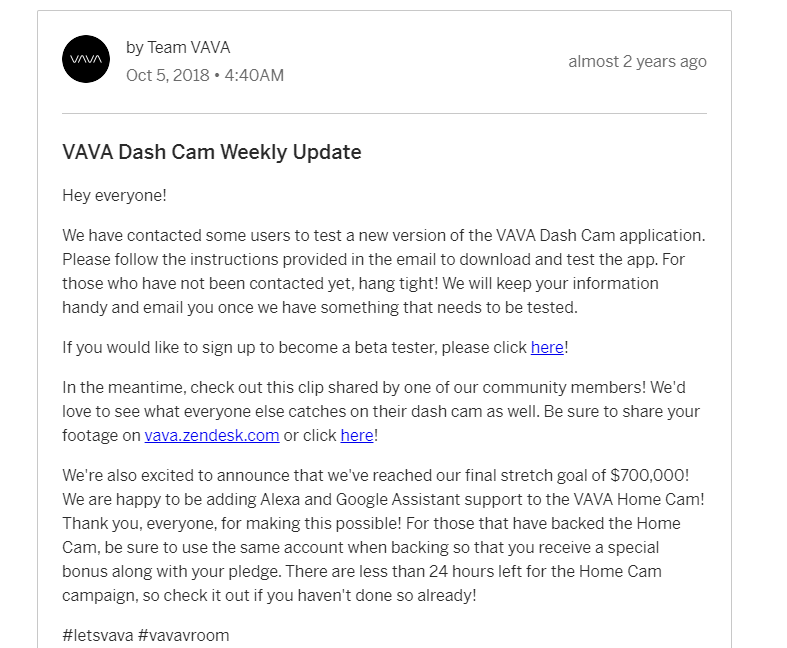 I can smell some decent amount of openness from the following update on VAVA's previous campaign, 4K Projector. Firstly, the team seems to have started the shipping process for their July backers pretty quickly – at the end of the same month. Secondly, I would appreciate the honesty with which the team is communicating with their backers about the trouble in their mail-merger program.  Problems are found everywhere, but not many teams would confess them, no?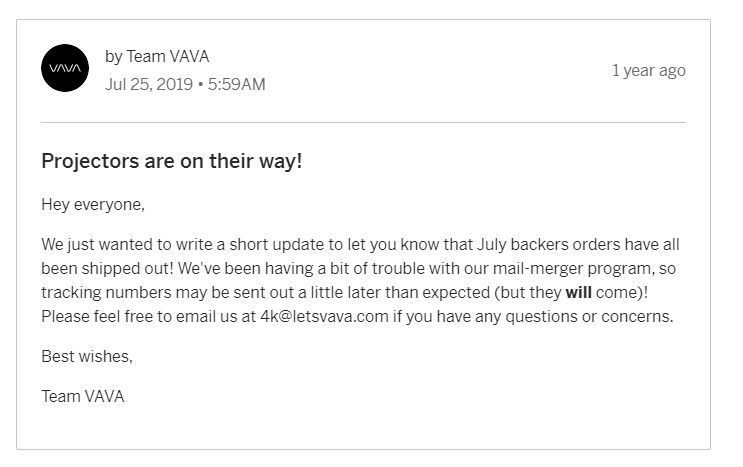 Responsiveness
How responsive are the campaigners? Do they engage with their backers? Crowdfunding is all about community, sharing information and building a meaningful relationship with the people who fund your project.
Here's the very first thing grabbing my attention right on the SSD campaign. In response to the requests of potential backers, the VAVA team started conducting shipments to Australia, which they were not doing before! Seems like they are really reactive towards the opinions, concerns, recommendations and requests of their potential and existing backer community.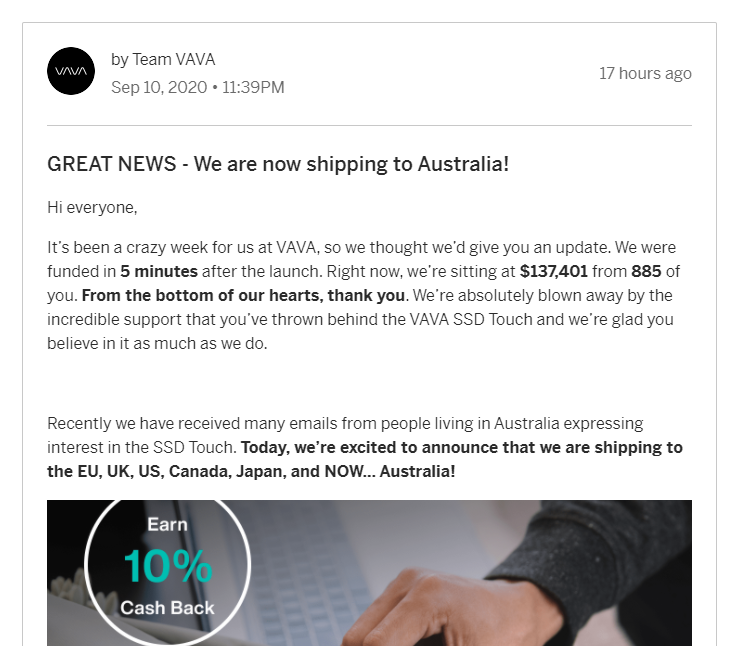 The majority of the comments appear to be answered by the team. The issues raised by the backers seem to be addressed to a quite high extent. The same appears to be applicable to the ongoing SSD campaign. The team has grown faster, and they are providing assistance and guidance to their backers just within several hours.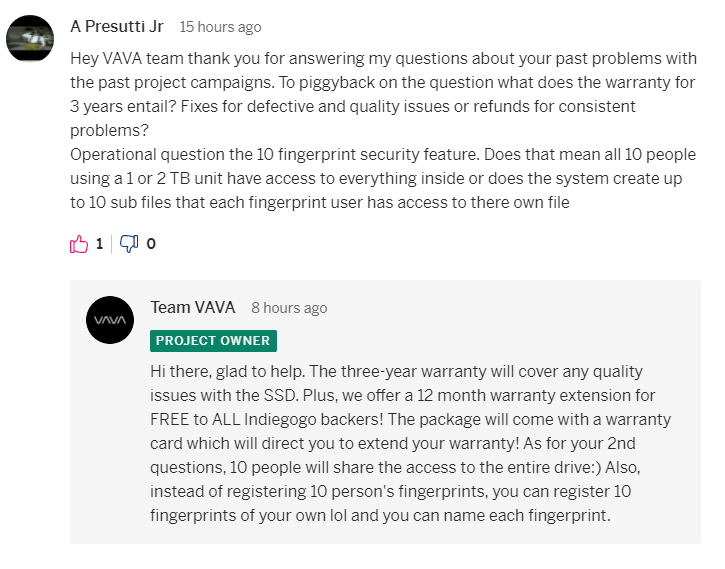 Summing up based on what we observed, the VAVA team seems to be the one to hear us when we call, message or suggest. Feedback, recommendations and opinions are represented as component parts of this company's mindset. Any opinion might become the base of something new: this is how teams encourage people to think about them.
Team Responsiveness Score
TIW Total Score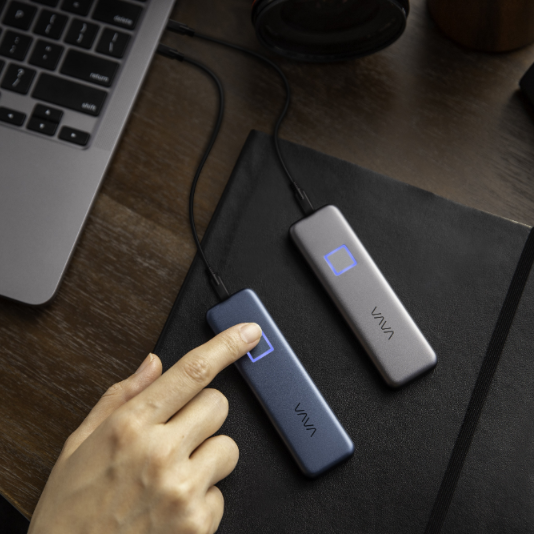 VAVA
VAVA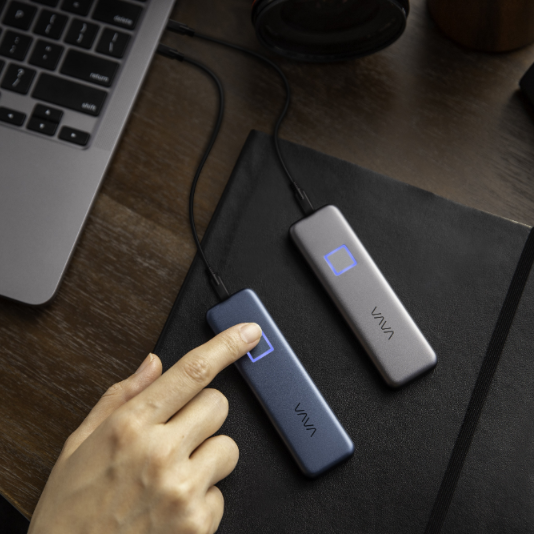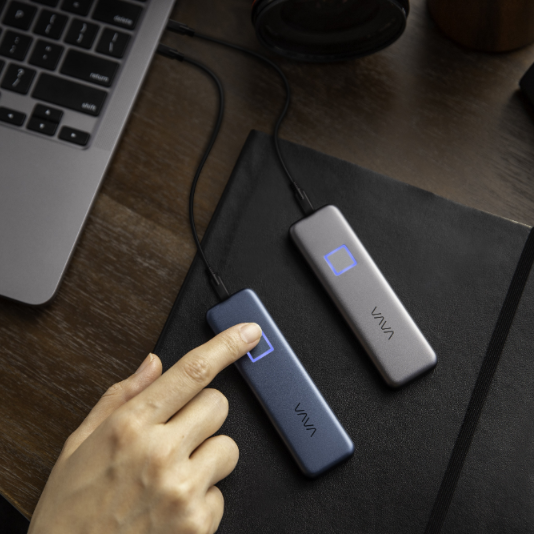 Limited time offer
d
·
: :