STORM 2
Fast Charging Power Bank
key advantages
Charges in 1.5 Hours
Beautiful Sci-fi design
Interactive display and customisability
estimated
delivery
April 2021
The STORM 2 fast charging power bank is a REFRESHING take on the power banks we've seen over the years.
With its sci-fi see-through design and cool screen, I know for sure I would feel like a magician with it in my hands.
If a lightsaber and sonic screwdriver from Dr. Who had a child, it would be STORM 2.
Ok so its cool and you look like a cyborg when you hold it. But is it any good?
Does it change the usb-c power bank industry?
Let's crunch some numbers and start this portable power bank review!
The Product
Innovation
Is this a truly new product that you can't find on the market? Or this a product that defines an entirely new product category. In some cases, the combination of several features into one or the introduction of a new feature to an old product are also considered to be an innovation.
To start off, I might as well be honest. This fast-charging power bank seems like it could be the only real solution to power all my devices.
If you're tired of seeing just 4 lights represent the whole status of the battery in your USB-c portable charger, you'll be happy to hear that the STORM2 visualises the battery life, charge cycles, output distribution per battery cell, running temp, and DC voltage adjustment on the screen.
Also based on its 27600 mAh its a beast in capacity.
But the most important part:
This cool portable charger recharges in 1.5 hours.
I don't know how they made this compact power bank so fast. Honestly, it might be the fastest charging power bank of this capacity that I've seen at this price.
Competitiveness
How much better is it than the competition? Is it faster? Bigger? Cooler? More affordable? There needs to be a solid reason why you should back this project over any other.
| | Storm 2 Liquid | iMuto | RAVPower |
| --- | --- | --- | --- |
| Price | $109 | 130 | $25 |
| Recharge Speed | 1.5 Hours | 13-20 Hours | 9-10 Hours |
| mAh | 27600 | 20000 | 20000 |
| Battery Type | Li-ion | Li-Polymer | Unsure |
| Output | 5x - 3.3-21V 5A | 2x USB 5V/2.4A | 2x USB 5V/2.4A |
| Weight | 578g (20.39oz) | 411g (14.5oz) | 445g (15.70z) |
With its 4 outputs, pass-through charging capabilities, incredible 1.5 recharge time, and cool design, this USB-c portable charger definitely stand out from the crowd of those grey, 2 output, 4 LED-light power banks we see.
The fact that you can control the voltage, output, and charge 3 devices at the same time is just great. Furthermore, you can charge your computer and all DC powered technology.
The details and customisability of this fast charging power bank talks to the inner nerd in me. The market of USB-c portable chargers these days are so big. As technology and processing power is evolving, the need for strong batteries is also increasing.
So naturally, cornerstone fast charging power banks like this arrives and pushes the market to be more creative.
Product Competitiveness Score
The Team
Reliability
How capable is the team? Have they developed something like this before? Do they have crowdfunding experience? Manufacturing experience? A lot of campaigns fail to deliver their product because they don't know what they're doing.
This is the first product created by Shenzhen based STORM2.
Naturally, I researched the backgrounds of the creators.
None of the creators is to be found on LinkedIn. Xiang Meng, Xiong Lixia, and Zhou Jianlong seem to not have an online presence. I even reverse image searched their pictures to see if they are to be found somewhere else on the internet but I can't find them.
The three creators say they represent Arun, CARIT, and NAXIM. Two of their websites doesn't have security certificates, and one of them is newly founded without a website.
The websites have a low Alexa ranking meaning that there are not many visitors.
So far I haven't been able to verify the skills they mention in the team section of the Kickstarter page.
HOWEVER, they have many videos of independent unboxings that seem super legit. The product exists, 100%, but can they ship it?
Attitude
How transparent are the campaigners? Do they give their backers valuable updates on their progress? Do they engage with their backers? Crowdfunding is all about community, sharing information, and building a meaningful relationship with the people who fund your project.
Their response time is between 2 days to 3 hours. It's good but not perfect.
However, when they respond, they respond in detail and give the product specifications of the fast charging power bank the backers ask for.
Furthermore, they even background check the backer's computer specs to assist them. That is good customer relations!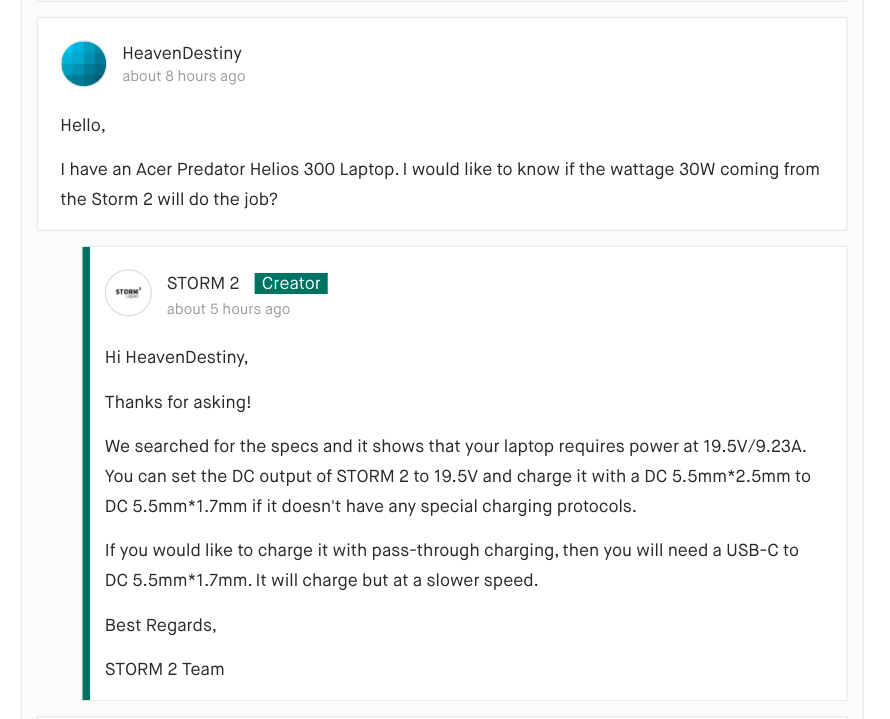 They also have a Facebook group of around 1.5k interested members. They are quite active in there and encourages the community to ask questions.
Conclusion & Public Opinion
The STORM2 fast charging power bank seems like it can definitely push the so-far relatively boring power bank industry in a more creative direction.
With its strong charging power, newly added features, and good compatibility with many different devices, it definitely seems like a dealbreaker in the market.
Though if I were part of the team I would work on increasing visibility and credibility. Their lack of presence could seem troubling for some. On the other hand, I'm pretty confident they will deliver a great product.
TIW Total Score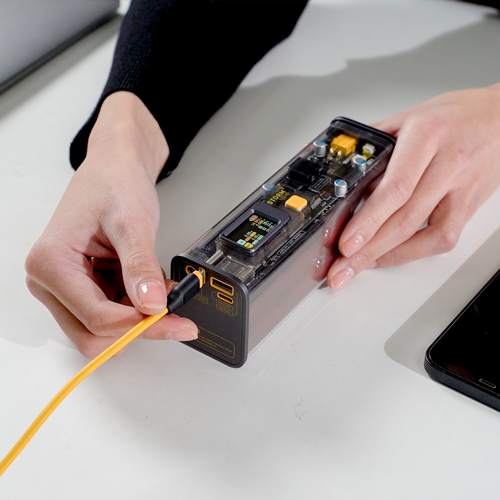 STORM 2
STORM 2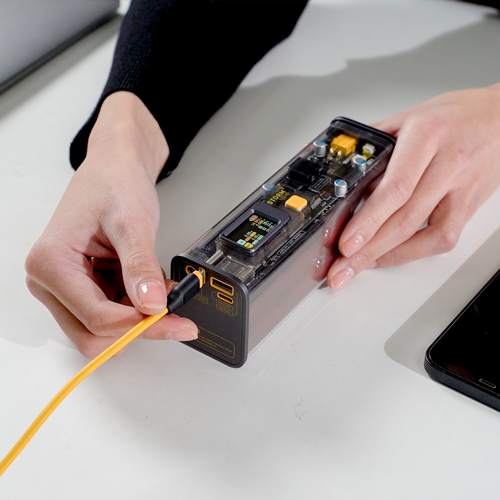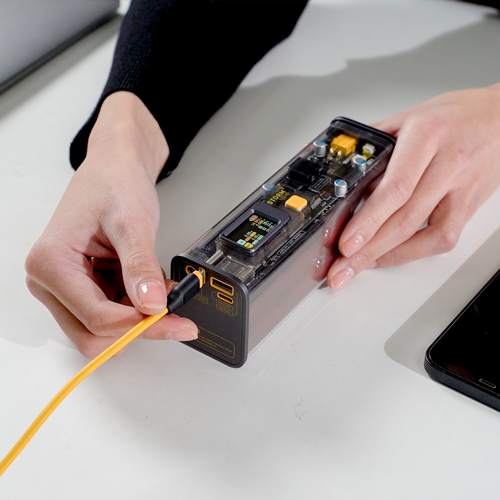 Limited time offer
d
·
: :