key advantages
Smooth light distribution
Unlimited mount options
Ergonomical fit
estimated
delivery
April 2023
With technology advancing each day, the use of flashlights never diminished. And the people seem to not care about many of the problems of flashlights. Poor battery charge, uncomfortable to use, frustrating to adjust brightness. Darkfade combines this 20th century's utility with modern technology to solve these problems and much more.
After 4 years of trial and error, happy accidents, and a ton of research, Giacomo Di Muro, known for his youtube channel "Giaco Whatever", created this innovative and super convenient flashlight, the Darkfade.
It is a flashlight with a lens consisting of over 200 microlenses, and a 45-degree curve. Explore its many other perks and conveniences further in this review.
The Product
Innovation
Is this a truly new product that you can't find on the market? Or this is a product that defines an entirely new product category. In some cases, the combination of several features into one or the introduction of a new feature to an old product are also considered to be an innovation.
Back in 1899 on January 10 British inventor, David Misell obtained the U.S. patent for its portable hand-held electric lamp. The paper tube with the light bulb and a rough brass reflector at the end was powered by "D" batteries. The crude batteries and the simple bulbs made the early flashlights an expensive novelty resulting in low sales and public interest. 
Over time, flashlight technology has advanced significantly – new shapes, colors, sizes, waterproof options, LED lights, different features, and uses. And today, Darkfade is trying to get a patent for its unique features. So what new did it bring to the table?
The creator, Giaco claims that it's super easy to adjust the brightness mode of the Darkfade. And that was one of the two goals he had in his mind while designing the flashlight. He reached his objective by making an invisible knob. So you just have to keep pressing the only button and turn the flashlight till you find the brightness level you need. Voila, done! 
No more scrolling through flashlight modes and skipping the needed brightness! 
Oh! We forgot to mention that even before turning your Darkfade on you can choose your preferred brightness.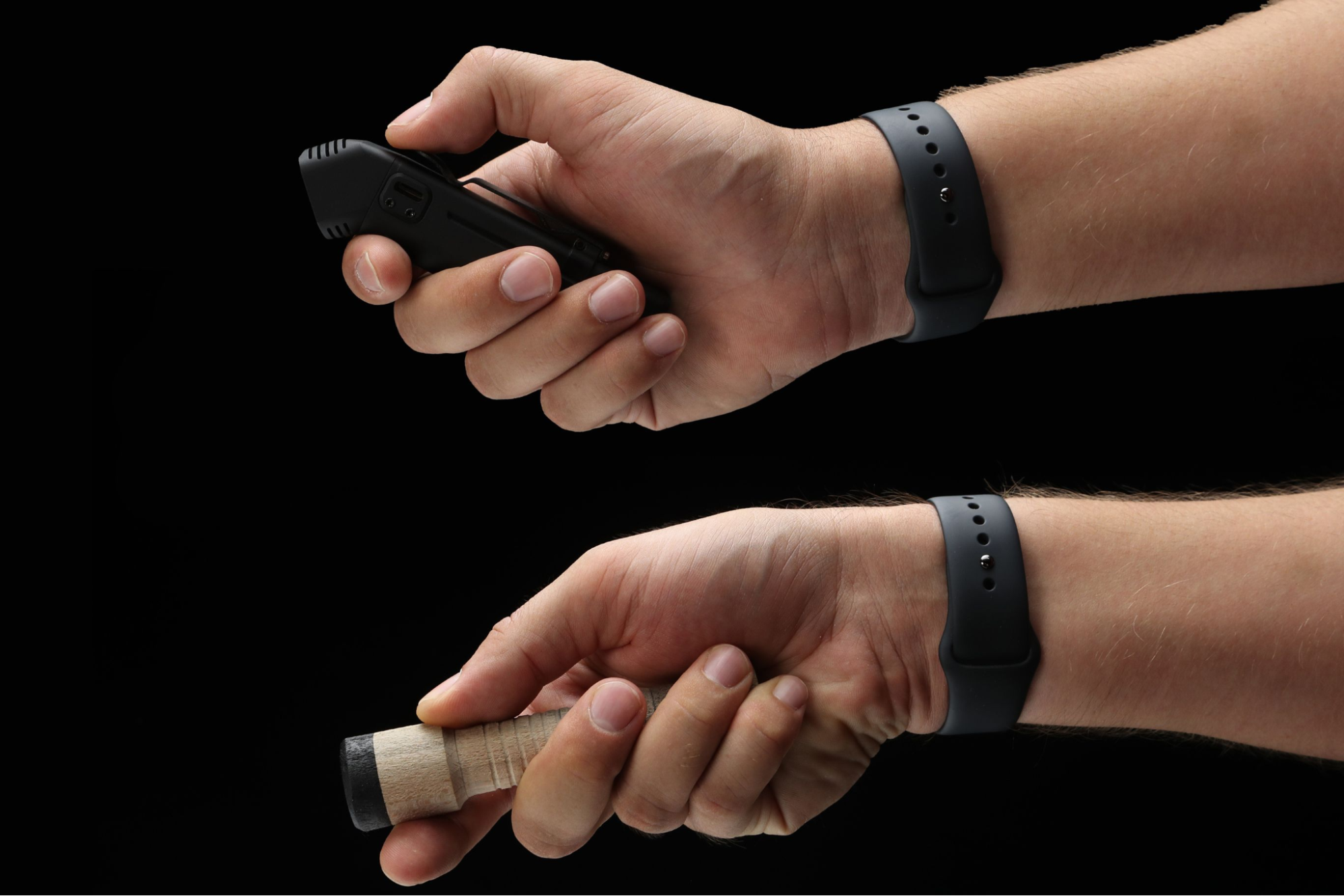 If you press the button just once, the Darkfade remembers the last setting you used. However, if you hold it down it turns on in your preferred setting based on the inclination of your hand. So incline your Darkfade on the left and give the button a long press, if you want to turn the flashlight on in the lowest brightness setting. For maximum brightness, incline your hand on the right. Adjust the brightness simply by moving your hand. Seems pretty cool, doesn't it? 
The second goal the creators were aiming to achieve was to make the Darkfade easy to position. After testing numerous possibilities, they came up with the current sleek design. He put the lens at 45 degrees, so you'll hold your Darkfade the most satisfying way of holding anything. 
Try it! Relax your hand and raise it naturally. That's how you're going to hold your flashlight.
Moreover, thanks to its thin and slick rail, Darkfade can be easily attached to your T-shirt or belt. The days when you had to hold your flashlight in your mouth are over.
You can also set the Darkfade on the floor. Seemingly, the creators thought of everything for the best usability.
What's more, the Darkfade features a lens combining 200 microlenses. According to the designer, this customized lens makes the smoothest light imaginable. 
To avoid using the proprietary cables, that are never there when you need them, the Darkfade has integrated the charger. Even though it's much more expensive to produce, it allows you to charge your flashlight with any USB-C cable. 
And no worries! If the battery is low but you didn't quite finish, connect your Darkfade to a power bank and keep it on as long as you need. 
Nonetheless, you'll be able to use your Darkfade for 1.5 hours on max brightness, 3 hours on medium brightness, and more than 10 hours on low brightness.
Furthermore, the battery is easily replaceable. And since the discharge and overcharge protections are inside the Darkfade you can practically use any 18650 Li-Ion batteries. 
Last but not least, the team behind the Darkfade is not done yet. They are planning to add various functionalities to the flashlight via software updates. You'll only need to drag and drop the firmware you wish. They have decided to start with the sentinel mode. 
The sentinel mode will make the Darkfade your added security on your next adventure. Place your Darkfade wherever, and if something or someone moves it, it will make noise and flashing lights. Surely, you'll appreciate this feature while camping in the forest. 
Competitiveness
How much better is it than the competition? Is it faster? Bigger? Cooler? More affordable? There needs to be a solid reason why you should back this project over any other.
The Kickstarter price of the Darkfade is $129. Clearly, there are cheaper alternatives already available in the market. So will it be competitive? Will it be able to find its users?
The fact there are already 1403 contributors to the campaign and it has exceeded its goal in less than a month makes the answer quite obvious. It clearly doesn't have to be for everybody. 
The way the brightness of the Darkfade is being adjusted is the first thing that will make the Darkfade stand out in the market. The creators are really proud of this feature as it can't be found anywhere else. 
Equally, they are glad to be able to make the flashlight function even when being charged. The Darkfade will become your loyal buddy and will never leave you in darkness.
Another remarkable fact is that you can add a 1-lumen Moonlight mode (and not only) to your Darkfade by simply adding the right firmware. Just connect the flashlight to your computer via USB-C, download your desired firmware, and drag and drop the file! That's it! Changing the capabilities of your Darkfade is impressively easy!
Moreover, the Darkfade offers some add-ons for you to adapt your flashlight to your needs. The standard clip made of spring steel comes with the flashlight. However, you can get a pro clip having a rail attachment in aluminium. It's easier to put precisely where you want it and adjust its position or orientation. It also has a more appealing look, doesn't it?
You can also get a magnetic necklace to better position your Darkfade on you. Leave those eye-binding bulky lights strapped to your forehead behind! 
The Darkfade also includes a magnet on its bottom. Nonetheless, the designers claim that it's so easy to place the flashlight, that you'll forget about the magnet. 
Not to forget about the ergonomic design of the Darkfade. It's so well-thought, it'll surely catch your eye. 
Seemingly, the Darkfade has some notable stuff to offer for its price. We think that it is at least worth consideration.
Product Competitiveness Score
The Team
Reliability
How capable is the team? Have they developed something like this before? Do they have crowdfunding experience? Manufacturing experience? A lot of campaigns fail to deliver their product because they don't know what they're doing.
Giacomo Di Muro has been sharing his innovative ideas with us for around 7 years now. With his catchphrase, why? because I can, he has shared his creative and insightful ideas. With a subscriber count of over 500 thousand on YouTube, this man has shown his expertise in this field. He has 3 more projects on Kickstarter and I find it very cool to finally get a new product from him.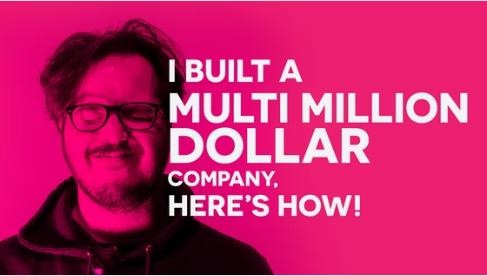 Although there are some risks that the creators have shared themselves, they are regarding the manufacturing times and shipping dates. We find it important to mention that with the current instabilities of the market, it is quite possible that the price or the components might change.
All that said, Darkfade is backed up by The Crowdfunding Formula (TCF) team as well as Crossprom and Backerkit. All of this as well as his general reputation make him a trustworthy and reliable creator. 
Attitude
How transparent are the campaigners? Do they give their backers valuable updates on their progress? Do they engage with their backers? Crowdfunding is all about community, sharing information, and building meaningful relationships with the people who fund your project.
As we have already mentioned Giacomo Di Muro has created 4 projects on Kickstarter, and all of them were successful. He has always been honest and transparent with his backers providing updates on the Kickstarters news page. 
The famous YouTuber has created a website, where he presents his products. [placedatoms.com] Check it out! It seems cool – easy to navigate, simple, informative, and well-designed. Giacomo also has an Instagram page for its products, separate from his personal page and he showcases his products on both. It can be noticed, that he is pretty active on Instagram, answering the comments and providing constant updates with great visuals. However, he's not that active on YouTube. Quite understandable. He has a huge community of subscribers there and they leave lots of comments.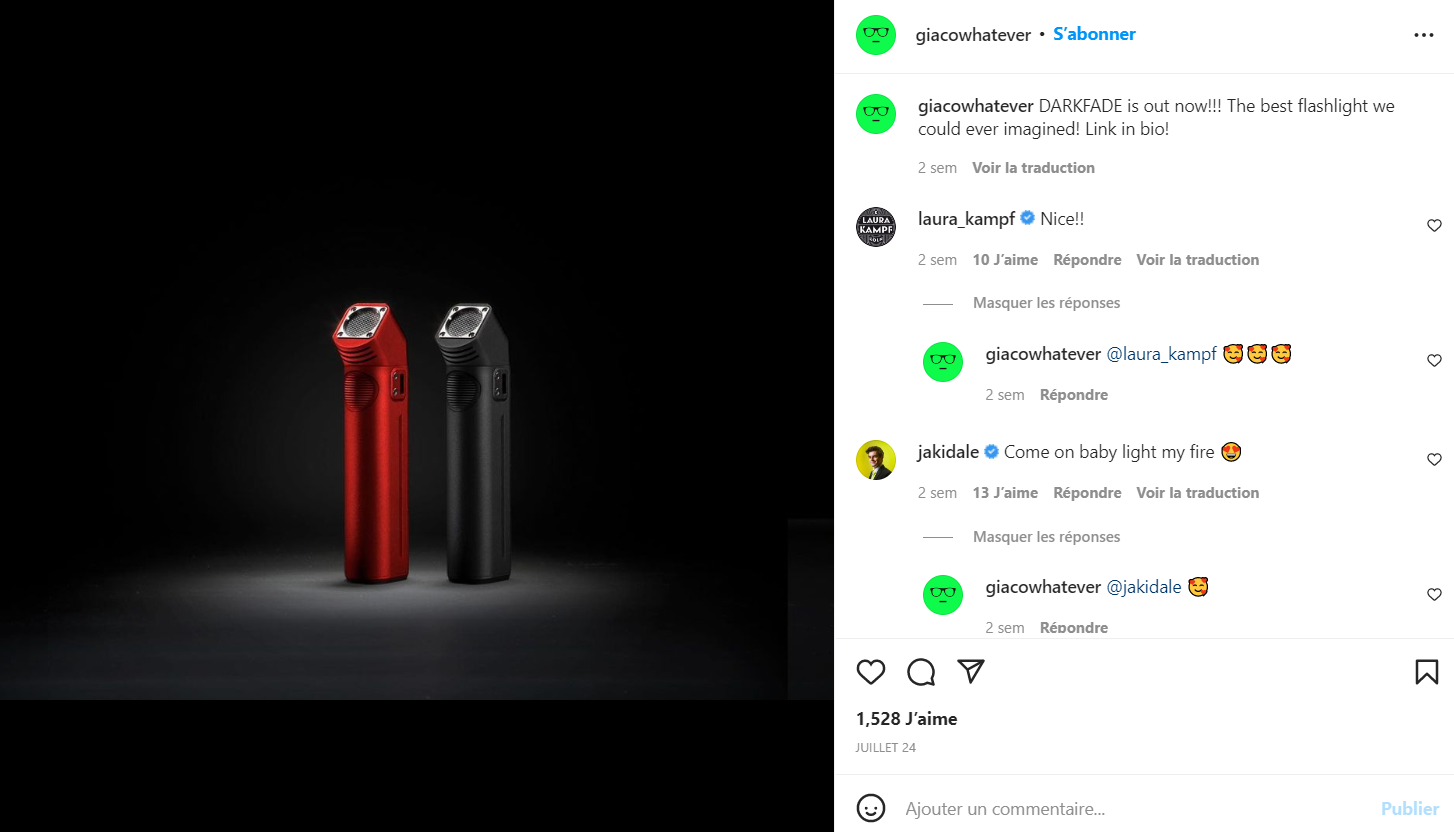 Conclusion & Public Opinion
Active discussions are being held over the Darkfade, especially in the comments section of Giaco's YouTube channel. The subscribers are curious! As we mentioned before, they are asking questions to find out more about the flashlight. Also, they are providing some suggestions for further improvements.
The public opinion overall is positive. The subscribers wait for the Darkfade with impatience, finding it well-designed and interesting. They respect the work that Giaco is doing. They appreciate both the product and the videos he makes for showcasing it. One of the subscribers found the Darkfade promo video so cool, that she decided to buy it, even though she doesn't need a flashlight.

So yes! You not only need to make your product great, but also you have to present it in the right way. It's the 21st century and the visuals matter! Apparently, Giaco is nailing both. 
So all in all, the Darkfade is a pretty interesting utility that seems to have much thought and reasoning behind it. Even the 45-degree bend sounds quite interesting and although sounds simple, it is very uncommon. We believe that this will be a very helpful and convenient addition for people who use flashlights regularly. 
TIW Total Score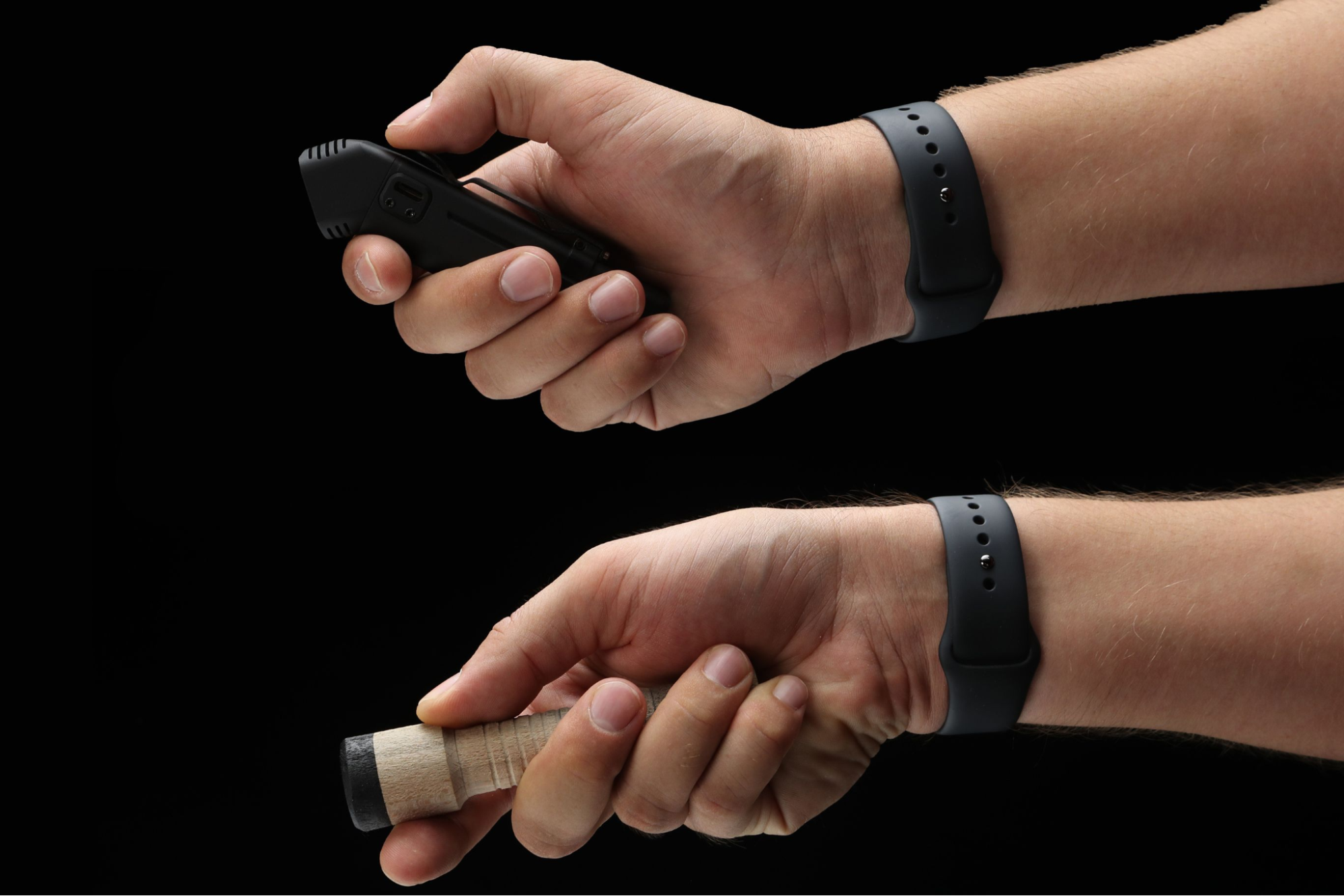 DARKFADE
DARKFADE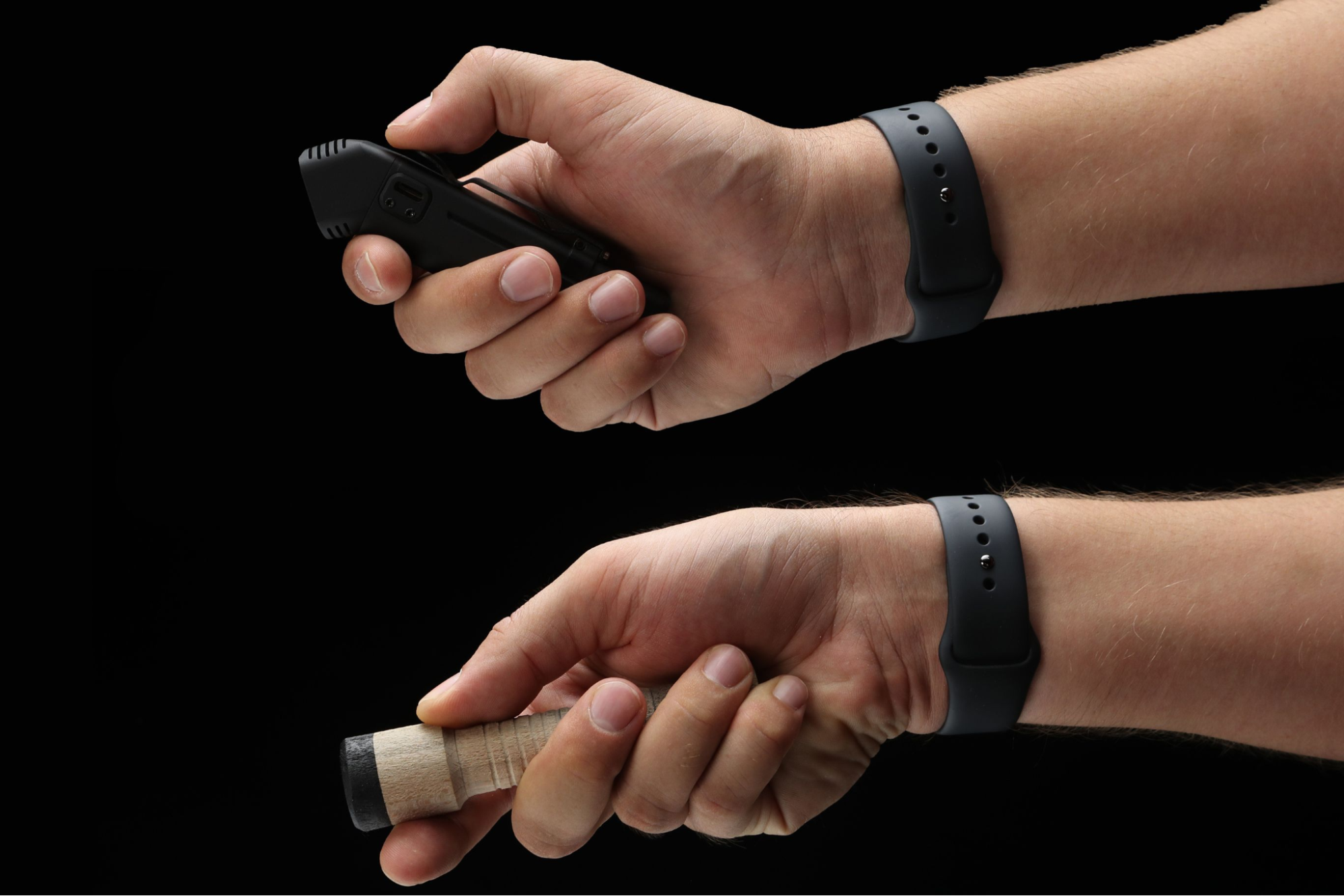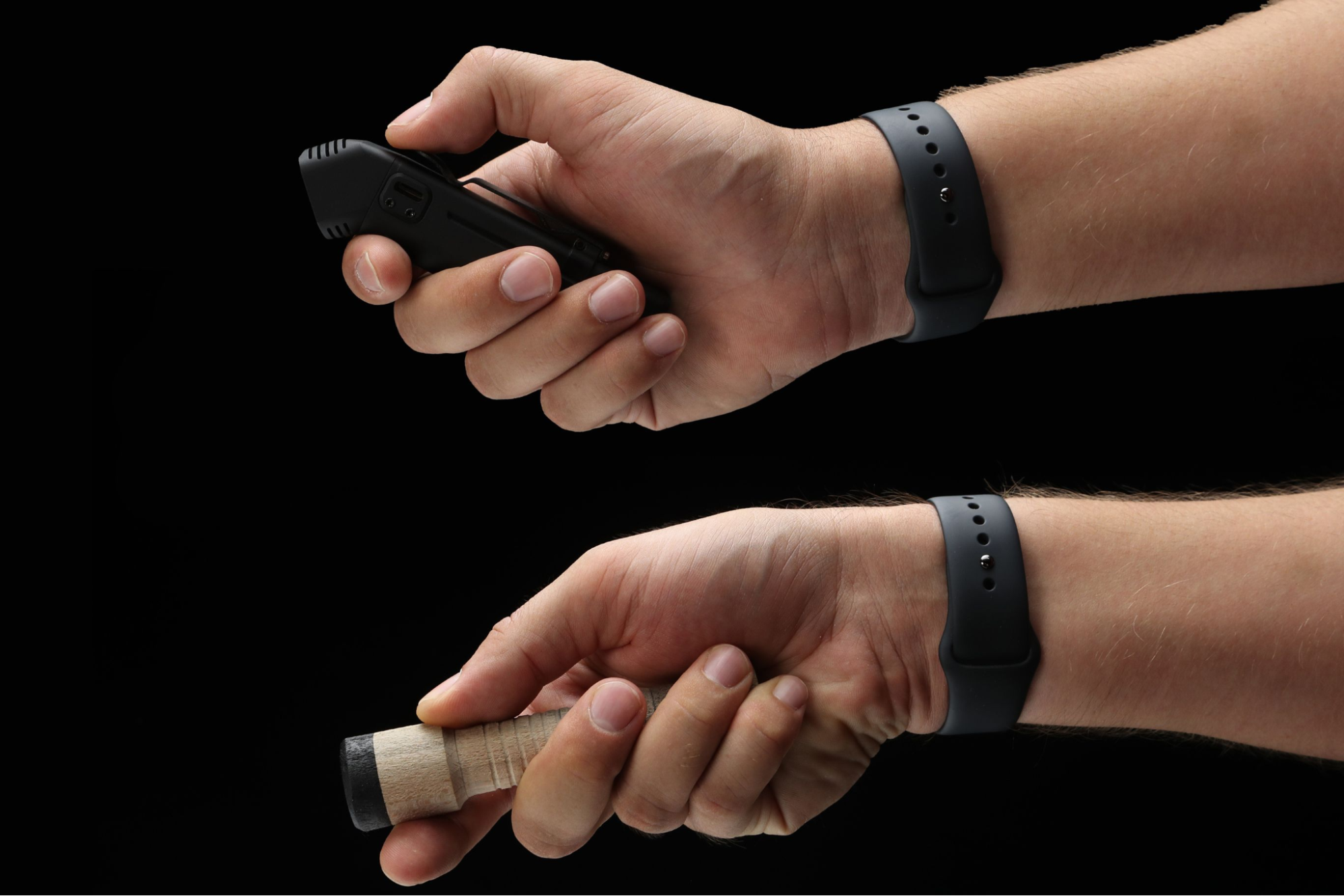 Limited time offer
d
·
: :