key advantages
Chainless Bike
Hydraulic Gears
Smoothest Ride Ever
estimated
delivery
June 2022
The hydraulic electric OYO chainless bike. It seems really cool. Driving a chainless electric bike using hydraulic liquid and unlimited gears is definitely something you can add to your hologram CV now that you're so futuristic 😉
But, as often quoted in nerdy bicycle forums (which I am now a part of thanks to this review) "if nobody has made better alternative to the bike chain for 200 years – it's unlikely anyone ever will.
However, will it happen in 2021? Let's put on the critical eyes, nay! The critical glasses! and start the first chainless bike review of 2021!
The Product
Innovation
Is this a truly new product that you can't find on the market? Or this a product that defines an entirely new product category. In some cases, the combination of several features into one or the introduction of a new feature to an old product are also considered to be an innovation.
According to my research, the hydraulic bicycle without chain was invented in around 2007 through a university competition trying to spread the use of hydraulics. Their hydraulic bike without chain worked, but not enough to start capitalising on it – even though the hydraulic system has tonnes of amazing pros including fewer moving parts and less maintenance.
Honestly, the OYO chainless bike has used a very interesting mix of electric bike components and a rather creative hydraulic system to get the best benefit from bicycles without the cons. They say that their automated electric gear system is the smoothest ride you will ever have. Maybe it feels like riding on a cloud but the system still raises some concerns for me.
The chainless bike automatically adds torque when you're driving faster – and lower the torque when you're driving uphill. Though it might be greatly engineered, what if I have personal preferences on how hard I should pedal? They don't seem to mention customisability in the resistance of the pedals.
The second is maintenance. It seems like the biggest hurdle for all bicycle makers that there are very few bicycle repair shops that know how to repair the new technology they are creating. The OYO team has a solution that is mentioned later, but will it be worthwhile, successfully implemented and easily maintainable?
Competitiveness
How much better is it than the competition? Is it faster? Bigger? Cooler? More affordable? There needs to be a solid reason why you should back this project over any other.
| | OYO Bike | Beixo E-slim | Cube Kathmandu |
| --- | --- | --- | --- |
| Price | $2000 | $3350 | $4100 |
| Range | 80km (50mi.) | 60-90km (37-56mi.) | 48km (30mi.) |
| Weight | 25kg (55lb) | 20,2 kg (45lb) | 28kg (62lb) |
| Super Smooth Gear Shift | ✔️ | ❌ | ❌ |
| Near-zero maintenance | ✔️ | ❌ | ❌ |
Many e-bikes exist but this is the first time an e-bike with a hydraulic system is introduced to the market. It's an astonishing idea and with their many years of testing and improving it seems like they might pull it off quite successfully.
But of course, there are downsides. Users mention that 25kg is very heavy for a bike, and even when it is electrically assisted with a motor, will it be too heavy to ride if the battery dies? Furthermore, will the hydraulic gear system work without the battery? Interesting questions (if I should say so myself).
A bicycle enthusiast with the username "Sriracha" wrote this great comment on an online e-bike forum and I think he/she/they are spot on.

For the nerds, an efficiency study should be given by the OYO team to see how it compares to the good ol' chain.
Product Competitiveness Score
The Team
Reliability
How capable is the team? Have they developed something like this before? Do they have crowdfunding experience? Manufacturing experience? A lot of campaigns fail to deliver their product because they don't know what they're doing.
6 years of hard work and private investments of over $1.5 million must have a lot to say in the reliability section. Since 2018 they've made crowdfunding campaign(s) for the OYO chainless bicycle on an Israeli crowdfunding platform. I can't help but think that if they made a crowdfunding campaign in 2018 – when did they promise the product will be delivered? Surely not three years after in 2021? I can't find their mentioned delivery dates so I will give them the benefit of the doubt and say they planned to deliver in 2022 – as they say on their IndieGoGo.
The team consists of engineers from the aeroplane industry, leaders with 30+ years of management experience, and generally impressive portfolios. They have a lot of credibilities and publish a lot of things online like their business plan and links to interviews with news stations.
They can make the product – no doubt. But are they ready to mass-produce and ship? It seems like it. My confidence is high.
Attitude
How transparent are the campaigners? Do they give their backers valuable updates on their progress? Do they engage with their backers? Crowdfunding is all about community, sharing information, and building a meaningful relationship with the people who fund your project.
By looking at their online PR we see that they clearly are a team of engineers. They need a PR manager asap if they want their campaign to flourish. It seems Ziv is personally responding to comments but don't know how the reply button works. To be able to assess this campaign as professionally run, they need to up their game.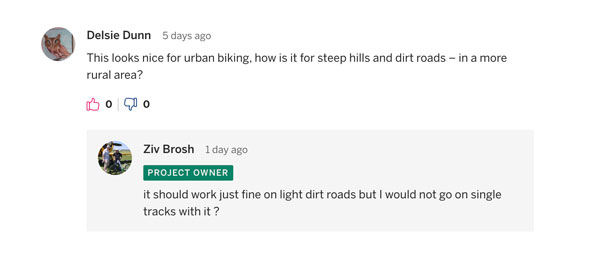 I am not afraid that they are not nice – they probably are – but this attitude is an unprofessional approach. They have some great technical questions in the comments that they haven't responded to for more than 4 days. It will lose many potential buyers I believe.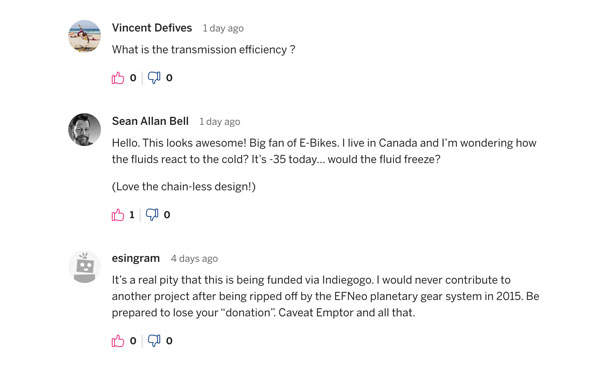 Conclusion & Public Opinion
The OYO chainless bike has grabbed my attention and continues to do so the more I read about it. The team behind is strong and they have substantial investment and big plans for the future. However, to understand fully if this chainless bike is great we need to see independent testing from experts.
I hope the OYO team will have great luck with their campaign and I will be happy to buy it myself if it proves to be revolutionary.
TIW Total Score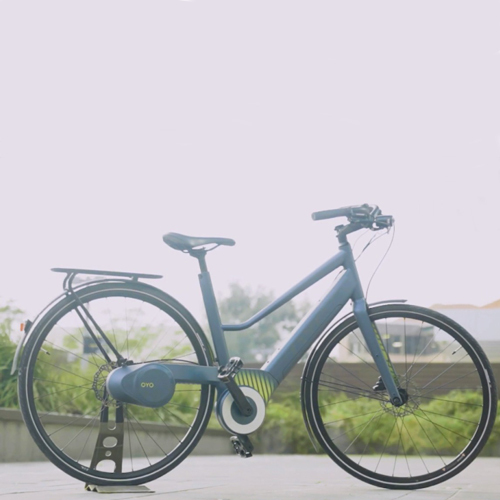 OYO Bike
OYO Bike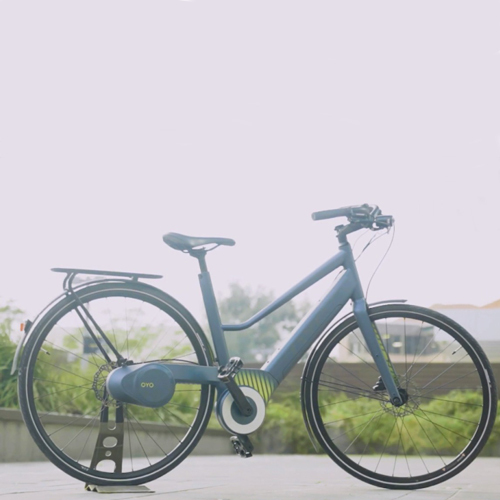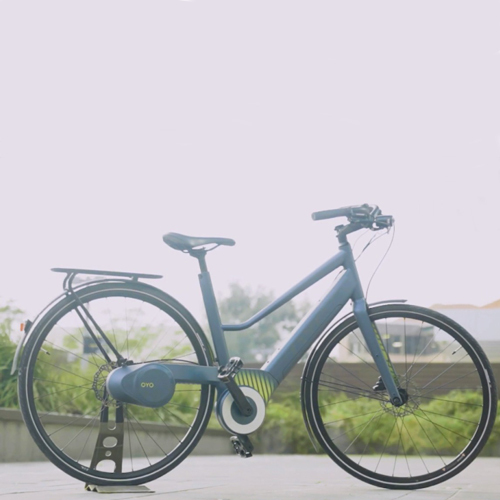 Limited time offer
d
·
: :