Keychron K3
Wireless Mechanical Keyboard
key advantages
Hot-swappable option
75% layout, compact & slim
Suitable for all devices
estimated
delivery
November 2020
I type at around 120 words per minute. The average person types at 40.
You?
But if you think at around 300 words per minute… why would you slow yourself down for 70% of your working day?
And a mechanical keyboard is the single easiest way to increase your typing speed to match your thoughts.
We've featured Keychron before… for 3 of their 8 campaigns!
Because they keep making awesome hot-swappable mechanical keyboards.
But the Keychron K3 here is their best yet.
A wireless 75%, RGB lighting, aluminum frame… and it's super thin, thanks to its hot-swappable low profile key-switches — the first of its kind!
Pick from 9 Gateron switches, and build your own perfect keyboard. Compatible with Mac, Windows, Android, and iOS.
Tech I Want Score
I see you are interested in keyboards. And Keychron grabbed your attention. I am here again to help you understand the product thoroughly, get acquainted with the team behind it and have an overall picture of its strongest and laming points.
So, let the journey begin!
The Product
Innovation
Is this a truly new product that you can't find on the market? Or this a product that defines an entirely new product category. In some cases, the combination of several features into one or the introduction of a new feature to an old product are also considered to be an innovation.
It has become a norm from keyboard manufacturers to develop their own keyboard switches to satisfy all types of users. Are you a gamer? A typist? Or an office worker?  Well, all of you are welcomed to use Keychron K3 as Gateron low profile Mechanical switch with an MX-styled stem and new stabilizers gives you the opportunity to elevate your typing experience. 
It would be inexcusable not to mention Keychron K3's high portability. No need to walk crookedly trying to keep the balance as this wireless mechanical keyboard is as lightweight as a feather. A little bit exaggeration here, but A LITTLE BIT. At the same time, it has all the essential function and multimedia keys so that you can get the utmost pleasure from your typing.  And for those who want to level up their typing experience, this wireless mechanical keyboard offers 15+ RGB Lighting options. A little party never kills anybody.
Competitiveness
How much better is it than the competition? Is it faster? Bigger? Cooler? More affordable? There needs to be a solid reason why you should back this project over any other.
| | Keychron K3 | Keychron K8 | Ajazz K620T |
| --- | --- | --- | --- |
| Price | KS Price $64 | $69 | KS Price $59 |
| Size (mm) | 306x116x22 | 359x159x35 | 298x137 |
| Weight (g) | 395 | 887 | 607 |
| Number of keys | 84 | 87 | 62 |
| Mode | Wired/Wireless | Wired/Wireless | Wired/Wireless |
| Bluetooth type | 5.1 | 5.1 | 3.0 |
| Hot-Swappable | Yes | Yes | No |
| Capacity | 1550 mAh | 4000 mAh | 4000 mAh |
| Compatibility | Windows/Android/Mac/iOS | Windows/Android/Mac/iOS | Windows/Android/Mac/iOS |
We compared Keychron K3 with other wireless mechanical keyboards from our website. As you can see the design especially its weight is the winning part of this hot-swappable keyboard. Pay attention to the numbers. Even though the price is almost the same, this time Keychron worked very hard to make their new wireless mechanical keyboard as portable and slim as possible. 1.5 times more portable, plus affordability. They have the right to sell it at a higher price, no?
Product Competitiveness Score
The Team
Expertise
How capable is the team? Will they be able to pull off their design? Experienced engineers, designers, market analysts, operations and other specialists have a huge impact on a project's success.
Guys, we have a comparatively new company prospering every second. Founded in 2017 Keychron has managed to deliver 5 keyboards and the 6th one which you have already get acquainted with is on its way. A group of enthusiasts has teamed up to create sophisticated yet simple and needed products. Keychron's drastic success and fast development is merely due to its experienced team members. Will Ye has 10 years of experience in keyboard production and Sven Zhu has 11 years of experience in industrial design. The stage is yours, guys. Rock it as hard as you can.
Experience
Have they developed something like this before? Do they have crowdfunding experience? Manufacturing experience? A lot of campaigns fail to deliver their product because they don't know what they're doing. Or they might spend all the raised funds on getting a fully functional product, but fail to mass-produce it.
We have really experienced crowdfunding campaigners. They had 5 campaigns previously and as you can already guess those were all the above-mentioned keyboards and the average raised amount is $600,000, 9-21 updates on each campaign and we have an abundance of comments. You better sit down to hear (to read) the number. 4436 comments for Keychron K2.  I will tell you how I checked all of them.  Keep growing and achieving new milestones.
Transparency
How transparent are the campaigners? Do they give their backers valuable updates on their progress? Having credible and reliable campaigners is one of the deciding factors in building the trust that backers look for.
Keychron is live for 8 days and they have one update available for backers only. But let's see how they interacted with backers in previous campaigns.  After checking 9 updates on keychron K8 it turned out that almost half of them is available only for backers which makes it difficult for us to measure their transparency with their backers. But one of the updates is open where they share a spreadsheet with order details. Quite an open and transparent communication right?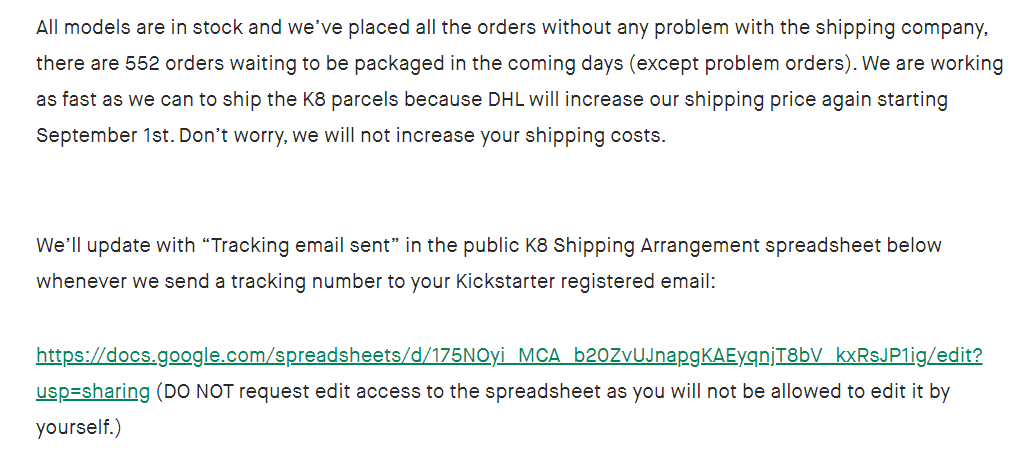 And it seems they have some shipping issues most probably connected with the current situation. But the team does its best to thoroughly describe the problem, the reason behind it and make everything clear for a backer.  
Responsiveness
How responsive are the campaigners? Do they engage with their backers? Crowdfunding is all about community, sharing information and building a meaningful relationship with the people who fund your project.
As promised I will start this section with a small story how I checked thousands of comments. I spent almost half of my working day diving into them and trying to understand how they managed to answer all of them or not all of them. Sharing with you the information I gathered. Well, most of the comments are answered but seems like sometimes it takes months to get these replies: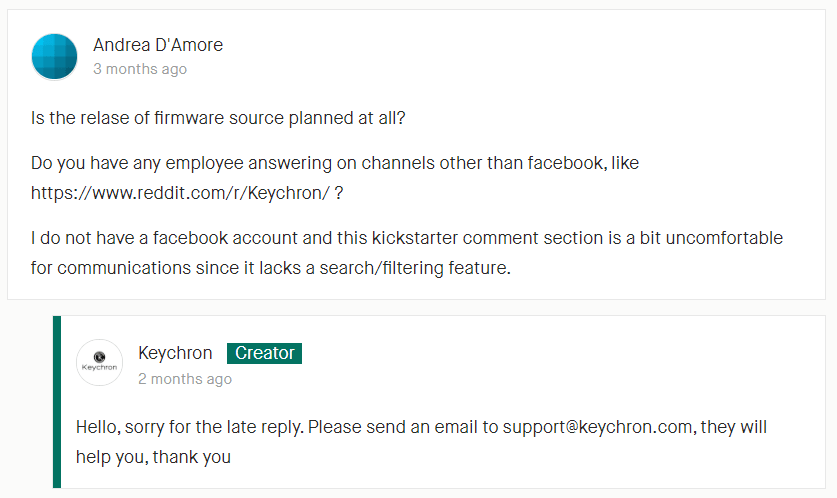 Or you should write several times to receive a response.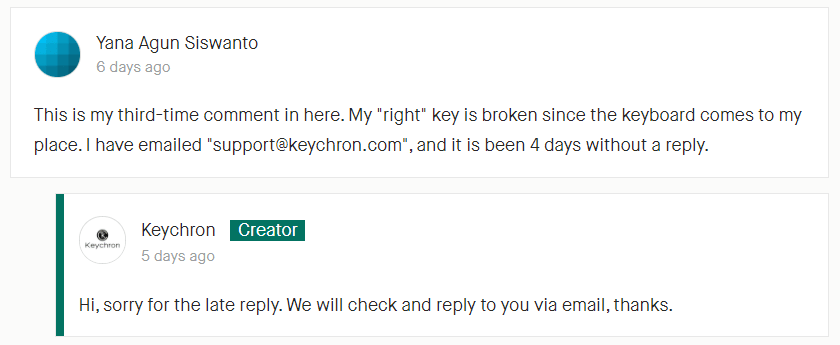 Team Responsiveness Score
TIW Total Score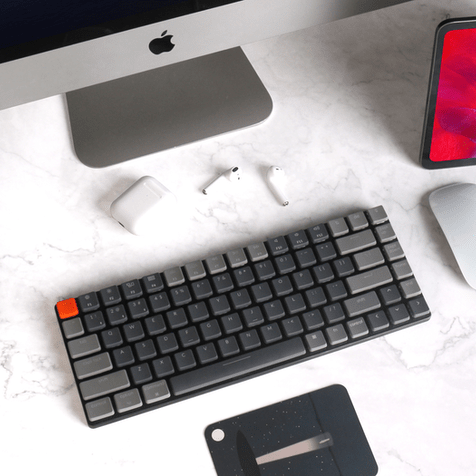 Keychron K3
Keychron K3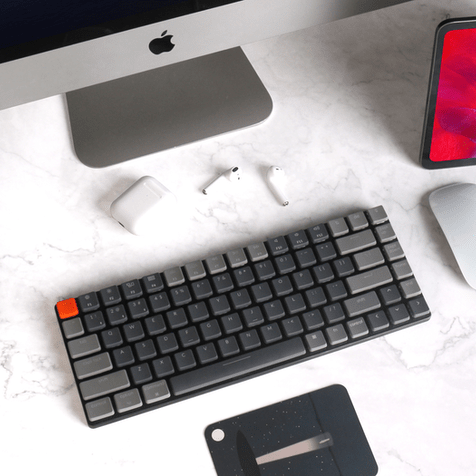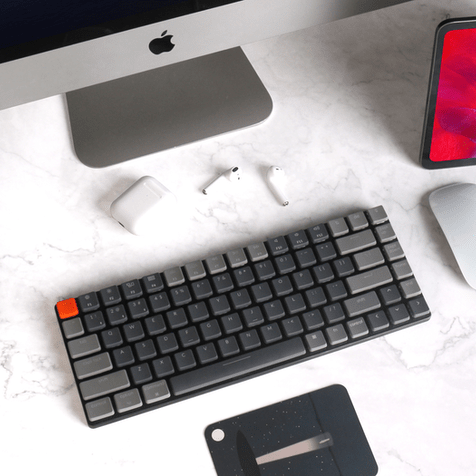 Limited time offer
d
·
: :