key advantages
190W Output — Charge 6 Device Simultaneously + Magsafe
Full charge: 1hr 10 mins (25000mAh) or 80% (20000mAh) in only 45 minutes
10x Faster than traditional power banks — 25000mAh
estimated
delivery
December 2021
Hey, we know your secret. You can't hide anything from the techIwant gossip team!
Let us prove it to you.
Do you constantly worry about your phone dying and leaving you all alone in this big world? Does this happen when you need it the most? It feels like your phone has betrayed you, doesn't it?
Congrats, because you have Low Battery Anxiety.
A pile of surveys indicates that the majority of people on planet earth suffer from Low Battery Anxiety. Even aliens do! So, how to overcome your fears? To do that, you might be interested in this new Kickstarter find which might solve some of your problems. A fast-charging power bank!
Chargeasap is out with what they call the world's fastest portable wireless charger for Android users: Flash Pro. It promises a lot of unique features, all of which have grabbed our attention. 
Let's see what it has to offer!
The Product
Innovation
Is this a truly new product that you can't find on the market? Or this a product that defines an entirely new product category. In some cases, the combination of several features into one or the introduction of a new feature to an old product are also considered to be an innovation.
The Flash Pro by Chargasap has the potential to become one of the best products in the category.  How so? 
First off, this power bank is more powerful than ever: It has a battery that will last for five years, A display for checking remaining battery percentages, an Aircraft Grade shell, and a wireless charging option.
The portable wireless charger has been upgraded from 10W to 15W- Wonderful news for Android users. If you are one of them, you'll be able to charge your laptops at maximum speed with the 100W output and your mobile phone with the wireless charger. Unfortunately, this portable wireless charger is not compatible with Apple Watches. So, if you want to charge that, take a look at the Flash Pro Plus, which has that feature. 
To charge the power bank by Chargeasap (to the fullest), you will need 1 hour and 10 minutes which is quite reasonable, keeping in mind the 25000mAh capacity. 
Due to its size and weight, the Flash Pro is designed to be easier to carry, which will be a big plus for many users.
Competitiveness
How much better is it than the competition? Is it faster? Bigger? Cooler? More affordable? There needs to be a solid reason why you should back this project over any other.
| | Flash Pro | Flash Pro Plus | Zendure Supertank Pro |
| --- | --- | --- | --- |
| Price | 139$(k) | 149$ | 233$ |
| Capacity | 25000mAh | 25000mAh | 27000mAh |
| Max Power Output | 185W | 190W | 100W |
| Max power input | 100W | 100W | 100W |
| Battery Life | 5 years | 5 years | Not Specified |
| OLED Display | ✅ | ✅ | ✅ |
| Time to full charge | 1 hour 15 mins | 1 hour 10 mins | 1 hour 45 mins |
| Weight | 1.26lb | 1.28lb | 1.06lb |
| Dimensions | 6.24" x 3.4" x 1.12" | 6.24" x 3.4" x 1.12" | 1.65" x 2.87" x 4.69" |
As you see, this portable wireless charger is a bit cheaper than the Flash Pro Plus and the Zendure Supertank Pro while still having similar features. The Capacity of Flash Pro and Flash Pro plus is the same: 25000 mAh.
Keep in mind that the Flash Pro is designed for Android users, so if you are more of an Apple person, you should check the Flash Pro Plus. 
Product Competitiveness Score
The Team
Reliability
How capable is the team? Have they developed something like this before? Do they have crowdfunding experience? Manufacturing experience? A lot of campaigns fail to deliver their product because they don't know what they're doing.
Since 2014, Chargeasap has worked on creating various portable wireless chargers. A small startup grew into a big business of electronics. The nine previous crowdfunding experiences indicate their level of success. 
The Flash Pro is the 10th crowdfunding campaign on their list, which tells us there is a high chance the Flash Pro will succeed. Since crowdfunding is quite different from e-commerce, even established brands can have difficulty making their crowdfunding campaigns successful. Looking at the comment sections of the previous Kickstarter campaigns, we can see that some people were not satisfied with the product, while some were. 
Their last campaign, Omega: World's Smallest 100W & 200W USB-C Charger, is currently in the production stage. Chargeasap collected $2,105,186 USD by 20,379 backers. However, the Indiegogo backers are not satisfied that they have to wait for a long time to receive their products.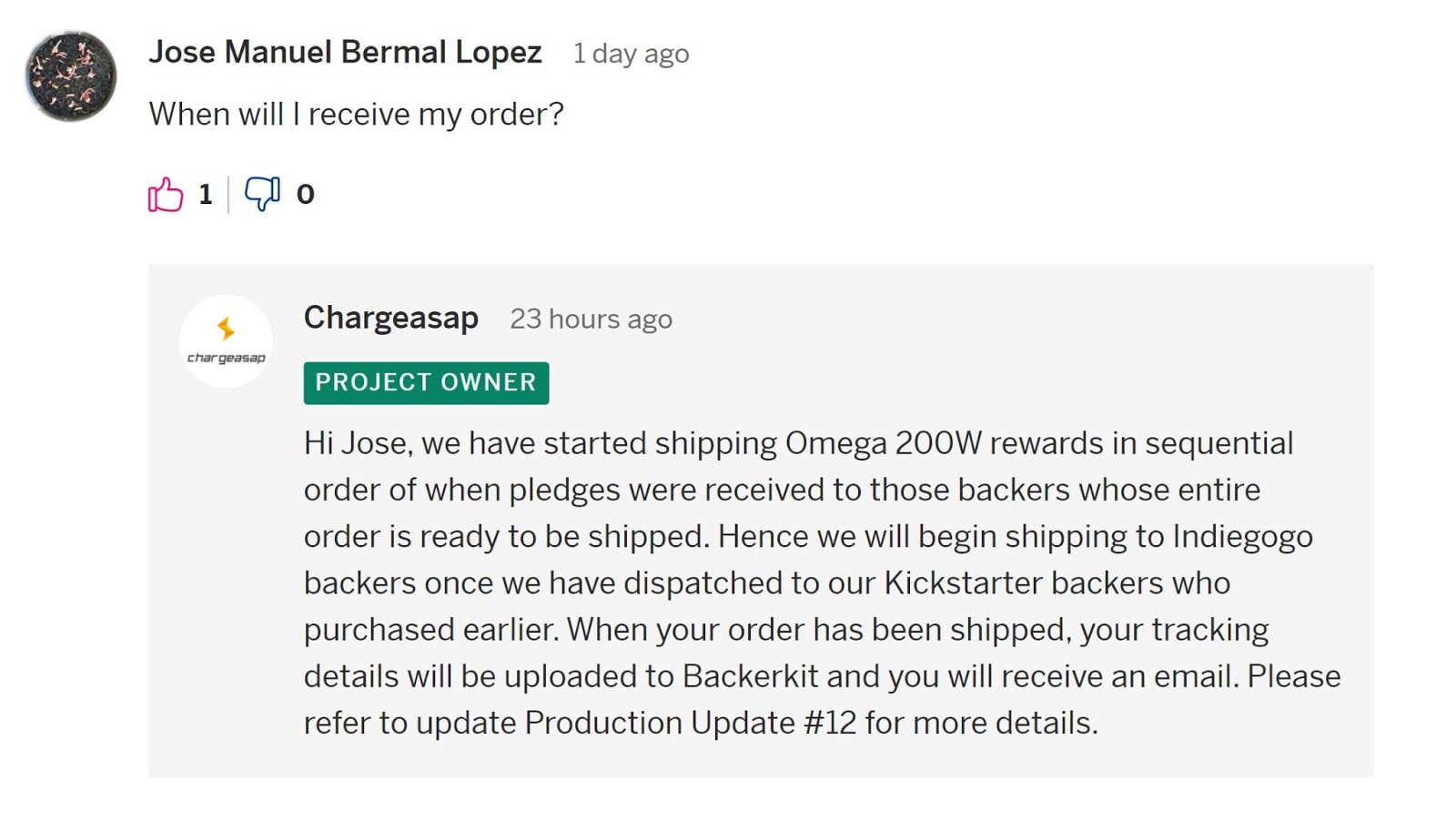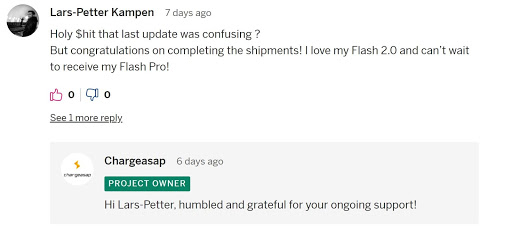 Attitude
How transparent are the campaigners? Do they give their backers valuable updates on their progress? Do they engage with their backers? Crowdfunding is all about community, sharing information, and building a meaningful relationship with the people who fund your project.
Almost all the comments get responses in a day. 
As it is very frequently with crowdfunding, some people didn't receive their orders. Delays are very frequent in crowdfunding, the statistics even say that the vast majority of campaigns delay their shipping with 3 months minimum. 
Their communication is clear and professional. Not as friendly as it could be, but it is definitely good.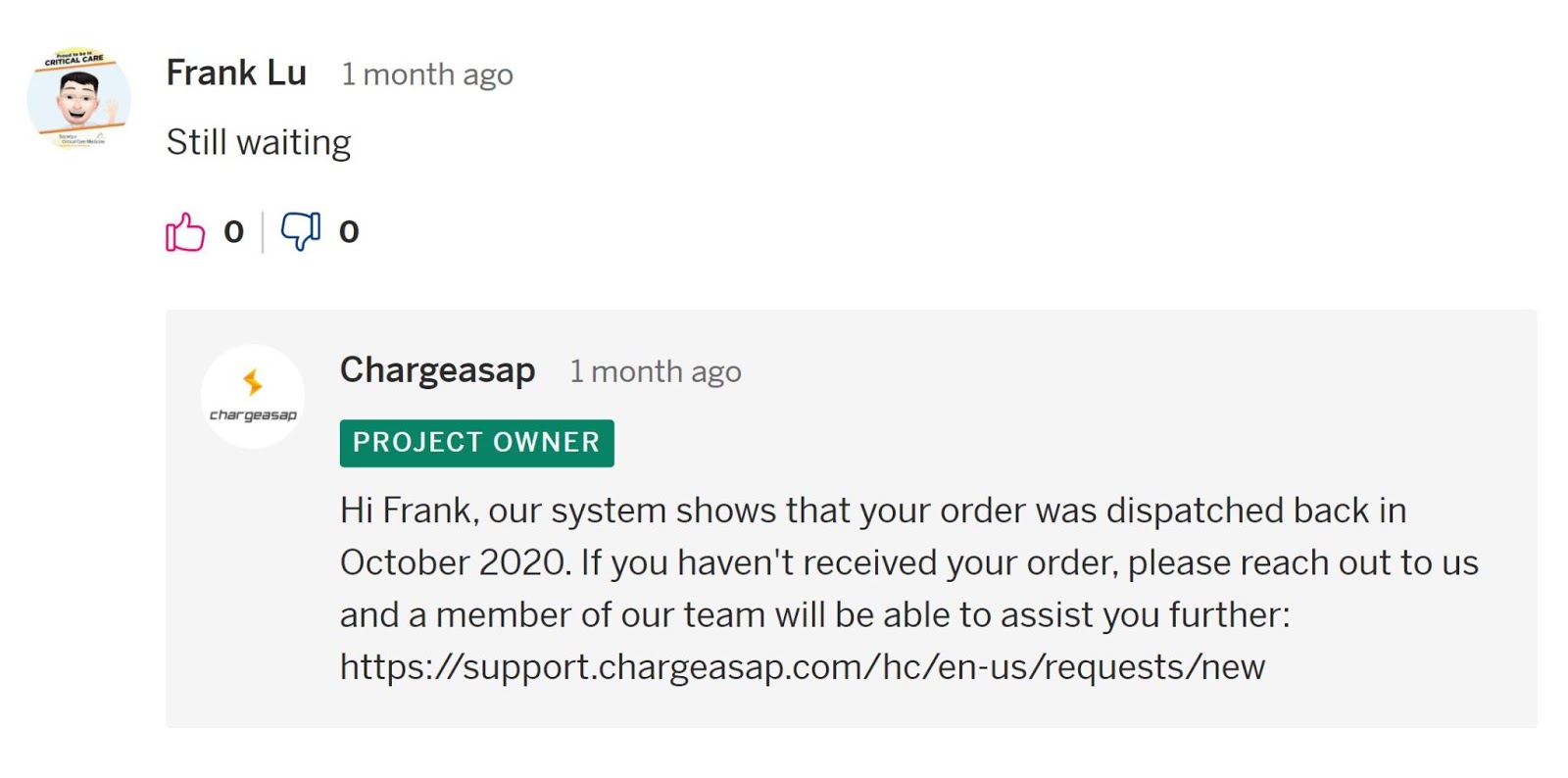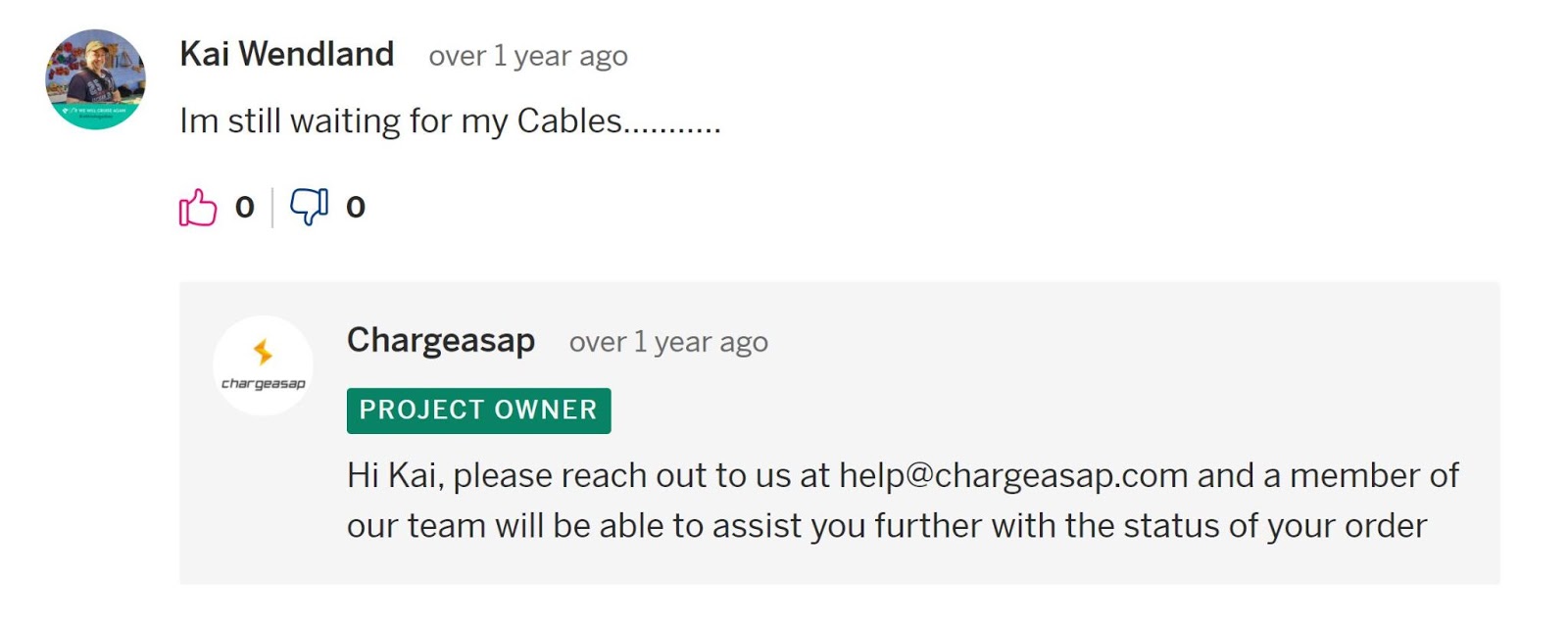 Conclusion & Public Opinion
By analyzing The Flash Pro, its battery capacity, fast charge time, and the trustworthy team behind the device, I can say that it's very promising. 
So, who knows, maybe the Flash Pro might be the solution to your Low Battery Anxiety 🙂 
And who am I? That's one secret I'll never tell!
techIwant XOXO
TIW Total Score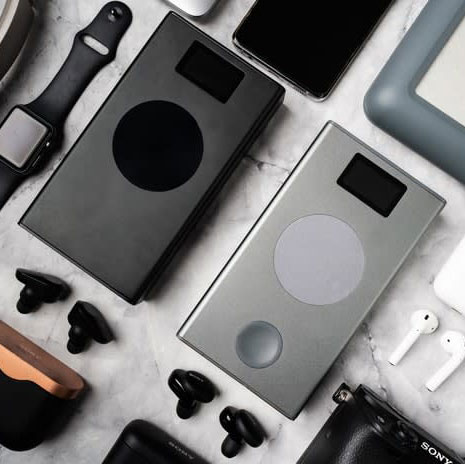 Flash Pro
Flash Pro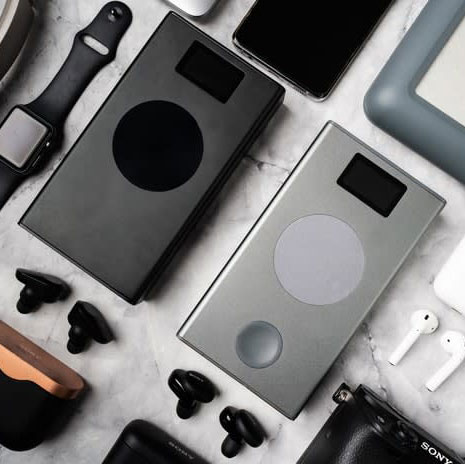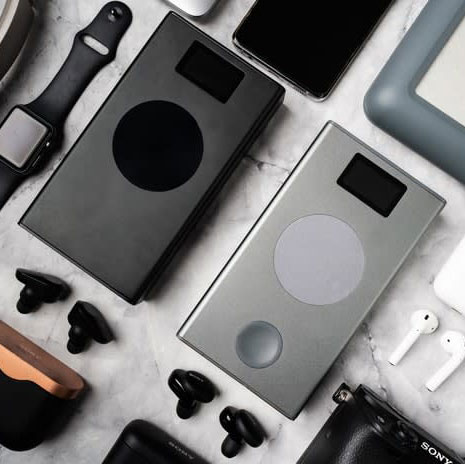 Limited time offer
d
·
: :