The Buccaneer Skillet
Lightweight Cast Iron from Crowd Cookware
key advantages
50% Lighter
Non-stick honeycomb surface
Cool handle
estimated
delivery
August 2021
Cast iron skillets are like beds. They have existed for many years, keeps warm evenly, and can cook a piece of chicken if you set fire to it. The one difference is that a bed can't be reused after setting it on fire. A cast iron skillet can.
To all y'all who don't understand how amazing cast iron skillets are, let me remind they provide health benefits, solve cleaning issues, sear meat perfectly, and are generally affordable.
The Lightweight Cast Iron from Crowd Cookware claims they are solving all cast iron issues related to weight, the task of seasoning (repairing the non-stick functionality by using oil), and the learning curve.
Is the lightweight cast iron skillet from Crowd Cookware truly a remarkable invention or a scam? Let's see if it survives our hard review criteria.
The Product
Innovation
Is this a truly new product that you can't find on the market? Or this a product that defines an entirely new product category. In some cases, the combination of several features into one or the introduction of a new feature to an old product are also considered to be an innovation.
50% lighter, cool handle, and non-stick are the selling points they use for their pan. Their individual solutions to the common issues of cast iron might not be extravagant – but the combination of features into one pan is innovative like never seen before.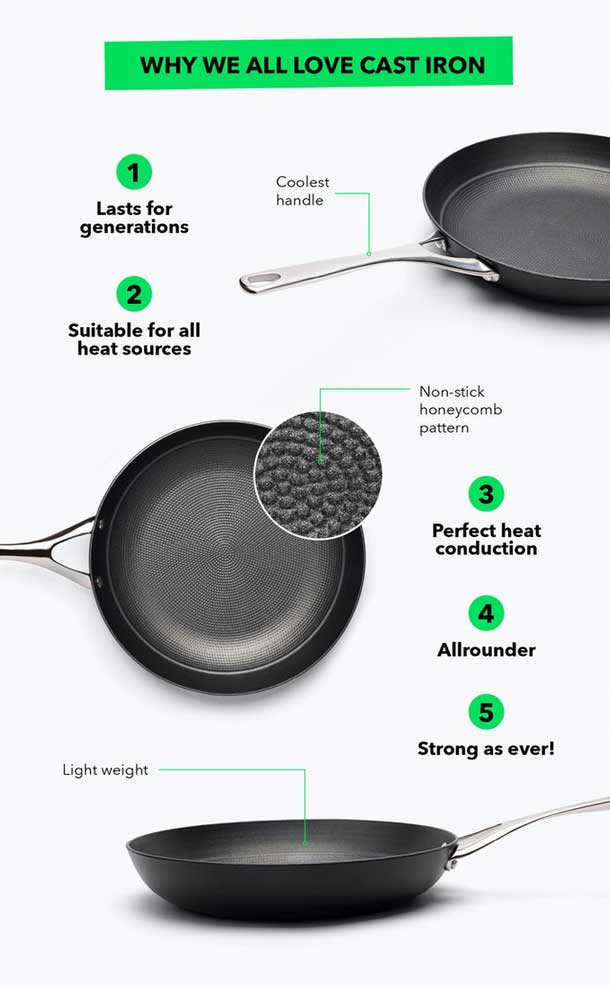 Their product is great – but only if you know how to use a cast iron skillet. It comes with almost the same maintenance as any other pan. Cast iron is susceptible to rust if left wet for too long which can normally just be treated and scraped off. My question is: on this non-stick frying pan, will the honeycomb pattern slowly diminish to rust if you forget to clean it? Probably.
Do you still need the patience to heat the pan thoroughly before use? Yes. Do you need to season it once in a while? Honestly, I wouldn't be surprised if you did. As Aaron Ekblad said in his review of their past product:
The honeycomb pattern very much limits the abilities of the non-stick coating […] the reason for the honeycomb pattern is to increase the life of the non-stick coating. But, what good does it do to extend the life of the coating if it makes the coating ineffective?
So, even if the non-stick properties might not seem revolutionary, with the right care – this pan could be the Mona Lisa in Louvre – a masterpiece. To be sure, I'd need to test it myself first. So Crowd Cookware, hint hint, my LinkedIn is here.
Competitiveness
How much better is it than the competition? Is it faster? Bigger? Cooler? More affordable? There needs to be a solid reason why you should back this project over any other.
| | The Buccaneer | The Rock | Bayou Classic | Cuisinel |
| --- | --- | --- | --- | --- |
| Price | $108 | $43 | $90 | $35 |
| Width | 28cm (11") | 25cm (10") | 39cm (15.25") | 30cm (12") |
| Non-stick pattern | Honeycomb | Steel Pellet Dimples | Dimple | ❌ |
| Safe from chemicals | ✔️ | ❌ | ✔️ | ❌ |
| Lightweight | ✔️ | ✔️ | ❌ | ❌ |
| Cold Handle | ✔️ | ✔️ | ❌ | Silicone Handle Cover |
Everyone says their cast iron skillet handle is cold. So if they had gone the extra mile and showed some statistics and measurements – rather than just claiming their handle is cool – I'd be very impressed.
We've talked about the features. So let's take a step further. The concept and the people behind:
There are hundreds of everyday pans and cookware available – but Crowd Cookware's concept of co-creating cookware with the help of their backers is just amazing. They have an army of loyal customers from their previous campaigns and we can feel it strongly.
I can find some skillets with just one of the features the Buccaneer has. The fact that they put all features together in the lightweight cast iron and bring an amazing human factor will convince many people to pay extra for a good product with great craftsmanship.
Product Competitiveness Score
The Team
Reliability
How capable is the team? Have they developed something like this before? Do they have crowdfunding experience? Manufacturing experience? A lot of campaigns fail to deliver their product because they don't know what they're doing.
It is no doubt that Crowd Cookware has a great backing already and a great deal of super satisfied backers. Their previous pans have received some negative feedback of the coating falling off after a while – which is a big problem. However, it seems that they've solved the issue on the cast iron skillet. They take testing quite seriously, so let's hope The Buccaneer lightweight cast iron pan has gone through great testing.
In a response to extremely detailed questioning by superbacker Eric Morse, Crowd Cookware was dodging questions and giving unsatisfactory answers (in their answer above the original comment). His doubts were very technical, but its nevertheless a great read for the nitpickers reading this. Their response affects my rating of their reliability, but not significantly as they have proved their great worth with 4 amazing campaigns before this one.
Attitude
How transparent are the campaigners? Do they give their backers valuable updates on their progress? Do they engage with their backers? Crowdfunding is all about community, sharing information, and building a meaningful relationship with the people who fund your project.
The concept of co-creating the pans and their 4 previous campaigns says a lot. These guys are friendly and extremely professional with a super-fast response rate. I understand why many people are willing to pay extra for this skillet just to be part of the family and help their continuous development.
After reading through their previous campaigns is seems like they've shipped with great success and just a few product complaints that were quickly responded to.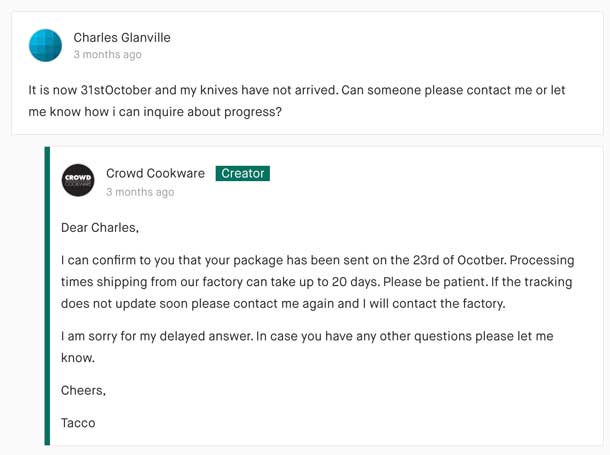 They respond fast and within just hours. They even provide funny jokes about hiring backers as product developers when they receive feedback, which I love.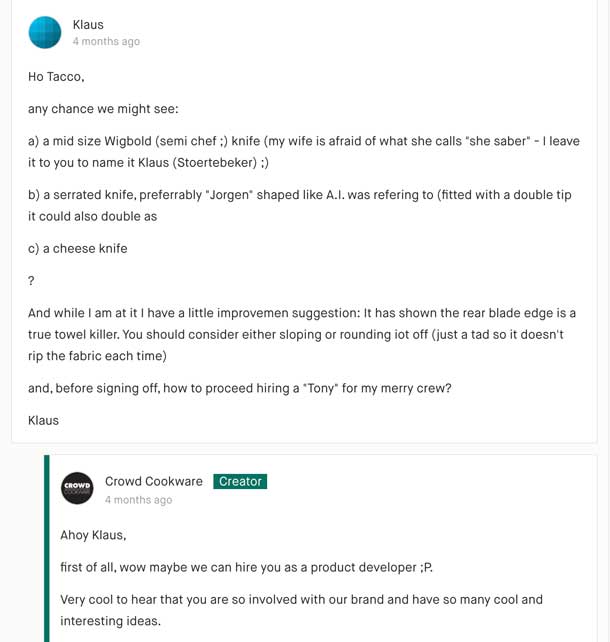 Undoubtedly this cast iron pan will be the perfect solution for a huge number of people. Kudos to the Crowd Cookware team.
Conclusion & Public Opinion
The lightweight cast iron skillet is an interesting and updated version of an old-time favourite created by Crowd Cookware, a reliable team of great people with an inclusive concept.
It provides many solutions to the common hurdles of owning a cast iron skillet and I hope they manage to live up to the expectations they've created, especially the non-stick part – which my research suggests is difficult to revolutionise chemical-free.
I'm genuinely excited to hear feedback from the customers and will most likely become a customer myself when my budget will allow me.
TIW Total Score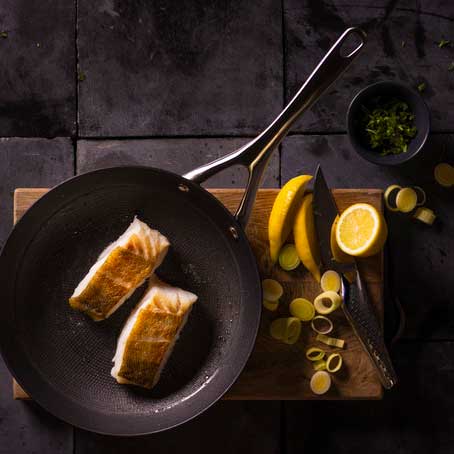 The Buccaneer Skillet
The Buccaneer Skillet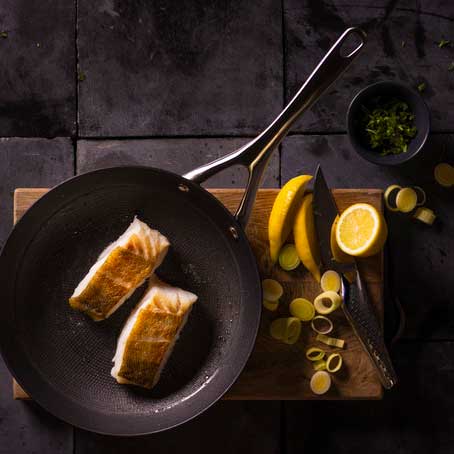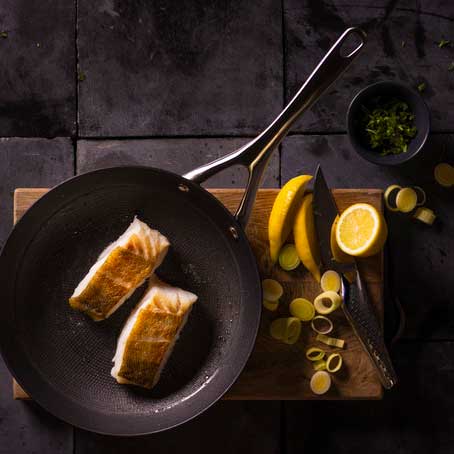 Limited time offer
d
·
: :