What time is it when an elephant stands on your Wowgo 3x electric skateboard?
It's time to get a new one! Were you expecting a different outcome? If so, you definitely need to read this ultimate Tech I Want review to learn more about the Wowgo 3x electric skateboard.
Product Overview
The Wowgo 3x is a distinctively improved edition of the Wowgo 3, and was released in October 2019. It can speed up to 24mph (38km/h) with four speed modes. Moreover, the new design is equipped with a 50.4V battery and rides for a real range of 12mi (19km) on a single charge. An outstanding electric skateboard that has been collecting relatively positive reviews all over the internet ever since it was released.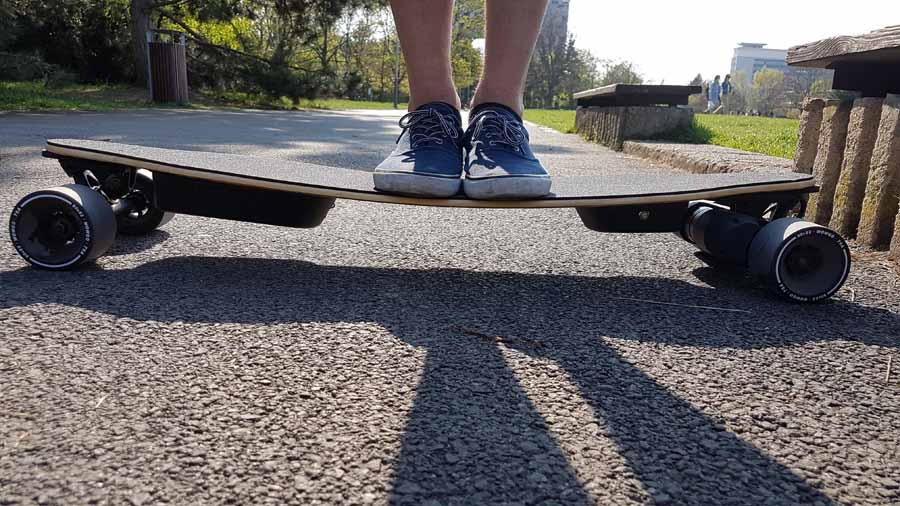 If you consider buying an electric skateboard but are still hesitant about choosing the Wowgo 3x, you don't have to waste your time looking for information online. We researched and collected reviews, customer experiences, user ratings, and comments. As you read through our Wowgo 3x review to the end, you'll get familiar with what people have said about it so you can make an informed decision.
Wowgo 3x specs:
Speed: 24mph (38km/h)
Weight: 17.2lbs.(7.8kg)
Range: 12mi (19km)
Hill climbing: 30% inclination
Charge time: 2.5-3 hours
Battery: Samsung 30Q 12S2P (260w)
Ride modes: 4 speed modes
Wheels: 90 x 62mm 78A with Zealous bearings
Trucks: Paris trucks V2
Deck material: bamboo plus fiberglass
Motors: belt drive 2x600W motors
Tip: Wowgo 3x cloud wheels are available for purchase separately. It's pretty helpful in skating on roads as it absorbs vibrations and contributes to a better stable ride.
What Stands Out About this Bboard?
Although every skateboarding enthusiast can buy the Wowgo 3x, it's recommended that beginners gradually scale up from lower gears to the Turbo gear. Accelerating from 0 to 24mph (38km/h) might not be comfortable for skateboarding newbies. Simultaneously, intermediate and professional skaters will enjoy a smooth experience as they cruise the streets at full speed.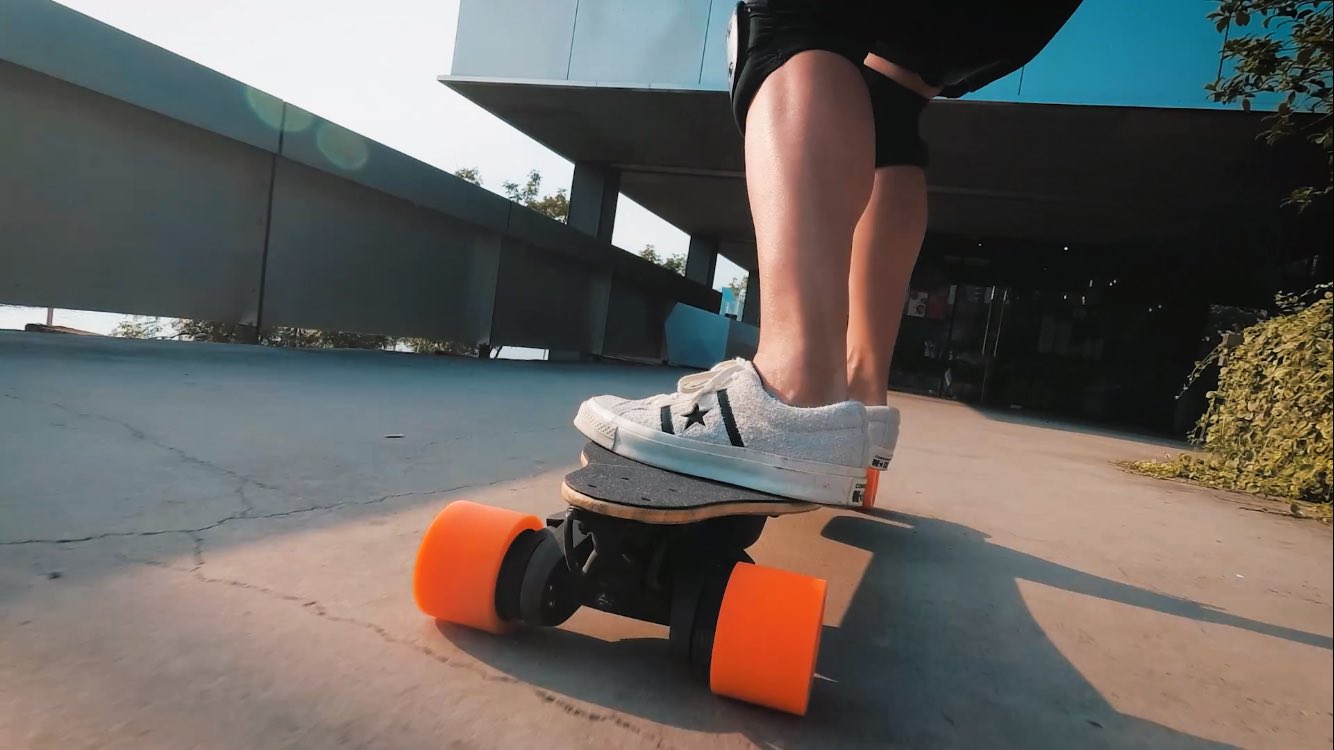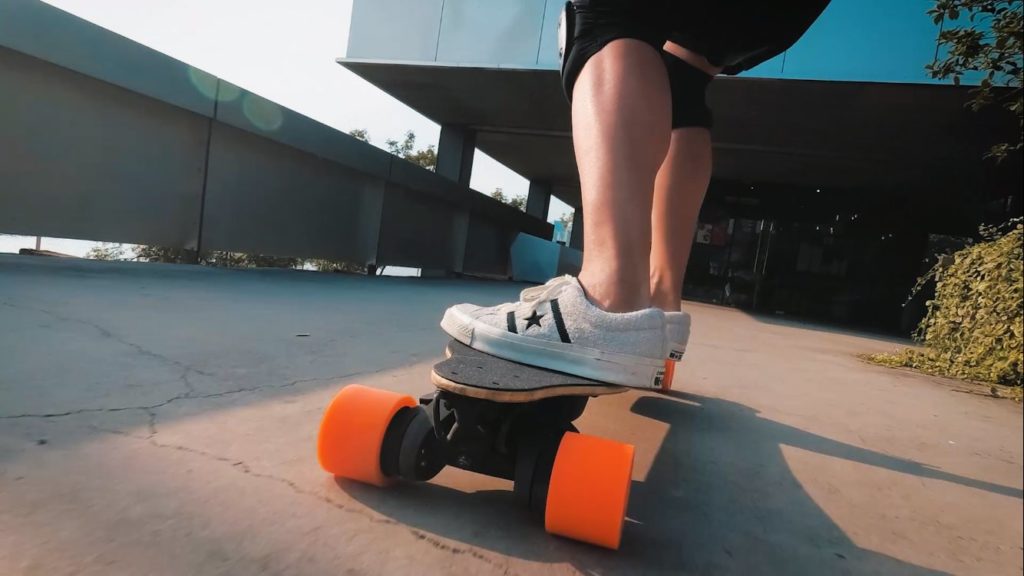 A Fiberglass & Bamboo Deck
Almost every Wowgo 3x review was positive about its slightly concave deck made of bamboo and fiberglass, making it a good choice for beginners and professionals. Beginners will appreciate the 60% fine sand grip tape in Wowgo 3x as it facilitates their first time skating and helps them slide their feet smoothly along the board.
On the other hand, experts can push the limits at turbo speed by utilizing the flexible shock-absorbing yet robust board. The fiberglass coating adds a layer of protection to the elastic bamboo deck for extra stability and a firm posture.
Reasonable Portability
Portability had some criticism because the board is 17.2lbs. (7.8kg) Although it's not that heavy, carrying it around for a long time would not be convenient. However, the company compensates for the extra weight disadvantage by the extensive battery fixed to the bottom of the skateboard and the flexible bamboo deck. These two features are essential for some skaters, and it is worth the extra weight, while others might be interested in more lightweight skateboard models.
Excellent Functionality for a Good Price
The Wowgo 3x electric skateboard costs $599.99, and it isn't the only available option within its price range. In fact, many other models from different manufacturers are available for the same price and sometimes for less. Fairly speaking, we need to consider Wowgo 3x features against other models of the same price range. The Wowgo 3x is an excellent affordable deal with its high-speed motor, long-lasting battery, and stable ride experience.
Useful Tip: The MEEPO Shuffle is a reasonable option to consider for those on a tight budget.
A skateboard for everyone?
We don't think there is one product everyone should buy because products interest people for various reasons. However, our Wowgo 3x review came to a conclusion that it's a good deal for those looking for a high-quality skateboard they can use, whether on day one or after years of skating.
What are the experts saying?
We've done thorough research about the Wowgo 3x and summarized top online expert reviews. Everyone agreed it's an enhanced edition of the Wowgo 3 that got all the advantages of its predecessor, with upgrades to some features. Reviewers credited the new skateboard for its bamboo deck, Paris trucks, belt-drive motors, battery life, and speed control.
Overall
In skateboarding terms, the Wowgo 3x is "Gnarly." The smooth acceleration and the miles it can cut with a single charge set it apart from others. Moreover, the advantages of the bamboo deck, quality Paris trucks, and anti-skid capabilities can't be ignored. Add to that utilizing Zealous bearings, a convenient, fast, and better water resistant bearing spaces with speed rings included [e-skateboarder.com]
The 1200w battery-powered electric skateboard can hit a maximum of 24mph at the Turbo gear, making it a whole new experience for skaters. Although it's not the fastest electric skateboard, the Wowgo 3x is great for skating adventures. [eboardadvisor.com]
Wowgo looked for improvements in its best-selling electric skateboard, the Wowgo 3, and developed the Wowgo 3x to be a better edition. Significant improvements for advanced rideability and higher performance for beginners and experts. For instance, Paris front trucks, Samsung batteries, belt-drive motors, and Hobbywing V2.0 ESC. [electricskateboardhq.com]
Speed and Electric Speed Control (ESC)
The Wowgo 3x speed and smooth acceleration are admirable. The new electric skateboard is equipped with two 600W belt-drive motors responsible for the remarkable performance. One notable feature is having a wireless remote controller connected to the longboard via a standard 2.4G RF technology. [e-skateboarder.com]
The new skateboard has the worldwide famous Hobbywing V2.0 ESC. It allows for four different speed modes. Beginners can start training with the lower riding mode until they feel comfortable and confident about their skills to escalate their speed. The difference between the Fast and Turbo modes is not the speed but the acceleration power. [eboardadvisor.com]
Slow 12mph (20km/h)
Normal 18mph (30km/h)
Fast 24mph (39km/h)
Turbo 24mph (39km/h)
Different tests proved the accuracy of the above speed limits per gear. However, some reviewers failed to reach the maximum 24mph for various reasons, like being oversized or not testing the skateboard on a straight road. Still, they came very close to it, which is more than convenient for town and countryside skating. [Esk8 Mafia] & [Andreas Holm]
Portability
Ranking a bit lower on portability when compared to other features, the Wowgo 3x weighs 17.2lbs. (7.8kg) Although the longboard is not the lightest, it's not the heaviest. Carrying the Wowgo 3x for a short time is not a problem for many skaters as it won't weigh them down. [eboardadvisor.com]
Deck
The new Wowgo electric longboard is by far the most beloved feature every Wowgo 3x review on the internet has praised. Wowgo is very proud of its upgraded deck developed to offer a stable skating experience.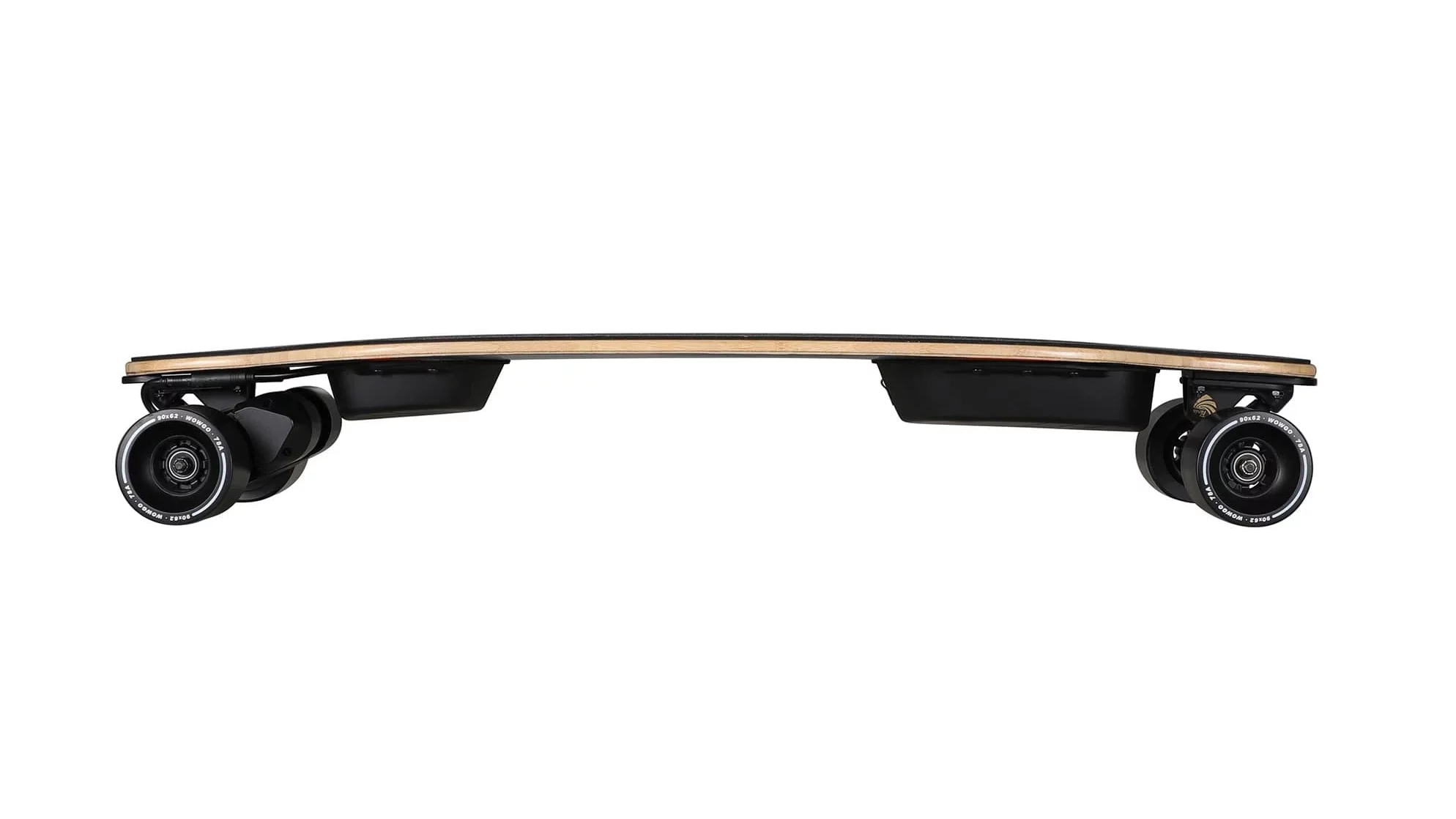 It was designed to assist skaters in planting their feet firmly when switching to high speeds. Even beginners can get familiar with it easily. The 60% fine sand grip tape allows skaters to move their feet smoothly along the board. [eboardadvisor.com] 
Many reviewers talked about the minimal concave structure and almost flat sides. The new electric skateboard by Wowgo has a sturdy board with enough flex to absorb bumps. It offers a significant level of comfort that caught the attention online.
The robust deck comprises bamboo coated with a fiberglass layer. It provides flexibility, shock absorption, and stability for a safe and secure ride. [electricskateboardhq.com]
Tall skaters with larger feet will enjoy the new Wowgo 3x with its 96.5cms (38″) x 22.5cms (9") comfortable deck. Add to that a fantastic grip tape that would lock the feet while skating [eboardadvisor.com]
Brakes
Brakes have definitely improved more than Wowgo predecessor skateboards. Switching to a belt-drive motor in Wowgo 3x resulted in high-quality, smooth brakes. When riding full speed at Turbo mode, it takes less than 5mi to stop fully. A relatively good performance compared to competitor electric skateboards. [eboardadvisor.com]
The implementation of Hobbywing V2.0 ESC in Wowgo 3x provided skaters with more control over their longboards with no delay. As a result, reviewers noticed a better acceleration accompanied by an efficient braking system. [onwheel.com]
Battery life
Wowgo equipped the Wowgo 3x with a significantly better battery than previous editions. The new longboard has a Samsung 30Q 12S2P (260w) that gets fully charged in 2.5 hours. Similar to the ESC, the Samsung battery is hidden under a plastic cover. However, one disadvantage compared to other electric skateboards of the same price range is not having a quick battery charger. [e-skateboarder.com]
The deck has a slight bend to protect the Wowgo 3x battery from touching the ground when flexing. The new battery's range is 14mi (22km), which is reasonably good. However, in reality, it's recommended to consider a range of 11mi because other factors impact the performance. [eboardadvisor.com] 
Wheels
The Wowgo 3x wheels are polyurethane (PU) and have a standard dimension of 90mm*62mm with an expansive flat contact patch. The wheels are 78A grade which offers less vibration and a solid grip and was designed for a smoother ride on rough roads. The wheels are not located towards the center of the longboard resulting in negative camber. When drifting or turning at high speeds, the negative camber becomes beneficial.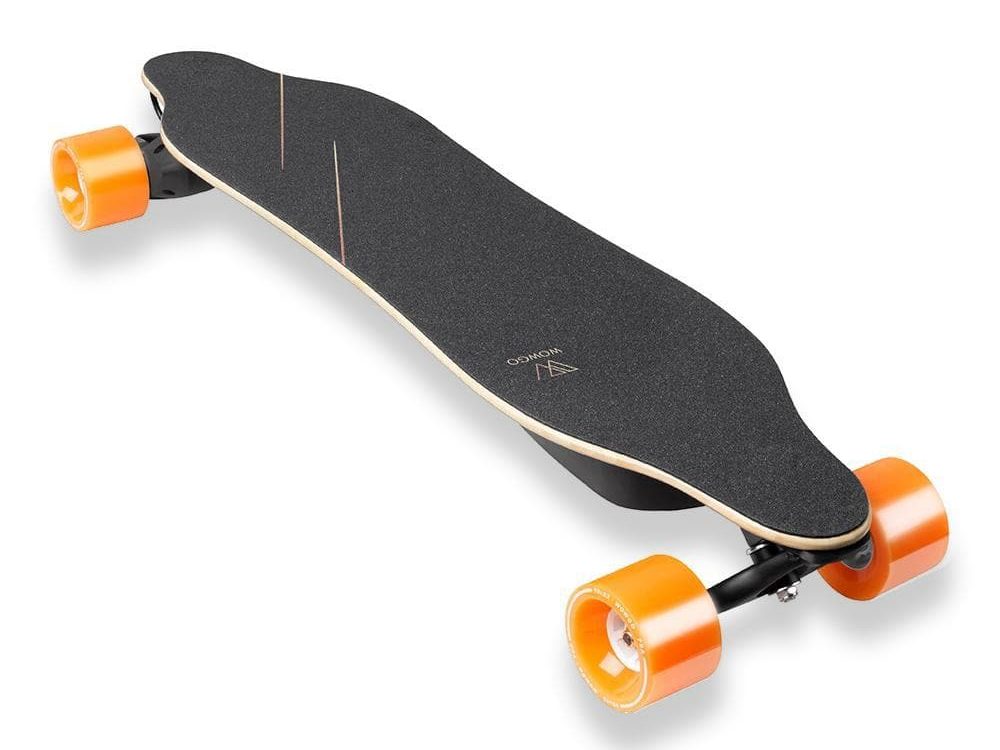 The new electric skateboard wheels ensure a stable ride with less vibration and an anti-skid potential. [eboardadvisor.com]
90mm diameter
62mm width
78A composition
Zealous bearings
Although bigger wheels would be better when skating on rough terrains, the current ones are good enough to hold the carve firmly. [Esk8 Mafia]
What are the customers saying?
Although Wowgo electric skateboards are not available on Amazon, we collected customer reviews from the company's website, Reddit, and other websites.
On the company's website, the majority of Wowgo3x reviews were from satisfied clients with 219/239 five-star ratings. Happy buyers left positive comments about various advantages, but the flexible bamboo board, stable ride, and enjoyable experiment were most common. Many buyers also mentioned the excellent quality and suggested particular improvements.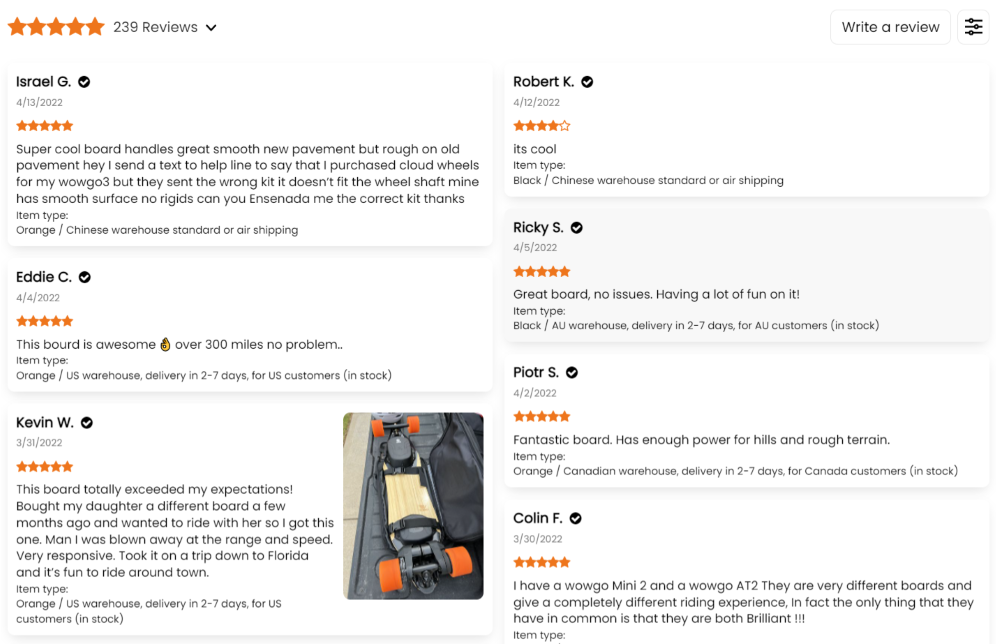 Reviews on Reddit mainly were positive about the product and its performance, and many comments were from newbies or people who made orders and were excited to receive their skateboards.
Covering the good, the bad, and the ugly, there were a few complaints, mainly about the battery life and not getting the performance they had in mind. Reading their reviews leads to the fact that advertising might have caused some misunderstanding. After all, the battery's performance will differ based on weather and road pavement conditions.
Shipping
The Wowgo 3x electric skateboard is now available on the Wowgo website for $599.99, with a variety of shipping options. The delivery time from the factory ranges from 5 business days to 70 business days. It depends on the destination country and shipping method (standard or fast).
However, the company has worldwide warehouses in the US, EU, CA, and AU to facilitate the shipping process and reduce delivery time to 2-7 business days in the countries mentioned above. Wowgo website claims that orders will be processed in 2 days.
Unfortunately, Wowgo electric skateboards are not available for sale on Amazon, so we couldn't collect customer reviews about shipping from Amazon. However, the company's website had only one negative shipping comment dated back to April 2021. The customer claimed that he did not receive the Wowgo 3x he ordered in October 2020, and the company replied, justifying it was due to COVID-19 restrictions, which sounds pretty reasonable!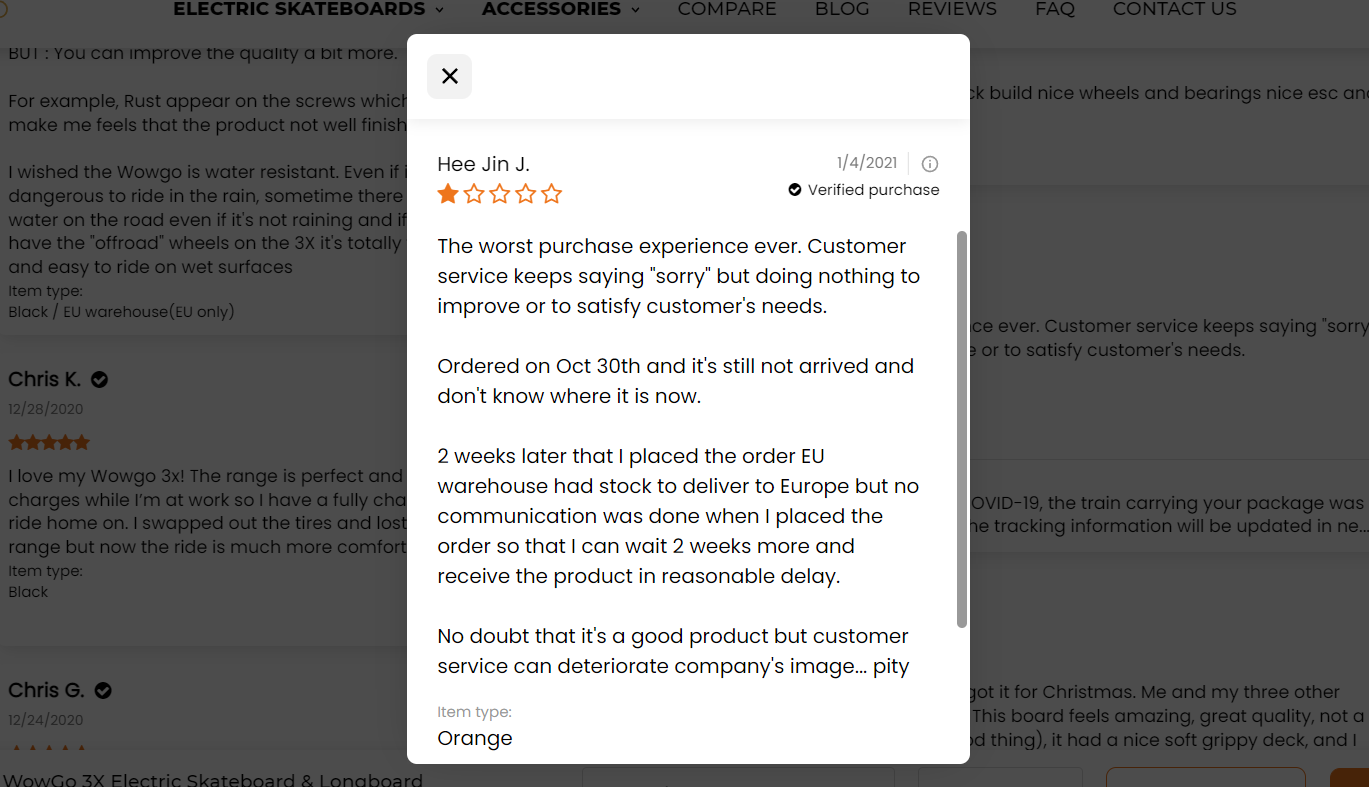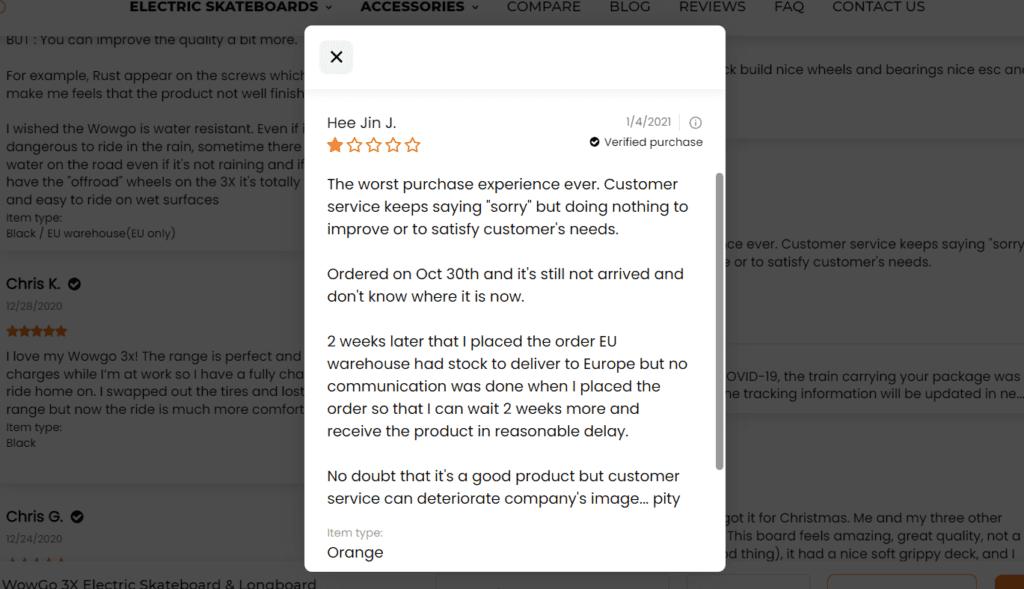 Another customer was satisfied with the quality of the Wowgo electric skateboard he received but complained about the delivery time as well. However, in his comment, he mentioned it was due to COVID-19 restrictions and gave the product a five-star rating.
Conclusion
Overall, the Wowgo 3x electric skateboard offers a new skating experience for both beginners and professionals. Expert reviewers and regular customers both reviewed the skateboard and admired its practical improvements and outstanding performance. Its creatively designed bamboo deck, double belt-drive 600W motors, in addition to four speed modes ranging from Slow to Turbo. It feels like racing when your speed goes up to 24mph (39km/h).
Wowgo studied customer reviews about its previous releases and successfully escalated to the next level with the Wowgo 3x electric skateboard. The new edition offers everything a skater looks for regardless of the experience level.
All the above features are available for an affordable and competitive price. A deal no skater should ever miss.
Back to our question at the top, are you really going to wait until an elephant steps on your old skateboard before buying a new one? Or you'll go against the odds and buy a new Wowgo 3x today.